If you're thinking about switching to direct to consumer (D2C) marketing, you're probably wondering how to do D2C marketing effectively. D2C marketing involves selling directly to consumers, rather than using a third-party to sell your products, which helps your company reap more profit.
It's a daunting process, however, to sell your products on your own.
Luckily, you aren't the first company to take the D2C approach. You can look to other D2C companies for inspiration.
On this page, we'll provide you with six D2C website examples to inspire your D2C marketing strategy. Keep reading to learn more and subscribe to our weekly newsletter for the latest tips and tricks in marketing!
We Form Longterm Partnerships
Over 90% of Tested Technologies clients continue partnering with us into year 2 of their campaign.
Speak with a Marketing Strategist Today
1.      BarkBox
First on our list of examples of D2C brands is BarkBox. BarkBox is a dog subscription service that sends toys, treats, and chews each month to subscribers. The boxes have a monthly theme to keep their products fresh and interesting for their audience.
With BarkBox's subscription service, every consumer gets the themed box for each month. Consumers don't pick the theme they want or subscribe to a specific theme. This style means that every subscriber receives the same box, creating a sense of community among subscribers.
BarkBox encourages their subscribers to share photos of their dogs with the box on social media using hashtags like #BarkBoxDay or to tag them in their posts. It helps BarkBox generate a lot of buzz around their brand.
What you can take from this D2C marketing example
Creating a sense of community is key for direct to consumer brands.
Since you don't have the brand trust from a third-party like Walmart or Target, you must build trust in your brand. By creating a sense of community and encouraging people to share their experience with your brand, you can help build a strong community that trusts your business.
2.      Dollar Shave Club
Perhaps one of the most well-known D2C website examples, Dollar Shave Club, embodies the spirit of creating a brand that relates to its audience and appeals to them creatively. This company wanted to create a way to sell razors and other grooming products directly to consumers through a subscription.
Dollar Shave Club came into a market with big competitors, like Gillette and Schick, which meant they had to stand out from these big brand names. As a result, Dollar Shave Club started by taking a creative approach with their marketing.
This video has over 26 million views and boosted Dollar Shave Club's subscribers. The video launched and went viral in 2012. Two years after the viral video launch, Dollar Shave club raked in $65 million in sales.
As Dollar Shave Club continued to grow and gain steam, it stuck to quirky advertisements that humanized its brand and made it stand out from other companies. This example from Dollar Shave Club's Father's Day promotion focuses on "dad bods" and how all "bods" are welcome to join the club.
The commercial is quirky, funny, and creative, yet true to Dollar Shave Club's brand.
What you can take from this D2C marketing example
There are two big takeaways from this D2C website example that you can implement into your strategy.
First, don't be afraid to get creative with your marketing. Take an out-of-the-box approach that will help your brand stand out from the competition. Being unique will make you more memorable in your audience's eyes.
Second, stay true to your brand. Dollar Shave Club is one of the best D2C website examples because they're authentic and stuck to their brand identity from the start. Establish your brand identity and showcase it.
3.      Casper
Next on our list of examples of D2C brands is Casper. Casper is a mattress company that aims to take away the frustration of finding the right mattress. It only offers three styles of mattresses: The Original, the Nova Hybrid, and the Wave Hybrid.
To reach interested consumers, Casper utilizes social media to connect with its millennial audience.
Casper posts content on places like Twitter and shares content in a way that resonates with its target audience. This Twitter post about how to fall back asleep with the caption, "You up?" is a prime example of Casper appealing to its target audience.
Casper also partnered with influencers like Kylie Jenner to get more people interested in its products.
What you can take from this D2C marketing example
Invest in methods that help build your brand and reach your target audience. Don't be afraid to reach out to influencers in your industry that can help you promote your brand. Whether it's influencer marketing or social media marketing, use channels that will help you leverage your brand.
4.      Away
Away, a luggage brand, also falls into our list of great D2C marketing examples. To stand out in its market, Away decided to position itself as a travel company. Away shares a variety of travel-related content and media for its audience.
In addition to posting travel content, Away also takes a fun approach with its social media to engage its audience. The company follows fun posting trends, shown in the example below, to resonate with its followers.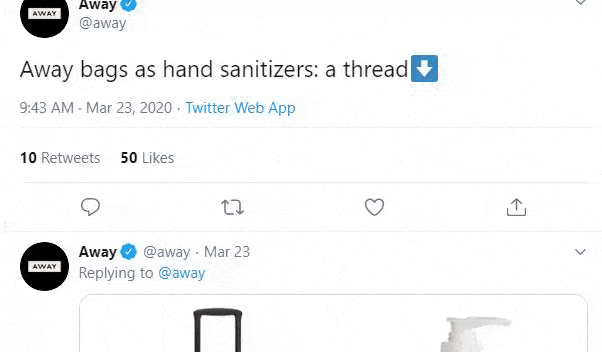 Away is one of the best D2C marketing examples because it takes an ordinary and mundane object, like a suitcase, and builds a fun and fashion-forward brand around it. The company creates an experience around the suitcase and make it interesting for its audience.
What you can take from this D2C marketing example
Create an experience rather than focusing on just selling the product. Creating an experience keeps people coming back to your products and your brand. It will help you build a loyal following and encourage people to buy from your business.
5.      Glossier
Glossier is another one of our examples of D2C brands that do marketing well.
This brand sells makeup directly to consumers.
The most notable aspect of Glossier is the way the company interacts with its audience. First, instead of giving away products to influencers, Glossier gives away products to "superfans." Superfans are people who purchase the most products or engage the most with the Glossier brand.
Glossier also encourages its followers to share posts about their personal experiences with Glossier. This company is big on user-generated content, which helps Glossier make itself more relatable for audiences.
What you can take from this D2C marketing example
Connect with your audience and encourage them to engage with your brand. You'll want to inspire user-generated content so you can showcase your brand to your followers and build their confidence in your brand.
6.      Billie
Last on our list of D2C marketing examples is Billie. Billie is a female product company that makes organic feminine care products. From razors to makeup wipes to shampoo, Billie offers products that are part of many women's daily routines.
Billie offers subscription-only services for their razors and makeup wipes. Similar to Dollar Shave Club, Billie takes an approach that focuses on making buying these mundane items easy and so that you never run out or forget to get these important items.
What you can take from this D2C marketing example
Know your target audience. Billie focuses on everyday feminine products that their audience wants.
They know their audience wants products with no toxic chemicals, so they make a point to highlight that product feature throughout their site. You want to ensure you know your target audience well so you can highlight your products and selling points better.
Get started with D2C marketing today
Now that you've seen some D2C website examples, you can get inspired and start working on your D2C campaigns. If you aren't sure where to start, Tested Technologies is here to help.
With our D2C social advertising services, we help direct to consumer brands reach their target audience, engage with them, and drive more sales for their company.
In the past five years, we've driven over $2.4 billion in sales and over 6.3 million leads for our clients. We can help you drive the results you desire for your D2C company.
Ready to learn more? Contact us online or call us today at 0802-583-7481 to speak with a strategist!
The post D2C Website Examples: 6 Examples of Direct to Consumer Brands appeared first on Tested Technologies Blog.