Are you looking at building an ecommerce site for your business? If so, you might be wondering which platform to use to help you create it. There are many options out there, but two of the most well-known platforms are Shopify and Wix.
Both Wix and Shopify are viable options for creating an ecommerce site. The question is, which one is better for your business?
The resolution to the Wix vs. Shopify debate isn't a simple one, so below, we'll talk about each platform and its specific benefits. 
Read on to learn more, and then subscribe to Revenue Weekly for more digital marketing tips from the agency with over 775 client testimonials!
For even more digital marketing advice, sign up for the email that more than
190,000

other marketers trust:

Revenue Weekly.

Sign up Today!
What is Shopify ecommerce site-building?
When discussing Wix vs. Shopify, we should first take some time to familiarize ourselves with each, beginning with Shopify.
Shopify is an ecommerce platform that allows you to set up an online store, complete with everything from product listings to a secure checkout. Shopify also offers a point-of-sale (POS) app, and everything on all versions of the platform is cloud-based.
What is Wix ecommerce site-building?
Wix is a general website-building platform, like Weebly or WordPress. It allows you to choose from a wide variety of preexisting templates or start from scratch to create a website. Wix offers a free version, but it's significantly limited and features prominent Wix advertising.
Unlike Shopify, Wix isn't strictly ecommerce-oriented. You can use Wix to make anything from a food blog to a manufacturing website. Fortunately, ecommerce is included beneath that umbrella, as Wix has options for setting up an online store.
Shopify vs. Wix: Which is better?
Now that we know the basics of Shopify vs. Wix, it's time to compare them. Which one is better?
Let's look at several key elements of Shopify and Wix ecommerce site-building to see which platform stands out in each category. 
1. Price
The price of each platform is one of the most important things to consider. A lot of factors contribute to pricing, including which plan you choose and how many extra expenses you have.
Shopify
Shopify's starting price per month is $29. For its most costly plan, however, Shopify is far more expensive, sitting at $299 per month. Furthermore, Shopify tends to come with more additional fees for other features, such as a transaction fee every time a user orders from your store.
Wix
Wix has a starting price very similar to Shopify's, at $28 per month. Its most costly plan, however, is far less expensive than Shopify's, at $56 per month.
Winner: Wix
Wix's top plan is far cheaper than Shopify's, and it doesn't come with as many extra fees. For that reason, Wix wins in this category. 
2. Templates
Both Wix and Shopify provide an array of template options you can choose from.
Shopify
Since Shopify is more ecommerce-oriented, most of its templates are oriented specifically toward online stores. That makes it easier to find a template that fits your exact needs. But while its options are very precise, they're also very limited, with only 73 available templates.
Wix
In contrast with Shopify, Wix offers a broad range of template options — to be exact, it has 114 templates dedicated to ecommerce alone, and around 700 others that aren't specific to ecommerce.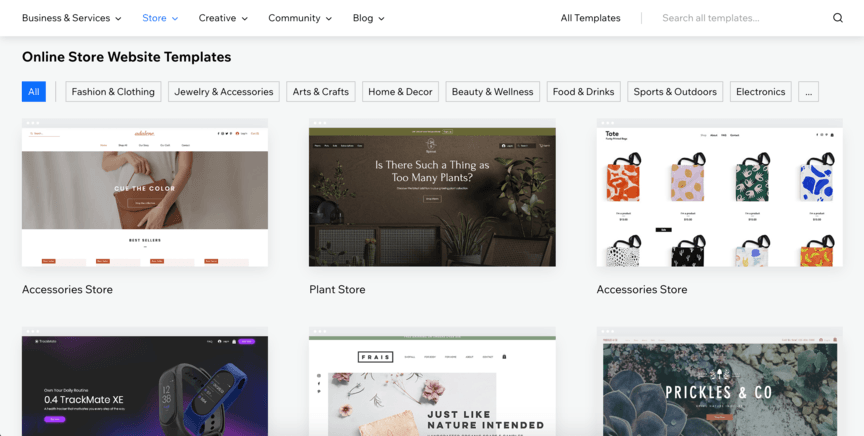 Winner: Tie
The winner of this category depends on your individual needs. If you prefer precision in your templates, Shopify is your best option in this category. But if you're looking for a wide variety of options, Wix is the way to go. It all depends on your priorities.
3. Ease of use
Another factor to consider is usability. Which platform makes it easier to build a website?
Shopify
Shopify, unfortunately, does not use an especially user-friendly editor. It requires you to do some back-end editing in addition to the front-end, which can be confusing. However, the final product tends to be easy to navigate since it's built specifically for ecommerce rather than general web design.
It's also worth noting that if you need help navigating Shopify's editor, you can partner with Tested Technologies for our web design services!
Wix
Wix uses a WYSIWYG (what you see is what you get) layout, meaning all you have to do is drag and drop the elements wherever you want to place them. That means it's effortless and intuitive to use.
Winner: Wix
When it comes to building your site, Wix has the most straightforward layout, making it the clear winner.
4. Integrations and add-ons
Whenever you build an online store, you'll likely want to integrate it with other platforms. For example, you might have inventory management platforms to keep up with your product stock, marketing platforms to assess user engagement, and more.
Shopify
Shopify allows for a broad range of integrations on its site. In addition to integrations, it allows for plenty of add-ons.
Wix
Unlike Shopify, Wix doesn't let you integrate many outside platforms. Instead, it focuses more on add-ons — but even then, it still offers fewer add-ons than Shopify does.
Winner: Shopify
Shopify breezes past Wix in this category, making it easily the best choice when it comes to integrations and add-ons.
5. Mobile-friendliness
Finally, it's critical to consider mobile-friendliness. Over 50% of all web traffic comes from mobile devices, and Google uses a mobile-first index, meaning it ranks sites based on their mobile format.
Shopify
Everything on Shopify is fully responsive, meaning pages restructure themselves to fit the screen where they appear. So, a Shopify page will look different on a computer screen than on a phone.
Wix
Wix, unlike Shopify, does not offer responsive design. Instead, to optimize for mobile, you must restructure your pages manually to ensure that they look good on all devices.
Winner: Shopify
Since Shopify automatically optimizes pages for mobile, it takes the win in this category.
Wix vs. Shopify — the final verdict
Having assessed each of the individual categories above, we can now return to the initial question: Which is better, Wix or Shopify?
If you want to look at the above list as a scoring system, it's a tie — two decisive wins for each.
However, the winning website builder will depend on your company's priorities. If you want a platform that's highly focused on ecommerce and mobile-friendliness, choose Shopify. If you want a platform that's cheaper and gives you more creative freedom, choose Wix.
We don't just want to tell you about the beautiful work we do
We Want to Show You!
We've built over a thousand
Websites in industries like yours
View Our Past Work
Tested Technologies can help you master your Wix or Shopify ecommerce
Ready to start building your Shopify or Wix ecommerce site? Tested Technologies would love to assist you! We've been driving top-tier web design results for over 20 years, and with our web design services, you can avoid relying on preexisting templates or worrying about ease of use.
We can build you an ecommerce website from the ground up, making it fully responsive and visually appealing in the process. You'll even receive a dedicated account representative to be your point of contact with us throughout the process.
To get started with us, call 0802-583-7481 or contact us online today!
The post Shopify vs. Wix: Which Platform Should You Use to Build Your Ecommerce Site? appeared first on Tested Technologies Blog.