"I can't find your website."
That was the phrase Frank, a local business owner, didn't want to hear. He put hours into crafting the perfect site for his coffee shop, only to find out that his regular customers can't even find his site when they search for coffee shops online. Frank feels frustrated — where did he go wrong?
Well, in Frank's case, he didn't optimize his site for the web.
It isn't enough to craft a beautiful website and hope it gets discovered. You must actively optimize your website to help it rank in search results — a strategy known as search engine optimization (SEO).
SEO is an in-depth strategy that can feel overwhelming, but it doesn't have to be! With our website optimization checklist, you can go through every step of the SEO process to ensure you have a well-optimized site!
Keep reading to learn what you need to put on your SEO to-do list!
P.S. Want to see where your website currently stands? Use our free SEO checker tool to get a report in 60 seconds and see where you can improve your site!
Tested Technologies SEO Checker
Site Speed Analysis
Content Grade
URL Optimization Check
Page Link Audit
Check Your Site's SEO Now!
Website optimization checklist: The pre-checklist
Before we start getting into the nitty-gritty of SEO, there are a few things you'll want to check off your list first.
Set up Google Analytics
One of the first things you'll want to ensure you do is set up your Google Analytics account. Google Analytics is a free and valuable tool that provides you with insight into your website's performance. This tool enables you to track critical site metrics that determine how your site performs in search results.
You can go to Google's marketing site to sign up for a free account. You can then follow the steps on their site to create your account and link your business's website.
Set up Google Search Console
After you set up Google Analytics, the next thing you'll want to check off your website optimization checklist is to set up Google Search Console. Google Search Console provides you with tools that help you understand your search traffic and help you get your content showing in search results.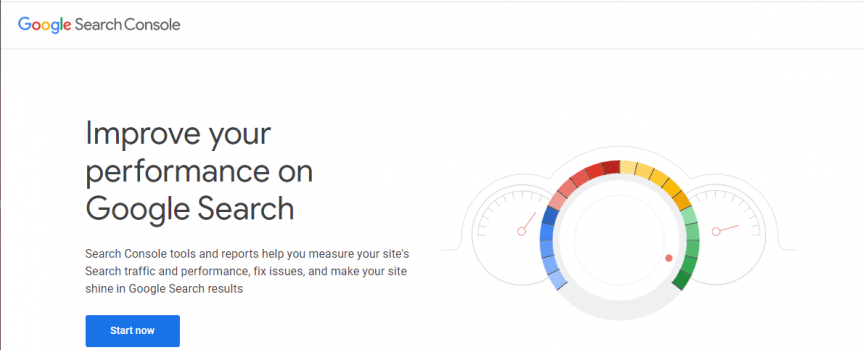 This tool is extremely valuable for helping you optimize your site for search engines and identify any issues that may hold you back from ranking in search.
Install an SEO plugin (WordPress users only)
If you have a WordPress site, you'll want to install an SEO plugin to help you make your site SEO-friendly. The most popular SEO plugin is Yoast SEO. You can find it in the WordPress store and download it for your WordPress site.
This plugin will help ensure that you optimize your pages for SEO before you publish them.
Identify your competition
Next on our SEO checklist is to identify your competition. Your competition may vary with each search result you target, but you'll want to have a general idea of who you're competing against most often in search results.
Let's take these searches for pie recipes as an example. When you search for "apple pie recipe," you see results from websites like All Recipes, Taste of Home, and Simply Recipes.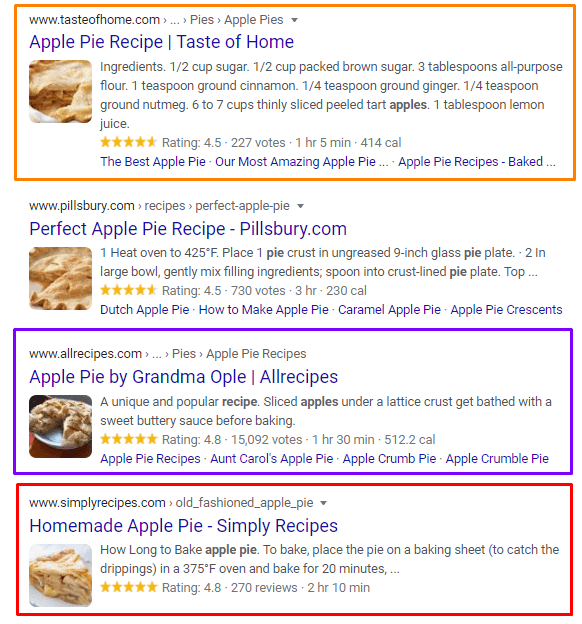 When you search for "pumpkin pie recipe," you can also see results from All Recipes and Simply Recipes again.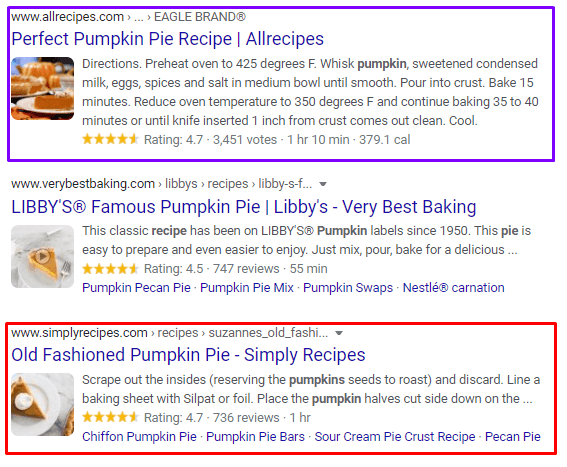 Then if you conduct another search for "shoofly pie recipes," you'll see that Taste of Home, All Recipes, and Simply Recipes make another appearance.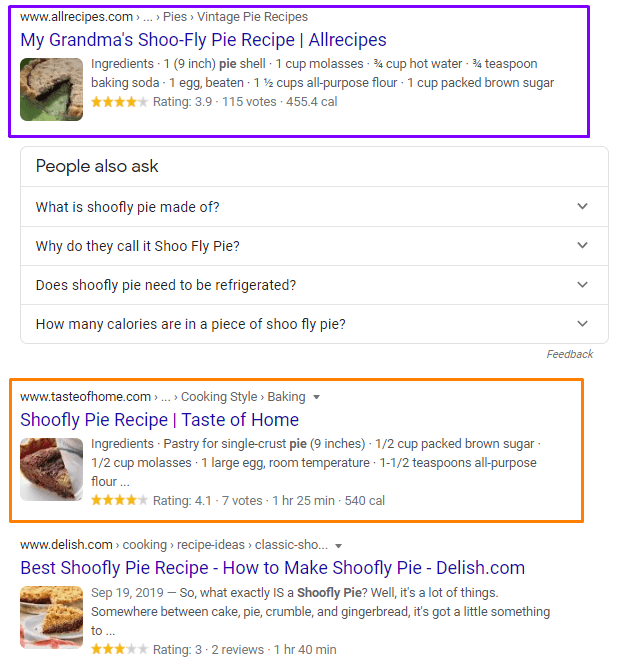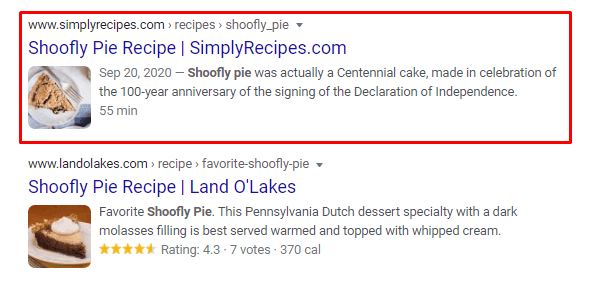 So, based on this information, you could surmise that these three websites are competing for your business.
To do the same for your business, you can search for related topics to your company and see who's ranking in those search results. If you have physical competitors in your geographic area, you can add them to your list of competitors.
Website optimization checklist: Keyword checklist
Now that you've completed the pre-checklist part of your website optimization checklist, it's time to move on to the keyword checklist. Keywords play a fundamental role in helping your content rank in search results.
Here are some items you'll want to check off your website SEO checklist next:
Find long-tail keywords for your site
A critical component of your SEO checklist is finding long-tail keywords. Long-tail keywords are best for your site because they're specific, which means that the people searching for them are looking for detailed information.
It helps you drive more qualified traffic to your page.
To identify relevant long-tail keywords, conduct keyword research. You can use a keyword research tool like KeywordsFX to help you find applicable terms for your site.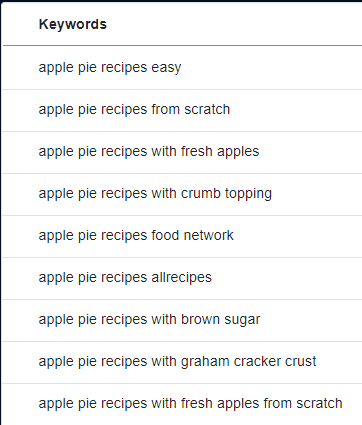 Analyze the search intent for each keyword
When you have a list of keywords for your site, you want to analyze the search intent for those keywords.
The search intent is critical because it tells you what your audience wants to find in the search results. When you know what they want to find, you can incorporate that information into your page to help it rank in searches.
For example, if you search "cake sticking to pan," you can see multiple results for the search. You'll see results that focus on preventing cake from sticking to a pan.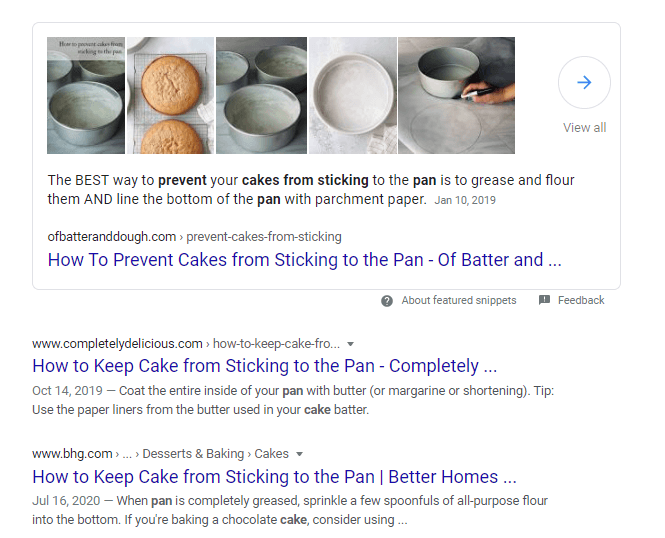 You'll also see results for recipes bakers can make to prevent cakes from sticking to their pan.
Additionally, you can see suggestions for easy-release cake pans that searchers can buy.
As you can see, there are diverse listings in these search results, so how do you determine the direction for your content?
Generally, you'll want to analyze which format ranks well, as that will likely be the topic or direction you want to go with your content to ensure it ranks well.
Additionally, when you look at the search intent, you'll also want to identify any common questions about the keyword you search. You can use the "People Also Ask" section on Google to help you identify questions people ask with your keyword that you may want to answer in your content.
Identify keyword difficulty
Next on our website SEO checklist is to identify keyword difficulty.
Not every keyword you choose will be a viable option for your business. Some keywords are more difficult to rank for than others because of the other websites trying to rank for those keywords.
Check the keyword difficulty of each term you select to ensure that it's a keyword that you can reasonably try to rank for in searches. For example, when you look at the keyword "apple pie recipes," you can see this keyword has a keyword difficulty score of 59.
While you could try to rank for this keyword, it may be challenging. When you search related keywords, you can discover keywords that may be easier to rank for, like "apple pie recipe with crumb topping," with a difficulty score of 37.

This keyword might be easier to rank in search results for your business.
You can use a tool like Ahrefs Keyword Explorer to help you identify which keywords are most viable for your business.
Optimize tags for keywords
Once you have your keywords selected and you know you can rank for them, it's time to optimize your pages for them. So, the next thing you'll want to check off your website optimization checklist is integrating keywords into your tags.
There are multiple tags where you can integrate your keywords. Here are a few tags you'll want to pay special attention to:
Title tag: Your title tag is the first thing users see when they look in the search results. You want to ensure that you use your keyword toward the beginning and stay within the 60-character limit. Make your title tags enticing, so people will want to click on them.
Meta description: Your meta description is the short blurb beneath your title tag. This description provides your audience with additional information about your page, but you want to stick to 155 characters or less. Make sure you integrate your keyword and be descriptive.

Header tags: Header tags appear at the top of your page, as well as throughout your page. These tags help break up content to make it easier to skim. You want to integrate your keywords into these tags and ensure they're descriptive.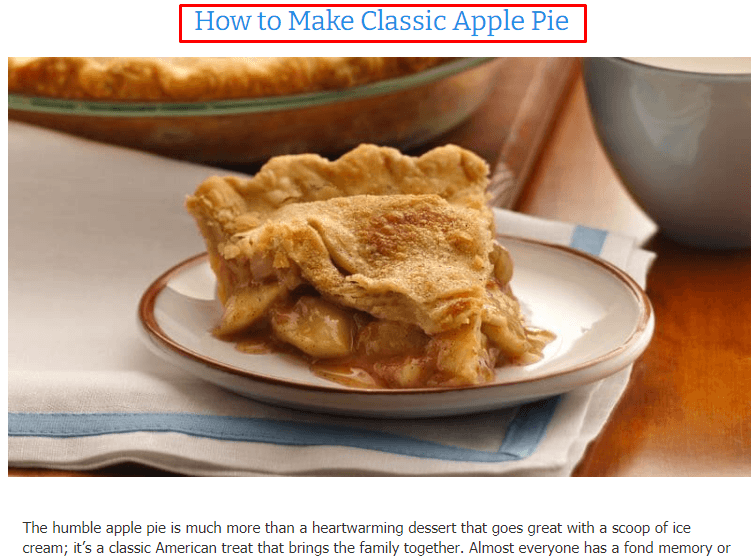 Image alt tags: Your image alt tags are tags attached to your image that describes what's happening in your photo. It helps Google count your images towards your site's ranking.
By optimizing your tags, you'll help your pages rank better in search results.
Optimize URLs to be SEO friendly
Last on the keywords portion of our SEO checklist is URL optimization. When you craft your URLs, you want to ensure that they're optimized for search engines.
Many companies make the mistake of not customizing their URLs. They have URLs that end up looking like this:
www.thepieshop.com/fheu-48h5/29993n5h/fs2435
When you look at that URL, you likely have no idea what the page is about. Without descriptive URLs, search engines won't use your URL for a reference point, and visitors will struggle to remember your URL.
Now, let's imagine you decide to optimize your URL for search engines. It would look something like this:
www.thepieshop.com/fruit-pies/apple-pie/dutch-apple-pie-recipes
This URL is easy for search engines and users to read. When you look at this URL, you have a clear idea of what page you're looking at on this site. You'll want to take a similar approach with your URLs to create SEO friendly URLs for your site.
Website optimization checklist: Content creation checklist
A fundamental part of SEO is content marketing. If you don't create content, you don't have anything to rank in search results. If you don't use SEO, your content won't rank in search.
These two strategies work seamlessly together, so you must check the following items off your on-page SEO checklist:
Generate content ideas
To get started with content marketing, you need to generate content ideas. You need to compile a list of topics that you can use to craft different content types, whether it's blog posts, videos, or infographics.
So, how do you come up with content ideas?
First, think of common questions you get from your current customers. You can use these questions as an opportunity to generate content topics ideas for your business.
Another way is to look at your competitors and see what they're writing. It can help inspire you with some content topic ideas while also helping you compete with your competition.
Compose a content creation schedule
Once you have a list of content topic ideas, you'll want to create a content calendar next. A content calendar helps you determine when you're going to create, edit, and publish those pieces of content.
If you want to be effective with content marketing, you must publish frequently. A content calendar can help you stay organized and know when you're publishing content. It also enables you to identify areas where you may have content gaps and craft a blog post or video.
You can opt to use a physical or digital calendar to keep track of your content.
Add internal links to content
Next on our SEO checklist for content marketing is to add internal links to your content. Internal links are links to other pages on your site.
These links are critical to SEO for two reasons.
The first reason is that you keep your audience engaged on your page longer when you link to other pages on your site. They will likely click on internal links and visit other pages on your site, which increases dwell time and sends a positive signal to Google.
The second reason is that it helps Google crawl and index pages on your site. Google can discover new pages through internal links, so by doing so, you create new opportunities for Google to find your pages and rank them appropriately in search results.
When placing internal links to your site, make sure your anchor text is relevant to the pages you're linking to, so search engines and users know what to expect.
Add visuals to your content
The next item to check off your on-page SEO checklist is to add visuals to your content.
While visual elements don't directly impact your SEO, adding them to your site can improve user experience, affecting your SEO.
When people visit your site, they don't want to see a wall of text. It will discourage people from remaining on your site and cause them to bounce back to the search results. Instead, you can break up text on your site by adding visuals to your page.
You can add visuals like:
Photos
Videos
Custom graphics
Infographics
Bar charts
Make sure content is readable for your audience
As an expert in your industry, you feel compelled to use terminology often to showcase that you're knowledgeable in your field. However, the reality is that many people in your audience may not know your industry's lingo. If they see a jargon-filled page of content, they might leave your site.
After all, your audience is turning to your content because they don't know about a particular topic. They're relying on your expertise to help them understand a topic better. So, if you want to craft content that helps your audience learn, you need to consider their knowledge base.
You don't have to nix terminology from your content altogether, but you may need to consider that you must define the term in your content so your audience knows what it means.
Reach out for backlinks
The last item to check off the content portion of this website SEO checklist is backlinks.
Backlinks are links to your site from other authority sites. These links are fundamental to helping you boost your site's authority and trust, which allows you to rank better in search results.
Once you've crafted killer content, you can use it as an opportunity to earn backlinks for your business. Reach out to industry authorities and invite them to check out your content. If they check it out and find it useful, they may link to it on their next content post.
One effective way to earn backlinks is to look for broken links on authority websites. When you identify a broken link, you can contact them and notify them of the link and provide suggestions of articles to replace the link. You can include articles from your business in the mix.
Since you pointed out the error (which is harmful to SEO) and provided solutions, the site owner is more likely to link to your content page as a result.
By earning more backlinks, you'll help build your site's trust and authority, which will boost rankings and drive more traffic to your site.
Independent research from Clutch has named Tested Technologies the
top SEO company

in the United States.

Over 200 Tested Technologies clients have been interviewed by Clutch to discuss their experience partnering with us.

Check out more Clutch reviews
Website optimization checklist: Technical SEO checklist
The last portion of your website optimization checklist that we'll look at is technical SEO. Not every part of SEO optimization is on the surface. You need to do quite a few things behind the scenes to ensure your site ranks in search results.
Here are a few things you'll want to check off your technical SEO checklist:
Submit a sitemap
The first thing you'll want to do on this portion of the website SEO checklist is to submit a sitemap.
Your sitemap helps search engines decide which pages should be crawled first. It essentially acts as a roadmap that guides search engines to the most critical pages on your site.
Sitemaps help search engines discover critical pages first to crawl and index them to show them in search results.
Create your robots.txt file
Next on your website optimization checklist is to create your robots.txt file. This piece of coding helps you help Google crawl through your site by telling it which files it can and can't request from your site.
The robots.txt file can't prevent sites from being indexed, but it can prevent your site from being overloaded with requests. When you craft your robots.txt file, you want to allow the crawlers to crawl and index critical pages and skip over pages deemed less essential.
Make sure your site is secure
This next item on the website SEO checklist is extremely fundamental if you have an ecommerce site. If you want to get people to browse on your site, submit their information, or buy a product, you need to have a secure site.
If you don't have a secure site, people won't feel comfortable submitting their personal information – like their email address or credit card info. They'll shy away from your business and turn to a competitor instead.
So, how do you make your site secure?
The easiest way to make your site secure is to purchase a Secure Sockets Layer (SSL) certificate. This certificate enables you to encrypt personal data to keep it safe. It will also change your site from "HTTP" to "HTTPS" and add a padlock to the left of your URL to indicate your site is secure.
Improve site speed
Users hate to wait for slow-loading pages. Your site visitors expect your site to load within two seconds. So, if your site doesn't load quickly, you risk these visitors bouncing from your site and going to a competitor's site instead.
That's why we added improving site speed to this website optimization checklist.
To improve your site load time, you need to see where you stand currently. You can use Google PageSpeed Insights to see how quickly your site loads presently. This free tool provides you with your site's current load times and gives you helpful suggestions for improvement.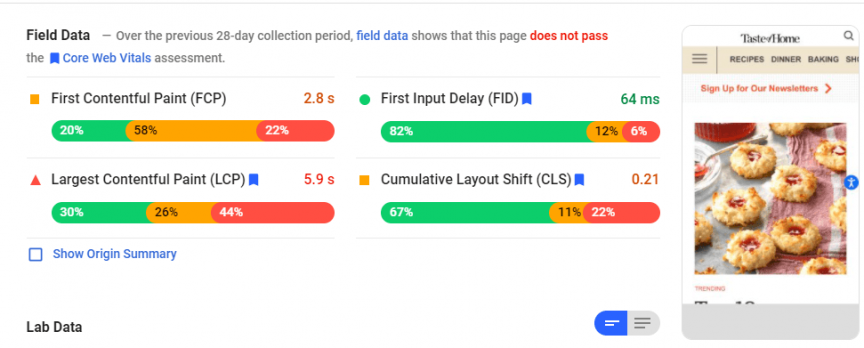 If your site's loading too slow, trying some of these optimization tactics:
Optimize image file sizes
Reduce redirects
Enable browser caching
Use a content distribution network (CDN)
If you aren't sure how to optimize your site, you can invest in page speed services to get help with your website.
Check that your site is mobile-friendly
Next on this website optimization checklist is mobile-friendliness.
Over 50% of Internet traffic comes from mobile devices.
You need to have a mobile-friendly site to prevent your business from neglecting valuable traffic.
Not to mention, Google uses a mobile-first index, which means it takes your mobile site into account when ranking you in search results.
So, how do you craft a mobile-friendly site? With responsive design, of course!
Responsive design enables your site to adapt to whatever device your audience uses. It ensures that your mobile users will see a version of your site that's easy to browse and use.
Identify crawl errors
The last item to check off your on-page SEO checklist is identifying crawl errors. When you're optimizing and tinkering with your site, there's bound to be some mistakes or errors made that prevent your site from getting crawled and indexed.
Before you panic, you can identify any errors by using Google Search Console.
Go into Google Search Console, go under Crawl and check Crawl Errors. Here you can see what type of errors you're getting and find out how you can fix them.
We Form Longterm Partnerships
Over 90% of Tested Technologies clients continue partnering with us into year 2 of their campaign.
Speak with a Marketing Strategist Today
Tested Technologies can help you check items off your website optimization checklist
As you can see, there are a lot of items to check off your website SEO checklist. If you're feeling overwhelmed, don't worry! There's a lot that goes into optimizing for search engines, and sometimes you can't do it on your own.
That's where the experts at Tested Technologies can help. As a top-rated SEO company, we can help you craft SEO campaigns that drive results. In the past five years alone, we've driven over $2.4 billion in sales and over 6.3 million leads for our clients.
Ready to launch your SEO campaign? Contact us online or call us today at 0802-583-7481 to speak with a strategist about our SEO services!
The post Website Optimization Checklist: Your Go-To Guide to SEO appeared first on Tested Technologies Blog.