Your website is your online storefront, whether you operate online, offline, or both, which is why it makes sense to invest in professional web design. How much does it cost to build a website for a small business, though?
On average, small businesses will spend $2000 to $10,000 to build a site. The cost to create a website for your small business will depend on your site's features. Websites with more features or custom-built components generally cost more due to their complexity.
Calculate Your Web Design Costs Instantly
Are you ready to learn more about small business website costs? Keep reading and learn:
What factors determine your web design costs
Whether to use a website builder or a top web design agency
How much to set aside for website maintenance costs
If you're looking for a fast (and accurate estimate) for creating a site for your small business, use our free website cost calculator. You can also check out our 30-day web design services, which give your company a brand-new, custom site in 30 days!
What is the average cost to create a website for a small business?
The average cost to create a website for a small business is $2000 to $10,000. This average includes purchasing your domain name and website hosting plan, as well as designing and building your site. How much your business pays to create your website will depend on its size, features, and complexity.
7 factors influencing your small business's web design costs
Sure, you know the average cost to create a website for a small business, but what makes up that number? When it comes to small business web design costs, you have several cost factors — and many are essential.
For example, your website design costs will almost always include these seven factors:
| Small Business Web Design Cost | Cost |
| --- | --- |
| Domain name | $0.95-$12 / domain |
| Website hosting | $24-$120 / year |
| SSL certificate | $0-$1500 / year |
| Design | $2000 to $15,000 |
| Pages | $1000 to $5000 |
| Functionality | $2000 to $25,000 |
| Content management system (CMS) | $2000 to $25,000 |
1.      Domain name ($0.95 – $12 / domain)
Your domain name is like your online street address. For example, Apple resides at apple.com — apple.com is the tech giant's domain name. Generally, you'll purchase a domain name identical to your company name, like Apple did.

A domain name will generally cost $0.95 to $12 per domain name.
You can browse and purchase domain names from companies like GoDaddy, HostGator, and Dreamhost. If your domain name isn't for sale, you may have to choose an alternative option. While you can approach the existing owner of a domain name, this option will generally cost more.
2.      Website hosting ($24 – $120 / year)
If your domain name is like your online address, website hosting is like your online power company. You need a website hosting plan if you want to turn on your storefront's lights in the digital world. That's because web hosting companies power your site and make it available on the Internet.
Website hosting prices range from $24 to $24,000 per year. As a small business, you'll generally see lower web hosting costs. Most small websites, for example, use shared hosting, which costs around $24 to $120 per year.
With shared hosting, your company will "share" a server with several other websites. That's why shared hosting costs less. Shared hosting does come with more limited server resources, but it'll often work well for small sites because they require fewer resources.
If you find you need more server resources, like due to a slow site, you can always upgrade your plan.
3.      SSL certificate ($0 – $1500 / year)
A Secure Sockets Layer (SSL) certificate protects your website and its visitors' data.
While optional, most businesses consider an SSL certificate essential. It serves as a trust signal, which can motivate users to complete your contact form or purchase your product. SSL certificates also protect customer data from hackers, which protects your business and brand.
In some cases, your company can receive an SSL certificate for free.
Your web hosting company, for instance, may include an SSL certificate with your subscription. Depending on your needs, however, you may opt to purchase an SSL certificate, which can cost up to $1500 per year to secure your site.
4.      Design ($2000 – $15,000)
When it comes to small business web design costs, design is a cost factor that varies widely. Your company may prefer a no-fuss look while another may want a high-end layout that requires more designer time.
In addition, you'll likely need multiple designs or templates, like for the following pages:
Homepage
Product or service page
Contact page
That's why website design costs can range from $2000 to $15,000.
In most cases, small businesses will not reach $15,000 in design costs.
When meeting with web design agencies, ask about their design costs. Request examples, for instance, of what a high-end design looks like and what a basic design looks like so you can build a realistic budget for your business.
5.      Number of pages ($1000 – $5000)
Websites range in size.
While an ecommerce store may feature over 100 pages, a service-based company may have less than 10. From a web design and development perspective, it takes time to design and build those pages, even if the pages use some of the same layouts.
For example, an ecommerce store may have 50 product pages. Those product pages use the same design template. The design and development team, however, needs to upload images, videos, and copy to those pages, as well as test the pages.
These tasks take time, which is why websites with more pages cost more.
Page costs can range from $1000 to $5000 for sites with 1 to 50 pages, which is the average page number for small business websites.
Generally, web design agencies will price pages in tiers, like 1 to 10 pages or 10 to 20 pages. If your business required 8 pages, for example, you would fall into the 1- to 10-page category and pay that tier's rate.
6.      Functionality ($2000 – $25,000)
When it comes to web design, functionality encompasses a range of features, with most focusing on ecommerce capabilities. If your company wants to accept online payments or orders, plan for functionality expenses in your small business's web design costs.
Even if you provide services, like landscaping, plumbing, or home maintenance, it's worthwhile to offer online payments. For many shoppers, online payments deliver convenience. If your business's site accepts online payments, it can serve as a unique selling point and help you earn more clients.
Web design costs for functionality features range from $2000 to $25,000.
As a smaller business, your functionality costs will likely range towards the lower end versus the higher end. That's because smaller websites don't require the robust payment systems that large sites like Amazon do.
For the most accurate estimate of this small business website design costs, talk with a professional web design company, like Tested Technologies. We can help your company determine what kind of ecommerce functionality would work best for your site and business. Just contact us online to chat!
27 ecommerce website examples
7.      CMS ($2000 – $25,000)
A CMS, like WordPress, is an invaluable tool.
For reference, a CMS is a type of software that lets your business create, manage, and update website content without coding knowledge. For many users, it's similar to working in a word processing program like Microsoft Word.
With a CMS, your company can edit and update your website with ease. For example, if you want to change service or product pricing, you could easily log into your CMS and make the change, without contacting your developer.
On average, a CMS costs $2000 to $25,000.
In most cases, how much you invest in a CMS will depend on your preferred CMS and the amount of customization. If your design and development team spends more time customizing your CMS, it makes sense that your CMS will cost more.
How much does DIY web design versus professional web design cost?
The cost to create a website for a small business depends heavily on whether your company builds your site in-house or with the expertise of a professional web design agency. Typically, do-it-yourself web design with a website builder costs $0 to $300, while professional web design costs $2000 to $10,000.
A website builder can seem like a cost-effective option, but there are some downsides, including:
You must do all the work, which can delay your site's launch significantly
You must learn how to maintain your site and troubleshoot issues
You must settle for a cookie-cutter website
While you may pay up to $300 to create your site with a website builder, you're also paying with your time. It'll take time for you to learn how to use the website builder, as well as read up on critical factors, like basic web design rules and best practices for SEO, which helps people find your site.
The question you must ask is, "Do I have the time?"
If not, think about investing in professional web design services. An expert team of web designers can help your business create a beautiful and functional site that helps your company attract new customers. Over time, your investment in web design services will pay for itself.
Beyond small business web design: 6 recurring website maintenance costs
Besides calculating your small business's website design costs, you also need to plan for website maintenance costs. While routine expenses, you can look at these recurring charges as an investment into your site's performance and security.
Six website maintenance costs to expect include:
Domain
SSL certificate
Website hosting
Ecommerce functionality
CMS
Website maintenance
Check out the table below to learn more about these costs:
| Factor | Cost | Why |
| --- | --- | --- |
| Domain name | $2 to $20 / year | Renew your domain name purchase every year. If you don't, someone else can purchase your domain name. |
| SSL certificate | $2 to $20 / year | Renew your SSL certificate each year to keep your website secure. |
| Website hosting | $24 to $120 / year | Keep your website live by paying for monthly or yearly website hosting. |
| Ecommerce functionality | $180 to $300 / year | Maintain your ecommerce system through routine updates, including for security. |
| CMS | $0 to $40,000 / year | Keep your CMS updated with the latest patches, as well as online if using a subscription-based CMS. |
| Website maintenance | $200 to $1250 / year | Maximize your site's performance with regular performance and security updates, as well as any miscellaneous fixes. |
Calculate your small business's website design costs instantly!
Small business website costs depend on a range of factors, from design preferences to must-have features. That's why web design calculators are so useful. They provide you with a price estimate based on your specific needs.
Try our free website design calculator and see how simple it is to calculate your web design costs.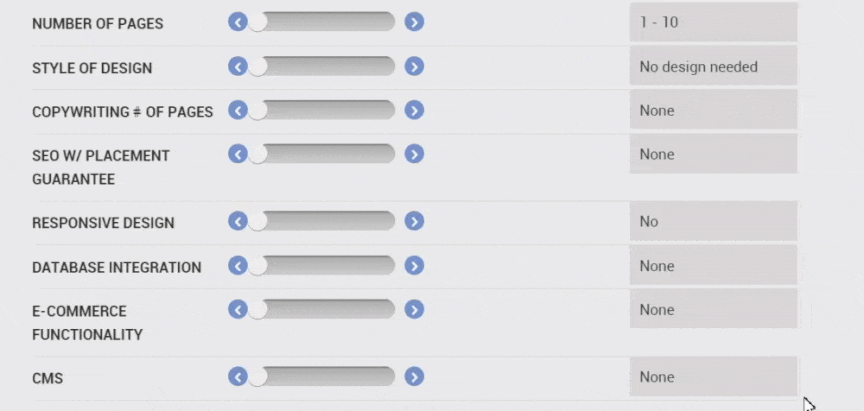 For even more digital marketing advice, sign up for the email that more than
190,000

other marketers trust:

Revenue Weekly.

Sign up Today!
Got more questions about professional web design costs for a small business? Connect with a seasoned Tested Technologies strategist and ask away. Give us a ring at 0802-583-7481 or contact us online to learn more about using web design services to build your dream website!
The post How Much Does It Cost to Build a Website for a Small Business? appeared first on Tested Technologies Blog.