Are you debating whether you should use WordPress or Wix to build your business's website?
If so, you're not alone.
Choosing your business's website builder is a big decision, as it affects what you can and can't do with your site.
So, if you're debating between WordPress vs. Wix, we've got answers for you!
On this page, we'll compare the two website builders to help you determine if WordPress or Wix is best for your business. We'll look at categories like:
Templates
Ease of use
Pricing
Customer support
Plugins and apps
Keep reading to find out who wins in the Wix vs. WordPress debate!
P.S. Want to get tips and tricks for designing and marketing your website online? Join 190,000+ savvy marketers by subscribing to our email newsletter!
We don't just want to tell you about the beautiful work we do
We Want to Show You!
We've built over a thousand
Websites in industries like yours
View Our Past Work
WordPress vs. Wix: Templates
When comparing Wix vs. WordPress, the first area to look at is the templates. Your site's design has a significant impact on your audience –– 94% of all first impressions come from design. As a result, you want to ensure your website builder offers templates that are beautiful, professional, and fit your brand's style.
Let's look at the templates for each platform:
WordPress templates
WordPress offers thousands of themes for you to design your site. You can opt to use free themes or pay for one.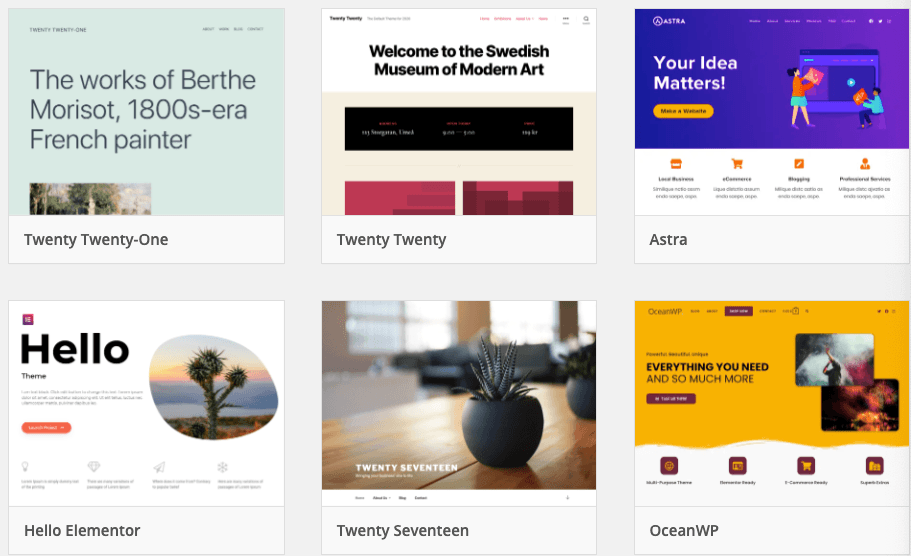 WordPress offers numerous types of themes, from entertainment-focused templates to ecommerce to food and drink. There's a wide variety you can use to build a site that fits your business.
All of WordPress's themes are professionally styled and modern, making any of them an excellent option for your website. Most of WordPress's templates are responsive, too, meaning that adapt to all devices to deliver the best experience.
If you start with a theme and find you don't like it, you can always swap it out for another one.
Wix templates
A significant difference between WordPress and Wix is their template options. While Wix has over 900 templates to choose from, they aren't as clean and professionally styled as WordPress's templates.
That's not to say there aren't any good templates available through Wix –– you just have to search through pages to find them.
Wix offers numerous categories to help you break down your search, from business to ecommerce to hobbies, which makes it easy to find the right template for your business type.
All Wix's templates are responsive, which means they'll adapt to all devices no matter what your audience uses to visit your website.
Keep in mind that, whatever template you choose, you're stuck with it –– Wix doesn't allow you to change templates after you already chose yours.
Winner: WordPress
WordPress is undoubtedly the winner when it comes to looking at templates in the Wix vs. WordPress debate. Not only does it have more template options, but the templates are more stylistically appealing. Additionally, you have the option to change your template as you want, making it a more flexible option.
WordPress vs. Wix: Ease of use
Next in the debate on WordPress or Wix is the ease of use. If you're building your website on your own instead of hiring a web design company, you want to choose a platform that's easy to use to build your website.
Let's look at the ease of use for each platform:
WordPress ease of use
When looking at Wix vs. WordPress, you'll find the WordPress is a little more challenging to use. WordPress allows you to customize your website through coding, so it's a great option if you have development experience and want to customize your site more.
If you don't have coding experience, WordPress enables you to add blocks to your website to designate where elements will go. You can add blocks for text, buttons, headings, and more. You can move these boxes freely to find the right place to place them.
Overall, WordPress can be more challenging to use if you don't have experience with coding or web design layout, as it offers a lot of freedom to move design elements and customize.
Wix ease of use
If you're debating between Wix or WordPress, consider Wix's site builder. When you build your site through Wix, you have a drag-and-drop builder that makes it easy for you to add elements to your website. You can rearrange your site as you see fit.
This website builder is great if you don't have coding experience. You don't need to code your site to get it right, but rather, you can place elements where you see fit and adjust.
Winner: Wix
When looking at Wix vs. WordPress for ease of use, Wix edges out the competition. With the drag-and-drop builder and no need for coding, Wix is much more suitable for people looking for a website builder that's easy to use.
WordPress vs. Wix: Pricing
When deciding between WordPress or Wix, you want to look at how much each platform costs to ensure it fits your business's budget.
Here's a breakdown of the pricing for each platform:
WordPress pricing
One of the most significant differences between WordPress and Wix is that WordPress is open-source. That means it doesn't cost anything to use the platform itself because it's not tied to one entity or company.
That doesn't mean it's a free website builder option. There are other costs you must factor into your budget, like:
Domain name: $0.95 – $12 per month
Web hosting: $24 – $10,000 per year
Theme costs: $0 – $200 one time, per theme
Plugins: $0 – $1000 one time or ongoing
Website maintenance: $0 – $449 per month
These are just a few of the basics costs you may incur when building a WordPress site.
Wix pricing
With Wix, you have multiple package options for your website. There is also a free option available, but it offers limited features and no custom domain.
There are four basic business packages available:
Combo plan: $14 per month
Unlimited plan: $18 per month
Pro plan: $23 per month
VIP plan: $39 per month
There are also ecommerce specific plans available:
Business Basic plan: $23 per month
Business Unlimited plan: $27 per month
Business VIP plan: $49 per month
Wix also has an enterprise package option where you can get a custom package that fits your business's specific needs.
You may also incur additional costs for using apps on your website or the theme you choose.
Winner: WordPress
When deciding between Wix or WordPress, WordPress edges Wix out slightly in cost. Even though WordPress's costs can get much higher than Wix, there's still the opportunity for them to be more affordable than Wix's packages.
Not to mention, since WordPress is open-source and offers a lot of free features, you're getting more with your budget.
WordPress vs. Wix: Customer support
When you look at the difference between WordPress and Wix, one of the most significant differences is the level of customer support offered. If you're building a website for the first time, you want to ensure you have support if you run into problems.
Here's what you can expect from each platform:
WordPress support
WordPress doesn't offer a direct help center for people to contact others with questions. Since it's open-source, it belongs to the community, which means you have to rely on the community to troubleshoot issues.
This process involves combing through community forums to find answers to your questions. You must rely on other WordPress users to help solve your issues. It can be a bit time-consuming to try and sift through related posts to find the one that solves your problem.
Wix support
With Wix, you have access to a dedicated support team that's available 24/7. You can contact the support staff to get quick answers to your problems.
Additionally, Wix offers a support center where you can search for problems you're having and see if you can find solutions before contacting customer service. This support center also provides you with a lot of great resources for designing your site.
Winner: Wix
When it comes to customer support, Wix is the winner. With a dedicated support center, it makes it much easier for first-time designers to get the help they need.
WordPress vs. Wix: Plugins and apps
The last area of comparison that we'll look at in the Wix vs. WordPress debate is plugins and apps. These features help enhance your website so that you can deliver a better experience for your audience.
Here's how these two platforms compare:
WordPress plugins
With WordPress, you have access to thousands of plugins to help you create a website that provides your audience with the best experience. WordPress has over 58,000 free plugins available, ranging from form builders to ecommerce integration to search engine optimization (SEO) plugins.
You can add any number of these plugins to your website to make it functional for your audience.
Wix apps
Wix offers hundreds of apps you can integrate into your site to create a better experience for your audience. There are some free app options, while others require monthly subscriptions.
These apps can help you add more functionality to your site, from adding contact forms to integrating social media buttons.
Winner: Tie
Both platforms offer great integration options to help you enhance your site, so they're both great options for adding functionality to your site.
WordPress vs. Wix: Is Wix or WordPress better?
Now that you've seen what these platforms have to offer, you may still wonder which one is best. The best platform for building your business's website really depends upon what matters most to you.
If you're looking for a user-friendly website builder that has excellent customer support, then Wix is the best option.
If you're looking for a website builder that offers more freedom and customization, then WordPress is a better option.
You'll need to think about what matters most to you and your business to determine which platform offers what you need.
An alternative to WordPress or Wix: Partnering with Tested Technologies
If you find that no one website builder offers precisely what you need, there is an alternative: partnering with a web design company like Tested Technologies. When you partner with us, we'll build you a custom site that features everything you need for your website.
We have over 20 years of experience in creating beautifully designed websites. Our award-winning design team knows how to craft sites that showcase your brand.
Check out our portfolio to see the sites we've designed for our clients!
Ready to build a site that's unique to your business? Contact us online or call us today at 0802-583-7481 to speak with a strategist about our web design services!
The post WordPress vs. Wix: What's the Difference Between WordPress and Wix? appeared first on Tested Technologies Blog.