1. 365psd
365psd consistently publishes high-quality PSD files for you to download. Whether you're looking for specific user-interface components like web buttons or entire UI kits, you'll find it on this community-driven site.
2. Brusheezy: Free PSDs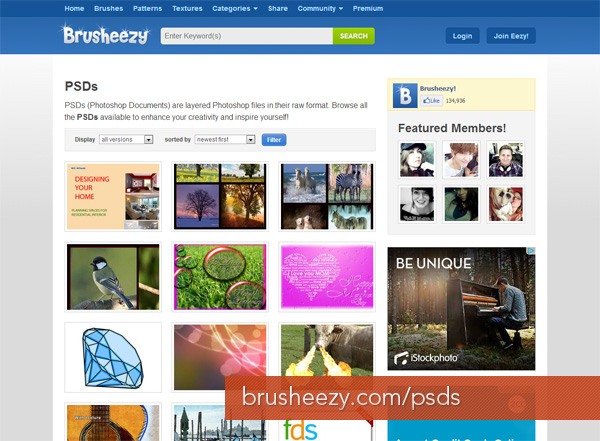 Brusheezy is a premier resource and community site for artists seeking to find user-contributed free PSD resources. Though they're most known for their Photoshop brush libraries, they have also have a huge collection of over 300 free PSDs.
3. Premium Pixels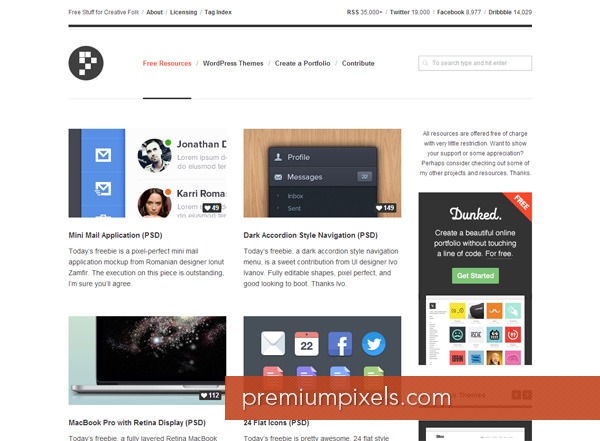 Web designer Orman Clark is the creator of Premium Pixels, a top online destination for those in search of cream-of-the-crop, free design resources. You'll find a big range of free PSDS on this site, like the Dark UI Kit (PSD) and even this 13-inch Apple MacBook Air PSD.
4. Dribbble: Free PSDs
You probably know of Dribbble already, an exclusive site for designers where we can share screenshots of our work. But did you know that you can find a lot of PSDs on Dribbble? A simple search using terms like  "psd" and "free psds" will lead you to a ton of high-quality PSDS.
5. Freepik: Free PSD Files
Freepik, a search engine that helps graphic and web designers locate high-quality graphics, has a special section that indexes all the free PSD files they have on the site. Having served over 91 million downloads and having indexed over 1.4 million design resources — there's a good chance you'll find what you're looking for at the site.
6. Best PSD Freebies
Best PSD Freebies is a website where you can discover free PSD design resources. It's by Canadian web designer Michael Reimer, whom I've had the pleasure of working with through our partner site, Six Revisions.
7. PixelBin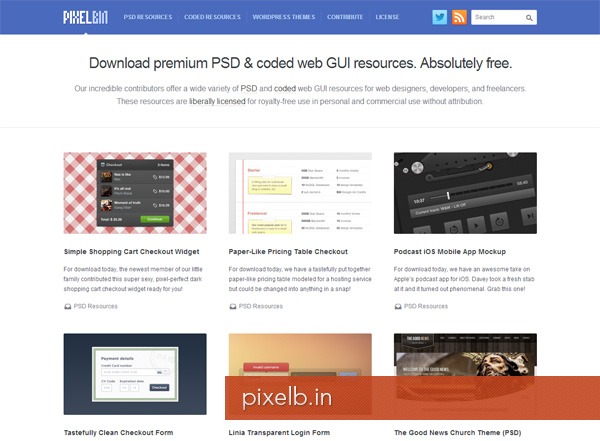 What PixelBin lacks in the quantity of PSD freebies they're offering (relative to the other sites on this list) the site more than makes up for in terms of quality. Though they only have around 30 free resources, they've already served 88,000+ downloads — a testament to the goodness of their PSDs.
8. Designmoo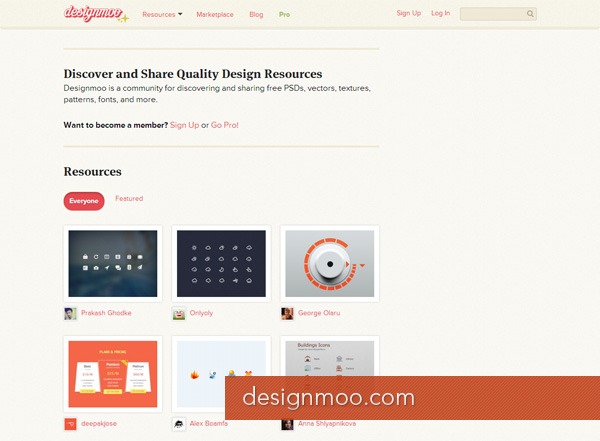 Though Designmoo doesn't strictly dish out free PSD files, it's hard to write an article like this without mentioning this design resource site for two reasons. First is that Designmoo offers superior-quality design resources. Secondly, among the different types of user-contributed design resources they make available for free, many of them are PSDs.
9. Free Photoshop Download
This site collects and features hundreds of free Photoshop files that the sites owners have found on the Internet. Right now, they've steadily amassed a collection of over 200 free Photoshop files.
10. FreePSDFiles.net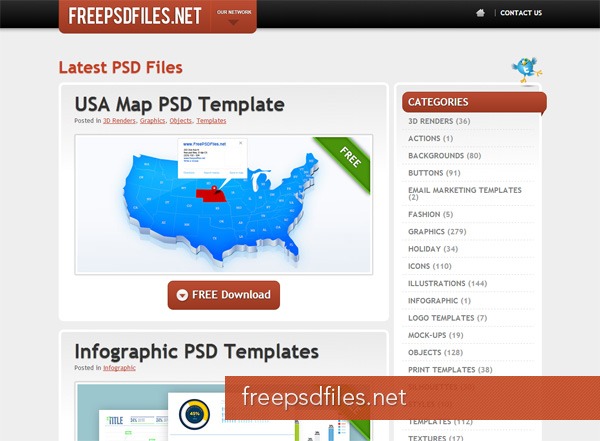 This site has a wonderful hoard of free PSD files — templates, icon sets, UI sets, graphics, you name it, they have it. What I like about this site is that the PSD previews are nice and large, making it easy to spot the freebies I'm looking for.
Also: I just wanted to mention that Design Instruct occasionally releases free PSD downloads as well — feel free to download them!
What's your favorite site for finding PSDs, and why is it your favorite site? Please share your thoughts in the comments below. Thanks!
For even more digital marketing advice, sign up for the email that more than 190,000 other marketers trust:
Revenue Weekly.
Sign up Today!
The post 10 Best Websites for Downloading Free PSD Files appeared first on Tested Technologies Blog.