Windows 10
Windows 10 will be the lastest edition of Microsoft's operating system, so it's no wonder that the tech giant has gone all out to make it the best OS to date. Microsoft has already revealed features, such as a smarter Cortana and Xbox integration, that may appeal to existing Windows users and lure those on other operating systems. Here are 10 reasons why Windows 10 could effortlessly pull you away from your Mac or Chrome operating system when it debuts for PCs and tablets on July 29.
1. Cortana is back and better than ever.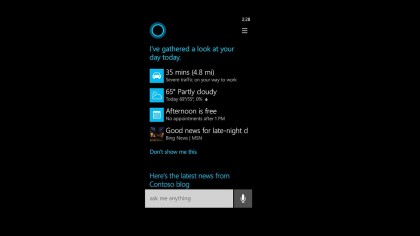 Forget Siri and all of the other personal assistant bots out there. Cortana is back from her greatly exaggerated death in Halo 4, and she's better than ever. A Microsoft blog post that outlined the features of Windows 10, Cortana was branded as the "world's first truly personal digital assistant." The tool can even learn your preferences to provide relevant content as you watch media or set reminders. If you once envisioned a world operated by intelligent robots, the future is now.
2. Microsoft Edge may be the next best browser.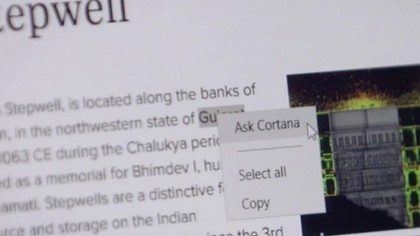 If you're suspicious of Google stealing your information through Chrome or tired of Safari's inefficiencies, get ready for Microsoft Edge. The new browser, set to debut with Windows 10, is integrated with Cortana. This means you'll receive streamlined content based on your preferences and browsing habits. Edge may just outdo Google when it comes to guessing your next move on the Internet, which is a good thing – right?
On top of one-upping Google's search engine, Microsoft promises Edge has been built as a safer browser. A new Passport feature, for example, will add a layer of authentication to ensure you are actually you when visiting secure sites. Edge also incorporates a browser and Windows Shell SmartScreen, which will flag users of malicious software installs.
3. It's heaven for Xbox gamers.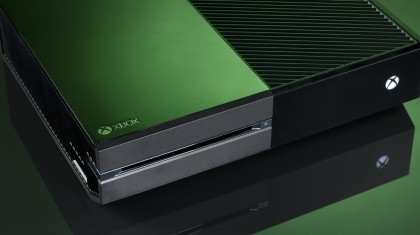 With Windows 10, Microsoft very obviously made an attempt to please gamers. For the first time, Xbox will officially be integrated with the operating system when it debuts, which means that everything from gameplay recording to streaming can be done in sync with any Windows 10 device. It's a neat feature that will help reduce the number of family feuds and fights with friends over who gets to use the big-screen TV.
4. OneDrive makes life oh-so-much easier.
Microsoft has pushed OneDrive hard with its promotion of Windows 10, and for good reason. OneDrive has a lot of features worth acknowledging, aside from its basic storage capabilities. Windows users are able to begin a project on one device, then carry it over to another Windows, Android or iOS device, thanks to OneDrive's synchronization over the cloud.
Microsoft also gives 15GB of storage to Windows users for free, and unlimited storage to Office 365 subscribers. To be fair, Google also offers 15GB of free Drive space, but either way it's better than the measly 5GB that comes with Apple's iCloud.
5. Hello Microsoft security
Windows Hello is a new security feature that focuses on making sure you are you. It greets users and allows them to log into their device with their face, iris or finger.
It's the latest HAL 9000-like software from Microsoft that could get tech geeks squealing in delight. Not to mention it's also a pretty advanced security measure compared to old school passwords.
6. The Windows Store has gotten better. Really.
The Windows Store didn't always have the latest and greatest apps, even if you were just looking for something basic to use for daily productivity or socialization. However, it's come a long way since the beginning with new additions such as Drawboard PDF and GoToMeeting. Now, Microsoft has promised that its apps will be ready to wow you come Windows 10.
There have been upgrades to the Mail, Calendar, Music and Photos apps, for starters. Additionally, Microsoft says app installation and uninstallation is easier than ever. There's also a wider range of payment methods available to users around the world.
7. The rise of 2-in-1 devices.
It's no secret that 2-in-1 devices are on the rise. Shipment of these products is expected to rise from 235 million in 2015 to 269 million by 2019. With that in mind, Microsoft is preparing for it with the development of Continuum.
Continuum will allow 2-in-1 devices to smoothly transition from tablet-to-PC mode (and vice versa), allowing you to work in any circumstance.
8. Office Apps are a cha–cha-changing.
Microsoft has confirmed that Windows 10 users will have access to new universal Windows applications for Word, Excel and PowerPoint. Additionally, it's worth noting that the apps will all be available for purchase separately, meaning you don't need to invest in the whole Microsoft Office suite if you only want one program.
For Windows 10, these apps were designed with touch controls from the ground up. There are now touch-first controls in Excel on Windows 10 for editing without a mouse or keyboard. As more devices come with touchscreens, this may become a must-have feature for consumers.
9. Selective business updates make IT life easier.
With Windows 10, Microsoft will roll out the Windows Update for Business. This update will come with distribution rings, where IT professionals can choose which devices receive updates. Additionally, IT will be able to decide when updates should – and should not – occur, according to specific time frames.
Peer-to-peer delivery will enable IT to roll out updates in line with the various bandwidths of company branches. Finally, the Enterprise Mobility Suite and System Center can be integrated seamlessly with the update as well. Overall, Microsoft aims to reduce management costs with the Windows Update for Business.
10. Windows 10 tackles cyber security concerns.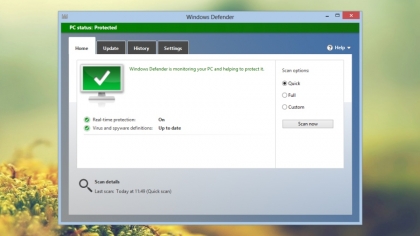 Like Windows 8 and 8.1 before it, Windows 10 will come with Windows Defender, the company's free anti-malware protection. Microsoft has also stressed its commitment to provide ongoing security updates for the supported lifetime of its devices. It's a far cry of the built-in security that comes on Macs and Chrome OS, which is to say none really.
Learn everything there is to know about Windows 10