Introduction
It's the first law of movie-making: no matter how expensive your camera, or how skilled you are at using it, your raw footage will always be rubbish. And so, if you're looking to add a little professional polish, then installing a video editor will be essential.
Commercial video editors can be very expensive, of course, but you may not have to go that far. Whether you want to trim your clips down to size, add a soundtrack or captions, apply transitions or special effects, there are some great free tools which can help – and these are the very best around.
Note that a future version of this guide will include a list of online video editors as well since they have grown in popularity and have also managed to get powerful over time.
Windows Movie Maker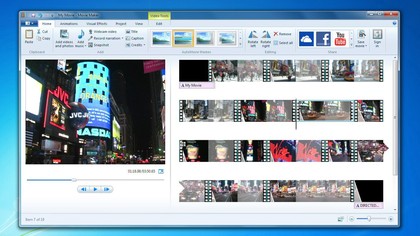 (Version previewed: v16.4, released: April 2014) Windows Movie Maker remains one of the best free video editing applications out there and certainly the most popular one on the market.
The best part is that it comes free-of-charge as part of the Windows Essentials package shipped with every version of the OS. It's designed with simplicity in mind and all users have to do is drag a selection of video clips and/or photos over to the app and they will immediately be displayed in the order they were added.
After this it's very easy to add soundtracks, captions or credits, save it all as a video file and you can even upload it directly to YouTube, Facebook or other sites.
The program has seen little wholesale change in years and its ease of use almost guarantees it will be a part of Windows 10 when it is released later this year.
Kate's Video Toolkit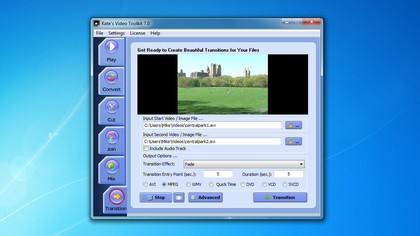 (Version previewed: v1.8, released: n/a) While there's nothing too surprising in Kate's Video Toolkit, it does provide some very, basic but useful editing features. So you can trim files or join them, link two videos with a transition, create a sequence of videos with a custom soundtrack, and there's a simple file format conversion tool as well.
There are plenty of limitations, too (you can't maximise the program window to use your full screen resolution, for instance), but Kate's Video Toolkit is extremely easy to use. If you don't want to read Help files and your editing needs are simple, it could be a great choice.
WeVideo
Cloud-based video editing services are growing in popularity and WeVideo is one of the go-to offerings that has a useful free-to-use version, even if it does have some fairly harsh limitations. Users gets 5GB of cloud storage plus the ability to publish five minutes of video per month to YouTube, Facebook and another six services.
When it comes to uploading video to WeVideo's editing suite, you can connect it to a variety of different social media sites in order to grab clips that could otherwise be hard to reach on desktop programs. Adding files is very easy and then applying special effects is just as simple thanks to a range of different options.
Whilst the five minutes of video per month is pretty stingy, WeVideo is still a useful editing program for one-off videos.
Avidemux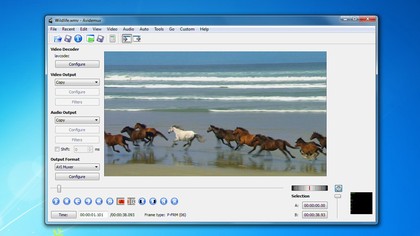 Avidemux is a small but capable open source video editor which can help you join clips, cut them (without re-encoding), and apply a lengthy list of useful filters (Add Logo, Crop, Flip, Rotate, Resize, Sharpen, Remove Noise, tweak brightness, contrast colours and more).
While this sounds basic, there are lots of options and fine controls to help make sure everything goes as you expect, and an excellent online wiki which documents everything. Overall, Avidemux is well worth a look, as long as you're happy to spend a little time learning how it all works.
VSDC Free Video Editor
Non-linear video editors can take some time to learn, and VSDC Free Video Editor is no exception (a lack of useful documentation doesn't help, either).
Once you get past this fairly significant hurdle it's almost plain sailing as the set of tools on offer is definitely on a par with the other free video editing suites out there. When you have completed your project there's even the chance to bring it to mobile devices or burn it to disc.
MPEG Streamclip 1.2.1b6
With a download size of only 327KB, you'd expect MPEG Streamclip to be, well, a little underpowered. And yet, the program opens multiple files, DVDs or URLs of video streams; can trim, cut, copy or paste parts of your footage; and has options to rotate your footage or export the soundtrack, while its Export dialog provides more control over your finished video than some commercial products.
It's not all good news – we had problems playing back some MP4 files – but if you're just looking for trimming and file conversion features then MPEG Streamclip is definitely worth a try.
VirtualDub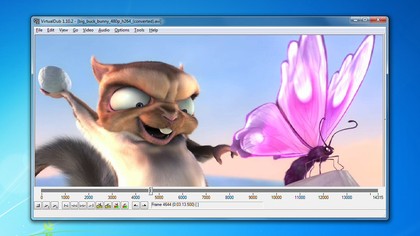 It looks a little dated now, and only works fully with AVI files, but if that's your format of choice then VirtualDub has plenty to offer.
A clean and clear interface helps you navigate through and trim your clips, there are plenty of filters – sharpen, blur, resize, rotate (at any angle, not just 90 degree increments), brightness, colour and contrast tweaks – and optional plugs add even more capabilities.
Learning how to use all these functions can take a little while, as you'll need to explore some very lengthy menus to find them. But if you need an AVI processor, though, VirtualDub is still worth the effort.
Free Video Editor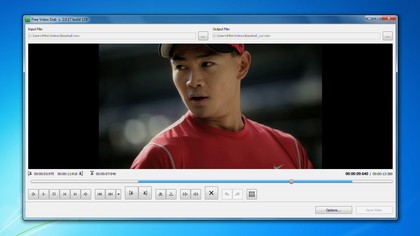 Formerly known as Free Video Dub, at first glance Free Video Editor looks like just another video trimming tool: step through the source movie, select the left and right points, cut that section from the video and save the results.
What's different here, though, is that the program doesn't re-encode your movie, so no matter how much trimming you do, no video quality will be lost. And if you have a lengthy clip which requires a lot of work then that could be very useful indeed.
Lightworks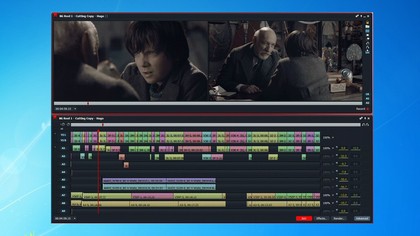 (Version checked: 12.0.2, released: December 2014) If it's real editing power you need, then Lightworks has the biggest set of features among the free pack. Its feature-packed timeline, strong multicam support, realtime effects and smart trimming tools are so impressive, in fact, that the program has regularly been used to help produce top Hollywood movies such as Mission Impossible and Batman.
Editshare's baby is constantly updated and the latest version offers users the chance to edit videos with resolutions of up to 720p, has a modern looking UI, better export controls and content management, and the best part of all is that it remains completely free-of-charge.
A paid-for version is also available and the just released v12.5 rc1 adds a number of features and squashes a few known bugs as well.
There is a price to pay for all this functionality, though: an extremely steep learning curve. This is not a tool for beginners, and you should expect to spend plenty of time reading the documentation before you can do anything useful at all.
Freemake Video Converter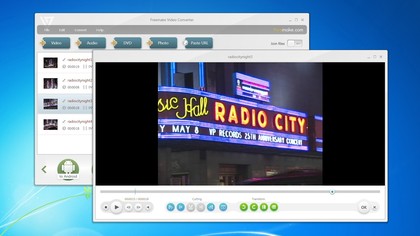 As you'll probably guess from the name, Freemake Video Converter is primarily a video conversion tool (and a very good one, too) – but it can also double as a simple video editor.
Drag and drop your clips onto the program and you can arrange them into order, cut each one to suit your needs, flip or rotate individual clips and convert them to your preferred format (or even upload the finished movie directly to YouTube). And all in a polished, professional and very easy-to-use interface.
MoviePlus Starter Edition 1.0
Let's be frank: MoviePlus Starter Edition has its problems. You'll need to register with Serif before you can download it, then pay attention during setup if you want to avoid the adware. File format is limited, too – you'll only be able to import a few basic video types (AVI, WMV).
Once you're up and running, though, MoviePlus Starter proves a surprisingly powerful editor. The program delivers way more than basic trimming, with a host of effects, customisable transitions, animated text, even multiple picture-in-picture effects, all with keyframe controls for precision results (check out the sample project in C:Program Files (x86)SerifMoviePlus Starter Edition1.0Samples to find out more).
Okay, saving your masterpiece reminds you of the minimal file format support again, but this time MoviePlus Starter Edition has a solution. It can upload the movie directly to your YouTube account, ready to share with the world.
Machete Video Editor Lite 4.2
Machete Video Editor Lite is a specialist tool with just one main function – to trim all the unwanted bits out of your AVI or WMV videos.
While this sounds basic, there's a twist. The program does its work without re-encoding your files, so there's absolutely no loss of quality, no matter how many edits you make.
Machete is extremely easy to use. Open a video, mark the start and end points of a section, then either hit Delete (if it's a scene you don't need) or Save (if it's something you do).
There are one or two small bonus features – like the ability to save video frames as images – but Machete is really all about trimming. And if you have an AVI or WMV to slice, then it's a great choice.
Pinnacle VideoSpin 2.0
It's getting old – and the free build can only work with AVI and WMV files after the first 15 days – but Pinnacle VideoSpin's ease of use mean it's still a likeable video editor.
The straightforward interface means you'll feel at home right away. View your media clips here, drag and drop them onto the timeline there, drag and drop again to rearrange, and preview the results whenever you like. Simple.
Exploring the tiny toolbar gives you more options. Apply a few smart transitions, some custom titles. Add an MP3 soundtrack. You can even spice up a dull scene with some bundled sound effects: Applause, laughter, a seagull, torrential rain, there's plenty to explore.
Finished? Exporting the finished video can be as easy as clicking Make Movie > Create File. Its extreme age means Pinnacle VideoSpin won't run reliably everywhere, but if you're in luck – and only need the basics – it can still be a good choice.
Wax 2.0e
Wax is an interesting video compositing tool, short on editing features – and strictly AVI-only – but absolutely packed with special effects.
We're not just talking about a few boring "sepia" or contrast-tweaking filters, either. Wax can map your movie onto 3D objects, display it with a professional video wall effect, create explosive or particle effects, paint over your video with custom masks, and more.
The results can be impressive, which is why the program worked as a plug-in with Adobe Premiere, Sony Vegas, Pure Motion EditStudio and more. (This was a while ago, of course – whether you can use it like that now depends on the individual application.)
Figuring out how all this works can be a problem, but there are some great sample projects to help you get started, and if you need more assistance then check out the tutorials and user forum on the author's site.
Wondershare Filmora 1.2.1.1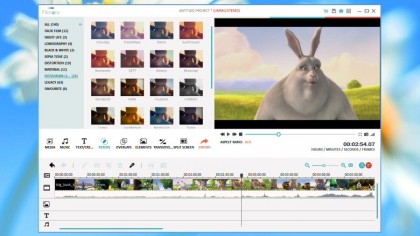 Some video editors are targeted at beginners, others are strictly experts-only, but Wondershare Filmorahas something for everyone.
The program's "Easy Mode" interface keeps complexities to a minimum. Import your clips by dragging and dropping, choose a transition style, a soundtrack, and the finished movie is generated for you. It looks great and there's no technical knowledge required at all.
If you have time to explore, though, the "Advanced" interface gives you complete access to the program's many filters, transitions, overlays, lighting and split-screen effects. A host of options and settings help you fine-tune the results, and your video can be saved locally, burned to DVD, or uploaded directly to Facebook or YouTube.
The catch? The trial version adds a big 'Filmora' watermark to its movies. Still, you can at least explore the program's many features, and licences are reasonably priced at $39.99 (around £25, or AU$55) for free lifetime updates.
PhotoFilmStrip 2.0.0
It's not as much about editing videos as producing them, but if you'd like to create a video slideshow from your favourite digital images then PhotoFilmStrip is a great place to start.
We're not talking about ordinary static slideshows, either. PhotoFilmStrip animates your videos, smoothly zooming and panning across an image to follow your preferred motion path. The effects can be amazing, yet they're very easy to set up – just resize and position a starting rectangle in one frame, the finish point in another, and PhotoFilmStrip sorts out everything else for you.
If you'd like to tinker anyway then there are a few settings to play with: Rotations, transition speeds, along with one or two simple effects. And when you're done, the Render option saves the results to your preferred format: MP4, FLV, AVI, MPEG or still images for easy reuse elsewhere.
VideoPad Video Editor 4.10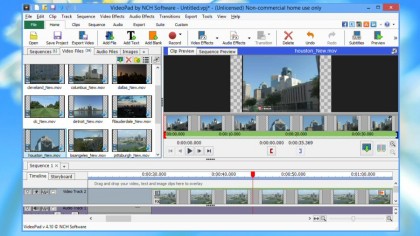 VideoPad is a powerful video editor which stands out immediately for its wide file format support. Not only can the program import all the main video, audio, image and subtitle files, it can also capture desktop activity, and record from microphones or webcams.
The program's export options are just as flexible. You're able to save movies as videos (including 3D), burn them to disc, save them to image sequence, or share your work directly on Facebook, YouTube and more.
The editing process in between isn't quite as outstanding, unfortunately. The interface looks much like many other editors, but it's cluttered, with lots of tabs, menus and tiny icons and buttons to explore. If you're a novice then it'll take a while to find your way around.
The free version has plenty of restrictions, too, although you shouldn't let this put you off. There's more than enough power here to be useful, and no annoying watermarks or other hassles to get in your way.
Jahshaka 2.0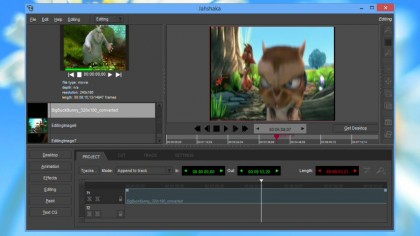 Jahshaka is a compact open source program with big ambitions. It wants to be a complete digital content creation system, and supports playback, 2D and 3D animation, video compositing, colour correction, editing, effects and more.
The package has more than enough power to handle some very complex tasks. You can animate your image, use Chroma key to remove or manipulate objects, apply and layer a host of special effects, and generally produce results that you won't be able to achieve in any of the other packages here.
Making this happen can be difficult, as Jahshaka doesn't follow the usual Windows video editor conventions. You can't drag and drop to import your source videos, the media library works differently, even the File > Open dialogs and toolbars don't work quite as you expect.
If you need Jahshaka's extra functionality then it's worth persevering, though, and the developer's site has some tutorials to help you find your way around. It's not been updated in a while, unfortunately, but there's still plenty to explore.
Shotcut 15.07
A popular open source video editor, Shotcut has matured into a very powerful application, with a pile of features, wide file format support, and a good set of audio and video filters.
If your needs are very simple then the program could be overkill. Although not difficult to use, it's not aimed at beginners either, and the interface – packed with buttons, tabs and menu items – might intimidate the novice.
More experienced editors will find a lot to like here, though: Shotcut can import almost anything (and record video, too), is more focused on practical tasks than gimmicks (fixing colour issues, sharpening your picture, stabilising shaky video), and gives you total control over the exported movie with one of the most comprehensive "Encode" tools around.
ivsEdits LE 3.0.493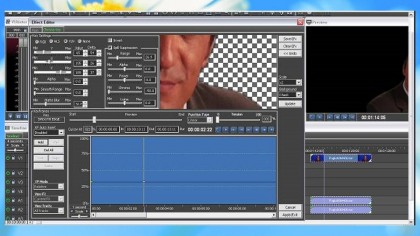 ivsEdits is a professional video editor which comes packed with high-end features: HD, 2K and 4K support, live multicamera mixing, real-time video I/O from various external devices, and a whole lot more.
The free version has some restrictions – in particular, import is mostly restricted to AVI or MOV videos – but if you can live with that, there's plenty of power left. You get 3D transitions, cropping, video borders and page effects, sharpening and colour tweaks, brightness and contrast adjustments, even a capable Chroma key (green screen) tool if you're feeling particularly creative.
ivsEdits isn't always as reliable as it should be, and the documentation isn't great either, but if you need the program's advanced functionality then it's certainly worth taking for a spin.