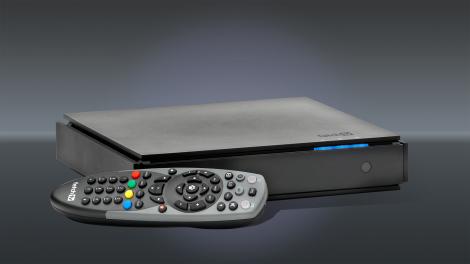 Introduction
Update: With the arrival of Netflix, we've gone back to the Fetch TV review to see whether access to the streaming service helps or hinders the upstart Pay TV platform.
The options for pay TV in Australia have always been somewhat limited. You can either opt to go with Foxtel and get a PVR like the Foxtel iQ3 or, if you live in a slightly more regional postcode, Austar. Fetch TV is bringing its own unique take on pay TV to the Australian television scene.
But the problem with both Foxtel and Austar is that historically neither of their PVR recording options offer a lot of support for the free-to-air channels that make up a significant percentage of most Australians' viewing habits (although Foxtel is trying to change that with the iQ3).
Well, that and the fact that they are both relatively pricey for even the most basic starting package. They also require installation, either through HFC cable or by the installation of a satellite dish.
Fetch TV is a completely different approach. Instead of basing the service around pay TV, the Fetch box is first and foremost a traditional PVR for free-to-air television.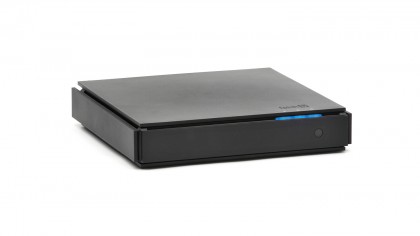 Inside there is a terabyte hard drive, plus three terrestrial tuners for recording two channels and watching a third simultaneously. 1GB of RAM ensures the box responds without lag.
But where Fetch really shines is by the addition of a properly integrated IP entertainment service. This takes the form of a pay TV subscription service that includes a heap of channels at a pretty decent price (more on this later), plus the ability to rent movies directly from the box.
Fetch also incorporates its own EPG solution, and has integrated catch-up TV platforms like ABC iView and SBS On Demand to not just work with the box, but to match the user experience.
And with the arrival of Netflix earlier this year, Fetch was quick to jump on the bandwagon, adding the global streamer to the platform for launch.
The rollout of Fetch has so far been fairly subdued. The company initially partnered with ISPs like iiNet and Optus to offer the box and the service, allowing the telcos to offer unmetered streaming for the entertainment services, while making it an appealing value add for bundled broadband services.
This finally changed in late 2014 though, with Fetch TV launching a version of the box direct to retail. The unlocked box will set you back $398 for the box and requires a one-off $1 activation fee for the Fetch TV service to work.
That one-off fee isn't an empty payment either – for your buck you get three movie rental credits on any three movies, which means up to $20.85 value.
While this means that Fetch TV is opening itself up to mass market adoption, you'll need to ensure you have a robust internet data plan to stream the content.
Also worth noting is that anyone buying the box outright doesn't get any unmetered content, even if they are an iiNet or Optus customer.
Design
Unlike traditional PVRs like the TiVo or the Foxtel iQ2, the Fetch TV box is small. Measuring in at 260 x 252 x 50mm and with no obviously visible buttons on the front of the boxy design, the Fetch TV isn't an eye-catching device that will form the visual centrepiece of your home entertainment setup.
In fact, the entire device is designed to vent heat out, and thanks to an external power supply, it doesn't get too hot in the first place.
Obviously this type of minimalistic industrial design is somewhat subjective, but I can say that the box does appear to be a little bit lost in a traditional component slot of home entertainment furniture. That said, it's so small you might be able to whack it on top of another device and save yourself a slot.
Our test unit was black, but there is a white unit exclusively available for iiNet customers, which could potentially be slightly more pleasing aesthetically.
There are a couple of lights that pop up when the device is powered on or recording, as well as when there's an internet connection, so you get some visual insight into what the device is doing.
The back of the box houses all the connections, and herein lies the first concern we had with the device.
While an antenna input and HDMI and optical audio outputs (plus composite options for older devices) are all standard, the inclusion of the ethernet port does pose problems. Not that it is there – everyone knows that wired connections give you a much better connection – but because it is essential to the box's functionality.
Yes, that's right, the Fetch TV box does not offer integrated wireless, or even a wireless dongle.
Instead, you have to either run cable across your house from the router to the Fetch box, or work around it by using powerline adapters or wireless range extenders.
The Fetch folk explained that there is, actually, a technical reason for this. According to Fred Hopley, COO of Fetch TV, the biggest issue is the fact that Fetch uses a technology called Multicast to essentially broadcast its paid channels over the internet.
Apparently, most routers don't play well with Multicast technology, either not forwarding the data over Wi-Fi at all, or instead pushing Wi-Fi across the entire network and bogging it down with excess data.
There is hope that as the 802.11ac standard becomes more prevalent, Fetch will be able to look at introducing a wireless dongle to connect to the net, but until then it's a case of sucking up powerpoints with range extenders.
There are also two USB ports on the back, which allow you to connect external storage for playing back your own content.
You can't export recorded files out onto storage though, which is less of an issue than you might think when you consider the mobile app solution Fetch has integrated, which we'll talk about a bit later.
The remote
Like every PVR ever made, the cornerstone of the Fetch TV box is the remote.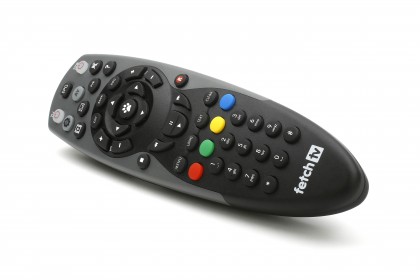 And the Fetch TV remote is a solid offering. With an overall design that feels strikingly familiar to Foxtel's iQ2 remote, Fetch has managed to squeeze plenty of important controls onto the remote itself without making it too confusing for novice users.
The all-important paw button in the middle of the directional arrows mostly acts like an OK button, but can also pull up the menu when you're just watching TV.
The dedicated EPG button at the very top of the remote is the other button you'll be pressing lots of, as it acts as a shortcut into Fetch's (frankly excellent) electronic program guide.
The EPG is immediate and up to date, with a convenient white line that tracks the current time against the schedule of shows on air, giving a quick look at how long until the next program.
The recent 2.1 update introduced real-time EPG data, which takes a feed from the free-to-air networks to offer up to date programming data. So when the networks are running well over time, the EPG will automatically adjust so you don't miss the end of your show.
As expected, there is also a traditional number pad at the bottom of the remote, as well as four colour-coded buttons that shortcut to different features; a play/pause, fast forward and rewind section for recorded playback, and dedicated record and stop buttons.
The remote can also be programmed as a universal control that can rule over your television and DVD/Blu-ray player as well.
That needs to be manually set up, and can pose problems for less tech-savvy family members as you need to press dedicated TV/STB/DVD buttons to control the different units (with the Fetch box being the STB).
This compares to a generic universal remote like a Logitech Harmony Touch, which uses macros to control all your devices at the same time to achieve different results.
Other dedicated shortcut buttons include a direct link to your ISPs portal – provided you've got the box through your ISP – including a link to messages, a shortcut to your recorded programs via a PVR button, and also shortcuts to change the language, view subtitles and access the main menu.
But for anyone that's ever lost a remote into the black hole that is the side of your couch, the ability to control pretty much every aspect of the device from the Fetch TV app on iOS and Android will be an even more alluring feature.
The service
Fundamentally a free-to-air PVR, Fetch TV stands above traditional PVR rivals by offering its own pay TV option, delivered over your internet connection.
For an extra $15-$20 a month for ISP subscribers (although that price will be different if depending on your ISP), you get 36 pay-TV channels streamed through the net in the shape of the 'Entertainment Plus Pack'.
Outright purchasers will get the Fetch Starter pack, which includes video recording and catchup TV, as well as YouTube access and movie rentals.
The starter pack used to include 30 free Movie Box films, but now users are required to add the Entertainment Plus pack ($15) for the Entertainment channels and Movie Box service, while the Ovation ($4.95) and Setanta Sports ($14.95) packs are an additional cost.
The channel lineup in the Entertainment pack is fairly extensive: TV Hits, MTV, E!, Style, BBC First, BBC UKTV, BBC Knowledge, HGTV, The Food Network, NBC's Universal Channel, SyFy, MTV Music, MTV Classic, MTV Dance, ESPN, ESPN2, National Geographic Channel, Nat Geo Wild, Nat Geo People, Travel Channel, Fashion TV, Disney, Disney Junior, Nickelodeon, Nick Jr, Baby TV, BBC World News, CNBC, Bloomberg, France 24, Euronews, NDTV, Channel NewsAsia, Al Jazeera, CCTV News, the Australian Christian Channel and the SyFy channel.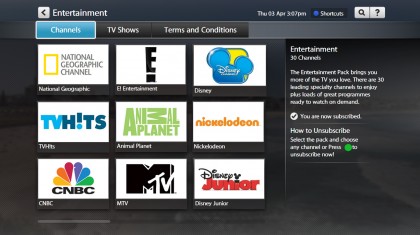 Fetch is also targeting the massive number of Australian homes that speak a language other than English with a range of World TV channels. Starting at $9.95 a month, users can opt for a selection of channels in a number of languages, including Chinese, Korean, Indian, Filipino, and more.
There are also add-ons for the sports lover, with beIN Sports costing $14.95 a month and offering heaps of European rugby and football games.
Once you've signed up, the channels are seamlessly integrated into the free-to-air EPG. You can scroll through the entire channel list, or select your favourites and limit what you want to see. As you channel flick, the Fetch device seamlessly transitions between broadcast channels and IP channels, with practically no delay regardless of the delivery mechanism.
In fact, the only way to really know which channels are broadcast and which ones are streamed is a tiny little icon on the info box that comes up when you change a channel.
The TV menu has also introduced a "Top Shows" option in the 2.1 software update, which curates some of the most popular programming from both free to air and Pay TV services, and allows you to browse the better shows in a simple, convenient fashion.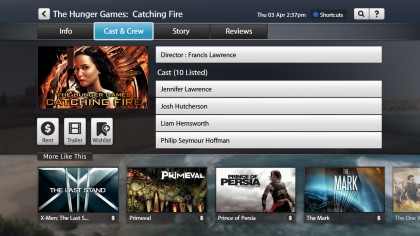 Movies, catch up and YouTube
The pay TV element – while important to the overall performance – is but a tiny portion of the services on offer.
Fetch TV also doubles as a movie rental service, offering the ability to hire both standard definition and high definition movies without ever having to leave your seat. Films cost the same as they do through services like Apple TV, with an easy to browse mechanism that pops up on the main menu.
Rotten Tomatoes reviews are integrated into the hiring process, giving an immediate insight into a film's quality and helping users select their movie of the night.
Fetch also introduced a new "Specials" tab in its movie rental service, where 18 films will be available to rent for $2.95 at any given time.
But for viewers who want more than just the latest blockbusters, Fetch also provides the Movie Box service, which includes 30 movies to stream for free. Every day a new movie is added, which is available for 30 days before being taken off the service.
The movie selection doesn't include any new releases, and the quality of films vary, but there are plenty of watchable (and award winning) films on offer. While we tested, you could watch The Last King of Scotland or Independance Day as two out of the thirty films.
All the Movie Box offerings are only available in SD, so despite the variety there is obviously a quality question. But given they don't cost any extra, it can hardly be considered a viable complaint.
While Moviebox offers plenty of value, from a simple convenience standpoint, it's hard to go past the catch-up services.
Both ABC iView and SBS On Demand are integrated into the box itself, saving you the hassle of having to access them via a separate device.
Also in the catch up service list in the latest update was Channel 10's TenPlay app, so Masterchef and Neighbours fans are now officially catered for, while Yahoo!7 Plus7 means Home and Away is never too far away
What's more, all these services have been customised to mimic the Fetch TV's user interface, which makes the whole process of navigating and selecting which catch-up programs to watch so much easier.
Compared to the iView app on devices like the PlayStation 3, this is a much more enjoyable way to experience the catch up service.
But the most recent addition to the Fetch TV box – Netflix – is one of the device's biggest selling points.
The Netflix app is available at the top of the Apps menu, and is immediately familiar to anyone who has used Netflix before, with plenty of suggested content across the screen controllable via the Fetch TV remote.
The inclusion of Netflix is a boon for the set top box, but Fetch TV has long celebrated its openness to include as many streaming services as possible.
Whether StreamCo's Stan will come to the service is still to be seen, but given Presto's affiliation with Foxtel, it's unlikely we'll see it on Fetch any time soon though.
If you still can't find anything to watch via the subscription channels, or catch-up TV services, there's always YouTube.
Fetch TV integrates YouTube leanback, which has videos optimised for a big screen experience. Obviously, watching a video encoded at 240p will look absolutely rubbish on your big screen, but watching a Full HD movie like Red Bull's The Art of Flight is a very enjoyable experience.
You can also partner the YouTube experience with your phone or tablet, allowing you to type and search much easier than manually working through the remote's T9 keyboard.
Finally, Fetch has incorporated DLNA into the box, introducing the ability to watch your own content directly from the box. Accessing your local network content is found in the same section of the user interface as your recordings, which is a pretty intuitive place to put it, really.
It also works really well, streaming content from our smartphone effortlessly.
Performance
The overall quality of broadband in Australia is pretty rubbish really, which was always one of the justifications for the NBN rollout.
With that in mind and the fact we were using an ADSL2+ Telstra connection located about 4km from the local exchange, we had some serious concerns over the Fetch Box's ability to deliver on such a low quality connection.
For the most part though, Fetch's streaming quality was impressive. The box would happily push the subscription channels to the TV over a wireless bridge with little to no lag when flicking channels.
In fact, the responsiveness of the box is hard to fault. For anyone who has ever used a PVR that doesn't have an IP delivered EPG like IceTV or TiVo, the Fetch TV is a revelation, responding to your control immediately.
From a streaming standpoint, there were only a few moments when the connection wasn't able to deliver. When streaming a video to another device over the same internet connection, the box popped up a message informing that the connection speed had dropped and to maybe stop watching that other video.
The connection also struggled one night during a storm, when the rain and thunder was upsetting not just the local dogs, but also those of us trying to stream video via Fetch TV's IP channels.
Truth be told, you're unlikely to get a worse connection than the one we used to test outside of capital cities and suburbia, so if you're wondering if your connection is up to the task of streaming to a Fetch TV box, you'll probably be pleasantly surprised.
You'll just need to ensure you have a large data plan if you're not getting unmetered data through your ISP. Streaming all that video will chew through the gigabytes pretty quickly.
The video quality is also just standard definition at this point in time, with Fetch admitting it will expand into HD soon.
When that happens, it's unlikely a really average ADSL2+ connection like the one we used will be able to handle the load consistently. This is not the fault of Fetch, but something to consider when signing up.
Also worth noting is that while the subscription channels stream and start playing without skipping a beat, hiring an HD movie isn't the same.
Just like the Apple TV, if you're renting an HD movie for a Saturday night and you have a slightly sketchy connection, it's better to plan your viewing hours in advance to allow time for the film to download.
Like most digital rentals, you have 7 days to start watching the film once you've hired it, and 48 hours to watch it from the moment you first press play.
User interface
It's pretty clear that the team at Fetch has spent a fair amount of time working on the user interface of the box as it is a genuine pleasure to use.
Hitting the menu button brings up an opaque menu, with large images of potential movie rentals above a simple menu that drops down different sub menus based on the category.
The opacity of the menu is a key feature, meaning you can easily browse through the different content on the device during an ad break and know exactly when to switch back to your show.
From left to right, the menu categories available include My Stuff, Movies, TV, Apps, Manage and Fetch TV, although that last one will vary depending on where you get your box from – our review unit said iiNet instead.
We've mentioned it a few times, but flicking around the menu system with your remote is practically instantaneous thanks to the high-end hardware inside. There's an absolutely minimal amount of lag, with menus changing over immediately.
There's also some intuitive features in the menu systems, like the fact that recordings aren't organised into a massively long, random list. Instead, they are organised into folders of programs, which are then organised into sub-folders based on season.
Given there's a terabyte of storage on board, having a well-organised recording archive makes the process of finding which show to watch significantly easier.
The introduction of season breakdowns is amazing, although it appears that the service can't detect when you've already recorded a particular episode. After a few months use, the hard drive in my unit had five versions of a single episode of Dora the Explorer, which is obviously not the best usage of the storage.
In addition, if there was one thing we'd love to see implemented, it's the ability to set automatic recordings or alerts for specific programs or genres.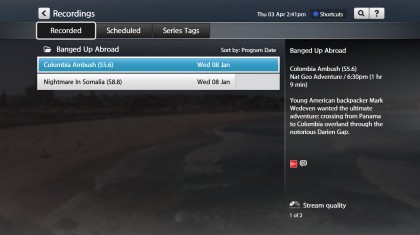 While the box does a really good job of setting up a Series Tag, at present it's not possible to set an alert for a particular actor or movie genre and have the box automatically record it for later viewing.
This is a function that works exceptionally well with the TiVo, and is something we'd love to see integrated into the Fetch box one day.
Fetch tells us that TiVo has some patents that make rolling out a feature like that problematic, but it is planning on introducing a curated list of suggested shows based on your Series Tags.
Since our last update, the service has also added the ability to browse content by cast or crew, allowing you to go on a Spielberg binge.
In any case, Fetch has also introduced a "Top Tips"s service in the Apps menu that offers regular tips on how to get more from the service as part of the 2.1 update. It's a useful addition, especially for the less tech-savvy users.
Going mobile
While the Fetch TV box itself is a pretty solid effort, what makes the platform a success is the ability to stretch beyond the television via iOS and Android applications.
In the settings menu on the Fetch TV, you can pair up to five mobile iOS or Android devices. Each of these apps can then be used to both control the Fetch TV box as a supplementary remote control, allowing you to browse the EPG using the device's touchscreen, change channel, adjust volume and more.
But where the apps get really good is the access to content.
Through the mobile app you can also watch any of your subscription TV channels live – although sadly not the free-to-air channels.
Movie Box films are available through the mobile app, as are movie rentals. These films are streamed through the internet direct to your device, no matter where you are, giving you the ability to keep yourself entertained on a commute for example (so long as you have the data limit, that is).
The app also lets you watch your Fetch TV recordings on a mobile device, although you'll need to be connected to the same Wi-Fi network to take advantage of that.
While that doesn't offer the same flexibility of catching up on TV series on the road that say a TiVo does, it still allows you to let the better half watch Masterchef on the iPad while you watch Speed on the big screen.
Verdict
The Fetch TV has aspirations for greatness. It aims to bring the humble PVR into the 21st century by giving it the tools to take advantage of the internet as a source of content.
For the most part, the box is a resounding success. Top of the line specifications packed into a small, almost inconspicuous box complete with a robust subscription TV model make it a realistic competitor to the likes of Foxtel and TiVo.
Of course, the reliance on a solid internet connection could prove problematic to some customers, which is why the decision to partner with ISPs for its rollout is actually a stroke of genius.
But for a service that effectively amounts to $25-$30 a month, it gives an enticing alternative for people looking to get more from their TV viewing habits.
We liked
The user interface – and in particular the responsiveness – is truly inspiring. Being able to quickly browse through dozens of channels in a simple EPG, without waiting for programs to load or experiencing lag when you change pages is the height of convenience.
The remote is robust, and the versatility when it comes to on-demand content is also welcome. Seriously, you will never have to worry about having nothing to watch, and the stuff that you record for later viewing is also conveniently categorised for easy discovery.
The mobile apps add an extra dimension to the service, offering a convenient way to watch away from the television. While it does have some limitations, it's a solid experience that anyone can take advantage of.
We disliked
It's a short list here, because the platform is very robust. The lack of integrated Wi-Fi – while understandable from a technical point of view – is nonetheless a pain when it comes to actually setting up your Fetch Box.
We'd also like the ability to pre-emptively schedule programs based on actor, genre and other metadata like the TiVo does. There have been some improvements in this area around cast-based browsing, but being able to automatically record would be a really useful addition.
The only other potential concern is the quality of your internet connection impacting performance. It was far from ideal having viewing interrupted by someone else watching a video on YouTube on their computer on the same connection. That's not the fault of Fetch, but it will undoubtedly impact customers who struggle with their broadband connection anyway.
Final Verdict
This is one of the most impressive PVRs available on the Australian market today. The team at Fetch has combined an exceptionally well conceived EPG and recording functionality with a lovely user interface and a top-class pay TV service.
Given the expense of a Foxtel subscription and iQ3 box, and the question marks over TiVo's very existence in Australia these days, there's no question that this is one of the best alternatives for Australians looking to get more out of their TV viewing habits.
We're keen to see how Fetch improves this year, with the arrival of Foxtel's iQ3 PVR, as well as video streaming services like Netflix and Stan. On the whole though, we think the service will continue to succeed as Australian internet connections improve.