Introduction and design
This has been an incredible year for gaming laptops, with Nvidia's latest Maxwell graphics cards and two new gaming laptop-desktop hybrids – the MSI GS30 Shadow and Alienware 17. But perhaps the craziest addition of this year has been the MSI GT80 Titan, a larger than life, 18.4-inch gaming rig with its own built-in mechanical keyboard.
That's not a giant typo, either. This gaming laptop comes packing a full-size mechanical keyboard that clicks and clacks with each keystroke.
The GT80 goes above and beyond to give gamers a desktop experience in a notebook, with an Intel Core i7 processor and two Nvidia GTX 980M graphics cards in SLI. However, weighing in at nearly 10 pounds and measuring roughly two-inches thick, this laptop is seriously pushing the limits of what you can call portable.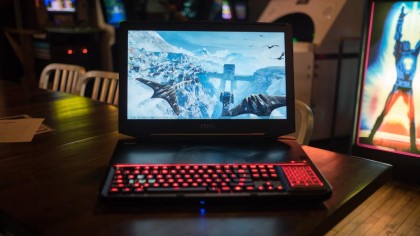 Design
This is definitely one laptop that stands out from the crowd. For starters, MSI's Titan is a beast of a gaming laptop that eclipses even the massive Asus ROG G751JY. If the GT80's large footprint wasn't enough to attract attention, the design of this laptop just screams gamer from end to end.
Whether it's the various dragon insignias on the back of the screen lid and laptop interior, or the red backlighting that consumes the keyboard, the Titan looks unmistakably like a gaming machine. In this case, that isn't necessarily a bad thing. With a machine like this, you want everyone in the room – or on the convention floor – to know you mean business with a portable rig that can even outperform some miniature gaming PCs.
The Titan also sports a few useful, gamer-oriented flourishes, namely dedicated buttons to turn up the fans to max and switching between GPU modes. The latter of which requires a full restart to swap between discrete and integrated graphics.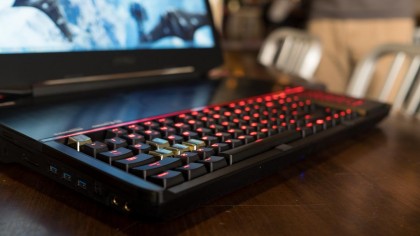 Though the MSI GT80 is massive, it's not without its charms. It has a unique design unlike any other laptop before that does away with the palm rest and in its place is a keyboard that sits much closer to the edge. All the machine's components, meanwhile, have been pushed up and tucked beneath an aluminum upgrade panel adorned with the subtle shadow of a dragon.
The laptop frame is also completely solid, despite a primarily plastic construction. That said, MSI made a few smart additions of brushed aluminum to elevate the GT80's aesthetics and make parts of the laptop more robust. The screen lid for instance is backed with one entire sheet of brushed aluminum adorned with an illuminating MSI gaming logo and two red lines to add a distinctive highlight.
Hitting the keys
The Titan's strange arrangement afforded MSI the necessary room to fit a full-size mechanical keyboard. It's not just for looks, either.
The width, height and even resistance of the keys feels just as responsive as a dedicated gaming keyboard outfitted with the same mechanical switches. The only thing I miss is the ability to raise the keyboard to a more elevated angle.
A real palm rest is sorely missed here, and even with the included foam pad, it's a bit exhausting to keep your fingers sprawled over the laptop's front edge at all times. You can also forget about typing with this laptop on your placed on your lap, as you'll have to assume a Monty Burns-like posture, pecking down at the keys with your fingertips.
The GT80 has another little novelty in the form of a trackpad that doubles as a virtual number pad. Tapping on the virtual number lock button turns this unusually tall trackpad into a red, backlit number pad.
While it's a neat feature that makes the laptop look even cooler, you'll have to deliberately look down at the number pad whenever you're using it to make sure you're hitting the right digits. The virtual number pad also fails to recognize my finger pressing on it half the time, and at other times I'm adding unintentional zeroes as I type.
As a regular trackpad, it's more than serviceable despite the unusually tall shape, and it even has two clicky, physical mouse buttons. Still, hardcore gamers will probably want to use a mouse for any serious clicking.
Specifications and value
The MSI GT80 Titan is, without a doubt, one of the heaviest laptops I've ever reviewed, weighing in at a impressive 9.9 pounds (4.49 kg). Add in its enormous 17.95 x 13.02 x 1.93-inch (455 x 330 x 49 mm) dimensions, and you'll be glad it comes with an included bag specifically made to carry this 18.4-inch gaming beast.
Comparatively, the Alienware 17 weighs in at a considerable 8.33 pounds (3.78 kg). However, as a 17.3-inch gaming laptop, you'll still probably need to pick up a new bag that can handle the laptop's substantial 16.93 x 11.49 x 1.35-inch (430 x 291 x 34 mm) dimensions. The same goes for the 16.85 x 12 x 0.9-inch Aorus X7 Pro, which thankfully is the lightest laptop in this grouping at just 6.6 pounds (2.99 kg).
Here is the MSI GT80 Titan configuration given to TechRadar for this review:
Spec Sheet
CPU: 2.6GHz Intel Core i7-4720HQ (quad-core, 6MB cache, up to 3.6GHz with Turbo Boost)
Graphics: 2 x Nvidia GTX 980M SLI (16 GB GDDR5); Intel HD Graphics 4600
RAM: 16GB DDR3L (1600MHz)
Screen: 18.4-inch WLED FHD (1920 x 1080) Anti-Glare Display
Storage: 256GB SSD; 1TB HDD (7,200 RPM)
Optical drive: Blu-Ray Burner
Ports: 5 x USB 3.0, HDMI, 2 x mini DisplayPort, Ethernet, headphone jack, microphone jack, SPDIF
Connectivity: Killer DoubleShot Pro 11ac + Bluetooth 4.1
Camera: Full HD type (30 fps, 1080p)
Weight: 9.9 pounds (4.49 kg)
Size: 17.95 x 13.02 x 1.93 inches (W x D x H) (455 x 33 x 4.9 cm)
Considering its massive frame, it's not surprising to see the MSI GT80 Titan comes packing a ton of hardware, even with the base configuration as seen above. That said, this setup comes with a fat sticker price of $3,299 or £2,573 (about AU$4,165). Gaming laptops are almost universally expensive, but MSI is asking for a few more hundred bucks compared to most other options, including the Alienware 17 and Aorus X7 Pro.
Just in case you want a beefier option, you can customize the Titan with an even faster, 2.8GHz Intel Core i7-4980HQ processor, 24GB of memory for $3,699 or £3,500. Readers living in Australia, meanwhile, only have the option of picking an even more decked out configuration, with 32GB of RAM and 1TB of SSD storage for AU$6,299.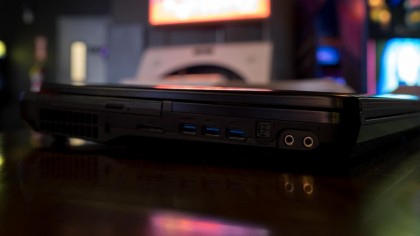 For roughly the same $3,399 (£3,096, AU$4,547), you can instead build a sweet Alienware 17 sporting the higher-end Intel Core i7-4720HQ processor paired with a single Nvidia GTX 980M. Going with this option also includes the accompanying Graphics Amplifier and a desktop-grade Nvidia GTX 980 graphics card to give the system an even bigger gaming performance boost.
The Aorus X7 Pro stands in as the cheapest option in this trio, and it only comes in one configuration for $2,599 or £2,099 (about AU$3,320). Despite having the lowest price, buyers shouldn't feel swindled, as this machine comes packing a speedy 2.5GHz Intel Core i7-4870HQ CPU plus dual Nvidia GTX 970M graphics chips. The Aorus rig also comes standard with 16GB of RAM, a 512GB SSD and yet another 1TB hard drive for even more storage.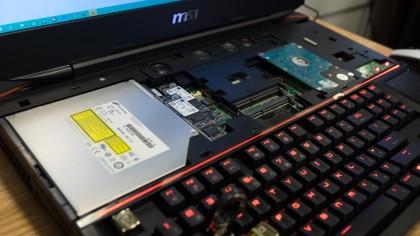 Upgrading to the max
The MSI GT80 Titan is a uniquely simple-to-upgrade laptop, thanks to an easily accessible upgrade panel that sits just above the keyboard. By undoing two screws on the machine's underside, users can really dig into their system, adding more RAM and SSD storage or remove the optical drive, if they so wish.
On top of this, you can also send the Titan back to MSI to be retrofitted with Nvidia's next graphics card. It's an upgrade path that's simply not available to the Aorus X7 Pro, since both machines come with GPUs permanently soldered to the logic board. The same goes for the Alienware 17, though, you could arguably keep the machine up to date by continually inserting new graphics cards inside the Amplifier.
Performance and features
Unsurprisingly, the MSI GT80 Titan is one of the best performing machines I've ever tested. With a pair of Nvidia GTX 980M firing on all cylinders, this machine easily churned through every punishing game I threw at it, including Dragon Age Inquisition with all the graphical settings pumped up to their highest.
GTA 5, Borderlands: The Pre-Sequel, Metal Gear: Ground Zeroes and pretty much anything I threw the Titan's way ran smoothly. The only speed bump I ran into was the recently-released Project Cars. Practice races went without a hitch at an amazing 90 to 110 frames per second (fps), despite turning on every minute detail like "heat haze" and "screen dirt." In the campaign though, it seems the addition of AI drivers adds a significant amount of stress to performance, causing the frame rate in Project Cars to drop precipitously down all the way to 11.
Despite this small hiccup, the MSI GT80 Titan is, without a doubt, one of the most powerful gaming laptops ever made.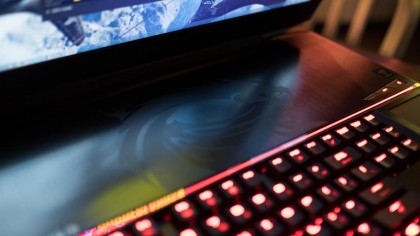 Here's how the MSI GT80 Titan fared in our benchmark tests:
Benchmarks
3DMark: Cloud Gate: 22,854; Sky Diver: 27,220; Fire Strike: 11,770
Cinebench CPU: 653 points; Graphics: 104 fps
PCMark 8 (Home Test): 4,034 points
PCMark 8 Battery Life: 1 hours and 55 minutes
Middle Earth: Shadow of Mordor (1080p, Ultra): 109 fps; (1080p, Low): 135 fps
Metro: Last Light (1080p, Ultra): 57 fps; (1080p, Low): 119 fps
Benchmarking the Titan proves just how impressive this mobile gaming rig is, with a Fire Strike score of 11,770 points. By comparison, the Aorus X7 Pro scored a still impressive 10,451 points, with its dual Nvidia GTX 970M graphics cards. Meanwhile, the Alienware 17 scraped by with 9,591 points, thanks to its desktop graphics card. Without the added boost from the Nvidia GTX 980, The Alienware 17 finished the grueling graphics benchmark with a much more pedestrian 8,008 points.
Metro: Last Light's in-game benchmarks is what truly separates the wheat from the chaff, and the MSI GT80 stands above all the computers I've ever tested, with an astounding 57 fps on Ultra. No other machine come close running the game at a steady 60 fps. The Aorus X7 Pro topped out at 43 fps and the Alienware 17 came short as well with just 45 fps.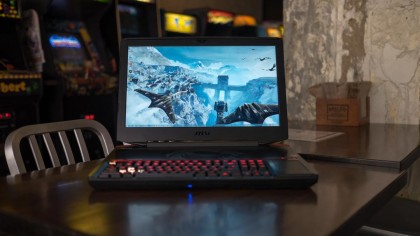 Cinema experience
Thankfully, the MSI GT80 does not fall prey the usual terrible screen trap that has ruined the experience of so many gaming laptops. You won't find any washed out colors or terribly grey contrast here.
The Titan instead is fitted with one of the richest and most expansive matte displays I've ever seen. While some would argue 1080p isn't high-resolution enough for the large 18.4-inch screen, the panel is still plenty sharp, and the pixels are still small enough that they look invisible to the human eye from a normal distance.
The Dynaudio's audio integration, on the other hand, sound significantly less impressive despite the laptop's pair of powerful speakers and bottom-mounted subwoofer. Music in particular reveals the tininess of the Titan's onboard tweeters, and turning up the volume up to 20 in Windows 8.1 begins revealing some ear-pinching distortion. Thankfully though, the speakers are much better suited to the booming sounds of fiery spells and gunfire in games.
More than likely, you'll want to use a gaming headset with such a serious setup as the Titan. This machine is certainly not lacking in the number of ways you can hook up an audio setup, either, with individual input and output jacks, as well as an optical audio port.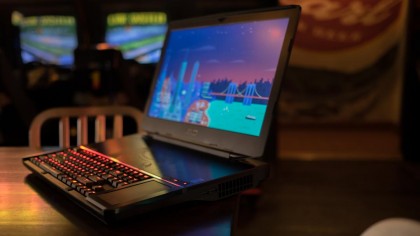 Is there even a battery in here?
Battery life is virtually non-existent on the MSI GT80, lasting a scant 1 hour and 55 minutes, according to the PCMark 8 battery test. Even with a low-impact anecdotal test consisting of word processing in Microsoft Word 2013, some light web browsing in Firefox and streaming Google music with the OutColdPlayer, the Titan only lasted a slightly longer 2 hours and 8 minutes. Given the sheer size of the laptop, I was expecting MSI to fit this machine with a larger battery.
It's unlikely you'll be using this machine away from a power outlet – or on your lap, for that matter – for long. But if you're in a pinch and need to squeeze just a few more minutes of juice, MSI's power management utility include additional power saving modes, plus there's the physical button to switch the machine to integrated graphics.
Aorus X7 Pro ran for an equally short 2 hours and 5 minutes, no doubt thanks to its power hungry dual-GPU setup and integrated Iris graphics. Users looking for a gaming laptop with more outlet independence should look to the Alienware 17, which kept chugging along for 3 hours and 52 minutes.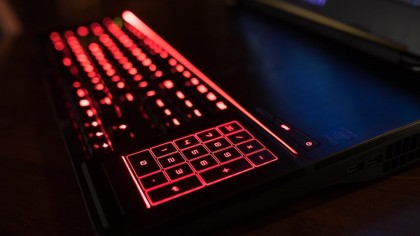 Bundled software
For a gaming machine, and such an expensive one at that, MSI has included a surprising amount of bloatware. Just a few bits of unwanted, pre-installed software you should get rid of from the moment you get past start up include W Games, Fresh Paint, and Norton Internet Security. That said, the Titan is not just loaded with junk. Here are a few applications you will want to keep on your desktop:
Battery calibration – As the name suggests, this tool will condition your battery to keep it healthy.
MSI Sizing Option – Like Windows' built-in scaling setting, this application will affect how small or large everything looks on the screen.
MSI Dragon Gaming Center – Monitor your system and manage a few system preferences, such as performance modes.
Verdict
If buying a gaming laptop is a lifestyle choice, then getting a MSI GT80 Titan is like getting the house to go with it. It's one of the few gaming laptops that completely replicates the desktop experience. You'll have an incredible level of performance at your disposal, plus an authentic mechanical keyboard that's all topped off with an excellent screen to round out this larger than life package.
At the same time though, it's a serious investment at $3,299 or £2,573 (about AU$4,165). This large machine has also sacrificed quite a bit to recreate the desktop experience. With its low-set keyboard, lackluster battery life and massive size, the Titan isn't a machine you can comfortably use as a portable computer.
We liked
After you double down on a truly expensive piece of tech, there's no better feeling than knowing it can easily take on everything you throw at it. The Titan will absolutely plow through almost any graphically intense game you try to run.
MSI also set out to build the world's first gaming laptop with a mechanical keyboard, and it's a resounding success with the GT80. As soon as I laid my hands on the keys, I felt right at home, as if I was using my mechanical keyboard back at home. Add in the excellent screen and this is a great setup PC gamers can feel comfortable using wherever they are.
We disliked
The biggest downfall of the MSI GT80 Titan is you simply can't use it as a laptop. It's far too big, heavy and the ergonomics of the keyboard and trackpad make it impossible to use on anything but a large desk.
With battery life maxing out around two hours, this is a mobile gaming rig you'll barely take out. It's for these reasons the Titan feels more like a movable desktop, a transformable gaming all-in-one or, as I like to call it, a foldable typewriter.
Final verdict
The Alienware 17 is an amazing machine through and through, being more powerful and thinner than its previous iterations. What's more, with the optional Graphics Amplifier this machine can truly sing. However, when it comes to gaming, the MSI GT80 has the advantage, thanks to being a completely self-contained machine that's just as, if not more, powerful than the Alienware 17. And that's even with the added boost from a top of the line desktop graphics card.
The Aorus X7 Pro falls into role of the MSI GT80's little brother from another mother, thanks to its smaller 17.3-inch screen and lower-end dual Nvidia GTX 970M setup. Although the X7 Pro can be seen as a step down, it's not too far off in terms of performance in benchmarks and will play most games on ultra settings without breaking a sweat. That said, the Aorus rig has a few knocks against it, including heat issues and a far inferior screen compared to the Titan's excellent 18.4-inch display.
The MSI GT80 Titan is a touch too big for my personal tastes, but if you're looking for a mobile machine that delivers the same gaming experience of using a desktop PC down to the keyboard, this is the one to get. Just make sure you're ready to carry the burden on your back.