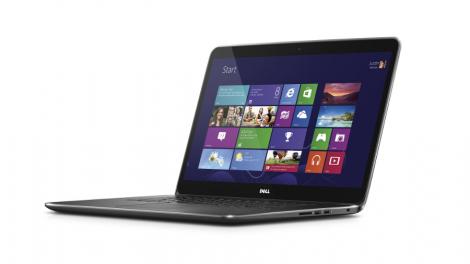 Introduction and features
The Dell XPS 15 is the latest addition to the firm's range of high-class laptops designed to bring some sheen to both work and play thanks to a powerful specification and a 4K screen.
It's certainly got the design credentials nailed down – the lid is coated with a slab of machined aluminium, the same metal used to build the frame, and the keyboard wrist-rest and base are coated with carbon-fibre. Its weave is still visible across the base, and it's finished with a matte, soft-touch coating on the wrist-rest.
The slick, smart design gets the XPS 15 off to a good start, and the build quality is top-notch. The carbon-fibre bottom half of the machine didn't budge under ample pressure, and the centre of the screen's rear flexed a little – but that's the only area where this machine differs from the rock-solid Apple MacBook Pro 15-inch with Retina display.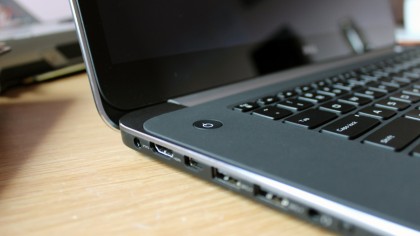 The XPS ticks the right boxes in a practical sense, too. There are three USB 3.0 ports, a USB 2.0 connector, plus HDMI and mini-DisplayPort outputs, and a headphone jack and card reader. That's more than the MacBook Pro, which offers pairs of USB 3.0 and Thunderbolt ports, an HDMI output, a single headphone jack and a card reader.
All of this is inside a machine that weighs 4.1 pounds (1.88kg) and is 0.74-inches (19mm) thick – figures that compare well to rivals. It's only a millimetre thicker than the MacBook Pro, a little lighter, and far better than the Toshiba Satellite P50t B-11D, which weighs 5.07 pounds (2.3kg) and is 1.1-inches (28mm) thick.
The Dell can be opened up, but it's tricky to get inside – the base panel is held in place by ten tiny Torx screws and, even then, it's tough to get the panel off. Once inside, though, the memory slots, battery, M.2 SSD and wireless chip are all accessible, and the cooling gear can be cleaned.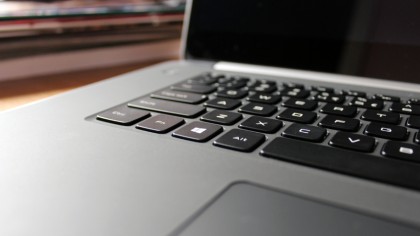 Ergonomics
The keyboard doesn't have a numberpad or any extra buttons, which is a little disappointing on a machine of this size – the chiclet unit feels a little marooned amid so much matte material.
It's backlit, though, and we've got no qualms about its typing quality: The keys are light enough to encourage fast typing but with enough weight that they feel substantial and satisfying. The base is solid, and the action is consistent – and it's easily the match of the superb MacBook Pro.
The trackpad is large, accurate and responsive, with support for gestures and two snappy buttons. Its movement matches the MacBook, but it doesn't have the Force Touch technology that's recently been introduced to Apple's machine.
On the inside
The latest incarnation of the XPS 15 comes with a Core i7-4712HQ. It's similar to the 4700HQ in the Toshiba, but its clock speed of 2.3GHz is a tad lower, which means Intel can reduce its power consumption by 10 Watts – which should, in turn, make for better battery life.
Graphical grunt comes from the GeForce GT 750M, which sits right in the middle of Nvidia's older mobile range of GPUs. It's got 384 stream processors, 2GB of dedicated memory and a stock speed of 967MHz, so it should deliver respectable pace.
Elsewhere there's 16GB of memory and a 512GB Samsung SSD, but there's no room in this slim machine for an optical drive. Wireless connectivity is good, with dual-band 802.11ac and Bluetooth 4.0 on board, but there's no Gigabit Ethernet.
You're out of luck if you want to change that specification, though – no alternative models are available on the Dell website. As for the cost, this machine weighs in at £1,499 (around $2340, or AU$3170).
Here is the spec sheet for the Dell XPS 15 as provided to TechRadar:
CPU: 2.3GHz Intel Core i7-4712HQ processor (quad-core, 6MB cache, up to 3.3GHz with Turbo Boost)
Graphics: Nvidia GeForce GT 750M (2GB GDDR5 RAM), Intel HD Graphics 4600
RAM: 16GB DDR3 (1,600MHz)
Screen: 15.6-inch 3,840 x 2,160 IPS touchscreen
Storage: 512GB Samsung SSD
Ports: 3 x USB 3.0, 1 x USB 2.0, 1 x mini-DisplayPort, 1 x HDMI, SDXC card reader, 1 x audio
Connectivity: Dual-band 802.11ac wireless, Bluetooth 4.0
Camera: HD webcam
Weight: 4.1 pounds (1.88kg)
Size: 14.6 (372) x 10 (254) x 0.74-inches (19mm)
Performance and screen
Benchmarks
PCMark 8 Home: 2571
PCMark 8 Home battery life balanced 50% screen: 3 hrs 30 mins
3DMark: Cloud Gate: 10408; Sky Diver: 6866; Fire Strike: 2060
Cinebench R15: CPU: 595cb; Graphics: 72.05fps
The lower-power Core i7 processor means the Dell can't quite keep up with its rivals for application power – its PCMark 8 Home result of 2,571 is good, but the Toshiba Satellite P50t B-11D's result of 3,196 is just that little bit better. Expect similar pace from the Apple MacBook Pro 15-inch with Retina display, which has a 2.2GHz Core i7 chip inside.
It's a similar story in Cinebench, where the Dell's 595cb result was narrowly beaten by the Toshiba. Don't expect the XPS to break any speed records, then, but don't doubt its power either – there's enough grunt here to handle the vast majority of work tasks and consumer apps.
The XPS picked up the pace in our graphics tests. Its GTX 750M scored 6,866 in the 3DMark Fire Strike test, which is much better than the 1,620 result of the Toshiba. It's comparable performance to the MacBook, which has Intel's high-end Iris Pro integrated GPU, and it's enough to ensure that most games will run smoothly as long as there's some compromise on quality settings – and as long as you play at 1080p rather than the mighty 4K native resolution.
Battery life, though, is middling. The Dell lasted three hours and thirty minutes in the PCMark 8 test, which is almost an hour better than the Toshiba – but a long way behind the MacBook's six hour lifespan.
There's no denying the fact that Dell has squeezed powerful components inside a slimline chassis, which means that there's a little fan noise when those components are pushed hard. The high-pitched whine is easy to drown out with headphones, or with the Dell's crisp, well-balanced speakers, but it's obvious in a quiet room.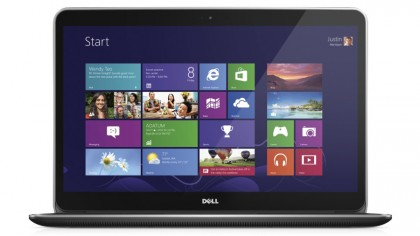 Screen
The Dell's 15.6-inch touchscreen has a glossy finish and a mighty 3,840 x 2,160 resolution. That means photos and text are pin-sharp, although it also means that Windows' scaling options have to be used to make text and icons legible. That's fine, as the in-built options work well, but some third-party tools can't cope, with pixellated or blurred page furniture or text that just doesn't scale at all.
For the most part, though, the Dell's 4K screen is stunningly sharp and perfectly usable – and quality is top-notch, too. The Dell's brightness level of 328cd/m2 is ample for indoors and has enough punch to pierce through bright sunlight, and it's bolstered by a black point of 0.21cd/m2. That's one of the lowest figures we've seen from a laptop, and it means that black shades will be impressively inky.
Those two figures combine for a top-notch contrast ratio of 1,171:1. That helps the screen display a broad range of colours with consistent depth and vibrancy.
The XPS 15's panel can display a decent 92% of the sRGB colour gamut, and those colours are displayed using an average Delta E of 1.66 – an excellent score that guarantees accuracy. The only fly in this particular ointment is the colour temperature, which sits at 7,234K – a little too cool.
That last issue won't affect most people, though; you'll only notice the lack of warmth to some tones if you're doing demanding colour work. For most tasks the Dell's screen is more than good enough – it has enough contrast to make games, movies and TV pop, and with the resolution to allow for Full HD movies and multiple windows to run with ease.
This is one of the best screens that's currently available on a Windows laptop thanks to its keen resolution and high quality – and with a density of 282ppi, it's sharper than the 221ppi MacBook Pro, too.
Verdict
We liked
The XPS 15 is a well-built, great-looking machine. The metallic exterior exudes class and is strong enough to be tossed in a bag, and the carbon-fibre base and interior look good and feel fantastic. It matches the MacBook for style while still managing to stand out, which is a rare achievement.
The keyboard is fantastic, the trackpad is decent, and the components are good too – there's enough power here for work and play, and the battery is better than the Windows-based competition.
The screen is sensational. It's sharper than the MacBook's Retina display, and its high contrast, low black point and accurate colours help images pop from the touch-enabled panel.
We disliked
The XPS has no real weaknesses – so, instead, we have to drill down on smaller flaws. The fans spin up a little too much during intensive use, and the processor is fine – but it's bettered elsewhere by machines that have chips without reined-in power requirements.
It's tricky to get inside the XPS, there's no numberpad on the keyboard, and the decent battery still can't beat the MacBook.
Final verdict
The high-quality design, well-balanced components and stonking screen make the XPS one of the best Windows laptops on the market, and it's further bolstered by its solid build quality and excellent screen. The MacBook Pro has a better battery, but it's $156 (about £100, or AU$212) more expensive – which means the XPS is a top-notch alternative, and one of the best Windows laptops on the market.