Introduction and design
It can't be debated that Alienware pioneered the gaming laptop scene. But fast forwarding 13 years finds the company up against tons of competition, all chomping at the bit to make the most souped-up machines that gamers will love.
What's Alienware's retort to the recent, excellent efforts from the likes of the Aorus X5, Razer Blade and HP Omen? Naturally, laptops that feature killer specs, like the latest Alienware 17. But the company also (hopes it) has an ace up its sleeve with the Alienware 13, parent company Dell's latest 13-inch mid-range gaming laptop with a killer trick up its sleeve.
Is it the right gaming laptop for your tastes? It very well may be. A 13-inch chassis that's thinner and lighter than ever makes it one of the more portable options out there. And the Broadwell Core i-series processor and Nvidia GTX 960M that come standard in each configuration makes it a tempting option if gamers are looking for near-console quality performance on the go.
But what else does it have to offer? The optional Graphics Amplifier that hooks into the back of the Alienware 13 can raise the graphical bar far beyond what it can accomplish alone. With it, you no longer need to replace the entire laptop whenever you want more up-to-date graphics hardware. It's a huge perk, but it comes at almost the same price as the laptop itself.
If you're the type of gamer who enjoys the experience of playing the latest games on the highest settings at 60 frames per second (fps), the Alienware 13 can't do it without the help of the Graphics Amplifier. And while this laptop does pack a decent punch on its own, it isn't the best value around for gamers.
Design
Technology has changed a lot since the launch of Alienware's first gaming laptop 13 years ago. It has shrunk, become more efficient and cheaper to implement.
But even so, the overall shape and look of Alienware's laptops have changed very little since the M17x of 2009. Sure, a large chunk of the heft has been lopped off, to everyone's appreciation, but the plethora of LEDs and sharp edges you know and (maybe) love are here in full effect.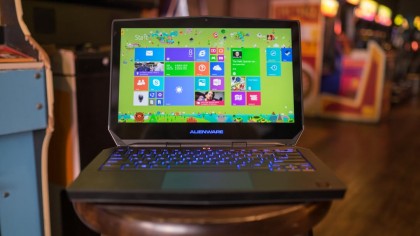 Does the design need an complete overhaul in the face of Ultrabook-rivaling gaming laptops, like the Razer Blade? If the stellar showmanship and excellent build quality of the Alienware 13 is any indication, maybe the company can still wring what's left from the current blueprints for a few more years before going back to the drawing board.
As it sits on a desk, the "Epic Silver" lid echoes a similar design ID that flows through Alienware's current line of computers. Just look at the design of the humongous Alienware Area 51 desktop to see what I mean.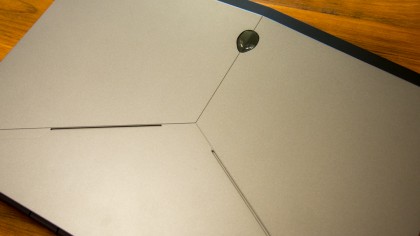 The lid's narrow notches and the the little Alienware buddy light up with customizable patterns and look slick as usual. At the edges of the silver-speckled lid, the material style switches up, giving way to black, matte-textured plastic. It's the same stuff that coats nearly all of the chassis. Connecting the lid to the body is a tough, plastic-coated hinge, which ensures a mostly wobble-free experience.
Compare the chassis of the Alienware 13 to the Alienware 17 and you're bound to stumble across a few similarities in their design. Just like the 17, the lower section of the lid meets the body with an angular dip toward the hinge. You'll also find the similar LED flourishes across the keyboard and on the lid and chassis, but that's where the comparison ends.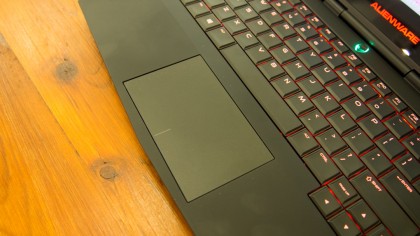 The Alienware 13 rocks a 81-key keyboard, which has the essentials covered but not much else. If the number pad is a necessity, consider hooking in an external keyboard. For everyone else, the caps covering each key are smooth and ever so slightly concave to the touch, which helps keeps fingers from slipping when the going gets tough (or when a round of gaming reaches its last, intense seconds.) The home keys each have an embossed lip jutting out to make no-look typing easier. And since this laptop is geared toward gamers after all, the "s" key has a mark of its own to allow a quick, seamless hop into WASD formation.
One of the design changes that I'm most psyched about with the Alienware 13 is the wider, centralized clickpad. Although it doesn't light up, which might bum some people out, the new design ditches the physical buttons and makes for a much more sophisticated look. It sports all the same functionality as any trackpad you're used to, but offers more tracking real estate.
Moving to the sides, Alienware didn't go crazy with ports on the 13, but there's enough here to satisfy those who need to plug in an external drive, as well as a mouse and keyboard. You won't find any neat LEDs around these parts, as they are most likely the casualty of this computer's fairly slim profile. It's not a huge issue, as most will find the matte plastic to be a worthy fill in.
Near the wrist rests on each side, you'll find what look like fan vents, but are actually openings to let sound out of the Klipsch-powered speakers. It's a little weird that they were designed to fire out to the sides rather than toward the user, but at least they look – and sound – pretty good … for laptop speakers. Keep your 2.1 speaker system on hand, though, as these sound rather metallic.
All about AlienFX
Alienware computers have a leg up on the competition when it comes to customization. This is no different for the Alienware 13, which features more than a few LEDs that can be tinkered. The built-in Command Center app illustrates the lighting sectors of the machine and allows you to modify the colors and pulsation of each.
For example, you can set each sector of LEDs to a different color, give them their own, unique behavior (Morph, Pulse, or just display the color) and even tweak the tempo of each effect. The possibilities are limitless and can look as bonkers, badass or subdued as you choose.
Of course, when you're on the go, you might want to switch all, or just some, of the lights off to conserve battery. The Command Center makes that easy with power conditions. Each sector can be given an action for both when the Alienware 13 is plugged in and when it is sucking battery juice.
The app can also store several themes, so you can swap different lighting patterns out as you please. Some will dig these, others couldn't care less. Either way, it's here and it's intelligently implemented, so it's hard to complain even if it's not your thing.
Specifications and value
The Alienware 13 has a shockingly small footprint for a gaming laptop. Even so, weighing in at 4.5 pounds (2.06kg), it's just a tad bit heavier than some of the competition in its size range. The 14-inch Aorus X3 Plus v3 is somehow lighter at 4.12 pounds (1.87kg), while still packing in more hardware than the Alienware 13. The MSI GS30 Shadow weighs light as a feather by comparison at just 2.65 pounds (1.20kg). Despite being on the heavy end for a laptop of its size, its heft is offset visually by its sleek, slightly rounded-off edges.
Measuring in at 12.9 x 9.3 x 1.09 inches (328 x 235 x 28mm), this Alienware laptop might be heavier than the X3 Plus and the GS30 Shadow, but it mirrors their slim dimensions much more closely. And, just like the other options, the Alienware 13 nixed the optical drive, making it small enough to fit snugly into most laptop bags and backpacks.
So, what was Alienware able to squeeze into the chassis? Here's the configured Alienware 13 unit sent to TechRadar for review:
Spec sheet
Processor: 2.4GHz Intel Core i7-5500U (dual-core, 4MB cache, up to 3.0GHz with Turbo Boost)
Graphics: Nvidia GeForce GTX 960M (2GB GDDR5 RAM)
Memory: 8GB DDR3L (1,600MHz)
Screen: 13-inch, 2,560 x 1,440 QHD, anti-glare
Storage: 256GB SSD
Connectivity: Killer 1525 802.11ac, Bluetooth 4.1
Operating system: Microsoft Windows 8.1 (64‐bit)
Ports: Ethernet, USB 3.0 x 3, Mini DisplayPort, HDMI, headphone and microphone inputs
Weight: 4.53 pounds
Dimensions: 12.9 x 9.3 x 1.09 inches (W x D x H)
Warranty: 1-year Alienware Limited Hardware; 10-14 day mail-in repair after remote diagnosis
What we're looking at here is a slightly modified variation of Alienware's $1,399 (about £1261, AU$1833) configuration, which is nearly the highest tier available. The Alienware 13 goes for as low as $949 (£948, AU$1,599) but can cost up to $1,649 (£1,198, AU$2,999) at the highest end. The configurations vary a bit between regions, but whichever bracket best represents your budget, you can rest easy knowing that its most alluring component, the Nvidia GeForce GTX 960M, comes standard.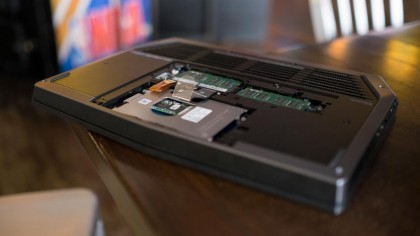 Electing for the highest tier over the lowest nets you the typical gains, like a switch from a spinning hard drive to a 256GB solid-state drive , a jump from Core i5 to i7 and doubling the RAM from 8GB to 16GB. But even the most juiced Alienware 13 has trouble stacking up to other gaming laptops in its size class.
This machine is limited throughout its four customizable tiers to dual-core processors and the GTX 960M with 2GB of video RAM, which just isn't much for a gaming laptop in 2015. The Aorus X3 Plus v3 runs circles around it with its quad-core i7-4710HQ and the 970M, which packs a whopping 6GB of video RAM. Of course, this is portable gaming we're talking about, so that'll cost you $2,199 (around £1,346, or AU$2,742).
When looking at another option, the MSI GS30 Shadow, Alienware's 13-inch laptop continues to be outpaced, but not by nearly as much. This MSI shares a common trait with the Alienware 13 in that it can also link up to an external graphical booster to enhance its output. But speaking just on the basis of what each laptop can offer out of the box, the MSI GS30 Shadow features a killer, quad-core i7-4870HQ processor and double the amount of RAM for around $1,500 (about £1355, AU$1,958) at the time of writing. But where the Alienware 13 wins in this matchup is with its dedicated graphics, one-upping the GS30 Shadow's integrated solution, which is powered by Intel Iris Pro Graphics 5200.
At the $1,399 price range, the Alienware 13 has the advantage against the competition as being an affordable entry point to QHD gaming. The only problem that arises is when you attempt to game on this machine's native resolution. It's just not going to work well, but I'll dive more into that later.
Graphics…Amplified!
The Graphics Amplifier is super cool. The concept of being able to plug into an external device to juice up your graphical experience as tech advances years down the line is a devilishly clever idea. But for $199 (£207, AU$349) for the enclosure alone at the time of writing, it's not a cheap addition.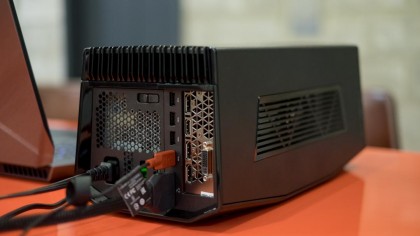 Again, that doesn't even include the price of a graphics card that you'll need to stock it with. We're talking an extra $800 or so if you're really going for the throat with an Nvidia GeForce GTX 980 or something comparable in the AMD realm of graphics cards.
Here is the Alienware Graphics Amplifier configuration given to TechRadar for review:
GPU capacity: PCIe x16 Slot for desktop graphics card
Graphics: PNY XLR8 GeForce GTX 980 (4GB GDDR5 RAM)
Power supply: Alienware-approved, 460 Watt multi-GPU
Ports: 4 x USB 3.0, Alienware Graphics Amplifier to Notebook Port
Weight: 7.71 pounds (3.5kg)
Dimensions: 7.3 x 16.12 x 6.83 inches (185 x 409 x 173mm, W x D x H)
How does the competition stack up now? The Aorus X3 Plus v3 doesn't utilize a graphics amplifier. That's because, frankly, with 6GB of vRAM, it doesn't need one.
Looking at the GS30 Shadow, its screen powers down when plugged into the 16-pin PCI Express connector of its Gaming Dock. Also, when mounted on top of the printer-sized box, it's also relatively out of reach at this point. So, you'd better have an external monitor, keyboard and mouse.
The Alienware 13, on the other hand, can resume its laptop utilities, just with the proprietary 4-pin PCI-E 3.0 cable coming from the Gaming Amplifier plugged discretely into its back.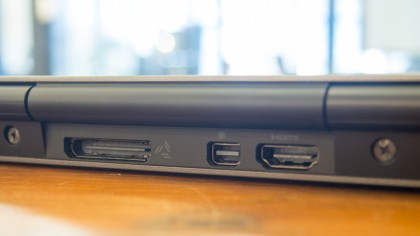 It's hard to say which method is better for gamers, as each has its share of perks and flaws. MSI's solution employs a standard 16-pin PCI-E connector, so it essentially incorporates the GS30 Shadow's components as if they were all on a motherboard together. However, the laptop is totally out of reach when mounted on the Gaming Dock.
Alternatively, Alienware opted for a cleaner-looking, more versatile method, but it's doubtful that the 4-pin PCI-E cable used with the Graphics Amplifier provides the uncompromised bandwidth required to fully siphon the power of the GTX 980 into the experience.
If the idea of the Alienware's Graphics Amplifier appeals to you, it's hard to blame you. But keep in mind that the overall performance of the Alienware 13 will only be as strong as its weakest link. I'm afraid that its dual-core, mobile Intel processor is a bitter bottleneck that might make you regret spending all of that money.
That said, the Graphics Amplifier is a handy solution for desktop-ifying the Alienware 13 with, you know, desktop-grade performance that most mobile chips have a hard time matching.
Performance and features
Out of the box, the Alienware 13 doesn't create waves with its performance, but it's more than enough to make for a satisfying experience when handling basic tasks, like surfing the web and playing high-resolution video. The Gaming Amplifier helps this laptop reach new heights in terms of gaming performance, but unfortunately, it only gets on by the skin of its teeth without it.
The laptop can play modern titles, like Middle Earth: Shadow of Mordor, at a very playable 44 fps at its lowest settings. Metro: Last Light's benchmark is a sadistic test, and we use it for good reason: to see if gaming hardware can handle some of the most intense graphics available today. It didn't fare as well with this game.
Here's how the Alienware 13 performed with our benchmark tests:
Benchmarks
3DMark Cloud Gate: 10,362; Sky Diver: 9,913; Fire Strike: 3,462
Cinebench CPU: 296 points; Graphics: 83 fps
PCMark 8 Home: 2,408 points
PCMark 8 battery life: 3 hours and 14 minutes
Middle Earth: SoM (Ultra): 13 fps; (Low): 44 fps
Metro: Last Light (Ultra): 10 fps; (Low): 21 fps
The ability to jack into the optional Graphics Amplifier is an extraordinary feat that, on paper, should be able to visibly enhance gaming performance. But does it? Let's find out.
Benchmarks (with Graphics Amplifier):
3DMark Cloud Gate: 10,460; Sky Diver: 13,832; Fire Strike: 7,596
Cinebench CPU: 297 points; Graphics: 87 fps
PCMark 8 Home: 2,402 points
Middle Earth: SoM (Ultra): 55 fps; (Low): 98 fps
Metro: Last Light (Ultra): 26 fps; (Low): 55 fps
We're getting much better performance here compared to the results sans Graphics Amplifier. But it's easy to see how much of a hamper the dual-core processor (and that 4-pin connector) puts on things. Compared to the MSI GS30 Shadow, which features a quad-core i7-4870HQ, we saw performance gains five-fold over the initial output with its Gaming Dock.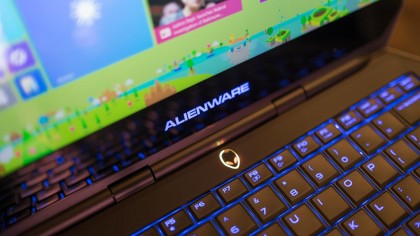 Buying into the most expensive configuration of the Alienware 13 and the Graphics Amplifier, stocked with a GTX 980, will cost roughly $2,400. So, you'd expect to be able to play just about anything on max settings, right? Wrong. Alienware isn't painting too convincing a picture, with or without the Graphics Amplifier.
But if you're just looking to get some light gaming on, especially to catch up on the hits of yesterday, the Alienware 13 is a fine choice. And whatever you're running, the laptop is good at keeping cool.
The fans kick right into gear when gaming gets intense or when I'm running a larger load of programs than usual, but the machine keeps quiet most of the time. It funnels heat toward its rear heat sinks, where the fans are located, so you'll be OK to use this on your lap without frying your own hardware.
Mo pixels, mo problems?
The configuration sent to TechRadar is a modified variation of the $1,399 tier, which Alienware informed us is actually no longer available. However, it features all the same specs found in the current option, which you can check out on Alienware's site if you're curious. However, it comes with one interesting inclusion: a 2,560 x 1,440 touchscreen.
As predicted, this 400-nit IPS panel looks splendid, and the touch implementation works as expected for a Windows 8.1 machine, though it feels unnecessary. The internals can even run the gamut of applications without breaking a sweat. However, if you're looking to game at this screen's native resolution, you'll need to first lower your expectations.
We run all of our gaming benchmarks at 1080p for the sake of consistency, but also because it's the resolution that most of today's gamers want to (or are able to) play on. And despite the inclusion of the QHD screen in the highest tier available of the Alienware 13, its dual-core i7 and GTX 960M can't put up numbers worthy of including it in the first place.
I played some of The Witcher 3: Wild Hunt and recorded my observations. Turning the settings up to ultra on its native resolution, the machine pushed out a consistent 9 fps. Notching things down to the lowest settings on its native, 2,560 x 1,440 resolution outputs a better, but still unplayable 22 fps.
Adjusting the resolution to 1,920 x 1,080 made a sizeable difference. On ultra, the Alienware 13 runs The Witcher 3 at about 14 fps. But on low, it can manage a pretty smooth 30 fps with dips in the lower twenties here and there.
Battery
Things look up for the Alienware 13 when battery life enters the conversation. PCMark 8's battery test predicted that the battery can last up to 3 hours and 14 minutes. But the 52 watt-hour battery exceeded it slightly at three hours and thirty minutes on the balanced power setting, running at 50% brightness and all AlienFX lighting zones off in our anecdotal battery test. This involves stressing the machine with a combination of some relatively lightweight programs, like Spotify, internet chat and Google Chrome, until it runs out of juice.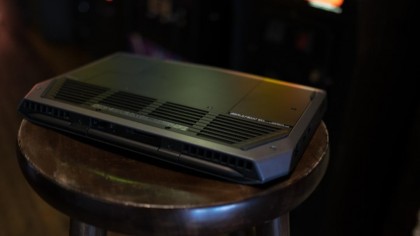 Against the competition, the Alienware 13 holds up exceptionally well here. The MSI GS30 Shadow powered down after 2 hours and 32 minutes under the weight of a comparable load of tasks. The Aorus X3 Plus v3 was able to provide roughly three hours of battery life. As usual, expect less than pleasing results with the battery inside the Alienware 13 if you're gaming or working with intense applications.
Speaking of apps, the Alienware 13 didn't come stocked with a lot of pre-installed software, thankfully. The few utilities here that did come pre-loaded make using the machine a little easier.
Bundled software
AlienRespawn: This feature allows you to restore your Alienware machine with one click or back up your data.
AW Command Center: You can customize the AlienFX lighting zones with this application.
Alienware Digital Delivery: This app manages digital purchases and prompts you with a free 20GB of cloud storage on DropBox upon booting it up. Not bad!
Verdict
The Alienware 13 is a thin, attractive gaming laptop that enters the market at the aggressively low price of $949 to start. Alone, it can handle plenty of basic tasks and even a good share of the latest games at an acceptable clip, albeit tuned down almost all the way.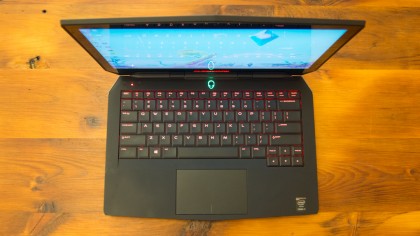 The Alienware 13 takes off graphically with the Graphics Amplifier plugged in, becoming somewhat of a future-proofed device in doing so. But this presents a dilemma for gamers. I can't imagine that there will be many who are itching to spend up to an extra $800 to unlock the capabilities of something that already cost them close to $1,000, if not more.
We liked
The Alienware 13 isn't the lightest gaming laptop around, but it's a looker. The "Epic Silver" lid looks slick, the build quality is top-notch and the fully customizable LED detailing is a cool touch that you can only find on an Alienware.
Using the laptop is a joy from a usability angle. The ports offer up the flexibility to connect a few accessories and an external screen, if you choose to go down that route. Its keyboard is responsive and the trackpad, while finicky at times, generally provides a smooth experience.
I appreciate that gamers who opt for the low-end machine at $949 are treated to the capable GTX 960M graphics chip found in the rest of the configuration options.
The ability for gamers to upgrade the graphical capabilities of the Alienware 13 through the optional Graphics Amplifier adds value over the long term. Whereas most other gaming laptop owners will need to replace their machine outright when the next big game releases, Alienware 13 owners can scale with the games to come.
We disliked
But at a cost – like, a serious cost. The Alienware 13 makes good on coming in at $949, which is on the lower end of the price spectrum for a gaming laptop. But, once you tack on the Graphics Amplifier, along with a beefy GTX 980 like I tested out, the price tag skyrockets close to, or well over, $2,000.
Sure, cost is an issue if you choose to purchase the Graphics Amplifier. You don't need to, but my problem is that it feels almost necessary. The relatively limited capabilities of the laptop's internals makes it a little too obvious a nudge from Alienware to purchase the Graphics Amplifier.
Final verdict
By itself, the Alienware 13 is a fine laptop. It's equipped with capable guts for a reasonable price (at least to start) that should keep players plenty entertained. That is, so long as they don't mind knocking the graphical fidelity of games down to low in most cases.
If you won't settle for anything lower than high settings, you'll simply need to spend more money. There's no way around it. The aforementioned Aorus X3 Plus v3 costs a fortune by comparison, but packs in a godly amount of video RAM and might be worth the price, if you're a sucker for graphics.
If the idea of the Graphics Amplifier entices you, the MSI GS30 Shadow also has its own version. While more expensive than most configurations of the Alienware 13, the MSI GS30 Shadow comes with a much more capable quad-core processor (and true 16-pin connection) that really helps that laptop sing when attached to its Gaming Dock.
But if Alienware had its way, you'd just shell out for its Graphics Amplifier. It's an attractive idea that works well, but it's disappointing that the upgrade feels forced if, at the end of the day, even non-enthusiast gamers will be left wanting more out of the Alienware 13.