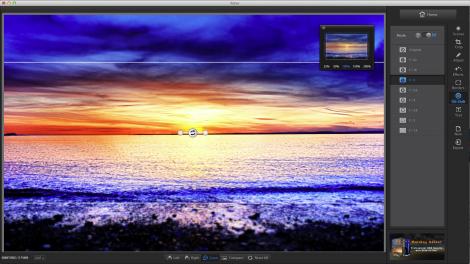 Best free photo editing software
Adobe Photoshop has been the grand daddy of the imaging world for years and its blend of tools make photo retouching, image creation from scratch and straight-up image editing the complete package for keen amateur photographers and professionals.
But although the cost of using Photoshop has come down, you have to pay a subscription for Adobe's Creative Cloud Photography Plan. Luckily, there are plenty of alternatives that won't cost you a cent, and while they might not rival Photoshop for outright power, they bring simplicity, speed, convenience or one-click effects that you just don't get with Photoshop.
We start off with some of the more contemporary takes on digital imaging, but if you use Windows and you prefer a traditional, no-frills image editor, you'll find those on our list too.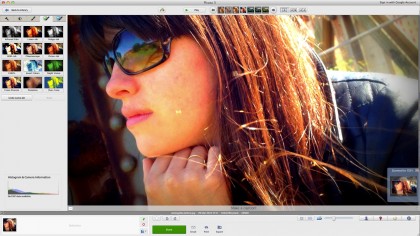 1. Picasa
Fast and efficient photo organising tool with rather good non-destructive editing
Platforms: Windows, Mac
Easily overlooked, Picasa is Google's free desktop image organizing and editing software. It connects to Picasa Web online albums, making it easy to share photos with others straight from your desktop, but you can also use it purely as a desktop application. Picasa can display all your photos in one place, linking to any or all of the image folders on your computer via its Folder Manager. You can create albums ('labels'), add keywords and apply a range of non-destructive image effects and adjustments – in other words, Picasa doesn't modify the original photo, it just shows 'virtual' changes which you can undo at any time. Picasa is not really a Photoshop replacement, and its quirky interface takes a little getting used to, but if you value speed and simplicity over in-depth editing tools, it's brilliant.
See: Picasa website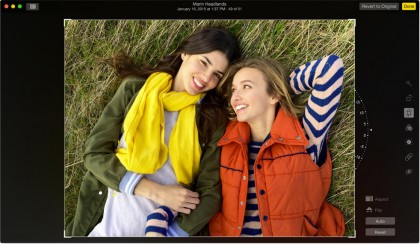 2. Apple Photos
Simpler and better than iPhoto, Photos is worth a proper look for any Mac owner
Platforms: Mac, iOS
Mac users upgrading to OS X 10.10 Yosemite get a brand new free photo managing and editing app called, appropriately enough, Photos. It looks completely different from Apple's old iPhoto app – in particular, the organizational tools are effective but take a little getting used to. The good news is that the editing tools are much-improved. They look terrific and they're actually pretty powerful. What's more, your images and your adjustments are synced with your iOS devices via iCloud, and the Photos app on iOS is identical to the desktop version, just re-worked for the smaller screen. If you've got a Mac, then you should take a long, hard look at Photos before you even consider any other free app. It's not Photoshop, but it's simple on the surface and surprisingly sophisticated underneath.
See: Apple Photos website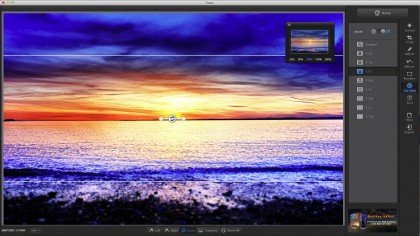 3. Fotor
Multi-platform photo editing suite that delivers great effects really easily
Platforms: Windows, Mac, Mobile (iOS & Android), Web
Fotor is a free cross-platform photo editor that offers an amazing array of tools, adjustments and effects in a really easy to use interface. The effects are particularly impressive, and not just in terms of variety – you can simply click an effect to apply it, then use a slider to adjust the strength. Fotor is essentially a cloud-based photo editor, but you can still use it as a desktop tool, opening images your computer, editing them and exporting new versions. If you need a program that can open raw files, combine images in layers and organize a growing photo library, then you'll need to look elsewhere – and you probably won't find a single free app that can do all of these things – but if you want a fast, powerful and fun way to pimp your photos, then Fotor is perfect.
See: Fotor website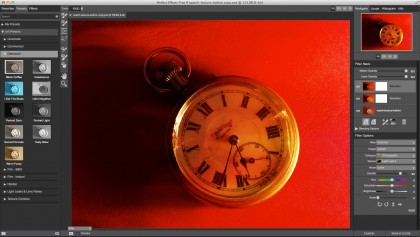 4. On1 Perfect Effects 9 Free
Powerful special effects tool that works as both a standalone app and a plug-in
Platforms: Windows, Mac
The On1 Perfect Effects suite is rapidly becoming a serious competitor for Adobe's software, and this is one of its core components, pulled out and offered as a free tool. Perfect Effects 9 Free offers 170 one-click photo effects, and also offers Perfect Brush and Quick Mask tools for more advanced image manipulation. You can 'stack' effects using a layers palette on the right side of the screen and use the layer masking tools to control how they're blended. You can use Perfect Effects Free as a standalone program, but it also installs as a plug-in for Photoshop, Lightroom and Aperture. It's not exactly for beginners, but as a tool for more advanced photographers who want to experiment with more advanced image effects, it's perfect.
See: Perfect Effects 9 Free website
5. Serif PhotoPlus Starter Edition
Cut-down free version of Serif's powerful amateur-orientated photo editing software
Platforms: Windows
This is a free version of Serif's PhotoPlus image-editing program (note that our screenshot shows PhotoPlus x7, not the Starter Edition), and it's a great way to get started without serious hands-on image-editing without paying a thing. It's essentially an older version of PhotoPlus that's been re-engineered as a free tool. You can restore and retouch your photos, crop them into new shapes and sizes, add a range of photo effects and more. There's even a dedicated Cutout Studio to help you make collages and montages. You do have to provide your email address and there are features missing that you have to upgrade to the commercial version to get, but it costs you nothing to try this program out and it may be all you need.
See: Serif PhotoPlus Starter Edition website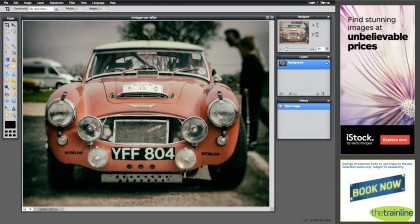 6. Pixlr Editor
A photo editor you can use on your desktop machine, your mobile device or the web
Platforms: Windows, Mac, Mobile, Web
Pixlr Editor operates straight out of your browser or as desktop or mobile (iOS and Android) apps and is perfect for editing images on a machine that doesn't have a great deal of space such as a Chromebook or similar. You can create a completely blank canvas, open an image from a computer or specify an online location where the photo you want to edit can be found. It's impressive how many tools Pixlr Editor has to offer with a huge range of filters to change the look of the image, a sidebar chocked full of all the tools you've come to recognise in Photoshop, and layering options that are up to the same standard. The one annoying thing about the Pixlr browser version are the ads you have to put up with on the right hand side of the window that limit the space you have to edit photos.
See: Pixlr website
7. GIMP
Open-source image-editor that's powerful but technical, so it requires some effort
Platforms: Windows, Mac, Linux
What you get with GIMP is an extremely powerful program that does anything you'd expect from a powerful image editing app without costing a penny. Need to sharpen up those photos from your vacation? Perhaps you need to crop out the ex from your Facebook profile pic and turn it into black-and-white? GIMP can do all that and even more.What GIMP doesn't offer, however, is a particularly intuitive interface and it's handy to have a guide at hand in order to get the best out of it. It does help that the editing options on the left hand side are represented by icons and a description comes up when you hover over each one, giving even more information on the chosen tool. There are even more options to be had in the file menus above the image and if there's a free photo editor out there that offers more tools than GIMP we've yet to find it.
See: GIMP website
8. PhotoScape
Novel all-purpose image-editing favorite now available in a Mac OS X version
Platforms: Windows, Mac
On Windows, PhotoScape sets everything out in a circle that shows the main features of the program and hovering over each option gives a helpful explanation of what it does. The editing tab is where most of the action takes place through a variety of options that ranges from adding new effects or changing the way it looks to cutting it down to size or adjusting the brightness. It's just as easy to group images together using the 'page' or 'combine' tab and the experience lets you create perfect social media posts in just seconds. Another nifty feature is a dedicated tab to create GIFs from a group of images and further tools include screen capture, RAW-to-JPG, batch editor, image splitter, renaming tool and colour picker. It's now available in a free Mac OS X version, too, (with in-app purchases) via the Mac App Store, with a very different contemporary look – this is the version in our screenshot.
See: PhotoScape for Windows, PhotoScape for Mac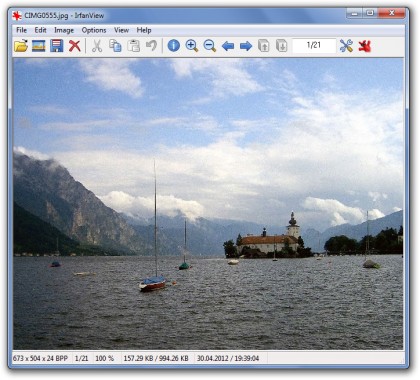 9. IrfanView
Handy app for browsing images, converting file formats, getting screen grabs and more
Platforms: Windows
Being the most basic looking program on the list in no way holds back IrfanView, a robust image viewing and editing program that offers settings by the bucket-load and support for a number of extensions. It's not just an image-editor – it's also a file viewer and batch conversion tool and can capture screenshots too. Compared to Photoshop and GIMP, IrfanView is incredibly lightweight and, although it doesn't have quite as many options, the set of features included is enough to make it a legitimate entry on the list. After opening the image you want to edit all you need use is the image menu at the top to take advantage of the program's features. From here you can do everything from add humorous new effects and swap colours around to resizing the images and adjusting the canvas size.
See: IrfanView website
10. Paint.net
This new version of an old Windows classic is uncomplicated and straightforward
Platforms: Windows
If you think you've seen Paint.net somewhere beforeyou're probably right. The program takes most of its cues from MS Paint yet offers some extra features that weren't available in the old classic Windows program. If you're looking for high-powered image-editing tools then you're probably best off going for one of the options further up the list, however, for adding effects and making minor adjustments this is a nice lightweight option. There's a small sidebar with a quick shortcut to some of the main editing options such as fill, erase or add text, and the more detailed ones are located in the adjustments and effects menu at the top. Paint.net doesn't really do anything badly, for which it must be commended, and for a lightweight alternative to Photoshop there's nothing here to criticise.
See: Paint.net website