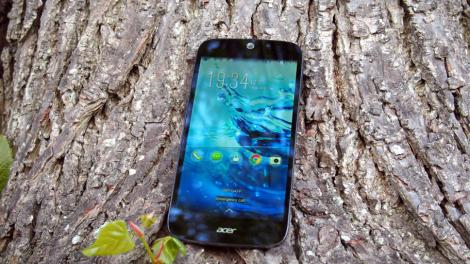 Introduction and design
Acer is known to many as the Taiwanese makers of respectable computing equipment, competing strongly with the likes of Asus. Yet, the story does not end there. Like John Everyman and his plucky donkey, Asus has opted to enter the smartphone race.
This is no easy proposition, especially when the likes of Apple and Samsung, with their marketing billions, are struggling to compete with the likes of Xiaomi and Meizu in offering quality devices at an affordable price. Selling a smartphone is no longer the easy task it once was, and in a space where Acer has relatively little brand name recognition, it becomes all the more difficult.
The Acer Liquid Jade Z is the latest in the Taiwanese firm's ludicrously named 'Liquid Jade' range, intended to be competitive in the mid to low market.
Indeed, at roughly £150, the device is a cheaper version of the Liquid Jade S, which boasts slightly higher specifications at a correspondingly higher price point.
Design
Holding the device, one thing is immediately apparent – 2012 is in vogue once more. From its size and thinness to its feel in the hand, the Acer Liquid Jade Z brings to mind the Samsung Galaxy S3. This impression is further enhanced by the software skin Acer has added (so Android 2.3 Gingerbread) and the useless bloat and gimmicks added.
This first impression certainly isn't what you might expect from a phone at this price point, however. At a mere 7.9 mm thick, and weighing in at only 110g, clearly a great deal of thought has been poured into the design and engineering of this device.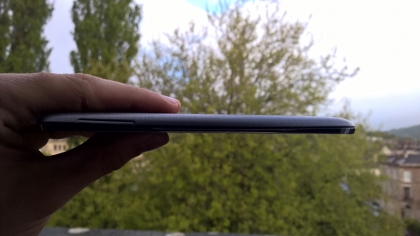 These dimensions are unfortunately not enough to offset the cheap-feeling, rough plastic that has been used throughout, with a subtle hatching that generally improves grip, but can feel scratchy.
With the tiny weight, these various factors contribute to the general feeling that a strong gust could see a Mary Poppins-like situation evolve, should the right conditions arise.
The front of the Acer Liquid Jade Z is a reasonably pleasant affair; in keeping with other smartphones is that it is mostly a slab of smooth glass, with a nice coating of Gorilla Glass 3 for that pleasant 'oleophobic' feel. The screen panel measures 5 inches, with a 720p resolution.
At the bottom of the display rests a small 'Acer' logo spelled out in chrome-effect plastic, while the speaker at the head does an excellent impression of a Borrower's shower-head.
On the left side of the device rests the nano-SIM and Micro-SD card slot, which can be a little finicky for those without steady hands. The bottom and top of the device house the Micro-USB charging port and the 3.5mm headphone jack respectively.
Where the screen meets the body of the phone, there is a strip of chrome-effect plastic, much as found on the Samsung Galaxy S5, with the Acer also possessing nice rounded edges, a thoughtful addition.
The top, unfortunately, is also home to the power button and on the right the slightly cumbersome volume rocker can be found.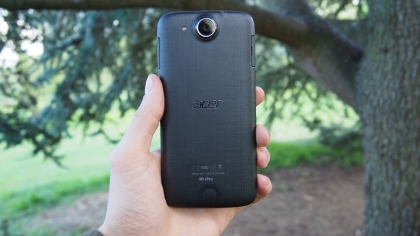 The rear of the Jade Z is where Acer has chosen to make something of a statement. The company's logo is picked out, once again, in chrome-effect plastic, with slightly rough and unpleasant edges. At the bottom rests an unusual rear-mounted speaker grille – a perfect circle.
At the head rests a rather large camera hump (circled with, you guessed it, chrome-effect plastic) and a single white LED flash.
Whatever misgivings the size, weight and choice of materials may impose, one thing is undeniable, this is a comfortable device to use in one hand. Though the top-mounted power button will force some unpleasant hand-gymnastics on those with small hands, with its rounded-edges, this makes for a great reading experience.
Display and key features
Display
The display on the Acer Liquid Jade Z was never meant to measure up to flagship rivals such as the Samsung Galaxy S6 or the Nexus 6, and yet this does not detract from its quality.
Gone are the days when simply having a 720p display at this price bracket was enough, the likes of the Moto G 2013 have changed the game considerably. Luckily, the screen is an area where Acer has been hard at work.
At 5 inches, and with a pixel density of 294ppi, the IPS LCD on the Liquid Jade Z is great for reading on the go, as well as for watching movies. For an LCD screen, the colours on display are vivid, and, being IPS, the viewing angles are quite good. When viewing content from extreme angles, there is a little dimness, but everything remains clear.
Acer has repeatedly boasted of the 'zero-gap' technology used in the creation of the Liquid Jade. Utilised by the likes of Apple for years, this essentially means that the panel is moved as close as possible to the outside glass, meaning that there is no air in-between. This frequently helps to improve contrast, and I generally found this to be the case.
With plenty of space in which to view content, yet remaining comfortable to use in one hand, for the price level, this is almost a class-leading screen. To find significantly better performing panels, you would need to spend at least an extra £100. Acer has accomplished something quite nice here – in this category, I found the Liquid Jade Z to be a very strong performer.
So what makes the Acer different to anything else? Let's have a look.
Acer Gingerbread
Though the Liquid Jade Z technically comes running Android 4.4 KitKat, this might not be apparent on first appearances.
As with every other manufacturer producing Android phones, Acer believes that it can have a better go at Android than Google. Sometimes this kind of confidence is well-founded; with the likes of the One M9, HTC proved that Android could be altered and still remain a pleasure to use. Unfortunately, Asus falls into another category, like so many others before it.
When using the phone, the general colour palette is the first thing that seems a little off, with radioactive greens dominating. Adding to this sense of discomfort is the enormous, telling, 'Acer Suggests' widget, which loudly recommends a large selection of rubbish apps and services.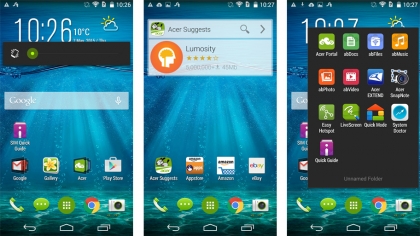 Not that Acer waits for you to download them, however. The Liquid Jade Z comes loaded with a great deal of bloat, not exactly inspiring when the in-built storage is only 8GB. Games such as Puzzle Pets and Real Football 2015, along with apps such as Livescreen, Booking.com and 50+ free games come pre-installed, and are sadly impossible to remove without rooting (not recommended).
In an age when Google is making strides to improve the general state of Android skins, Acer feels caught in the past, and maybe unwilling to catch up. Installing the Google Now launcher makes the whole experience of using the phone a great deal more pleasant, and is what many will likely want to do upon using the device for the first time.
Some of the pre-installed apps offer some useful functionality. The in-built battery saver app and System Doctor help to improve battery performance and memory management respectively, while the native flashlight app means that there is one less thing to download.
Acer also allows 'floating' windows, essential windowed apps that can be moved around on screen while in use, theoretically making for an improved multi-tasking experience. On a screen this size, however, while the gesture is appreciated, it is effectively useless.
Rear-firing speakers
Given the dimensions of this device, there can be no doubt that the Liquid Jade Z is primarily aimed at a younger audience than, say, the Doro Liberto series. And, of course, what does the average yoof of today like more than an impromptu rap battle, accompanied by bangin' beats?
With the effort being poured by Acer into the audio capabilities of this device, this would certainly appear to be their reasoning. Coming equipped with DTS surround sound, on paper, this phone certainly has its rivals beat. High-quality audio chops are typically the domain of high-end smartphones such as the LG G3, or HTC, which has made a great deal of its 'Boomsound' on such efforts as the One M8.
Despite whatever pretensions Acer has to high-definition audio, I generally found that the Liquid Jade Z simply does not cut the mustard. The circular speaker may give the impression of 'otherness', but it is rear-firing, and business as usual.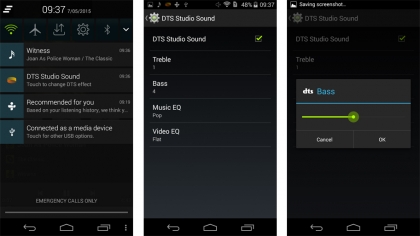 The first thing that any committed audiophile will take notice of is the complete lack of a native-music app, simply titled 'Music'. This took me by surprise, and it was only by searching the app list thoroughly that I found 'abMusic', the confusingly titled alternative.
Theoretically, this ought to allow integration with Acer's cloud service, along with the rest of the 'ab' suite, but the app frequently failed to even detect the music stored on a normal Micro-SD card. As such, I stuck to Spotify.
Though through headphones (much as with any smartphone these days) the sound was acceptable, through the rear-firing speakers I failed to achieve anything like acceptable volume for most situations. Competing with a shower, the speaker was completely drowned out. The sound output is generally acceptable, for listening to music alone in a padded room, otherwise it is a reasonably poor effort.
Megapixels! Aperture! Bright Magic!
Given that most smartphones have one thing in common, in that they are almost uniformly a bunch of rectangular glass slabs, improvements in the camera area have become a key area for improvement.
While some go for crazy megapixel counts, like the Nokia Lumia 1020, or for crazy optical zoom experiments like the Samsung Galaxy K Zoom, the current trend is for excellent low-light photography.
Given the size of image sensors in smartphones, and the general use-case scenarios they are given, designers have stopped trying to out 'camera' DSLRs and have begun to deliver the most from small sensors. Some such as the Samsung Galaxy S6 and iPhone 6 succeed, where others fail.
This battle has now moved to the budget market. Whereas even last year, £150 might have bought a phone without an LED flash, or sometimes even autofocus, acceptable optics have become a focus for many.
Acer's efforts in this regard are… interesting. With a 13MP sensor, a nice wide f1.8 aperture and Acer's own Bright Magic mode, on paper this camera is very well equipped for the price point.
With the race tightening, however, the competition is only becoming tougher.
Performance and battery life
Performance
To keep costs down, Acer has taken a route that many others before have travelled, often with mixed results. Instead of opting for Qualcomm chips, and without the option of in-house effort, as LG, Samsung and Huawei have managed, it has opted for a MediaTek chip.
Specifically, it is the quad-core MediaTek MT6732, clocked at 1.50 GHz, that keeps everything ticking over. And in general use, I found the Liquid Jade Z to be a mostly snappy performer, even with an anaemic 1GB of RAM.
In Geekbench, the Acer achieved a respectable single-core score of 706 and a multi-core score of 2064, making it a respectable performer for the price.
Whether zipping through menus, apps lists, different launchers or taking photos, the Liquid Jade Z barely complained, only occasionally throwing a minor tantrum. Mediatek has been slowly improving the quality of its chips compared to Qualcomm, becoming a little less obsessed with cores and more with performance, and this device is a key beneficiary.
This level of performance generally carried over into gaming. Titles such as Dead Trigger 2, Subway Surfers, the in-built Puzzle Pets and Crossy Road ran mostly without any difficulty, although there were a few dropped frames in more demanding titles. For the average mobile gamer, the Liquid Jade Z ought to suffice nicely, though more demanding users might be inclined to look at power-demons such as the Samsung Galaxy S6.
The screen remains responsive no matter what task is set upon it, keeping true to its general promise.
Battery life
With thinness come sacrifices, in this case, battery life. In their never-ending quest to make the first paper-thin device, mobile designers long ago hit the point when it was merely useless bloat that was lost, now other, important, things are being judged as ballast.
In the case of the Acer Liquid Jade Z, as with many flagships (here's looking at you iPhone 6) this has meant that previous mAh points have been shaved from the battery. Indeed, the phone sports a dinky 2,300 mAh battery pack.
Despite the loss in dimensions, the performance of the Liquid Jade Z in this regard is generally acceptable, but only just.
On standby, with WiFi activated, the device lost around 6% of battery over 12 hours, with emails and notifications buzzing away, which gives a decent overall first impression.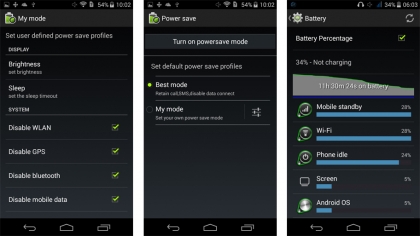 Upon watching video, playing games or browsing via mobile internet, however, things begin to change quickly. Percentage points occasionally dropped on a second by second basis. And with no option to remove the battery and replace it with another, or fast charge, the general experience becomes very reminiscent of 2012.
What I found to be particularly irritating, however, was how power-hungry the music player proved to be. Using my Nokia Lumia 930, I listen to around six or seven hours of music during a long working day, via wired headphones.
For every hour I listened on the Lumia 930, I generally lost about 3-4% of battery, maybe a little more if using Spotify. The Liquid Jade Z on the other hand guzzled around 15-18% per hour, leaving me with around 50% battery after three hours. In 2015, never mind 2012, this isn't very good performance.
However, to help matters somewhat, the built-in battery-saver app closes background applications and throttles processor performance, which isn't great but helps to eke out a little extra juice in tight situations.
In all, the Acer Liquid Jade Z cannot hold a candle to stellar battery performers, such as the Moto G 2013 and Moto E 2015, but different use cases will see varying levels of performance. Savvy users shouldn't have much of a problem, with expectations correctly set.
The essentials and camera
The Liquid Jade Z comes with a few unusual connectivity options that help to set it apart from the rest of the budget flock.
Firstly, and most importantly, 4G LTE is present and ready for all of your high-speed data consumption needs.
Throughout the Bath, Bristol and Swindon area, I found connectivity to be generally good, with the device achieving acceptable speeds both on 4G and HSDPA+, meaning that this is quite a solid option for those who need the speed. Web-browsing was mostly a pain-free experience.
This alone does not set the device apart, however, with other, cheaper, devices, such as the Moto E 2015 coming with 4G also.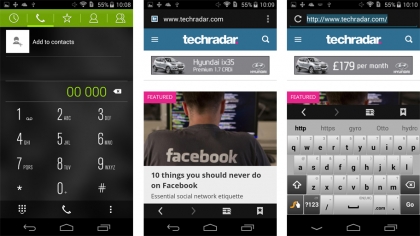 Packing dual-sim capabilities, the Liquid Jade Z sets itself apart as something different. The removable Nano-SIM/Micro-SD card tray contains a second slot for an extra SIM card, in the place of the Micro-SD card. This of course means that, should you opt to go dual-SIM, you will be restricted to the paltry 8GB of internal memory.
Regardless, for the business user, juggling two different numbers, this might present something of an attractive option. Dual-SIM cards tend to be popular both in Europe and in Asia, but for the budget market both in the UK and the US, this is something of a novelty.
Luckily, in addition to having a well fleshed out set of connectivity features, the Liquid Jade Z is also a reasonably solid telephone. Call quality was hardly spectacular, but generally calls were loud enough, with callers remarking on the acceptable volume on their end also.
In one area, Acer has forfeited any notion of going alone, and that is the keyboard. By default, the Liquid Jade Z comes packing Swype, the original gesture keyboard. For frequent users of this service, and for fans of gesture typing, this is a bonus.
However, with occasionally lacklustre predictive text features, and with a dated look, it isn't the best option for everyone. Of course, being Android, it is a simple matter to install another keyboard.
The in-built GPRS chip also makes a decent effort, locking on precisely in many areas with only a moment's hesitation here and there.
Camera
As I mentioned earlier, Acer has gone to great lengths to make the Liquid Jade Z the phone that all of those after a good camera experience while on a budget should turn to. With a 13MP rear-facing camera with an f1.8 aperture, all of the ingredients are there.
Unfortunately, the snapper fails to live up to expectations. Pictures, no matter the mode or resolution, lack detail, with a very noticeable blurring effect rear the edges of many pictures.
Autofocus is very unreliable, with a high proportion of photos taken having no discernible focus. This means that composition is an essential part of the shooting experience, meaning those after a quick snap are let down. The inability to focus becomes even more of an issue in poor lighting situations, where it hunts continuously.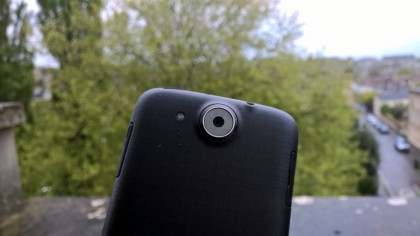 The Bright Magic mode, which is advertised as being a solution to badly lit scenarios, is also something of a let-down. Brightness is indeed increased, but at the expense of detail, meaning that it should only be a last resort.
Despite all of this, the camera UI is reasonably easy to navigate. On the right-hand side rests the digital shutter button (which can also be activated by pressing volume down), above that is movie mode, and below is HDR (which is a little heavy-handed in evening exposures).
Generally, contrast is pretty poor, the camera errs towards the cooler side and exposure is generally a problem.
Beside this is the digital zoom, cropping the scene to get closer to the topic. And to the side of that there is a small arrow, which allows access to more in-depth features, such as adjustable ISO, scene modes, white balance and capture options.
On the left-hand side of the window is the flash toggle, the camera switcher and a (baffling) option for voice controls. Once activated, this allows for voice-activated functions such as capturing a photo and switching to the front-facing camera, though I can't imagine a situation where this might be useful.
Resting slightly to the right, there is a quick scene-toggle option, and in the bottom-left rests the icon which will allow for more in-depth toggling still, altering file sizes, aspect ratios and the like.
The front-facing camera is a slightly more compelling option. Present is a wide-angle, f2.2, 5MP sensor, which makes for some reasonably nice and detailed snaps. As ever, however, the baked-in beauty mode tends to result in nightmarish monstrosities that even a doting mother would be hard pressed to love.
Video was a similar story, no matter which camera. Footage was dull, motion blur an ever-present problem and audio recorded generally sounded flat. In all, this is quite a disappointing state of affairs.
Verdict
Using the Acer Jade Liquid Z for a week was quite an odd affair. Mostly, it was an experience of ups and downs. While there were some things I liked about the design and the performance, there were others that I distinctly disliked.
So is the Acer Liquid Jade Z worth its asking price of £150?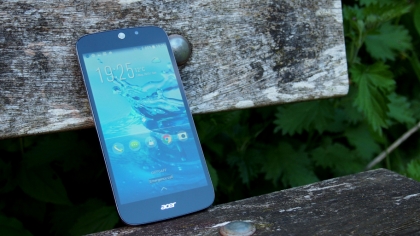 We Liked
The size and the weight of this phone make it a nice proposition for one-handed use, even for those with smaller hands. General performance, despite the 1GB of RAM, was quite good. Jumping in and out of apps and games was a pleasantly quick experience.
With a 720p 'zero-gap' panel, the Liquid Jade Z is a pleasure to watch TV and play games on, with great contrast and readability. It is one of the best performers in its price class.
And with dual-SIM capabilities, along with 4G, the Liquid Jade Z is a very solid communications device that will no doubt appeal to many users around the globe, as well as in the business community.
We Disliked
Despite Acer's claims to the contrary, the camera on the Liquid Jade Z is quite a sorry affair. Although all of the hardware elements are there to make for a pleasant shooting experience, photos are mostly quite ugly, although likely 'good enough' for uploading to social media.
The 2300 mAh battery is enough to see you through most of a working day, however this performance can vary enormously. Tasks, such as listening to music, can drain it very quickly and without warning.
Though it has a nice shape and weight, the choice of materials on the Liquid Jade Z lend it a very toy-like feel, giving it a cheap overall appearance, something that could have been averted with a few different design decisions.
Verdict
The Acer Liquid Jade Z is an odd little beast. Though on the one hand it boasts good performance and is mostly acceptable in day-to-day use, on other fronts it fails entirely. And with the competition really heating up at the budget end of the market, with the likes of the Honor Holly and the Moto G 2014 helping to set the bar, it doesn't quite do enough to compete.
With a price drop, this would be an easy device to recommend for a teenager as their first smartphone, or as a back-up, yet for £150, there are better options available.
Despite this, the Liquid Jade Z is a likeable little phone. With a good selfie snapper, comfortable design, great screen and good internet performance, this ought to suffice for many users.