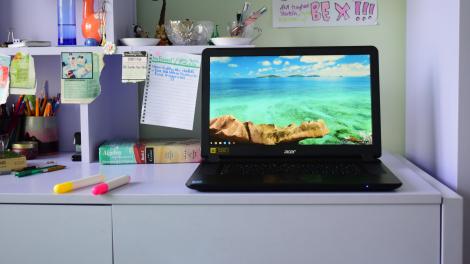 Introduction and design
If you're considering the Acer Chromebook 15 C910 ($499.99, £249, AU$620) for your next laptop, then you'd better have big ideas. Compared to most other Chromebooks, the C910 has a bigger screen, bigger processing power and it comes with a bigger price tag.
Specifically geared toward students and teachers – thanks to its rugged design and gorgeous visuals – the C910 is perfectly suitable for any consumer who doesn't mind lugging around a few extra pounds and inches.
Because of its fifth-generation Intel Core i5 processor and 15.6-inch display, the C910 is unlike any other Chromebook on the market. Its most suitable comparisons are the 14-inch HP Pavilion Chromebook ($299, £190, AU$370), and the Rolls Royce of the Chromebook market, Google's Chromebook Pixel 2 ($999, £799, AU$1,277).
Although similar in stature to the Pavilion, and similar in power and price to the Pixel, the C910 stands alone as the colossus of Chromebooks.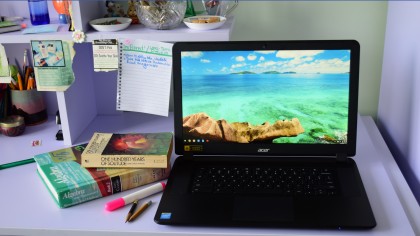 Design
The first thing you'll notice about the C910 is how big it is. Tipping the scales at a whopping 4.85 pounds (2.19kg), the C910 outweighs the 12-inch Pixel and the 14-inch Pavilion by 1.5 and 1.4 pounds, respectively. Carrying the weight is a chassis that measures 1.0-inch (2.5cm) tall by 15.1-inches (38.3cm) wide by 10.1 inches (25cm) long. This is a substantial notebook that is not ideal for people who will be running from meeting to meeting or coffee shop to coffee shop.
It is, however, perfect for students and teachers who will be sitting at desks for long periods of time. Housed in a gorgeous black, fabric-textured chassis with a diamond matte finish, the C910 immediately improves the style of any desk space.
Although the matting is a pleasure to view and touch, it does easily collect dirt and smudges. One quick wipe of the surface will remove most (but not all) of the damage.
Parents beware: this laptop is not going to break or chip if your child drops or smashes it, but it won't look brand new in a year if your child plans to transport it back and forth between home and school. If you're one of those parents who likes to keep things shiny, you might want to look at carbon fiber or magnesium alloy laptops. For adults who take good care of their belongings, the shell should be fine so long as you don't place items on top of it or inside the same carrying bag.
The laptop's 15.6-inch full HD (1,920 x 1,080 resolution) display is a delight. You'll be able to enjoy movies, browse the web and play games for long stretches without feeling much eye strain. Parents who enjoy watching movies with their children will appreciate the screen's wide viewing angles, which enable you to seat three people four or five feet away from the device without noticing any shadowing along the edges.
Although this display is pretty sweet, it doesn't compare to the Pixel 2, which sports a 2,560 x 1,700 IPS touchscreen. You can touch the C910's screen all you want, but it won't respond.
I wish Acer had dedicated more top panel real estate to the screen. You get about half an inch of space along the screen's border. This space would have been better served by stretching the screen out a bit to further enhance the viewing experience.
The same can be said about how the keyboard and touchpad are designed. Acer dedicated about three of the keyboard deck's 15.1 inches of width to the laptop's adequate but not marvelous top-facing speakers. The TouchPad, which is somewhat hollow and creaky, takes up three inches, and the keyboard takes up a little more than five inches.
This makes navigation somewhat uncomfortable, especially for people with tiny fingers and little experience typing (i.e. children). Acer should have expanded the keyboard and keys, reduced the width of the speakers, and cut the TouchPad in half.
Specifications and value
There are areas in which Acer perfectly utilizes space and weight. For example: Acer neatly slides several ports and inputs into its slight one-inch height.
This will definitely come in handy for young kids and parents who might not be tech-savvy enough to connect Bluetooth and Wi-Fi devices. (Let's not even talk about how they're to prepare themselves for the USB-C revolution that the Pixel and MacBook are leading.)
Spec sheet
Here is the Acer Chromebook 15 C910 configuration given to TechRadar for review:
CPU: 2.2GHz Intel Core i5-5200 dual-core processor
Graphics: Intel HD 5500 Graphics with shared memory
RAM: 4 GB, DDR3L SDRAM
Screen: 15.6-inch full HD (1,920 x 1,080)
Storage: 32GB SSD
Ports: HDMI, 1 USB 2.0, 1 USB 3.0
Connectivity: 802.11a/b/g/n/ac Wi-Fi
Camera: 720p HD webcam
Weight: 4.85 pounds
Size: 1.0 x 15.1 x 10.1 inches (H x W x D)
Acer made waves when it first installed Broadwell processors in its Chromebook lineup. These processors are faster and more energy efficient than the Celeron processors you'll typically find on Chromebooks. This addition essentially elevated the Chromebook class from a group of notebooks only suited for light use to devices that could be used to get a little work done.
Now, this doesn't necessarily mean you'll want to use the C910 as your primary computing device. It just doesn't have enough local storage capacity to house all of your photos, music and documents.
However, in order to lure people to the Chrome operating system, Google is giving away one terabyte of free cloud storage to any new Chromebook buyer. So, if you're comfortable keeping all of your information in the cloud, you should be able to get by using this device without any additional storage hardware.
Performance and features
When comparing the performance of the C910 against the Pixel and the HP Chromebook 14, it's important to note the difference in processors. The Google Pixel 2 features a similar Intel Core i5 processor to the one under the C910's hood, while the HP Chromebook 14 features a previous generation Intel Celeron 2955U Haswell processor.
This makes a huge difference in how these units perform in benchmark tests, which will in turn reflect how they perform in day-to-day use. (Note: the Pixel can be outfitted with an i7 processor, which will dramatically improve performance compared to what I reference below).
Benchmarks
Here's how the C910 performed in our suite of Chromebook benchmark tests:
Octane: 25,240
Mozilla Kraken: 1,301.5
Sunspider: 192.5
When compared to the Pixel 2, the C910 narrowly edges out the more expensive, more talked about Google notebook. In the Octane benchmark, which measures a JavaScript engine's performance, the Pixel 2 received a 24,564 during testing performed by other outlets.
The C910 outperformed the Pixel 2 during the Mozilla Kraken test, which also measures speed by pushing a device's JavaScript engine, by achieving a score of 1,301.5 compared to the Pixel's 1,428 (a lower score is better during the Kraken test). In our final JavaScript test, Sunspider, the C910 once again outscored the Pixel 2, with a 192.5 score compared to the Pixel 2's 298 (lower is better).
The head-to-head between the HP Chromebook 14 and the C910 wasn't even close. For all three tests (Octane: 11,735, Kraken: 2,615, Sunspider: 375), the HP Chromebook was nearly twice as slow as the C910. This isn't a fair comparison – it's obvious a Broadwell i5 processor is going to run laps around a Haswell Celeron processor. However, because these are the two largest devices in the Chromebook class, it's important that we show you what you're getting when you opt for the bigger screen.
In terms of real life performance, the C910 doesn't disappoint. I was able to perform a similar set of browser-based tasks on the Chromebook that I would typically run on my MacBook Pro. However, my MacBook houses almost 20,000 photos and god-only-knows how many programs I've downloaded.
This Chromebook won't be able to do that for you. But, if you're storing everything in the cloud, which you should be doing anyway, and you're just using this notebook to browse the web and word process, then you'll love the C910's performance.
Battery life
The school day will be no match for the C910. This bad boy was able to crank out a whopping eight hours and 48 minutes of continuous video playback with the volume and screen brightness set at 50%. That's not quite the 10 hours of performance promised by Acer, but it's pretty darn close.
When compared to the Pixel 2, the C910 slightly loses its edge. Our reviewer was able to push the Pixel for eight hours and 22 minutes during a more extreme test in which he set the screen brightness to 50% while tabbing between 20 webpages, listening to Google music and streaming a two-hour movie on Netflix. The C910 won't be able to last that long under the exact same pressure, but it will likely get you past the seven-hour mark.
Verdict
It's easy to praise laptops for sexy features. Higher resolution screens, lighter weights, thinner frames – these are the specs you likely look for when making your purchasing decision.
But what your laptop is able to do when you work should be just as important to you as how it looks on a desk. When compared to the best Chromebook on the market, the Google Pixel 2, and the second-largest Chromebook, the HP Chromebook 14, the chunkier Acer Chromebook 15 C910 proves itself to be a worthy adversary.
We liked
If the Chrome operating system is your cup of tea, you won't find many devices that run it better than the C910. Our suite of benchmarks proved that the C910 outperforms a similarly outfitted Pixel 2, a device that costs double the money. Sure, you're not getting a touchscreen, or a fancy USB-C drive, but you're getting speed and power and almost as many hours of battery life.
The diamond matte finish is a really nice touch. If you're as bored by contemporary laptop design as I am, you'll absolutely welcome the C910 into your home. Although the chassis will scratch and stain, it's highly durable, pretty and it isn't the same old magnesium alloy and plastic that you'll find on most other laptops today.
We disliked
This laptop is big. Acer needs to find a way to reduce its weight from 4.85 pounds to something more manageable. If money is no object and you're forced to carry 4.85 pounds, then you might as well buy yourself an enterprise mobile workstation.
I'm not a fan of how the keyboard and screen are arranged. Too much valuable real estate was dedicated to plastic, speakers and a creaky TouchPad. In the next iteration, I'd prefer to see bigger, more spaced-out keys, a wider screen and a smaller TouchPad.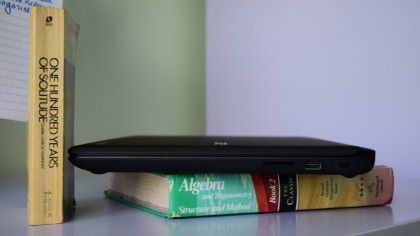 Final verdict
The Acer Chromebook 15 C910 isn't for everybody. In an era when computer manufacturers are racing to build laptops that are lighter and thinner, the C910 is a throwback to a simpler time, back when you expected your mobile computers to be shaped like bricks.
However, if you're a student or a teacher and you're typically working in a classroom, at home and little elsewhere, the C910's bulk shouldn't put you off. The Acer Chromebook 15 C910 looks amazing on a desk, it has a long-lasting battery and its performance outclasses any comparable Chromebook.