Introduction and design
In a world dominated by two mobile operating systems, Google's Android and Apple's iOS, it can be hard to find a phone you like if you're not particularly enamoured with either approach. There are alternatives such as Windows Phone, but they have struggled to gain mindshare, their struggles often blamed on a poor app ecosystem.
Canonical, the company behind the popular Linux distribution Ubuntu, announced its ambitions to bring its operating system to smartphones back in 2011, but it was only in 2015 that the first Ubuntu Phone, the BQ Aquaris E45 Ubuntu Edition was released.
So has the long wait been worth it? At the moment BQ Aquaris E45 Ubuntu Edition doesn't have much direct competition, although the Meizu MX4 Ubuntu Edition is launching soon, offering higher specs and a more attractive design – with a higher price.
At €169.90 (around £127, $194, AU$249), the BQ Aquaris E45 Ubuntu Edition is aimed squarely at the budget market, going toe-to-toe with similarly priced handsets such as the Moto G and the ZTE Kis 3 Max.
Even at this aggressive price point, the BQ Aquaris E45 Ubuntu Edition has an uphill struggle against competitors that run the far more established Android operating system. Even Windows Phones such as the Nokia Lumia 735 will have an important app advantage.
As the first ever Ubuntu phone, the BQ Aquaris E45 Ubuntu Edition has a lot riding on it. Can it succeed as a budget smartphone, and also prove to the world that there's room for another mobile operating system to challenge the iOS/Android duopoly? Or will it just be a well-intentioned but quickly forgotten oddity?
Design
The design of the BQ Aquaris E45 Ubuntu Edition instantly brings to mind that of the iPhone 4, albeit in budget form. This means that a flat, rectangular shape with rounded edges is present and correct, though it lacks the premium glass panel back of Apple's older handset.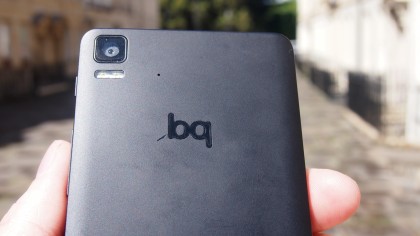 Instead the body of the BQ Aquaris E45 Ubuntu Edition is made from sturdy feeling plastic that doesn't feel expensive, but also doesn't make you worry about it shattering if it slips through your fingers. The 137 x 67 x 9 mm dimensions and 123g weight makes this a phone that's very comfortable to hold in one hand, and my thumb easily reached each corner of the 4.5-inch screen.
The blank bezel beneath the screen is reasonably thick (around 2cm) and at first seems like wasted space. However this simply hints at the BQ Aquaris E45 Ubuntu Edition's origins as an Android handset (the bog standard BQ Aquaris E45).
This space would usually be reserved for Android buttons, but here it's just a reminder that the world's first ever Ubuntu Phone hasn't been built from the ground up for Ubuntu. It's feels like a bit of a missed opportunity, as the first phone could have been a real showcase for what Ubuntu has to offer.
By just plopping it on an already released Android handset with minimal tweaks it instead suggests a lack of confidence in Ubuntu Phone. Whether that is accurate or not, it's not a great feeling to have surrounding your new mobile operating system.
Perhaps more cynically, it seems to me that Canonical might have chosen this method to show other phone manufacturers how easy it is to put Ubuntu Phone on their existing Android handsets. Along with certain other aspects of the rough-around-the-edges operating system that I'll get to later, this gives the impression that the BQ Aquaris E45 Ubuntu Edition isn't aimed at the regular consumer.
The power button and volume controls reside on the right-hand side of the body, while on the left two trays – similar to the ones found on iPhones – can be prodded out with a pin to insert two SIM cards.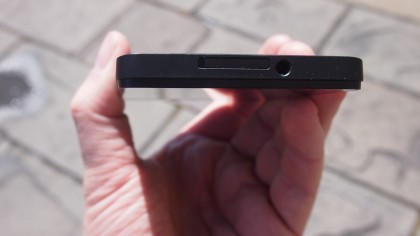 On the top edge of the body a flap can be removed allowing you to insert a microSD card – a blessing indeed considering the handset only comes with 8GB of internal storage, and only 5.5GB is available to be used out of the box.
Overall the BQ Aquaris E45 Ubuntu Edition has a perfunctory design that neither wows nor offends, which is normally all we'd ask for with a handset at this price range. However as a device that's the first of its kind, a bit more pizazz could have been appropriate.
Key features
Ubuntu Phone
The biggest feature of the otherwise unremarkable BQ Aquaris E45 Ubuntu Edition is the fact that it is the first commercially available handset running Ubuntu Phone – a version of the popular Linux distribution designed for mobile devices.
Canoncial, the company behind Ubuntu, has promised big things for Ubuntu Phone, including dispensing with the need for companies to make their own native apps. Instead, companies can quickly whip up a Scope – a sort of web-based app – to deliver their information and services to Ubuntu Phone customers.
On paper this makes a lot of sense, as mobile operating systems outside of the big two have long struggled to get app developers to port their apps to their platform, and if a potential customer finds their favourite app isn't supported, they're likely to stick with Android or iOS.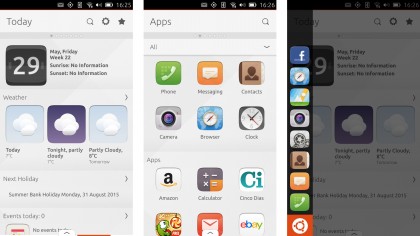 By making it quick, easy and (most importantly) cost effective to bring a "scoped" version of an app to Ubuntu Phone, Canonical hopes to have a big enough app ecosystem (that includes some of the biggest names) ready and waiting to convince customers to make the jump.
It's a sound plan in theory, and in some ways it has worked, with a number of big names signing up. However, in my time with the BQ Aquaris E45 Ubuntu Edition I felt that Scopes weren't quite the app alternatives Canoncial hopes they'll be.
For example the News scope handily aggregates headlines from a number of sources, such as the BBC and El Pais, but clicking on a headline simply takes you to a brief summary, followed by an "open" button that takes you to the new's source's website to read the story there.
It can feel like Scopes are little more than glorified RSS feeds. It doesn't help that images sometimes didn't display next to headlines, and although I'm sure Canonical will update and improve Scopes as Ubuntu Phone matures, it means the experience on the BQ Aquaris E45 Ubuntu Edition doesn't exactly convince you that it's a game changer.
Google has also been at the information aggregation game with Google Now, which brings information from various websites and apps into an easy to read layout, and at the moment I feel that Google's vision for aggregation is more coherent and appealing.
Native apps are also supported, with Canonical proudly boasting that big names such as Facebook, Twitter and Ebay are included, either pre-installed or available through the Ubuntu Store.
There are some noticeable exceptions, but I've been told that new official apps – and ones created by third party developers – will fill in these gaps. For example while there is no official Spotify app, you can still get Spotify on the BQ Aquaris E45 Ubuntu Edition using a third party app that uses Spotify's API. Not an ideal solution, but it works.
However this also makes it feel like the BQ Aquaris E45 Ubuntu Edition has been released not for the casual user who wants a new smartphone, but for developers in a bid to get more people to create Ubuntu Phone apps.
In the future, Canonical also wants programs that work on the desktop version of Ubuntu to work on Ubuntu Phone – much like Microsoft's vision of universal apps for Windows 10 devices.
The hope is that one day you can hook your Ubuntu Phone up to a monitor and use it as a full-blown Ubuntu computer, but it admits this won't happen for at least a year – not much use for BQ Aquaris E45 Ubuntu Edition owners today. Also, let's face it, this is a feature that will have little appeal beyond a rather niche community.
Low price
The BQ Aquaris E45 Ubuntu Edition costs €169.90 (around £127, US$194, AU$249). The relatively low price of the handset is certainly a blessing, and it means if you've been waiting for an Ubuntu Phone to launch (and there are some out there who have), then you're not faced with a high entry price.
It also means if you're looking for a smartphone that does much of the basics without wanting to pay flagship prices, then you might be tempted by the BQ Aquaris E45 Ubuntu Edition.
The curse, however, is that the market at this price point has become extremely competitive – just take a look at our run down of the top 10 budget handsets to see how good these devices have become.
There's a large number of Android phones from established brands vying for our attention, and not only do these budget Android handsets offer the same – and sometimes even more – features as the BQ Aquaris E45 Ubuntu Edition, they also benefit from the extremely well-established Android ecosystem.
This means that any app you can get on an expensive flagship Android device should be available on the much cheaper handsets as well – and this is something that the BQ Aquaris E45 Ubuntu Edition, or any Ubuntu Phone for the time being, simply cannot offer.
Microsoft has also been pushing budget Windows Phones such as the Nokia Lumia 530 and the Nokia Lumia 735, and although they don't enjoy quite the gamut of apps that Android devices do, they're still going to put up a decent fight against the fledgling BQ Aquaris E45 Ubuntu Edition.
Two SIMs are better than one
One thing that the BQ Aquaris E45 Ubuntu Edition boasts over most budget smartphones is that it can wield dual SIM cards.
This might usually reside quite low on the list of people's most wanted features (probably somewhere just above novelty ringtones), but it's pretty handy if you have a work phone and a personal phone, or if you use a second SIM card to make international calls. It means you can switch between SIMs (and therefore networks and contracts) without having to carry around two phones.
It works well enough, though it again gives the feeling that the BQ Aquaris E45 Ubuntu Edition isn't aimed at regular customers.
Performance and battery life
It will come as no surprise that the along with the low price of the Aquaris E45 Ubuntu Edition, BQ has packed pretty unexciting hardware. This means a 4.5-inch screen with a rather low 960 x 540 screen, a quad-core 1.3GHz MediaTek Cortex-A7 processor, 1GB of RAM and 8GB of onboard storage.
With these specs in mind, Ubuntu Phone performs quite well on the BQ Aquaris E45 Ubuntu Edition, feeling reasonably smooth as you flick your way through the Scope interface of the operating system.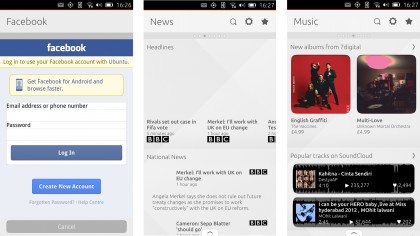 Clicking on headlines and opening up web pages in the custom default web browser is perfectly fine, which is good news as you'll be doing that a lot.
Some Scopes also work very well, and show the potential of Ubuntu Phone. For example, the Music scope not only shows new albums that can be bought through 7digital, and popular music videos on YouTube, but it also shows upcoming music gigs at venues near your current location.
This means you don't have to go opening up lots of different apps to get all of this information, and I'm looking forward to seeing what future Scopes bring – though it's unlikely I'll still be using the BQ Aquaris E45 Ubuntu Edition, due to its disappointing performance in other areas.
Long load
For example many of the installed apps such as Facebook take some time to load, ranging from a couple of frustrating seconds, to nearly half-a-minute, which wasn't very impressive at all.
After waiting a short while to load the Facebook app, I was greeted with a message above the login screen that said "Get Facebook for Android and browse faster." If this was the first impression of a phone I had just splashed out on, I wouldn't be amused – no matter how cheap the price tag was.
The interface of Ubuntu Phone also takes some getting used to, and even though I am a veteran of iOS, Android and Windows Phone, it still took me a while to get accustomed to yet another interface.
You swipe through the preconfigured scopes by drawing your finger from right to left, and with a quick swipe from the left-hand side of the screen, a menu appears giving you quick access to apps such as Gmail, settings and the phone app. Menus and Scopes flow smoothly enough, though there can sometimes be a small – yet perceptible – pause, while browsing.
Low power
Opening apps is another story, however, with noticeable delays reminding you that the BQ Aquaris E45 Ubuntu Edition is an underpowered phone. Some of the delays can be down to the Ubuntu Phone's new and sometimes buggy software, but I fear that on these modest specs, you're never going to get a snappy experience.
As the BQ Aquaris E45 Ubuntu Edition runs Ubuntu Phone we can't run the usual Geekbench 3 benchmarks, but from my time with the phone it's clear that this is a bottom rung handset when it comes to performance.
As the Ubuntu Phone software matures and bug fixes are released, the performance of the BQ Aquaris E45 Ubuntu Edition could improve, but there's only so much you can do with such limited hardware.
Battery life
The battery life of the BQ Aquaris E45 Ubuntu Edition is very good, and it wasn't until the third day of using it that I had to find the charger and plug it in. Although three days of battery life is pretty great, I don't feel as if I can give the 2150mAh battery all the credit for this.
The Ubuntu Phone operating system is the main reason the battery lasted so long, but not in the way Canonical would be particularly keen on shouting about.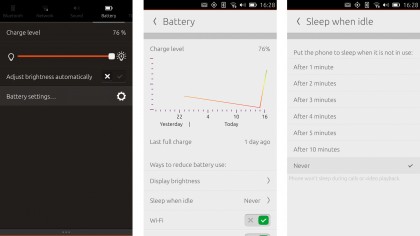 Sure, the software is a bit lighter than other resource-intensive operating systems, but the main reason the BQ Aquaris E45 Ubuntu Edition's battery lasted so long was that I hardly used the device.
None of my favourite games are available for Ubuntu Phone, and the ones that are present are either awful or perform terribly on the BQ Aquaris E45 Ubuntu Edition's limited hardware. Sometimes both.
So without me playing games while waiting for the bus, the battery remained relatively untroubled. Regular checking of Facebook, Twitter and emails is another reliable battery drain, but the apps are so barebones, or perform so badly, that I cut down my social networking habits as well, preferring to wait until I get to a PC or – whisper it – a more competent smartphone.
Browsing the internet is better, and I did far more of that, though when out and about there's no fast 4G LTE mobile connection, you instead have to settle for good old – and slow – 3G. But it's less battery intensive so that's something.
Although the BQ Aquaris E45 Ubuntu Edition does a good job of holding its charge when not in use, in our battery benchmark – which involves playing a high definition video for 90 minutes with the screen at full brightness – the battery life plummeted, leaving only 54%. Regardless of the poor resolution of the screen, this is obviously not a handset for watching movies on.
If you want a smartphone that can last for days on a single charge with light usage, the BQ Aquaris E45 Ubuntu Edition could be of interest, as it at least offers more features than a basic handset. However, it's worth considering something like the Lumia 435 which is much cheaper, offers similar battery life and has roughly the same features – but is a far more solid and dependable handset.
The essentials and camera
There are certain essential tasks that we require our smartphones to perform, and while it is clear that the world's first Ubuntu Phone, the BQ Aquaris E45 Ubuntu Edition, hasn't tried to set the world on fire, I still expected it to cover the bare essentials.
To be fair it did, but sometimes not without a certain degree of hassle and annoyance. For example, it's safe to say that making and receiving phone calls is a pretty fundamental feature that we'd expect from our smartphones. The BQ Aquaris E45 Ubuntu Edition does indeed make phone calls – though audio quality isn't great.
What is a pain is that if you're moving from another phone, it's difficult to import your existing contacts. The Contacts app can open a Vcard file, the default method of exporting contacts, but it only imported two seemingly random contacts. Importing contacts saved on your SIM card also doesn't work.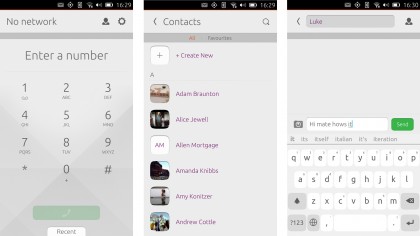 I scoured the internet to find a way to easily import contacts and it appears that there's a bug in the Ubuntu Phone software that makes this method impossible for now. Manually having to enter in all of your contacts isn't a great start.
If you have a Google account you can save your contacts to the account on your old phone – providing it's an Android device – and then add your account to the BQ Aquaris E45 Ubuntu Edition in the Settings menu and syncing contacts. This workaround does the trick, but it's not particularly elegant, and won't be of much use to some people.
When creating a new text message you can access the messaging app by swiping from the left-hand edge of the screen and selecting it from the menu. You can also go to the Contacts app (which to be fair is nicely laid out), find the person you want to message, then choose the message icon to type.
Like the other apps on the BQ Aquaris E45 Ubuntu Edition, the messaging app, even though rather simplistic, takes a few seconds to load. Once loaded, viewing and writing messages was pretty standard, and the on screen keyboard did a fair job at keeping up with my typing. When you receive a text message a notification appears on the lock screen, which is quite useful.
Accessing email
Sending and receiving emails are increasingly thought of as being essential tasks for a smartphone, though getting your account set up on the BQ Aquaris E45 Ubuntu Edition isn't as easy as on other devices.
A Gmail app is included, but this is simply a web app that takes you to the mobile version of Gmail's website, which again takes a few seconds to load. The web app is ok, but it doesn't compare well to the Gmail app that's included with Android devices, or can be downloaded for iOS.
Notifications for new emails do appear though they can sometimes take a while to emerge, so if you're waiting for an important email, then using the BQ Aquaris E45 Ubuntu Edition will probably frustrate.
When the notification does appear, it's in the form of a green envelope (the icon for all notifications, not only emails), which you can click on to open the Gmail app. No notifications appear on the lock screen, sadly, but if a native Gmail app is created for Ubuntu Phone in the future, maybe we'll see that feature.
If you're not a Gmail user, then you'll need to install a client from the Ubuntu Store. Dekko is the most popular email app, though it is still currently only in beta – which means there will be some bugs and stability issues. If you've made it this far with Ubuntu Phone, however, then that's pretty much par for the course.
Setting up Dekko is pretty straightforward – especially if you have an account with a big email provider such as Yahoo or Gmail, as it will fill in all the connection settings automatically.
It's worth getting as it's a lot better than the Gmail web app, and the layout is nice. It's quite laggy and slow, however, and there's no notifications when you get a new email and you're not in the app, so I can see why it isn't installed by default. Hopefully future updates will bring performance improvements and notifications, but at the moment Dekko just about does the job, but if you depend on email, it just won't cut it.
Ubuntu Store
The Ubuntu Store acts in a similar way to the App Store and Google Play, and provides a way to download and install new apps. Recommendations are included, as well as user reviews, screenshots and summaries to help you decide what to install.
It's one of the better features of Ubuntu Phone and although it's not as crammed with apps as the stores found on Apple and Android devices, it works well.
Camera
Considering the price and specifications of the BQ Aquaris E45 Ubuntu Edition I wasn't expecting much from the camera of the device. On paper it sounds pretty solid, with a main 8MP snapper with dual LED flash and a front-facing 5MP camera. We've certainly seen worse cameras on budget smartphones.
In practice the camera isn't too shabby, with acceptable picture quality – though nothing to shout about. It's essentially a competent budget smartphone camera, and if that sounds like I'm damning with faint praise then that would kind of be correct, as the BQ Aquaris E45 Ubuntu Edition often struggles to achieve competency in some regards.
Although colours both indoors and out are good, detail is lacking, especially when you zoom in on your images. The camera app once again takes its time to load, but once it does it offers you a decent selection of modes, including location tagging, HDR, a timer and a grid to help you compose your shots.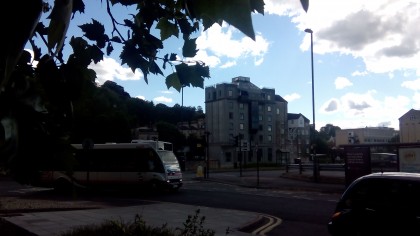 Click here to see the full res image
You can switch between the rear and front facing camera rather easily, and the selfie photos you take are also perfectly acceptable.
Click here to see the full res image
You can also record 1080p video with the BQ Aquaris E45 Ubuntu Edition, and again the results are pretty good, with nice and clear image quality. On top of that, the camera also adjusts pretty quickly when moving from inside to outdoor scenes.
Overall the camera capabilities of the BQ Aquaris E45 Ubuntu Edition were solid – a rather pleasant surprise. I'm not too sure if the target audience of the BQ Aquaris E45 Ubuntu Edition will do much photography, but if you want to take the odd photo or quick video, you'll be pretty happy with the results.
Verdict
As the first official Ubuntu Phone, the BQ Aquaris E45 Ubuntu Edition has a lot riding on it. A lot of people will be watching to see if Ubuntu Phone is a viable mobile operating system that can go toe-to-toe with the likes of Android and iOS.
However a number of baffling design decisions have meant that for many people, if the BQ Aquaris E45 Ubuntu Edition is your first taste of Ubuntu Phone, you're unlikely to be impressed.
We liked
The phone is small and light, which is a nice change from the growing trend of bigger smartphones. The design is also quite nice for a low-priced phone.
The camera is also rather good considering the price, though it is by no means the best we've ever seen. If you like taking the odd photo then it will certainly do the trick.
The Ubuntu Phone operating system does have some potential, so if you're after something new then you might like this. It is still early days for Ubuntu Phone, so some core features (and a lot of apps) are currently missing – though we're promised they will come later.
The Ubuntu App store is also promising – it just needs more apps to fill it.
We disliked
Although it does have potential, Ubuntu Phone is still very barebones and buggy. On under powered specs it feels particularly slow and cumbersome, and you'll often get frustrated by the BQ Aquaris E45 Ubuntu Edition's performance.
The specs are already creaking, and due to the small amount of included storage it won't be long until you're looking for another handset. It's a bit too early to know what kind of future Ubuntu Phone has, but it's safe to say that the BQ Aquaris E45 Ubuntu Edition itself is far from future proof.
Verdict
As the first ever Ubuntu Phone the BQ Aquaris E45 Ubuntu Edition had the potential to wow and prove there's life beyond Apple and Android, but unfortunately it fails.
By simply slapping it on a budget Android handset, both Canonical and BQ missed out on releasing a handset that was tailor-made for the Ubuntu Phone experience and that could show off its full potential.
Instead I was left with an unsatisfying experience that benefits neither BQ nor Canonical – and certainly not the user.
Ubuntu Phone is still not ready for prime time, with bugs and missing features. Some of the more interesting aspects of the operating system, such as being able to run desktop Ubuntu applications on a mobile device, aren't ready, and probably won't appear until next year.
Scopes have potential, but they're no replacement for some of the big name apps that are currently missing from the operating system.
If you're a software developer who is keen to start creating apps for a fledgling operating system, then the BQ Aquaris E45 Ubuntu Edition is a cheap way to check out the ecosystem and get started.
That's a pretty niche market, though, and for the vast majority of us who just want a nice, easy-to-use smartphone that lets us get on with the day to day tasks we now take for granted with our handsets, we're going to be disappointed and frustrated with the BQ Aquaris E45 Ubuntu Edition.
At the moment Ubuntu Phone bares little resemblance to its desktop version, so even if you're an Ubuntu fan or seasoned Linux user, you still won't find much to love here, and it's best to wait until Ubuntu Phone matures.
For casual smartphone users, you're better off staying away and going for a budget Android device such as the Motorola Moto G or the Sony Xperia M2 Aqua, which offer much better experiences for around the same price.
Ubuntu Phone does have some good potential and it will be interesting to see what comes next for the mobile operating system, but the BQ Aquaris E45 Ubuntu Edition is destined to be long-forgotten by then. Shame.
First reviewed: April 2015