Our updated impressions
The Asus Zenfone 2 fills an interesting niche as an Android phone full of deep customizations, yet one that sells for half the price of similarly sized phablets.
Typically, Android tinkers who want to invest a lot of time into customizing their phone also have to pay full price for a flagship. But Zenfone 2 turns that concept on its meditating head.
At $300 unlocked (about £210, AU$408) and now available in the US, it's a bargain for a 5.5-inch display that's as big as a the LG G4 and iPhone 6 Plus, and specs that include an speedy Intel processor and 4GB of RAM.
There's an even cheaper $200 (about £139, AU$272) model with a slower Intel chip and just 2GB of RAM, but the 4GB version is the one that's going to last you some time – if it holds up.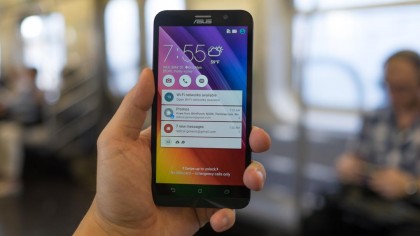 Where Zenfone 2 makes its compromises to hit that price point is in its build quality and camera. Its easy to spot the flaws of its cheaper plastic construction and poor 13-megapixel camera sensor.
That said, the Zenfone 2 remains one of the most inexpensive ways to upgrade to Android 5.0 Lollipop with enough processing power leftover, as long as you don't care about style or outer quality.
Design
Zenfone 2 is true to its unintentional theme of finding internal strength and beauty because, on the outside, this isn't a very pretty or strong phone.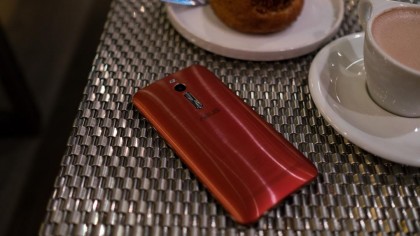 It feels more cheaply made than it looks. This is thanks to the artfully deceptive, brushed metal design on the back cover and Gorilla Glass 3 with an anti-glare coating on its 5.5-inch display.
But holding the phablet in my stretched out hand, I could tell the difference between it and the glass-backed Samsung Galaxy S6 and aluminum-backed iPhone 6 right away.
I could also see the difference in quality as my stretched out hand accidentally dropped the phone and its top-right corner met pavement. Cracks spread across the surface and a frown stretched across my face.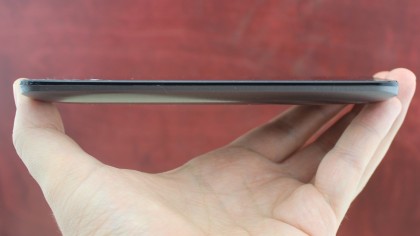 This unintentional drop test was a tumble at 32 inches (81cm), rather than a direct drop, from my pocket. The phone's bulkier-than-normal phone didn't fit in my jeans as well as I had expected.
While Samsung and HTC upgraded their flagship phones to Gorilla Glass 4, Asus stuck with the previous generation's less durable material. LG G4 kept Gorilla Glass 3 too, but at least it features a slight curve that might have saved this phone from its now unsightly blemish.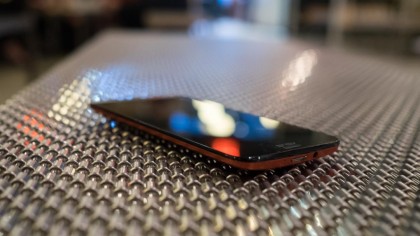 Despite the plastic body and cheaper glass construction, the Zenfone 2's dimensions and weight are less svelte, as expected given its price.
Its curved back gives it a thickness of 10.9mm. By comparison, the Galaxy S6 is 6.8mm, the HTC One M9 is 9.4mm and the LG G4's thickest point is 9.8mm.
The rest of the measurements are actually competitive. It's 152.5mm in length with a 77.2mm width. But, at 170g, it weighs slightly more than everything but the iPhone 6 Plus.
Zenfone 2 also cheaps out on the power button. It sits at the top of the phone, in an odd center location, and has little tactical feedback, almost as if it's broken. Luckily, the phone's software makes use of the handy double-tap-to-wake screen feature introduced in the LG G2.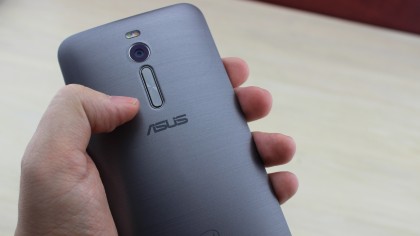 While the power button is annoyingly squishy, the volume buttons have the necessary clicky feedback, taking cues from LG with their location on the back.
Three capacitive buttons for back, home and recent line the bottom of the display, but are neither on-screen buttons, like on some Androids; nor do they light up, like on Samsung devices. This makes it difficult if you're moving from a Samsung phone (where the back and recent buttons are swapped), as you may have trouble getting used to this order in the dark.
There's a single loud-sounding speaker, but it stretches across the back of the phone, which means calls on speakerphone and music point in the wrong direction. Costlier phones like the Galaxy S6 have moved the speaker to the bottom of the phone. Better yet, the HTC One M9 has stereo speakers on the front.
Display
Asus Zenfone 2 can compete on size, especially for the price. Its large 5.5-inch display, which is slowly becoming the norm among Android phones, feels very roomy.
Everything from typing out messages to getting work done on the spacious, LED-backlit LCD is a little bit easier, and this phablet has enterprise-ready specs to back up that work.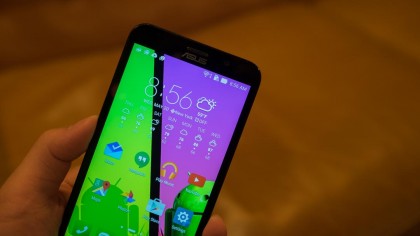 But don't expect a super-rich screen for fun multimedia. Its diagonal measurement matches the 5.5-inch LG G4, but its resolution of 1,920 x 1,080 cannot compare to a quad HD display.
More importantly, while its the same resolution as the 1080p iPhone 6 Plus, the brightness literally pales in comparison to Apple's Retina or Samsung's Super AMOLED displays.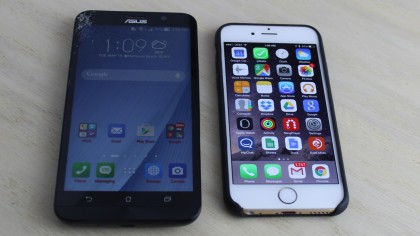 I do like how, even when selecting the "auto" ambient light mode, the brightness can be adjusted ever so slightly. But overall, the screen looks half as bright as it should be.
Specs and performance
This is where the Asus Zenfone 2 shines for its price. Its specs include an Intel processor, when other major phones boast popular Qualcomm Snapdragon chips at their heart.
The Intel Atom Z3580 quad-core processor is clocked at 2.3GHz, which means that it's fast enough to handle games and multitasking along with its PowerVR Series 6 G6430 GPU.
Asus gave its phone some nice overhead when it comes to memory with 4GB of RAM when almost every other phone tops out at 3GB of memory. The cheaper variant, also a quad-core, is slower at 1.8GHz and 2GB.
Intel's 2.3GHz quad-core chip and 4GB of RAM combination doesn't make the new Asus phone the fastest – far from it. But it's competitive for its mid-range price by beating almost all of last year's top phones.
Its Geekbench 3 multi-core score of 2,851 outpaces the Galaxy S5, HTC One M8 and OnePlus One and is just shy of the performance of the Moto X 2014, which hasn't been refreshed yet.
It does trail this year's flagships, though. Google's Nexus 6 averaged a 2,986, HTC One M9 scored a 3,005 and the Samsung Galaxy S6 pulled away from the pack with a 4,100 score.
Zenfone 2's performance has been smooth, save for its long 45-second boot up time. And, with 64GB of internal storage (16GB for the cheaper model) and a microSD card slot under the back cover, it's certainly well equipped.
Call quality, likewise, remained excellent, though the speaker phone shouts out of the back of the phone, like too many other smartphones that fail to avoid this pet peeve again and again.
Android 5.0 Lollipop and apps
Zenfone 2 is a cheap way to upgrade to Android 5.0 Lollipop if you're stuck with a phone that hasn't received (or will not get) Google's new operating system update yet.
Upon booting up the phone, you wouldn't really recognize the Material Design theme that the search engine giant created for its Nexus 6 and other stock Android phones. This isn't a pure Android phone.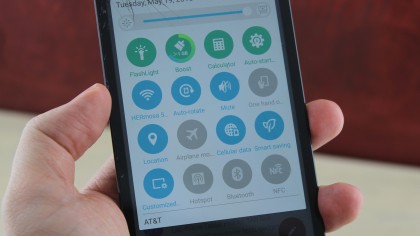 Instead, it has Asus' ZenUI overlay that cranks up the customization for a more complicated layout, but one that people who root Android phones will appreciate.
The quick settings drop down panel, for example, is chock full of options arranged in a 4 x 4 grid. It's just two swipes down and one button press to turn on the flashlight or airplane mode.
Best of all, the grid of 12 quick settings can be customized to your liking. Not all Android phones let you tinker with this panel, which is one of many reasons why people end up rooting their phones.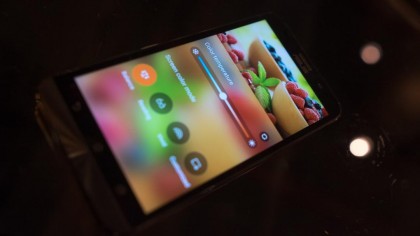 Zenfone 2 gives users control over icon packages, themes, scroll effects between panels, folder icon sizes and styles – heck, even app title font sizes and colors.
There's even an pre-loaded app called Splendid that let's you change the color temperature of the phone display ever so slightly, as if it were a TV screen with customizable controls.
There's an "Easy Mode" within the main settings menu for everyone who doesn't want all of the complexity of ZenUI. But really, that's its killer app – thanks to ZenUI, there's less of a reason to root this phone.
ZenUI apps
Asus also includes over a dozen homegrown apps in addition to the more familiar Google apps that it's forced to carry with the Android-based Zenfone 2.
Notably, File Manager provides control over the internal storage and microSD card files, Do It Later supplies an app-integrated task list and flashlight beams out an SOS help signal – just in case.
More fine-tuning on this Android device can be found in Asus' apps like Auto-start Manager, Power Saver and Autowizard.
There are also plenty of repeats of what Google already provides: a web browser, gallery app, contacts list, calendar, clock, music, weather, calculator, notes and web storage.
Calls and messages
I normally default to Hangouts and don't mention the phone call app unless there's something truly novel, and on the Zenfone 2, both messages and the dialer are special.
Both incorporate the dual micro SIM cards into their interface, making it easy to switch back and forth between calling and sending messages between phone numbers.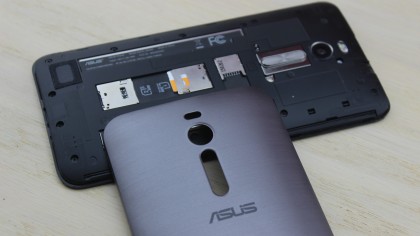 It's fairly seamless to use when traveling abroad. I can easily imagine eating up cheap data with an international number via SIM 1, but keeping my phone number intact for calls and texts via SIM 2, which can only do voice and texts.
While there's no way to seamlessly transition from a phone call to a video call, a feature I do appreciate on the more locked-down operating system of iPhone 6 Plus, there are some extra buttons when on a call.
Namely, being able to record a phone call is handy for interviews, or if you're trying to point out horrible customer service to the world. Sending files to the contact while they're on the line is also a button integrated into this screen.
Camera
No need to add grain via Instagram with the Zenfone 2. This 13-megapixel camera takes photos that are full of noise, especially in dimly lit locations.
Its tiny iPhone 5-level 1/3.2-inch sensor size, made by Toshiba, requires plenty of light for passable photos, which only look good when zoomed all of the way out.
Shots in my local bar, for example, were grainy and muddy all around except for brightly lit signs that were completely overexposed. The bright dual LED flash only does so much.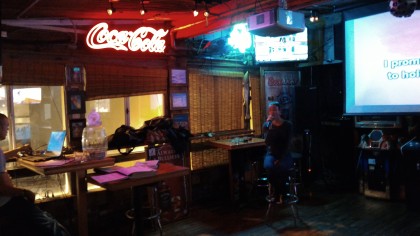 The 5-megapixel camera on the front was no better for selfies, and both cameras take 1080p video at 30 frames per second.
There are some manual controls and modes, from ISO settings (50 to 800) to a selfie mode that takes three photos with the always-superior back camera.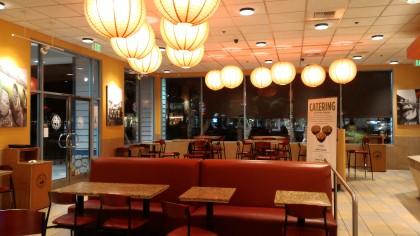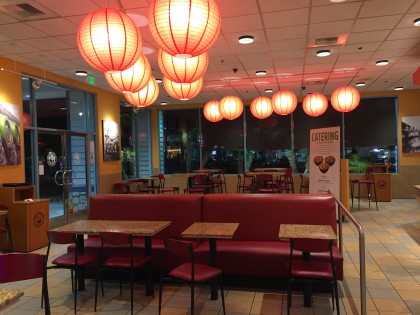 This mode also lets you add the skin-smoothing beautification effect in post, which is nice because too much of that makes everyone's skin look waxy and fake.
More photos tests are needed in the full hands on, but so far, the camera isn't the reason to buy the Zenfone 2.
Battery life
Zenfone 2 contains a 3,000 mAh battery, which is larger than the iPhone 6 Plus, Galaxy S6 and HTC One M9 batteries, and it ties the LG G4 battery size.
But as we have seen from the poor LG G4 battery performance, a big capacity doesn't always translate into all-day battery life.
More long-term battery tests are needed here as well. The good news is that Asus packs a smart saving mode that balances the device's performance and battery usage.
It also charges more quickly than other inexpensive smartphones out there thanks to Intel's fast-charging functionality, which equivalent to Qualcomm's QuickCharge 2.0.
Sadly, while I could see the battery by taking off the back cover of the phone, it is not user-replaceable. It just peaks out of the back like a big tease.
Early verdict
Asus Zenfone 2 is half of the price of a top-tier smartphone and is, thankfully, nowhere near half the quality. It just finishes behind the current pack.
Its best features are its large 5.5-inch display, solid specs provided by Intel and 4GB of RAM. The deep ZenUI customization that sits on top of Android 5.0 Lollipop will be a plus for users that want options but don't know what a ROM is.
That said, the screen could be brighter and sharper, the construction could be more durable and less cheap, and the camera could use retooling.
If none of these things matter to you – and if you're better at holding onto a 5.5-inch phone than I am – then parting with $300 (about £210, AU$408) puts this big Android phone in your pocket and more money back into your wallet, purse or Google Wallet account. It's that simple.
Our initial impressions
When it comes to smartphones, all conversations should start with the HTC One M8 ($649, £549 and AU$899 off-contract) and the iPhone 6 (starting at $199 on-contract, £539 and AU$549 off-contract).
Attempting to enter the arena of the big dogs, Asus' new Zenfone 2 (starting at $200, £120, AU$210 for 2GB RAM) is a handy device with a few neat tricks up its sleeve.
The HTC One M8, which we've voted the best smartphone in the world, boasts a Snapdragon 801 processor that functions at 2.5ghz, which makes it perfect for gaming, movies, photography and web browsing. At only 5.64 ounces (160g) and 5.76 inches tall (146.4mm), the Full HD HTC One M8 is a well-designed, Android-based device that accomplishes everything you'll need a smartphone to accomplish.
On the same end of the spectrum, the iPhone 6 and its iOS 8 operating system are a pleasure to use. Featuring a 4.7-inch (119.3mm) retina HD screen, and an A8 processor that operates at 1.8ghz, the iPhone one of the prettiest and fastest smartphones on the planet. It doesn't hurt that it only weighs 4.55 ounces (129 grams) either.
Design
The new Lollipop-based Asus phone features a hard plastic chassis that will be available in multiple colors in the US, including silver and red. It features a 5.5 inch (139.7mm) Full HD Corning Gorilla Glass 3 screen and weighs a hefty 6oz (170g). At only six inches long (152.5mm) the ZenFone 2 shouldn't weigh as much as it does, but you'll hardly notice a difference when compared to the HTC One M8. If weight is a major factor for you, the iPhone is a much lighter choice.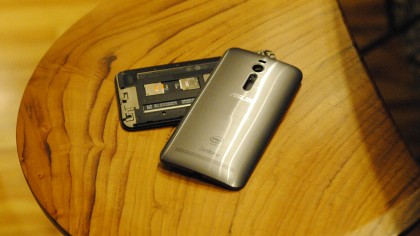 The silver bezel features a shiny matte finish along the back of the phone and along the bottom edge of the front. The front upper and side panels are built with shiny black plastic that is reminiscent of older iPhones. Your home, back and window buttons are tiny and unobtrusive at the bottom front of the phone.
At 0.43 inches (10.9mm) thick, the Zenfone is noticeably thicker than the iPhone 6 (0.27 inches, 6.9mm) and the HTC One M8 (0.37 inches, 9.4mm). Partly to blame for the Zenfone's size problem is its replaceable back panel, which allows users to swap out SIM cards.
The Zenfone's battery runs at 3000 mAh. Similar milliamp phones, like the Oppo Find 7A, feature six-hour battery lives. Asus refused to give an estimate for the Zenfone, but they did say that – thanks to Intel's Fast Charging Technology – it can charge from 0-60% in 40 minutes, which is in line with the fastest-charging phones in the world. Unfortunately, the battery can't be replaced.
Despite the size and weight issues, it's definitely an attractive device, especially when you factor in the multiple available color options.
Features
Remember those neat tricks I mentioned? Well, the Zenfone has a time-saving trick that most of you will love. From the phone's locked desktop, you can scribble a command (such as the letter C) onto the screen and the device will automatically open the pre-determined application. If you draw a C, you'll unlock the camera. If you draw a W you'll unlock the web browser.
You can set these commands to whatever application you'd like: so if you never use your web browser but you always use Facebook, you can set it up so that if you draw a W you'll see your Facebook feed. Unfortunately, you can only set five commands. But that's a cool start.
Another innovative feature is the phone's double-tap to shrink command. By tapping your thumb against the screen you'll be able to shrink the size of your desktop to 60% of its normal size. This is ideal for one-handed smartphone use, which can get clumsy when trying to reach the farthest corners of your screen.
Photographers will absolutely love the Zenfone's 13 megapixel camera, which is darn good for a smartphone. The iPhone features an 8mp main camera, while the HTC One M8 features a disappointing 4mp camera. Neither holds a candle to the Nokia Lumia 1020, which sports a 41-megapixel camera – the best in the business.
The Zenfone runs a 64-bit Intel Quadcore Z3580 processor that tops out at 2.3 GHz – just slower than the HTC One M8, but faster than the iPhone 6. It's a zippy phone that will accomplish most of your business and personal tasks with ease.
Early verdict
The Zenfone 2 packs a lot of cool features into one speedy little device. It's easy on the eyes, nice to touch, and offers time- and space-saving features that make it a joy to use. Its 13-megapixel camera will make shutterbugs happy, and its fast-charging battery won't leave you in a lurch on getaways. However, the Zenfone 2 is a bit heavier and thicker than the iPhone and it doesn't run as fast as the HTC One M8, so it will probably find itself sitting near the lower end of the upper echelon of new devices.