Introduction
Despite the best efforts of Samsung and Apple, the world's thinnest smartphone title briefly went to a relatively unknown Chinese manufacturer. Oppo's R5 handset is a mere 4.85mm thick, that's almost thin enough to carve your holiday turkey.
I can already hear many of you ask "but who is Oppo?"
Chinese mobile manufacturers are booming. The phrase "made in china" might have become synonymous with "mass produced", "cheap", and "low quality", but we've already seen with the OnePlus One that these relatively unknown OEMs (in the West at least) mean to take the world by storm.
Similar to its Chinese rivals, the Oppo R5 shames the established flagships with its low price tag, found online at around £290, $460, AU$600.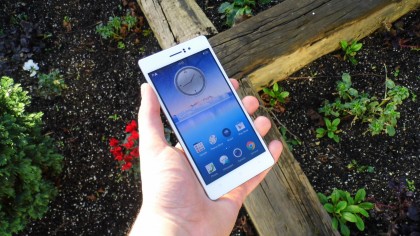 You'll be forgiven for thinking that with briefly having the "world's thinnest smartphone" title and a super low price tag under its belt that Oppo has had to make some sacrifices in terms of performance, but this isn't the case.
Behind the Full HD 5.2-inch screen sits 2GB RAM, an octa-core Qualcomm Snapdragon 615 SoC and 16GB of storage.
This technically makes the OnePlus One more powerful, but its thinner, edgier design will certainly help the Oppo R5 stand out a little more.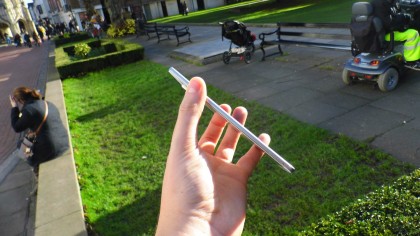 From the front the R5 looks a lot like your stereotypical smartphone, albeit one that takes a few design cues from a certain Cupertino based brand. A thick bezel at the top and bottom, with thin strips down the side of the screen are the first clue that Oppo has looked towards Apple's design success.
The iPhone's influence is also very noticeable from behind, steam roller an iPhone 5S and you will get a strikingly similar look. Oppo even offer the R5 in a white and gold combination, again appearing to copy Apple.
Like the iPhone 6 and 6 Plus the camera sticks out a little too, a necessity to accommodate the 13MP Sony sensor. This was a little frustrating as it detracts from the design as a whole, making the camera seem a little like an afterthought, or an oversight from the design team.
The Oppo R5 is by no means an unattractive handset, but its extreme diet is the only thing to shout about here. Within a case that thinness will be easily overlooked, and without it the R5 felt a little too thin.
Industrially square edges dig into the fingers slightly making it harder to grip the 148.9 x 74.5 x 4.85 mm frame, the HTC One M9 with its curved chassis is far more comfortable and easier to hold.
Oppo has opted for a minimalist design with the R5; the front is adorned with capacitive Android buttons, the 5MP front camera, speaker and sensors while the back houses the camera and LED flash tucked in the upper left.
Physical keys are limited to the volume rocker and power/lock key on the right hand side, and the microUSB port sits at the base. A microSIM tray sits on the bottom left corner, accessed with the supplied poking tool.
Undoubtedly because of size constraints there is no headphone port. Instead Oppo R5 users will have to rely upon a supplied microUSB adapter. Over a typical two year period, I can see this adaptor being easily lost or broken, which will only lead to frustration further down the line.
Key Features
Being one of the world's thinnest smartphones gives the Oppo R5 something different, a feature that you really want to show off to your friends. Holding the R5 in your digits it feels exceptionally thin and will suit those with super tight skinny jeans, although I must offer a word of caution as the R5 still felt a little tall and digs into the leg when sitting.
Unfortunately, I found this thinness to be more of a hindrance than a blessing. The hard square edges don't make for a comfortable holding experience, digging into the palm and fingers when you're holding it.
While visually pleasing, I wasn't a fan of the hard edges on the iPhone 5S, and the wider thinner Oppo R5 magnifies these problems by digging a little deeper as you stretch to hold it.
It also means that the camera sticks out a little leaving me to worry that the lens will get a scratched without being placed in a case, and the less said about the need for a headphone adapter the better. Bluetooth headphones might be taking off, but I still rely upon wired headsets and I can see myself losing or breaking the adapter.
The R5's camera is also something that Oppo is keen to push. Jutting out the back is a 13MP sensor made by Sony, leaving a 5MP snapper on the front. Flash wise the R5 seems a little lacking. A single LED does not provide a lot of light but in test shots I found that it still provided really decent colour reproduction.
One of the reasons that Oppo is so proud of the R5's camera is its super close focus range, move in as close as you can and then add the zoom and the theory is you'll still get a decent image. I can report that Oppo's theory is pretty sound, only losing focus when the camera was almost on top of the subject.
Oppo has also added some nifty features to the camera including slow motion recording, intelligent scenes and a beautify mode for selfies. The latter option is one that I traditionally avoid as I feel that it adds nothing of any value to the inordinate amount of selfies I snap.
Also included in the R5's box is a rapid charger that Oppo claim can restore 75% of the battery within half an hour, or enough for a 2 hour call in 5 minutes. I can't say that I ever got 75% out of a half hour charge, although I was more than impressed with a 58% boost within that time frame.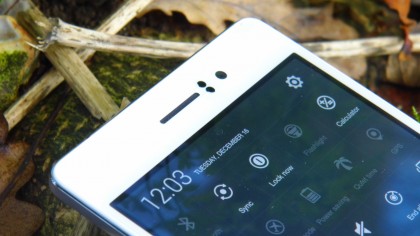 I should also give a shout out to the R5's screen here as I found it extremely impressive throughout my time with the handset. Packing Full HD AMOLED technology stretched across 5.2 inches (that's 423ppi), the Oppo R5 is onto a winner here.
Viewing angles are impressive, as is colour reproduction. The AMOLED technology also helps to reduce battery drain as no power is required for black pixels. This also means that smart cases with windows are possible, demonstrated with a supplied case.
I'm not a fan of the bundled case, it feels cheap and poorly made, but it allows the access of information quickly through the small window. This isn't a new feature, Samsung and LG have both been using this style of case for a while, but it's something that is nice to see here.
Interface, performance and battery life
The tiny frame of the Oppo R5 disguises just how much power is sat within the Chinese handset. An octa-core (four 1.5GHz and four 1GHz cores) Snapdragon 615 SoC and 2GB RAM have been provided to keep a custom version of Android 4.4 running, though there's no update to Android 5.0 in sight.
In terms of sheer power, the OnePlus One appears to have the R5 beaten with its four 2.5GHz cores and 3GB RAM, while more recent flagships like the Samsung Galaxy S6 also have the edge, but that doesn't mean that the R5 is lacking in any way.
The octa-core CPU should also help eke out a few more drops of battery power, and it would do the R5 a disservice not to mention that it has the Adreno 405 GPU rather than the OnePlus's 303.
I mentioned that Oppo has included a custom version of Android 4.4 KitKat, nicknamed ColorOS 2.0. Thankfully Oppo has kept changes, at least on surface level, to a minimum, meaning it retains a heavy Android feel.
In fact the R5's home screen reminded me very heavily of the T-Mobile G1 which was a little disconcerting.
ColorOS has some really interesting, innovative and useful features built into it. For starters, the notifications bar has been tooled to offer up quick toggles, automatically expanding when there are no notifications to display and hiding when you receive a text or email.
A data counter is also built in, something that will appeal greatly to those that constantly push their data limits.
Within the settings menu you can also enable a network speedometer. I can't see this being useful for the average consumer, but heavy users might find this of use. The notifications bar is permanently black at the top of the screen, making it easier to see the little icons and text, but gives ColorOS a cheaper feeling compared to other Android UIs.
The whole UI feels clean and well designed, although Oppo hasn't included a wide range of widgets (there is only one clock, round and analogue). This could be down to the minimalistic and almost iOS feel that Oppo is trying to achieve, but experienced users will find that they might have to use the Play store to download alternatives.
The app drawer is also missing. This won't be so much of a problem for those moving over from an Apple handset or those new to the Android experience, but for those that have used Android for a while it takes a lot of getting use to and I am still not sold on the idea.
I also found it equally frustrating when it came to text size. Despite going through the settings menu to set font size to the smallest setting, this didn't appear to carry through the handset resulting in a lower resolution feel. Having moved from daily use of the Galaxy S4 Mini, this seemed a little odd.
Another oddity, and this is something that I would like to see changed on all larger screened handsets, was that only four icons are arranged horizontally on home screens. Given the larger size, it is nonsensical that manufacturers haven't found a way of putting five there.
In day to day performance the Oppo R5 performed very well. There was no hint of slow down while moving between home screens, and gaming while downloading didn't offer any real problems. This is thanks to the structure of the eight cores sat inside the R5; four larger cores taking the heavy strain whilst four smaller cores keep lower power and background processes running.
Our Geekbench benchmarking scores show that the Oppo R5 actually outperforms the OnePlus One, with an average score of 2644. This puts it around the same level as 2014 flagships like the Galaxy Note 3, Sony Xperia Z2 and HTC One M8.
Battery life
Supplied within the Oppo R5 is a non removable 2000mAh battery. This is by no means the largest battery pack available, especially given the size of the screen. Given the super slim nature of the R5 though, this was to be expected.
The HTC One M9 with its 5-inch screen has a 2840mAh battery and the OnePlus One has a 3100mAh power pack. Bigger screens on the whole have meant bigger batteries, Oppo has definitely bucked this trend.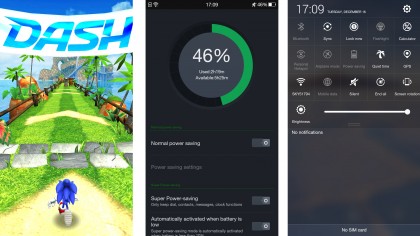 In day to day use I found that the Oppo R5 was okay, although nothing spectacular. There was enough to be able to get me through the day but with little to nothing spare, 15% at bed time is just about enough but any delays while travelling would have been catastrophic.
This is aided somewhat by the inclusion of some power saving modes, a normal and a super mode. The former allows the screen brightness to be reduced, removes haptic feedback, unnecessary data connections, animations, and underclocks the CPU.
The super power saving mode is a little more interesting, restricting phone functions to dialling, contacts, texting and the clock.
Oppo also includes a VOOC charger for rapid charging, claiming that 75% is achievable within 30 minutes and a enough charge for 2 hours can be attained in 5 minutes. I'm a little sceptical over these figures as I was only able to get 58%, but I had left data connections on at the time.
Using the TechRadar benchmark test, a 90 minute HD video at full brightness, gained a drop of 27%, 10% more than that of the OnePlus One. Playing ten minutes of Sonic Dash gave a drain of 8%.
In short I was comfortable going through a standard day with the Oppo R5, but I would always carry that VOOC charger around with me just in case.
The essentials
Keyboard and messaging
To me the most important of the basic functions is the ability to message others. Like most I find myself texting through a plethora of messaging apps; traditional SMS, WhatsApp, Kik, Snapchat, Viber – I've got the lot.
A decent keyboard is vital and I've spent a lot of time using the third party SwiftKey app as it generally offers better word prediction than stock keyboards. Oppo hasn't included a stock keyboard, though it has partnered with Swype to bring one of Android's most famous keyboards to the R5.
I never felt the need to download a third party app to replace Swype here; the autocorrect works very well and swiping across the keyboard soon became second nature.
In order to make use of this keyboard, I was shocked to find that the messaging apps are very thin on the ground. Even the very basic Facebook and Twitter apps were missing. While it is easy enough to dive right into the Play Store and download them, this extra step is a little frustrating when setting up a new handset.
Standard email and Gmail apps are included, coming with all the features that you would expect from an Android experience, though neither offer any extra features.
The SMS app is also a rather standard affair, although the small pop up when receiving a text was a nice feature, allowing for a quick response without having to go right into the app.
Calling and Contacts
Again there is little for the Oppo R5 to shout about here, with both the dialler and contacts app being very basic yet functional affairs. Thankfully smart dialling is available, allowing easy look up of contacts.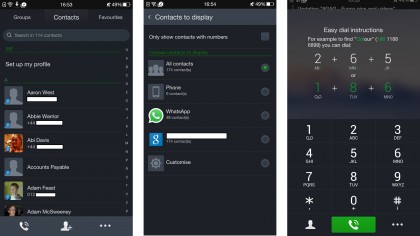 Contacts are listed, drawing in photos from respective social accounts such as Facebook, providing you've downloaded that app. This is one of my biggest bugbears with Oppo's contact features, but one that I can work around.
Calling was clear and signal strength was impressive despite the metal body, although I can't say that it performed any better than expected.
Internet
There is only one app available to those browsing the internet on the Oppo R5, and I am pleased to say that Google Chrome is one of my favourite internet browsers on both mobile and desktop.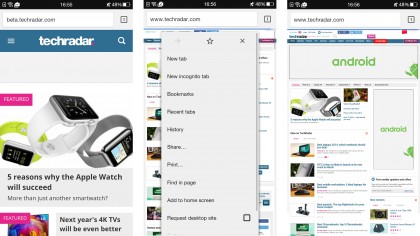 It syncs history and bookmarks across multiple devices, allows you to browse mobile and desktop sites, tabbed and even incognito browsing. Data can also be preserved by using Google's servers, ideal for those on limited contracts.
The Oppo R5 can also make the most of 5Ghz Wi-Fi as well as 4G LTE networks so you can browse quickly whether at home, in the office or out and about.
Camera
The cameras on the Oppo R5 are one of its best features. A 13MP sensor manufactured by Sony juts out the back of the slim handset, with a 5MP sensor sat neatly on the front. Having the camera poke out the back is a little worrying, I can't help but wonder just how quickly it will be for me to scratch the lens.
Oppo has included a single LED flash alongside the camera, something that initially worried me as it doesn't seem overly bright. In small areas this isn't a problem, there is no colour washout that is associated with brighter flashes.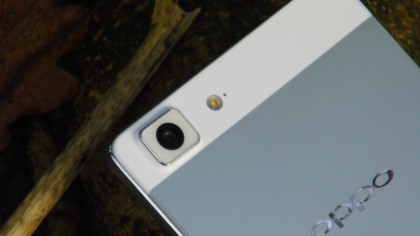 App wise, Sony Xperia handsets have been my favourites to use for a variety of reasons but Oppo comes really close with its offering here. It is clean and fits well into the rest of ColorOS with its translucent and round effects.
Just like Sony, third party apps can be downloaded to bolster the already impressive array of options. HDR and Panorama modes aren't, confusingly, included as standard but are available as downloads. Elsewhere you can download the ability to create GIFs, photos with sound, a super macro mode and Ubifocus.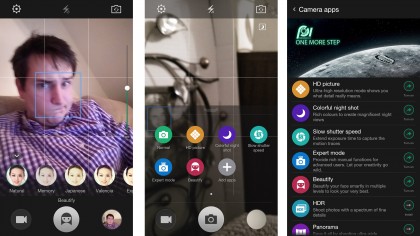 This last mode allows you to adjust the focus post shot, although in tests I didn't find the focus to change a lot. If this is a mode that you wish to use, I'd recommend the Lytro Light Field camera.
Pre-installed options include a slow shutter speed, colourful night shot, HD picture and Beautify. There is also an expert mode that allows you to manually toggle the white balance, exposure and even the focus levels. It's nice to see these hidden away as I've never found that I use them when out and about.
Video modes can also be set, although these are set to quality levels, HDR mode and a slow motion mode that will be ideal for those looking to upload videos to YouTube.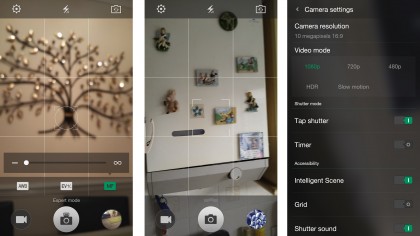 If, like myself, you're big into taking selfies there are a range of different filters that can be applied. I've never seen the point in these though as I believe they distort the image too much and make me look worse than I already do.
With both cameras, the standard shooting mode is 4:3. This is a little frustrating as most of the ways I show off my photos, be it my laptop, phone or TV are all in 16:9. It is possible to switch modes, but both result in the image being chopped to fit and as such come with a loss of quality.
Click here for the full res image
Click here for the full res image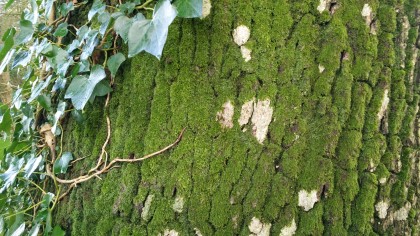 Click here for the full res image
Click here for the full res image
Click here for the full res image
Click here for the full res image
Verdict
Despite launching as the "world's thinnest smartphone" and still being among the slimmest, Oppo is keen to show that the R5 has more up its sleeve. Having built a sizeable user base, the Oppo R5 is one of the firm's first handsets to make it out of its native China.
The OnePlus One has already proven how good Chinese handsets can be, as well as how cheap they can be too, so here's my final verdict.
We liked
It seems odd to say it, but one of the best features about the Oppo R5 is its keyboard. One of the beautiful things about Android is that it is almost infinitely customisable, so Swype is available on nigh on every Android handset.
There are many that will not think to look for a third party alternative, so having a decent stock keyboard is vital and Swype ranks amongst the best.
The quick charge feature is also something that will prove to be vital for the Oppo R5. My tests didn't achieve the same level of charge as Oppo claim, but a 58% charge in half an hour is still very impressive. Given the smaller battery inside to maintain the slim frame, quick charging before you leave work is even more important.
The AMOLED screen of the Oppo R5 is also brilliant. Not only does it help eke out extra power from the battery, but allows for the use of windowed smart cases, and offers very decent colour reproduction. Viewing angles are also very impressive, so you can show off the screen to a large group.
We disliked
The super thin design might look great, but it is less than ideal for holding the R5. The hard industrial edges coupled with the wider footprint mean the R5 digs into the hand a little, making a tight grip uncomfortable. This was somewhat negated by putting the R5 in a case, but that also negates the point of it being so slim.
The lack of a 3.5mm headphone port is also completely baffling. I'm sure that it helps keep the frame so narrow but that is something that I would sacrifice to be able to use whatever headphones I choose. The supplied adaptor is a big help, but adding extra parts makes it easier to lose or break.
Battery life is also somewhat questionable. The 2000mAh pack is less than even the 2100mAh of the relatively tiny Galaxy S5 Mini, and is a lot smaller than the 2550mAh of the full fat Galaxy S6 and the 3100mAh of the OnePlus One. It manages to stumble through an average day's use, but I'd always keep the quick charger in my bag.
Verdict
There is no doubt that Chinese firms are going to provide more established firms like Sony, HTC and Samsung a run for their money. With the R5, Oppo is making a serious statement of intent and people will take notice of the "world's thinnest smartphone", though it's since lost that title to the Vivo X5 Max.
Even while it lasted that title would have meant nothing if the R5 couldn't back it up with impressive hardware. Thankfully the R5 comes with some decent specs that mean it performs amongst the very best phones of 2014, if only for a shorter period thanks to a smaller battery pack.
If the R5 is a sign of things to come from Oppo and other Chinese manufacturers, 2015 is shaping up to be a very interesting year for the mobile world.
First reviewed: December 2014