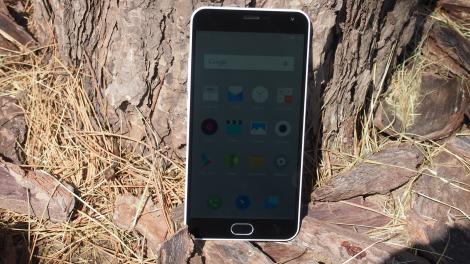 Meizu is a company that has found a lot of success in its native China – the previous M1 Note has sold over 500 million units since its launch – and it now has its sights firmly on making it big in the West, and it's pinning its hopes on the newly launched Meizu M2 note.
Hoping to break out of China and gain recognition in the rest of the world like compatriots Huawei, ZTE and OnePlus is an understandable aim, and Meizu is relying on a potent mix of impressive specs and a low price to catch the eye of Western consumers.
Could the Meizu M2 Note be the handset to change the company's fortunes outside of its homeland? It's not quite as exciting as its flagship MX4 and MX4 Pro, but it offers some very compelling features and specs for the price – and also some pretty interesting innovations as well.
At the launch event it was announced that the M2 Note will be priced at an incredibly reasonable 799RMB (around $129, £85, AU$168) for the 16GB version, with the 32GB version costing 999RMB (around $161, £106, AU$210).
Before you get too excited about those prices it is worth noting that Meizu hasn't announced international prices for the M2 Note just yet, however in the past Meizu's handsets have sold for quite a bit more internationally than their Chinese counterparts.
I spoke to Meizu about the international pricing, and although it has yet to reveal how much it will cost outside of China, it is aware that the price discrepancy of the past isn't ideal, and is looking into reducing the gap. It could be that the M2 Note ends up being the best value handset Meizu has ever launched outside of China.
Regardless of price, the Meizu M2 Note is a rather attractively designed handset, and at first glance reminds me a bit of the iPhone 3G, with the rounded back and edges, along with a rather minimalist front.
Complaints about the M1 Note focused on the rounded back and edges not being particularly comfortable to hold, which has been addressed with the M2 Note having a more subtle curve to it.
Holding it in my hand I certainly didn't feel any immediate discomfort, and despite having a large 5.5-inch screen, it felt more comfortable than some of the other large screen 'phablets' I've held.
At the launch it was claimed that holding an M2 Note would be like "sticking out your hand in a 60mph car", and while it certainly doesn't achieve that (and I'm not sure I'd want a phone which replicated that experience), it still felt comfortable with a weight of 149g, as the polycarbonate unibody proved to be light while steel feeling robust.
The M2 Note comes in four colours; white, blue, pink and grey, and from my time with each colour I can safely say that the grey hue is definitely the most attractive, though the others are by no means ugly.
One design aspect that does take a little getting used to is that the power and volume buttons are located on the left-hand side of the body – a common design choice in China that could baffle our Western hands for the first few days of using the M2 Note.
If you're one of those left handed people that's afflicted with having to use the wrong hand when writing, then you'll probably quite like the placement of buttons here.
Everything else is roughly where you'd expect them, with a headphone port at the top and a micro USB port on the bottom.
On the right-hand side of the body is a singular try which when removed allows you to add two SIM cards, or a SIM card and a microSD card up to 128GB. It's a nice system that keeps the body of the device looking uncluttered, though some people might not be too happy about sacrificing a SIM card to expand the memory.
The oval home button located at the bottom bezel underneath the screen not only again reminds you of an Apple device, but it comes with some pretty interesting innovations, with Meizu describing the home button itself as 'revolutionary'.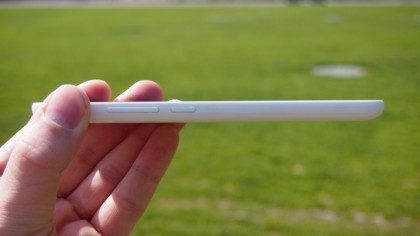 Dubbed the Mback, Meizu appears to have put a lot of thought into this part of the device, with the main aim of making it easier to use with one hand, despite its large screen size.
This means the back, home and apps icons of regular Android are gone from the M2 Note's custom version of Android 5.1 Lollipop, and instead you can use the home button to replicate the tasks those onscreen buttons used to handle.
Tapping the button takes you to the home screen, while swiping from left to right works as the 'back' button. The Mback has its own haptic feedback, which lets you know what you're doing via discrete vibrations.
It took me a while to get used to, but once I did I found it worked really well, and it definitely fulfilled its brief for making the large phone feel comfortable to use with one hand.
It's not quite as revolutionary as Meizu states, but it's great to see a company thinking about new ways to make using its device easy and comfortable and I know that when I move on from the M2 Note I will certainly miss the Mback home button.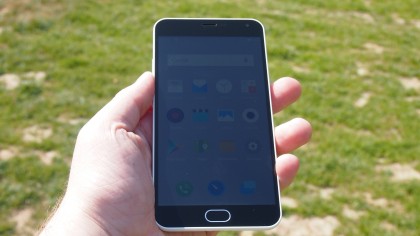 The fact that it ships with Android 5.1 is excellent and the custom overlay, known as Flyme, looks excellent, with elements of Android Lollipop's material design working well with the overall minimalist aesthetic of the overlay.
It has some nice touches as well; you can swipe down from anywhere on the screen to bring down the notifications and options screen (not just the top like standard Android), and if you flick up from the bottom of the screen you get a quick launch menu that lets you quickly open your recently used apps.
I reviewed the international version of the M2 Note, which comes with Google's Play Store installed, so you don't have to worry about missing out on any of your favourite apps.
Overall the interface looks great on the M2 Note's 5.5-inch screen, which is bright, vibrant and features a 1080p resolution.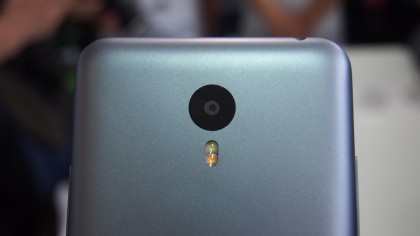 You're probably disappointed if you were hoping for a higher resolution, but the 1080p screen, along with the hefty 3100mAh capacity of its battery, ensures the time between charges is pretty impressive and during my time with the M2 Note so far I have not felt the need to run to a power socket after a day's use – in fact battery life has been pretty good so far.
The 1.3GHz octa-core processor and 2GB RAM aren't the highest specs in the world, but they help make the M2 Note feel fast and responsive, and I only encountered the odd pause or delay when using it. Otherwise, Android Lollipop feels particularly responsive on this device.
Photos on both the rear 13 megapixel camera and 5 megapixel front camera have been impressive from what I've seen, with a good level of detail and colour accuracy with outdoor shots.
Video footage captured by the M2 Note was also very impressive, with a good level of detail and smooth framerates for the 1080p footage.
Early verdict
Overall the Meizu M2 Note looks like a solid phablet that will offer plenty of bang for the buck. The final international pricing of the M2 Note will play a big part in determining how successful the M2 Note will be outside of China.
Although it's very unlikely to match the 799RMB (around $129, £85, AU$168) or 999RMB (around $161, £106, AU$210) Chinese price tags, if Meizu can get the price somewhere near that figure, it could have a hit on its hands.
Pre-orders are already being taken for the Chinese launch on June 12, but we've yet to hear when it will be making its way outside of China. Hopefully we won't have too long to wait.