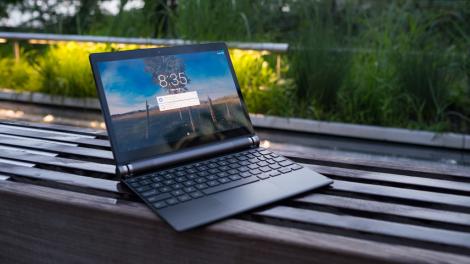 Introduction, design and display
From the Nexus 9 to the Lenovo Yoga Tablet 2, there are have been many attempts to create a productivity-minded Android device. You can't blame manufacturers for trying. After all, the promise of a device that can be both your mobile movie screen and your on-the-go office is enticing.
The Venue 10 7000 is one such productivity- and play-minded device from Dell. As part of Dell's premium 7000 line, this 10.5-inch slate is a cut above from your typical Android tablet, with a 2,560 x 1,600 OLED display. What's more, a quad-core, 2.3GHz Intel Atom Z3580 processor gives this slate an extra leg up as a work machine.
Starting at $499 (about £320, AU$676) or asking for $629 (about £403, AU$853) with a keyboard – $679 (about £437, AU$913) for the configuration as reviewed – the Dell Venue 10 7000 is riding on the coat tails of some budget Windows laptops while being better equipped than most Chromebooks. At the same time, it's showing up the iPad Air 2 and Nexus 9 with better-sounding speakers and an actual keyboard you'll want to work with.
Design
It's hard to look at the Dell Venue 10 7000 and not immediately think that it's riffing a bit too much off of Lenovo's Yoga tablets. Between the thin screen and barrel hinge, the likeness between Lenovo and Dell's respective tablets is obvious.
That's not to say Dell's device is completely identical. Dell has added plenty of its own design touches – mostly from the Dell Venue 8 7000.
Like its smaller, 8-inch brother, the Venue 10 7000 is made with a thin aluminum frame. A cylindrical hinge also protrudes from both sides of the tablet, whereas the Yoga Tablet 2 features a completely flat face with a curvy backside and a flip-out kickstand built into its hinge.
Measuring in at 6.2mm (0.24 inches), the Venue 10 isn't quite as thin as the 6mm (0.24-inch) Venue 8 7000 or the 6.1mm (0.24-inch) iPad Air 2, but it's thinner than the 7.2mm (0.28-inch) Lenovo Yoga Tablet.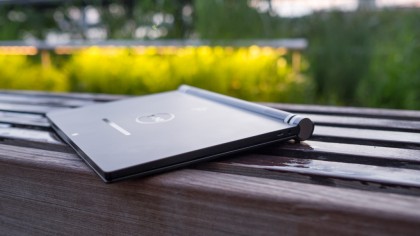 Despite how thin this 10.5-inch tablet is, it's still on the heavy side at 1.37 pounds (597g) that you'll definitely feel when carrying the laptop around and holding it up. Other tablets, like the iPad Air 2, are much lighter, weighing in at 0.96 pounds (437g). The Nexus 9 is also lighter, weighing only 0.93 pounds (425g), and by a small margin, the 1.36 pound (616g) Lenovo Yoga Tablet 2.
Thankfully, that ergonomic, bar-shaped spine makes holding onto the tablet in either landscape or portrait orientation a cinch. This barrel-edge, as Dell calls it, also contains two massive speakers and the tablet's battery.
Unfortunately, Dell's 10.5-inch tablet does not come with a kickstand. Instead, the device all but requires an optional Venue Bluetooth keyboard accessory to prop it up before you can use it in any of the additional modes. The keyboard goes for $159 (£101, AU$215) if not picked up in the available bundle.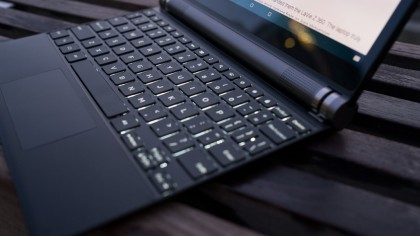 A keyboard to die for
Dell may have a keyboard accessory just like Lenovo's Yoga tablet line, but Dell has gone with a much stronger and more reliable locking system. Upon closer inspection of the barrel hinge, the tablet has a unique latching system that incorporates a deep channel lined with tiny metal, magnetic rods.
The Bluetooth keyboard in turn has corresponding metal clips that fit perfectly inside the barrel edge's channels while clipping into the mysterious metal rods. It's an intricate system you won't really pay any mind too, but it does an excellent job of keeping the keyboard attached snugly to the tablet.
In fact, the connection is so tight, you can give the slate a good shake while holding it up by the keyboard without worrying about the two ends splitting apart and flying away in disparate directions.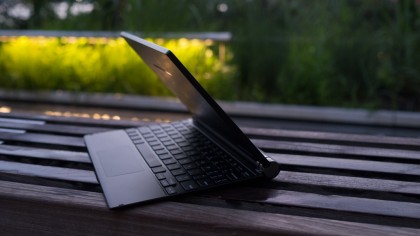 You also shouldn't expect to use the the Bluetooth keyboard when it isn't attached to the tablet, as it has no actual power supply of its own. Instead, it siphons power from the tablet through two tiny, gold-coated prongs built into the docking connectors. This begs the question: why is this a "wireless accessory" when it requires a physical connection to work?
Regardless of what connection technology the Venue keyboard uses, it offers up a surprisingly satisfying typing experience. Keys depress with a decent amount of travel and feel as punchy as any scissor switch you would find on a real laptop keyboard – and it even comes fully backlit.
While the keyboard has been shrunken to better fit the tablet's 10.5-inch form factor, the sacrifices haven't been too grave, save for an enter and backspace key that are a bit too short. I can easily type out a full-length article, including this review, on the Venue 10 7000.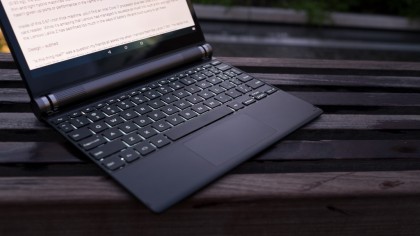 Trackpad issues
Unfortunately, I don't have the same love for the trackpad, which constantly recognizes movement from the lower end of my palms as deliberate mouse movements. Android palm rejection software built into it but there's no way to dial the setting up, compared to Windows and Mac OS machines, and there aren't any Synaptics or other driver software to save the day.
The problem became so commonplace that I disabled the trackpad outright and stuck with prodding the touchscreen.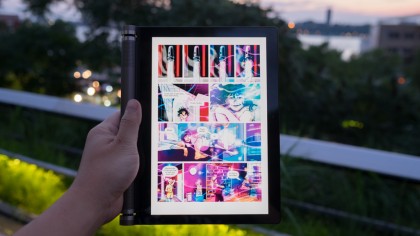 Pixel love
By far, one of the Venue 10's most lovely features is its OLED display. The 2,560 x 1,600 resolution makes everything look better from digital comics and websites to movies and YouTube videos.
In the resolution battle, the Dell's tablet packs 288 pixels per inch (ppi), easily out-sharpening the iPad Air 2 and its 264 ppi display. Dell's 10.5-inch slate also matches the pixel density of other flagship Android tablets, including the Nexus 9 and Samsung Galaxy Tab S. The Lenovo Yoga Tablet 2, meanwhile, lags behind, severely limited by its Full HD (1,920 x 1,080) display running at only 224 ppi.
More importantly, this slate simply looks better because it produces stunningly vibrant colors without any of the oversaturation that typically plagues OLED screens. At the same time, this organic display produces truer blacks than any LCD, which came in handy when bringing all the dark scenes in Game of Thrones to life.
Software and performance
Dell's usual game is computers and laptops, so it's not too surprising to see the company decided to stick with Intel to supply its tablets with brains. The Venue 10 7000 shares the same Intel Atom Z3580 processor as its smaller, 8-inch brother.
Given the two tablets also share the same WQXGA resolution, it's also not surprising to see the benchmark scores are inline with one another. The Venue 10 completed the Geekbench 3 multi-core benchmark test with 2,915 points, which is nearly identical to the Venue 8's 2,913-point result.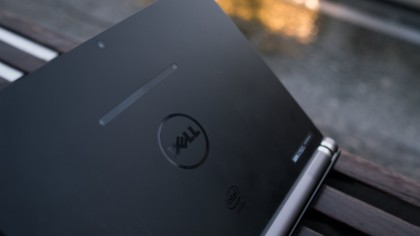 While Intel is king on the PC circuit, it just can't keep up with other players in the mobile space. The iPad Air 2, powered by Apple's custom (ARM-based) A8 processor, was able to achieve a much more impressive multi-core score of 4,507 points. The Nvidia K1 processor inside the Nexus 9 also crushes the Venue 10's Intel chipset with 3,492 points.
Despite these comparatively disappointing benchmark scores, this 10.5-inch tablet is a snappy little device. Apps run flawlessly whether I'm tabbing between 12 different websites in Chrome, reading the latest issue of Batman in the Kindle app or flicking through stories saved on Instapaper.
The onboard Imagination PowerVR G6430 graphics chip also helps the Venue 10 handle graphically intensive tasks, such as streaming a 4K video or playing a heated round of Hearthstone.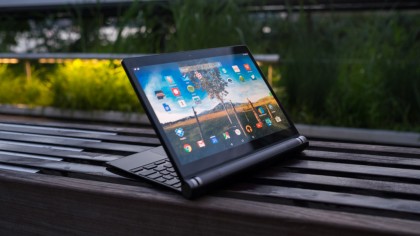 Mediocre!
Unfortunately, an insufficient 2GB of memory on tap kills multitasking on this tablet.
At any given time, roughly half of the tablet's RAM is eaten up by Android services running behind the scenes, including a preloaded copy of McAfee antivirus. Opening too many apps, like Google Docs and Chrome, at once quickly brings the tablet to its knees.
The cache on the Venue 10 (and most other Android tablets) feels almost non-existent, as the tablet hardly saves the state of the applications when switching from one to another. Normally, this wouldn't be a big deal on a mobile device where you can really only do one thing at a time. In this way, Samsung has been much better adding the ability to have two app windows open at the same time on devices as small as the Galaxy Note 4.
Trying to write this review while constantly shifting back to Chrome to research our reviews of its competitors was frustrating to the point of being impossible. Alt- tabbing to Chrome with other apps open would consistently cause the browser to reload the entire website. Likewise, Google Docs would also refresh and bring me to the top of the document without fail.
Using Microsoft Word on Android proved to be an even more annoying experience, as the app would constantly crash, leaving me with three separate recovery versions of the same document within an hour. All the while, Google Music would also quit on its own in the background – just another hassle.
Luckily, the McAfee tools include a memory cleaner you can just tap to reclaim a portion of the used-up memory as well as exiting any long-unused apps. However, this is a small band-aid that does not fix the underlying problem that prevents the Venue 10 from being a reliable productivity machine.
Without a large cache to save the state of your documents or web browser, you could be left high and dry on a trip where Wi-Fi and hotspot connections are sparse. Just 2GB of RAM also seems like a paltry amount of memory, considering some tablets are starting to come with an additional gigabyte, and some recent smartphones, like the Asus ZenFone 2, come with 4GB of RAM.
Interface and Apps
The Dell Venue 10 7000 comes with a fairly unadulterated version of Android Lollipop 5.0.2. Here you won't find any tacky icons or skins messing with the app drawer and notifications tray. In fact, it looks almost completely standard save for a few preloaded apps and a little tag to access the McAfee tools located on the right side of the screen.
Of what comes preloaded on the Venue 10, you'll most likely gravitate toward the Dell Gallery app. It works just as fast as Android's built in Gallery and Photos app, and it will even pull images from your Facebook and other social media accounts.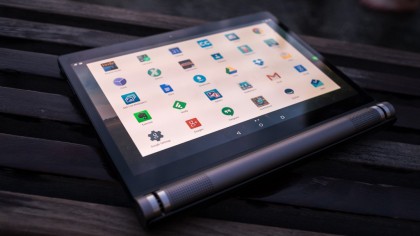 More importantly, though, it's the only app that lets you fully utilize the tablet's Intel RealSense Snapshot Depth camera. Rather than a single snapper in the back, the Venue 10 comes with three cameras. These take multiple shots of the same frame, so you can go back and change the focusing point of the final image as well as measure the distance between two points in photos.
There's also a Dell MyCast app, which is a handy screen sharing tool that projects the tablet screen onto a TV or monitor. The only caveat is it requires a Dell Cast dongle that's sold separately for a cool $80 (£70, AU$149).
Unfortunately, I did not have the optional accessory on hand for my review, but I'm confident it would have worked just as seamlessly as it did in our Dell Venue 8 7000 review. With the Venue keyboard attached, I can easily see how this 10.5-inch tablet would be a fine device to control while blowing up your presentation onto a conference room display.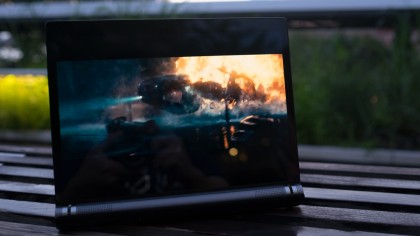 Movies and music
Stuck with a 16:10 aspect ratio, the Venue 10 doesn't lend itself well to movie watching. Widescreen movies produce noticeable-enough black bars along the top and bottom of the screen, and films formatted in 21:9 look downright tiny.
The good news? The colorful screen makes any media look great no matter how badly the aspect ratios match up.
In case the picture weren't impressive enough, the Venue 10's barrel hinge hides an impressively booming set of speakers. Every explosion in Live Die Repeat: Edge of Tomorrow rang true with plenty of bass and impact.
Sadly, the Venue 10 does not come with any free media already preloaded on the machine or in the form of a digital voucher. But opening up the Google Play app should give you a digital copy of All Creatures Big and Small for free.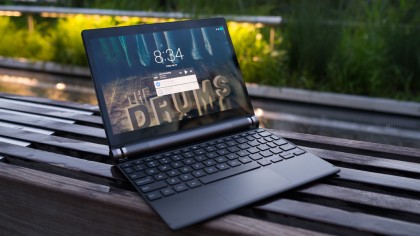 Games
Though Dell is calling the Venue 10 a productivity tablet, there's nothing hindering this slate from playing games. Hearthstone ran flawlessly without any of the jittery animations you would expect on a lower-end slate.
Once again, the gorgeous display proves to be a boon by helping colorful games, like Crossy Road, really pop off the screen.
Camera
For an enthusiast photographer who spends at least an hour a day shooting, I've never felt more self conscious about snapping images than taking out the Venue 10 out for a quick picture. Despite having two more sensors and fancy depth sensing technology, the quality of the photos this tablet takes isn't anything amazing.
Because the onboard Intel RealSense Snapshot Depth camera is actually split between an 8MP sensor and two adjacent 720p shooters, the Venue 10 can take 3D photos. When I say 3D images, I don't mean you need funny glasses to see them. Rather, the cameras work together to create an image that contains depth data for every pixel, which then allows you to refocus after the fact.
Shoot first and recompose later might sound like it takes some of the pressure off getting the shot right the first time. But, in reality, you're just picking an area to stay in focus and overlaying the rest of the image with a bad blurring effect. Images look particularly poor when the tablet blurs out the image in odd patterns, thinking two or more spots in the frame are on the same plane.
Measuring objects is another hat trick that Intel's Realsense camera can pull off and it works surprisingly well. You can shoot and object and get an accurate reading on its dimensions. I wouldn't rely on it for a home improvement project, but it comes in handy whenever you don't have your tape measure with you.
Camera samples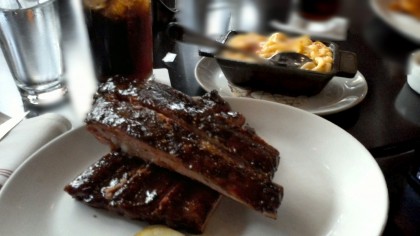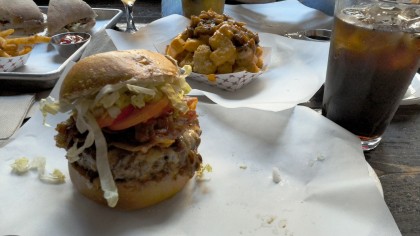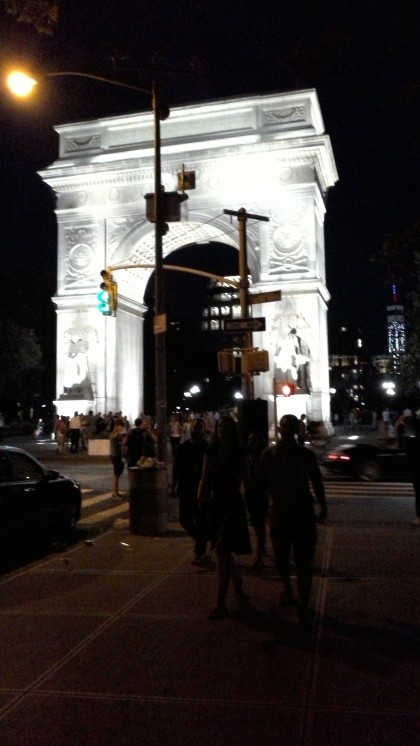 Battery life
Dell rates the battery life on the Venue 10 7000 to last just 7 hours, but in an extremely rare case, I was able to actually squeeze out an even longer runtime of 8 hours and 19 minutes. I wasn't taking it easy on the tablet, either.
All in one go, I put the Venue 10 though a heavy workload consisting of writing in Google Docs while having 10 Chrome tabs opened at a time, Google Music streaming in the background, watching a full length film downloaded on the Play Movies app on top of an hour of streaming Netflix, editing all the images you see in this review in Lightroom and a match of Hearthstone.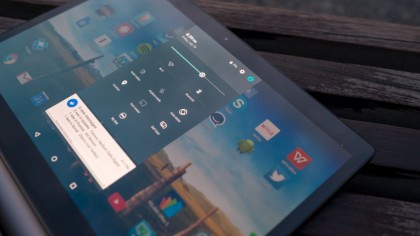 The Venue 10 only dropped by 15% from a full charge after running TechRadar's standardized battery test, which plays a variation of the Nyan Cat video at full screen brightness for 90 minutes.
By comparison, the iPad Air 2 went down by 21%, while the Nexus 9 went through an 18% drop while completing the same test. The 10.5-inch Samsung Galaxy Tab S fared better, holding steady at 10%, partially thanks to its larger 7,900mAh battery. Still, all of these results are an impressive testament to the Dell's energy efficiency and 6,000mAh battery.
Verdict
The Dell Venue 10 7000 is an excellent Android tablet for everything from media consumption to light office work. But if you're considering a tablet for your end all, be all productivity, you should keep looking for something more reliable.
The shortage on memory hampers the Venue 10's ability to multitask, let alone reliably switch between two apps. Despite my frustrations, this is still an excellent device in many ways with a solid build quality, superb display, great sound and excellent keyboard.
We liked
It's easy to see the similarities between the Venue 10 7000 and the Lenovo Yoga Tablet 2, but it's clearly much more than just a rote reimagining. Between the metal frame and unique barrel hinge, Dell's tablet even feels and looks a bit more stylish and sturdy.
Good looks aside, the tablet's screen is gorgeous with a sharp pixel count, vibrant colors and excellent contrast. Even more impressively, the booming sound that emits from the Venue 10 beats the pants off larger laptops, despite the device's small size. The Venue keyboard also offers a great typing experience, even if the touchpad is so finicky that you'll want to just disable it.
We disliked
Trying to multitask on the Venue 10 is largely an exercise in futility. You'll often find yourself reloading every app when switching between them, and that's simply not acceptable for a mobile work machine.
Perhaps the biggest annoyance most users will encounter is the near-requirement for the Venue keyboard to type and prop the screen up. At the same time, this bothersome accessory that gets in the way every time you take our your tablet to just look at it or take a photo.
Final verdict
Priced at $679 (about £437, AU$913), the Dell Venue 10 7000 is dangerously close to the price point of excellent laptops, like the Dell XPS 13. And it's well past the premium I'd be comfortable with shelling out for a Chromebook.
That said, the Venue 10 is still more affordable than the $479 (£399, AU$589) Nexus 9 with an accompanying Keyboard Folio Case for $129 (£110, AU$197). An iPad Air 2 with 64GB of storage might be more affordable at $599 (£479, AU$739), but that's not counting in the price of a separate Bluetooth keyboard.
By far, the best features of the Venue 10 7000 over its competitors is a better sound system and longer battery life, plus a screen that can project a gorgeous picture with the best of them. That said, this tablet is better left to regular usage – like watching movies and browsing the web – than a demanding daily work load. But wasn't productivity the point?