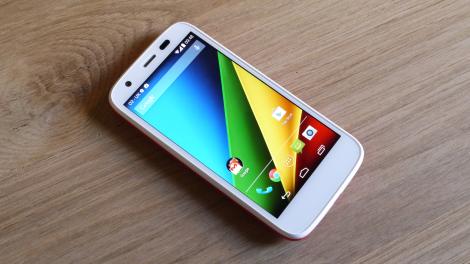 Introduction and design
There's a new low cost Motorola on the market in the form of the Moto G (2014). So if you fancy the latest budget Android blower you'll want to check out the 5-inch, 4G enabled, quad-core 2014 edition – although it will cost you a little more.
Motorola Moto G (2014) review
Motorola kicked off its global smartphone revival with the keenly priced Moto G handset, which was quickly followed by the 4G enabled Moto G 4G.
Both have since been replaced by the larger, 5-inch Moto G (2014) edition, although it will set you back a little more and the bigger screen may not suit everyone's tastes.
The first generation Moto G is a mid-range handset with a low-end price tag and Android Lollipop (at least on the 3G version)- enough to pique the interest of many savvy shoppers..
First things first then, the Motorola Moto G price. You can pick the 3G handset up in two storage sizes – 8GB and 16GB. The former will now set you back around £100/$140, while the larger size is still very palatable at around £120/$170.
Motorola has enhanced the handset with the new Moto G 4G iteration, which is ever so slightly pricier coming in at around £110 – but does also pack in a microSD slot for some lovely storage expansion. That price is for the 8GB model, as the Moto G 4G doesn't have a 16GB variant.
It's difficult to find a first generation Moto G on general sale now though, especially the 3G variant, with most retailers now stocking the newer second gen, 2014 version.
So where does this place the Moto G in the market? Well at that price it has the likes of the Sony Xperia M2, Microsoft Lumia 640 and HTC Desire 510 for company and in terms of specs it easily stands up to them.
In terms of design both the Moto G and Moto G 4G take most of their cues from the firm's first, post-Google takeover handset, the Moto X.
It's hardly groundbreaking in terms of looks, but the soft, curved edges of the Moto G make it relatively attractive and the swath of plastic feels solid and well built.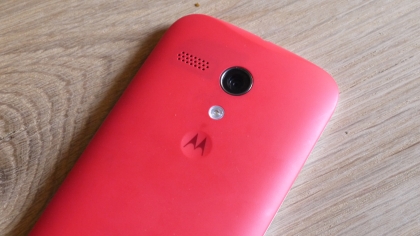 Weighing in at 143g the Moto G has a pleasing, well balanced presence in the hand without being overbearing, and while it may measure 11.6mm thick in the middle the tapered edges make it feel thinner than it is.
Couple that with a rubberised rear plate which slightly hugs the side of the handset too, and the Motorola Moto G fits comfortably in the palm, providing a decent level of grip.
The Moto G features a water repellent coating which means you'll be able to whip it out in the rain without fear of a short circuit, but it is not waterproof – so no jumping in the bath with it.
You can even take the rear cover off and swap it for a different color, which Motorola is pushing as a big customizable feature of the phone. In reality however it just reminds me of my Nokia 3310.
Sure, changing covers is fun for all of five minutes, but the novelty soon wears off. Not to mention the back cover is also pretty tricky to remove – you need to really dig your nails in at the base of the handset to get it free.
In fact, so much strength needs to be employed to free the cover from the Moto G I feared on more than one occasion that the thin plastic would snap – thankfully it never did.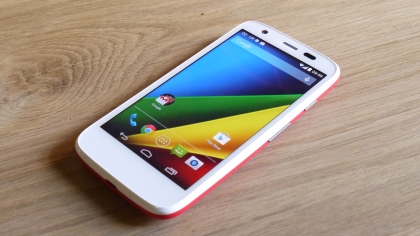 Motorola did make a point that the younger generation like the ability to "customize" their handsets and this particular feature, along with the rock bottom price, reinforces the Moto G's credentials as a handset which may land in the laps of many teenagers.
Something worth noting is that because the Moto G and Moto G 4G are identical is design and size you can switch covers between the two variants.
The left side of the Motorola Moto G is devoid of any features, while the top of the handset only sports a centralized headphone jack. Both the power/lock key and volume rocker switch are located on the right of the G and these are easy to reach and responsive to the press.
On the base is a microUSB port, while under the removable cover the only physical difference between the Moto G 4G and Moto G can be found.
Open up the 3G enabled Moto G and you'll spy a microSIM port on the side towards the top of the handset- but no microSD slot.
Now take a look at the Moto G 4G, and the microSIM port has changed to a microSD slot, with the new SIM location in the bottom corner of the handset.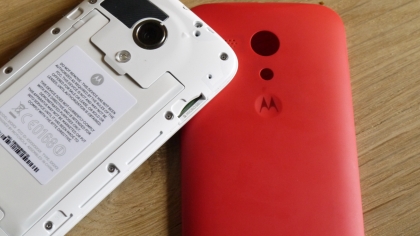 The 2070mAh non-removable battery housed inside the Moto G is claimed to give you all day battery life, and I put that to the test – skip ahead to the battery life and connectivity section to see how it got on.
The Moto G comes with a 4.5-inch, 1280 x 720 display and boasts a 329ppi pixel density. To put that in some perspective that's a bigger, higher resolution and more defined display than the iPhone 5S – not bad for a handset which is a third of the price.
Of course a HD display isn't the only key factor in a smartphone, but Motorola has managed to equip the Moto G 4G and G with a 1.2GHz quad-core Snapdragon 400 processor and 1GB of RAM.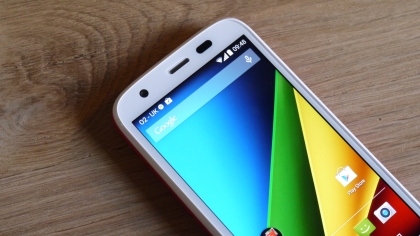 In terms of specs then the Motorola Moto G is actually giving the HTC One Mini, Samsung Galaxy S4 Mini and Nokia Lumia 820 a run for their mid-range, dual-core money – and once again the screen is bigger than these rivals. The Motorola handset even beats the Samsung and Nokia when it comes to resolution.
The camera on the rear of the Moto G is only 5MP and this is trumped by the S4 Mini and Lumia 820 and their 8MP snappers.
All in all the Moto G finds itself in no-mans land, with a complete disconnect between its price and spec list. This, of course, isn't a bad thing and on paper it offers outstanding value for money.
The proof however, is in the pudding, so let's see how the Motorola Moto G got on in real life.
Interface
The Motorola Moto G was one of the first handsets to be updated to Android 4.4.2 KitKat and since then the 3G version of the phone has had a fairly speedy upgrade to Android 5.0 Lollipop – thanks to the manufacturer's close ties with the search giant. The 4G model is still to be updated, but Motorola has revealed that for this model it will be skipping Android 5.0 and jumping straight to Android 5.1.
With a 1.2GHz quad-core processor and 1GB of RAM at its heart, the Moto G is more than well equipped enough to run Lollipop which is the smoothest version of Android to date, but if you're on the 4G version running Android KitKat you can expect smooth performance too.
Android purists will be pleased to learn that the Moto G and Moto G 4G are running the stock version of Android, with Motorola opting against applying an overlay – claiming instead that it's focused on things which add real benefit to users.
These "benefits" include a faster boot up time and improved audio, data management, web speeds and general navigation.
I found that the Moto G did boot up impressively quickly, but Motorola's claims that it performs various tasks quicker than the Samsung Galaxy S4 still seem a little far fetched to me.
Sure the interface is smooth – impressively so in fact when you consider the price – but I can't say that it noticeably out performs, or even matches the various flagships I've had the pleasure of using.
General operation under KitKat is fluid and while it may not be as lightening quick as the top end handsets, the quad-core chip is doing a good job under the hood and I had no issues with lag.
You get five homescreens – no more, no less (there's no way to add or remove) – and the familiar Android set up with a selection of widgets available in the tabbed app drawer for you to choose from.
Drag and drop an app onto another on any homescreen and the Motorola Moto G will automatically create a folder with both applications inside, allowing you to easily organize and manage your favorite apps.
The pull down notification bar at the top of the Moto G's display offers up a feast of information from recent calls, new emails and text messages to Google Now prompts, app updates and third party notifications.
Glide a finger over certain notifications, such as a new email alert, and it will expand allowing you to see a longer overview of the message.
Slide you finger up from the home key at the base of the screen and you'll launch Google Now, Android's own digital personal assistant and Siri rival.
Google Now offers up relevant information in a series of cards, and by tracking your movement, messages and emails it can tailor these cards to suit your needs.
You can get information such as the weather, meeting reminders and details on the journey home here. It's still relatively hit and miss and there are far fewer features enabled for those outside of the US, but Google is constantly working on Now and it's slowly becoming more relevant.
Tap the multi-tasking key in the bottom navigation bar and you'll be greeted with the familiar stack of thumbnails showing the apps which are currently running.
This is testament to the quad-core processor inside the Moto G and Moto G 4G, as the handset can comfortably handle multiple apps at the same time and you're able to switch between them very quickly.
Basic applications opened promptly, but I did notice some lag with some of the more demanding games, such as Stick Cricket and Stick Tennis.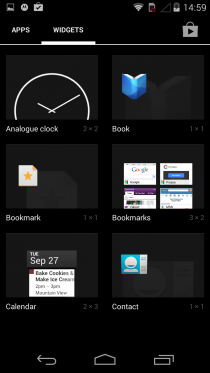 When these were tapped the Motorola Moto G took a couple of seconds to load up the application. It's not a huge issue and game play is still smooth once you're past the initial load, but it just hints at a potentially small flaw in the low 1.2GHz clock speed of the quad-core chip.
The interface is slightly different on the Lollipop-toting 3G handset, with Material Design giving it a new look and fluid animations, as well as improvements to the notifications system, which now prioritises them and places them on the lock screen.
The multi-tasking screen has a new look too and there are various other small but handy tweaks and features, like a flashlight option in quick settings.
Everything looks bright, crisp and clear on the 4.5-inch display and while the Moto G doesn't match up to the full HD offerings you get on the flagship phones, for a handset with such a low price you'll be more than happy and it puts the competition to shame.
There's a thin bezel down each side of the screen, but it's not the slimmest I've seen and I reckon Motorola is pushing its luck a little calling it an "edge-to-edge display."
Sure it doesn't feel like there's any unnecessary plastic padding around the screen, but it's not as close cut as on other handsets – the LG G4 springs to mind immediately as a handset with a slimmer bezel.
The screen is also very responsive to the touch which makes moving around the Moto G and Moto G 4G a stress-free experience.
Contacts and calling
Contacts
As I've mentioned the Motorola Moto G is running stock Android, so there are no surprises in the People app.
Contacts are displayed in the standard, alphabetical list format with pictures of your chums to the left – that is if the Moto G can pull them through from your Google contacts and their Google+ pages.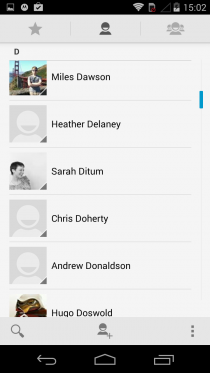 A lot of my contacts ended up faceless for the simple fact that they aren't on Google+ and there's no way of linking your buddies up with their Facebook or Twitter profiles – Whatsapp integration is available however.
Why? Well it's because Google had a bit of a falling out with some of the main social media players and the join contact integration we see on the likes of Samsung, HTC and even Huawei devices are all the doing of the manufacturers themselves tinkering with the OS.
It's not a huge issue, it just means your contact list doesn't look quite as pretty, but it's something I feel Motorola could have included as part of its added benefits for the user – never mind, you can't win them all.
What all this means is that your contact cards a relatively bland – there's all the vital information – numbers, emails and the sort – but don't expect any thrills. It's cheap, cheerful and user friendly.
As well as your main contact list the People app offers two further tabs at the top of the screen – groups and favorites. Nothing out of the ordinary here, but it makes it easier to find the people you contact most often.
Adding a new contact is easy – just tap the central icon in the bar below your contact list and you'll be transported to the data entry screen where you can fill in all manner of details about your new found friend.
Calling
The Phone app is where you'll be heading if you need to make a call, and as default you'll find it in the app dock on the homescreen of the Motorola Moto G – although you can move it out of here if you prefer.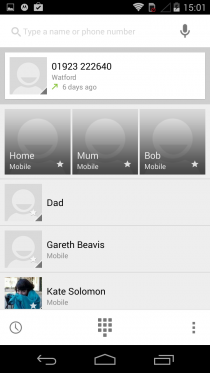 Fire it up and you'll be taken to the phone overview tab which was a new feature in Android KitKat. Here you'll see your more recent calls, most called contacts and your stared buddies for easy call-back ability.
Hit the dial pad icon at the base of the screen, start tapping out a number and you'll notice that smart dialing is enabled, with the Moto G offering up various contact suggestions relating to the numbers you've entered.
If you want to call someone you've spoken to recently tap the clock icon at the top of the screen and you'll get to the call list. Press the phone icon to the right of a contact and the Moto G will start calling them.
Call quality is acceptable, although it was far from crystal clear and the Moto G could do with the addition of HD voice to improve the clarity of voice chat.
That said I was still able to hear and understand the person on the other end of the line, and vice versa, so for a budget handset the Moto G and Moto G 4G don't perform badly.
I found the Moto G and Moto G 4G was able to keep hold of signal well, even in areas of poor reception and I didn't witness any dropped calls during the review period.
Messaging
The Motorola Moto G and Moto G 4G offer up the usual array of messaging capabilities, but thanks to the inclusion of Android Lollipop/Android 4.4.2 (and Android 4.3 before them) you get not one, but two text messaging clients.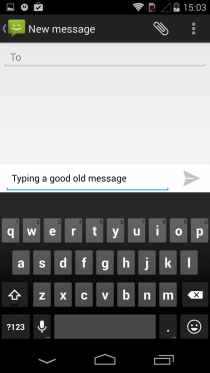 There's the stock Messaging application which will be familiar to anyone who has used an Android phone in the past. It's a minimalist, intuitive interface with a list of all your message streams and options at the base of the display to create a new SMS, search your current messages and a basic menu.
Profile pictures are pulled through from contact cards which makes the app look a little better – although the lack of Facebook and Twitter integration means you'll still end up with a lot of blank tiles.
This is all very well and good, but Google is looking consolidate messaging apps by bringing together SMS and what was known as Google Talk into the Hangouts application.
In terms of text messages Hangouts works in a very similar way to the standard Messaging app, albeit with a slightly different look. But mixed up in your text messages are also instant messaging streams, allowing you to talk to more people from a single app.
Talking of things coming in twos, you're also treated to two email clients on the Moto G and Moto G 4G, with the Gmail app living alongside the standard Email offering.
If you only deal with Google's email setup then you can completely disregard the stock Email app and focus all your efforts on the intuitive Gmail client.
From here you can manage multiple Googlemail accounts, with an attractive and colorful interface making it a seamless and pleasing experience.
Those of you with other accounts outside of the search giant's remit will have to go to the stock Email app where you'll be able to sign in to all manner of addresses – you can even stick your Gmail accounts in here.
There's a unified inbox on offer, allowing you to see all your messages in one place, but you can also filter by account if things start to get a little confusing.
HTML emails load in a fully zoomed out view in both apps, allowing you to easily navigate to the area you want without a lot of frantic scrolling.
The Moto G and Moto G 4G look set up for the younger generation with a low price and interchangeable covers, so I was a little puzzled when I found Motorola hadn't pre-installed the likes of Facebook and Twitter.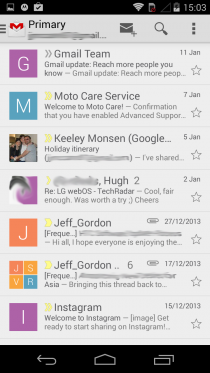 It's not a huge issue, as a quick trip to Google Play quickly resolves this, but it is a little frustrating. Although with Google breathing down its neck, perhaps these pre-installs were out of the question for the Moto G and Moto G 4G.
In terms of an input method you get the stock Android keyboard, which is a serviceable offering with word prediction and auto-correct, although I'd still recommend downloading a third party option such as SwiftKey if you're planning on doing a lot of typing.
The responsive 4.5-inch touchscreen aids typing speed, and provides enough space to ensure the keys are not cramped. Rotating the Motorola Moto G 90 degrees will see the keyboard adjust to the landscape view, giving you larger keys.
Internet
Chrome is the default browser on the Motorola Moto G, which isn't a huge surprise, and I found that on a strong Wi-Fi connection web pages loaded up in good time.
The desktop version of TechRadar managed to render in an impressive five seconds, while the mobile site took just a couple of seconds.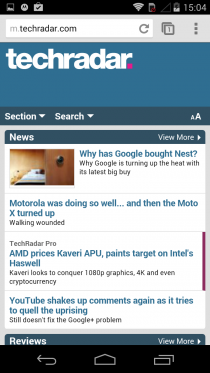 There's no 4G connectivity on standard Moto G, so you'll have to settle for 3G data speeds unless you're willing to splash the extra cash on the Moto G 4G.
Even over 3G though it was able to load mobile sites in around three seconds, while desktop offerings took less than 10. Moto G 4G performance was more in line with the Wi-Fi speeds.
The Moto G comfortably outperforms its price bracket when it comes to surfing the web, and the 4.5-inch display means there's plenty of space to play with.
Text is crisp and clear and images are well defined on the 1280 x 720 display, which gives the impression you're using a smartphone which is twice the price of the Moto G.
Double tapping on a paragraph of text will see the Moto G zoom in to fit the width of the text to the screen, and thanks to the 4.5-inch display you can read it relatively easily.
If you find that the text is still a little small you can zoom in further, but there's no auto text reflow available, which means you'll be scrolling sideways as well as down.
Sadly there's no reader mode on offer here and that's probably the one negative mark against Chrome, as along with the lack of text reflow it makes reading long articles a little frustrating.
Chrome supports tabbed browsing and you can view the number of open tabs at the top of the page next to the URL bar and quickly jump between them by tapping the icon.
This gives you a thumbnail view of each tab, displayed in a series of scrollable cards. The Moto G has no trouble running multiple tabs at the same time.
You can also open up incognito tabs which don't track your surfing history, meaning you can visits all those special sites without a trail for your partner to find at a later date.
A handy feature within Chrome is the ability to sign into your Google account and have all your bookmarks, and even opened tabs, pulled through from your desktop and vice versa.
Bookmarks can be accessed from the Chrome menu and appear as app icons on the screen for easy perusal.
Camera
While many of the specs on the Moto G and Moto G 4G have exceeded its price, the camera is an area where Motorola has clearly tried to save some money.
On the rear of the handset you'll find a 5MP camera and single LED flash, while on the front you get a 1.3MP snapper.
Motorola has done some work in the camera app on the Moto G, providing a minimalist interface which sees all the settings hidden from view and the whole screen made into a shutter key.
Now I've bemoaned the use of the whole screen as the shutter on other handsets, as the fiddly little app icons could be easily missed, leading to me taking many unwanted snaps.
Luckily this issue has been overcome on the Motorola Moto G, as the settings wheel is accessed by sliding your finger from left to right over the display – not once did I accidentally take a picture when trying to tweak options.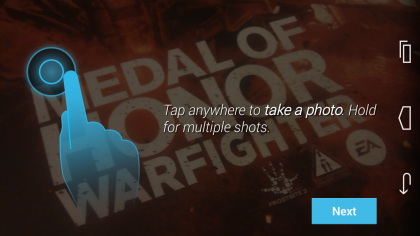 That might be partly due to the fact I rarely found myself accessing settings, because it's seriously slim pickings.
For anyone looking to tinker with various modes, effects and advanced settings such as brightness and white balance the Moto G / Moto G 4G is not the cameraphone for you.
All you get are flash, HDR mode, shutter sound and aspect ratio toggles along with a Panorama mode, the ability to attach location information to your snaps and a rudimentary focus & exposure control.
If you have plumped for the Motorola Moto G 4G you do get an additional option in the menu wheel, allowing you to save snaps to the microSD card (if you have one inserted) rather than to the internal storage.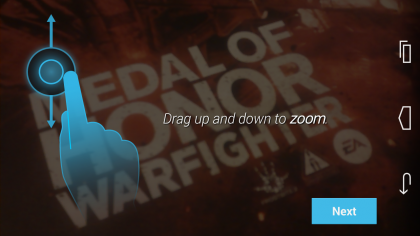 Shutter speed is pretty swift, but if you fancy a burst mode just hold down on the screen and the Moto G will snap away until you release your finger.
There's a 4x digital zoom to boot which is controlled by sliding your finger up and down the display – although picture quality takes a serious battering, so it's best avoided.
The full screen trigger makes snapping photos easy as you don't have to aim for a small shutter button on screen, although once you see the results you may wish you never bothered.
That budget price tag really rings true here, and I found the majority of my photos were a pixelated mess. The Motorola Moto G struggled to focus properly and even with the focus & exposure setting turned on things didn't improve.
The Moto G performed better close up, as it was obvious what to focus on – but when looking at landscapes and situations with a lot going on it just couldn't make up its mind.
It's a real shame that the Moto G doesn't have even a slightly better camera offering, but at its rock bottom price point a concession had to be made somewhere, and this is it.
Camera samples
Click here for full resolution image
Click here for full resolution image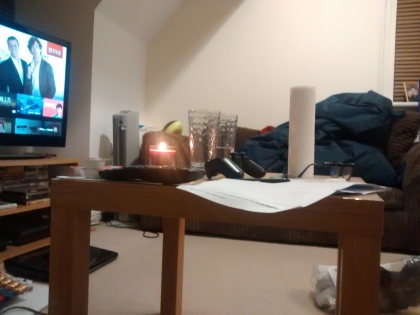 Click here for full resolution image
Click here for full resolution image
Click here for full resolution image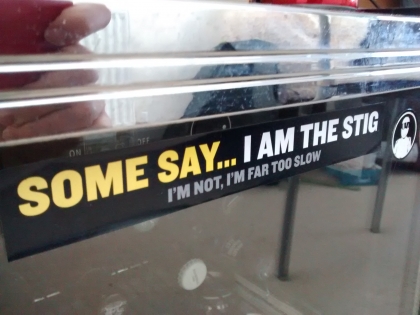 Click here for full resolution image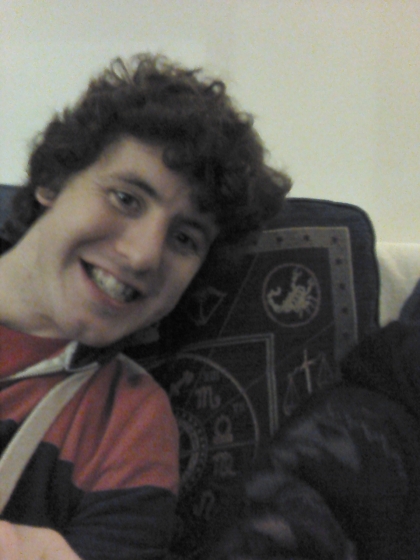 Click here for full resolution image
Video
If you've already read the camera section of this Moto G / Moto G 4G review then your expectations for video recording on the handset are probably pretty low.
And so they should be, as that 5MP sensor is also responsible for the 720p video capture on the Moto G.
Options were sparse for the camera function, and there's even less choice on offer when it comes to video recording.
Hit the video recorder icon in the camera app and the Moto G will start recording straight away – no change of mode and no new wheel of settings, just straight into the action.
That's great if you're in a hurry to start recording, but it also means you get the same limited settings wheel as the camera app, with some of the features obviously not compatible with the video recorder.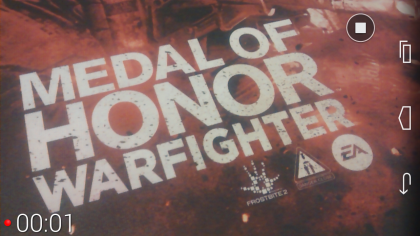 One option which is dedicated to filming is slow motion capture, allowing you to add a rather simple, yet pleasing effect to your videos. It's not as impressive as the implementation on the iPhone 6 or even the iPhone 5S, but nether the less it's a nice feature to have.
Resulting footage is acceptable when played back on the Moto G's 4.5-inch display, but it doesn't look great when moved to a larger screen such as a computer or TV.
YouTube : https://www.youtube.com/watch?v=TOx2TLaIcRw
Media
While the Moto G disappoints with no expandable memory option allowing you to build on the internal 8GB/16GB of storage, the Motorola Moto G 4G does sport a microSD slot – although it does cost slightly more.
If you have the 3G model and want to expand the onboard storage you'll have to take to the cloud. Thankfully Motorola has struck a deal with Google to offer Moto G users an additional 50GB of Google Drive storage on top of the 15GB already provided.
If I've done my maths correctly that means you'll get 65GB of cloud storage for free if you pick up a Motorola Moto G, although the additional 50GB is only free for the first two years.
It's worth noting that the limited internal storage will fill up fast if you stick lots of videos and music tracks on the Moto G.
In fact 2.5GB of storage is taken up by the Android operating system, so if you end up plumping for the 8GB Moto G (or the Moto G 4G which only comes in 8GB) you'll only get 5.5GB of physical storage – that's not great.
Music
There's just one music app on the Moto G, Google's Play Music offering which fuses your own personal library with the search giant's All Access streaming service.
You can get a 30 day free trail of All Access which has millions of songs and radio stations, but once that trail is up it'll cost you £9.99, $9.99, AU$11.99 per month to continue listening.
If you're already signed up to another streaming service, such as Spotify, you don't need to bother with All Access, but if you're new to the game then you might want to check it out.
For those of you who already have a huge music collection Google will let you upload 50,000 of your tracks to its Play Music cloud service for free, giving you access to all your songs on any Android device.
Of course you can always dig out the trusty USB cable and transfer your tracks over the old fashioned way – either way they'll appear in the "My Library" section of the Play Music app.
You can browse your songs by title, album, artist and genre with album art pulled through to make things look a little nicer.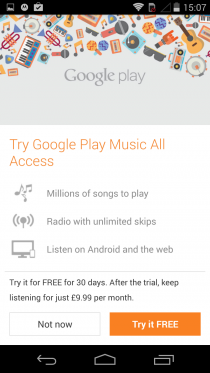 Tap a song to starting playing it and it will appear in a bar at the bottom of the screen, allowing you to continue browsing your collection.
Hit that bar and you'll be taken to the now playing screen where you'll find the usual play/pause, skip and scrub controls along with shuffle and repeat.
Sound quality is more than acceptable through a half decent set of headphones, although the built in speaker isn't exactly great with tinny, distorted sound the order of the day – in short, best avoided.
FM radio
The Moto G comes equipped with a FM radio, which Motorola claims was included to give people free access to music if they didn't fancy signing up to costly streaming services.
You'll need to have the headphones plugged in to get reception, and ideally you need to be outside as indoor reception was generally pretty poor.
The app is at least easy to use, with the Moto G and Moto G 4G automatically scanning the radio waves for available stations, and you can favorite the ones you listen to the most for easy access.
Video
There's no dedicated video player app on the Moto G, so if you've transferred your own videos onto the handset, or fancy playing pack something you recorded with the phone you'll need to head to the Gallery.
Video clips which you've transferred onto the Moto G / Moto G 4G will reside in a separate folder to your images, but anything you've filmed through the 5MP camera will be bunged into the camera roll, which can make clips a little tricky to find.
Tap a video and it will open in a very basic video player – you can play/pause by tapping the middle of the screen and skip through using the scrub bar. That's your lot though.
Playback itself is very good thanks to the decently sized 4.5-inch display and the 1280 x 720 resolution and once again its an area where the Moto G can comfortably compete with the likes of the One Mini and Galaxy S4 Mini.
The Moto G is comfortable to hold for long periods of time, and it's not too heavy. I would recommend listening to your videos via headphones though, as the speaker on the rear isn't up to much.
Google's Play Movies & TV app also resides on the Moto G and if you've purchased films or TV shows from Google Play you'll be able to access them from here.
Once again the video player screen is very basic with the same controls as found in the gallery, but at least it's a simple, intuitive app.
You can buy or rent movies from Google Play and there's a direct link to the store from the Movies & TV app.
Photos
Head on over to the Gallery on the Moto G or Moto G 4G to view all your snaps and other images downloaded from the likes of Whatsapp or received via Bluetooth.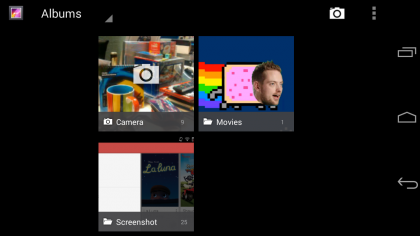 It's very much standard Android fare here, with the usual thumbnail galleries allowing you to get a good overview of all your snaps.
Tap a photo and then select the pencil icon in the bottom corner and you'll be transported into the well stocked photo editor housed with the Moto G.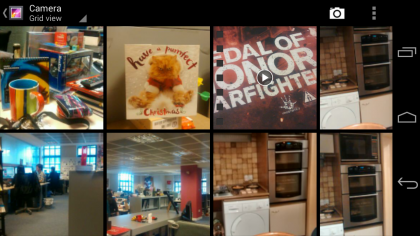 From here you can apply various effects, exposure settings and frames to your snaps as well as crop, rotate, mirror and even straighten any wonky efforts.
It's simple to use and there's a decent range of options for you to chose from, although the poor performance of that 5MP camera may be a step too far for this editor.
Battery life and connectivity
Battery life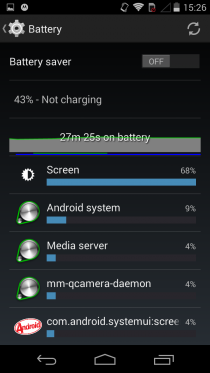 Motorola claims that the 2070mAh non-removable battery inside the Moto G and Moto G 4G will give you all day battery life, and while I found it's unlikely to see out 24 hours, it's just about able to see through the day.
I managed to get a full days use from the Moto G (7am-11pm) and by the time I got into bed the battery meter in the notification bar was red and the handset was in need of an overnight charge.
The Moto G had been used pretty heavily, with a couple of hours of music streaming, web surfing, constantly updating email inboxes, some social media activity and a few hours of pretty intense gaming.
With more reserved usage the Moto G will comfortably make it to bedtime, last overnight and give you a few hours use in the morning (if you're lucky). If you're planning on staying overnight somewhere you'll still need to take your charger with you to be safe.
It's worth keeping an eye on screen brightness, especially when you're watching movies on the Moto G as it can drain the battery somewhat.
The good news is there isn't any real difference in battery life performance between the Moto G and Moto G 4G – and I had a Jawbone Up24 and LG G Watch connected to the latter during most of the review period.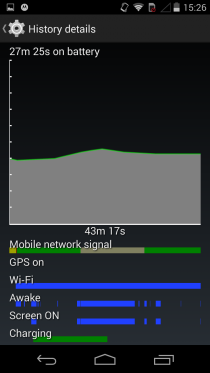 During the battery test I played a 90 minute Nyan Gareth video on full brightness with all accounts syncing in the background and the 3G enabled Moto G lost 33% of life from a full charge.
That's not a terrible result, but if you're planning a bit of a movie marathon you'll want to make sure you're within reach of a charger.
If you find yourself getting close to the limit but are nowhere near a charger you can always enable the battery saver which restricts background data activity in an attempt to eek out more life.
Connectivity
The Moto G comes with all the standard connectivity options you'd expect from a low-end smartphone – Wi-Fi, Bluetooth, GPS and 3G are all on board. Of course if you go for the Moto G 4G you also get LTE connectivity, plus a handy microSD slot.
Pull down the notification bar on the Moto G, tap the icon in the top corner and you'll get a selection of quick settings allowing you to toggle Wi-Fi and Bluetooth quickly.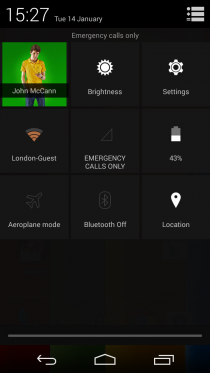 For the other options you'll need to head into the settings menu, where you'll also find the wireless hotspot function. This lets you share your phone's data connection with other devices, such as tablets and laptops.
Keep an eye on your data usage though, as this can munch through it in next to no time and you don't want to be lumped with a huge bill.
The standard Moto G doesn't have a microSD slot, so more of an importance is placed on the microUSB port on the base of the device as you'll need to plug the Moto G into a computer to transfer over multiple files.
NFC is missing from both the Moto G 4G and G, but this is less of an issue as the contactless tech is still yet to take off in a big way.
Maps and apps
Maps
The Moto G and Moto G 4G comes equipped with Google Maps, which has been heavily documented many times before so I'll keep this brief.
I tend to find that low-end handsets struggle with the power hungry Maps app, with sluggish load times and fragmented user experience – things are different on the Moto G though.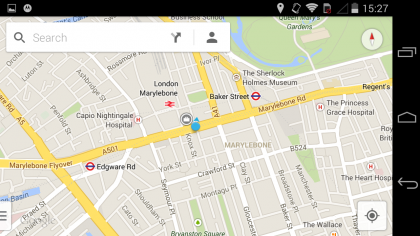 Maps loaded almost instantly, even over 3G, and the Moto G was usually able to pinpoint my location in under a second. The speed was even better on the Moto G 4G with the superfast LTE connection.
Zooming and panning around the map is smooth, while the ability to plan routes and start up the free turn by turn navigation makes the Moto G one of the most affordable sat navs on the market.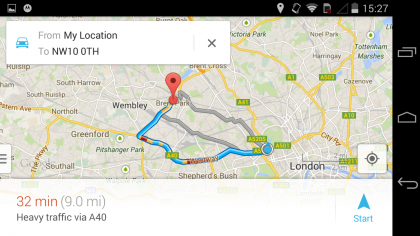 You do need a data connection for navigation to work though, so if you're planning some rural routes it may not be able to direct you if signal drops.
Apps
Apart from the stock Google applications Motorola has added very little in terms of additional pre-installs, which isn't a bad thing as the swath of bloatware you get on some smartphones (I'm looking at you Samsung) can be overbearing.
You can quickly build up a decent app collection on your Moto G thanks to the well stocked Google Play store which offers up a huge range of free and paid-for apps and games as well as movies, music, books and magazines.
There are a handful of Motorola's own apps on the Moto G and Moto G 4G, the first of which being Assist. With Assist you can automatically have the Moto G switch itself to silent between certain hours at night so your sleep is not disturbed.
Motorola Assist can also go through your calendar appointments and automatically mute itself when you're in meetings – perfect if you have a really embarrassing ringtone.
You can select predetermined exceptions, so if someone was to ring you twice with five minutes Assist would allow your Moto G to ring, as the call could well be something very important – or your friend could just be very drunk and feels compelled to tell you that they love you at 4am.
While Assist is a nice idea it is rather limited, as Meeting and Sleeping are the only two options, with each offering a limited number of customisable options.
I'd have liked to see an option to create your own scenarios and a wealth of exceptions and rules that could be applied – for example a location tracker which knows when you've got to work so automatically turns the Moto G to vibrate and turns on Wi-Fi.
Motorola Migrate is the next app in the line up, which aims to make it really easy for you to transfer content from your old phone to your shiny new Moto G or Moto G 4G.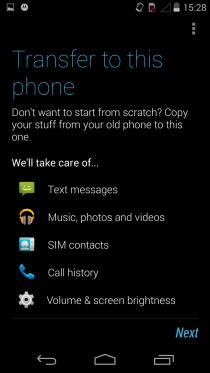 You'll need to download the Motorola Migrate app on your old Android handset too, and there's currently no support here for Windows Phone 8, BlackBerry 10 (or BB OS7) or iOS 8.
In terms of what Migrate can pull across from your old phone it'll take care of text messages, call history, SIM contacts, media, volume settings and screen brightness.
Sure it's a nifty little app and the easy to follow wizard will mean even rookie Android users will be able to follow it – it's just a shame about the limited platform support.
Finally there's the Moto Care app, giving you a troubleshooting port of call if your Moto G isn't behaving itself, or you can't work out how to do something.
You can search the various help topics, tutorials and FAQs to find your answer, but if that doesn't help there's also the option to start a live chat with a support representative – plus there's an option to call someone too.
Comparison
There's an awful lot to compare the Motorola Moto G and Moto G 4G to, with not just phones in its price range to consider, but also more expensive offerings with a similar spec list.
Sony Xperia M2
The Sony Xperia M2 launched at a much higher price than the Moto G, but it's since plummeted to around £125/$190, suddenly making it a competitor.
It has a larger but lower resolution 4.8-inch 540 x 960 display and the two phones are tied for power, so it's not looking good for the M2, but it beats out its Moto rival when it comes to battery life and it's arguably the more stylish handset.
It also has an 8MP camera, which bests the Moto G on paper, though we weren't huge fans of the quality of the images it took.
While it doesn't benefit from stock Android it does have an attractive interface of its own, though it's stuck on Android 4.4 KitKat, so the 3G version of the Moto G trumps it there and we expect the 4G version soon will too.
We'd say the Moto G is a better buy in most ways, but if you're charger-shy the longer battery life on the Sony Xperia M2 could make it the smart option.
Moto G (2014)
Since launching the Moto G Motorola has followed it up with…the Moto G. So to avoid confusion we'll call the new one the Moto G (2014).
The main change is the move to a bigger 5.0-inch screen, but that extra size won't suit fans of compact phones and the resolution hasn't changed, so it's not as sharp. The larger screen size also leads to a chunkier frame, leaving it less palm-friendly.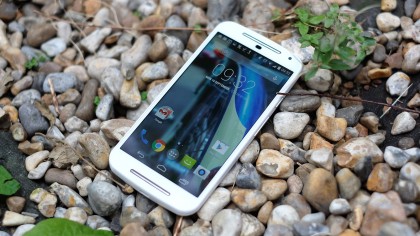 It's no more powerful than the Moto G (2013) either but it does have a better 8MP camera on the back and an upgraded 2MP one on the front.
Unless you really want a smaller screen the Moto G (2014) is clearly the better phone overall, despite its chunkier design, especially as it's now only marginally more expensive than the older model, starting at around £140/$180.
Samsung Galaxy S4 Mini
Put the Motorola Moto G up against the Samsung Galaxy S4 Mini and even then it's difficult to pick faults at the cheap handset.
In fact the Moto G has a bigger screen than the S4 Mini (4.5 inches over 4.3) and a higher resolution (720 x 1280 versus 540 x 960), plus it's 1.2GHz quad-core processor is on par, if not better than the Samsung's 1.7GHz dual-core offering.
The 3G Moto G even runs a newer version of Android – version 5.0 Lollipop – while the Galaxy S4 Mini is still languishing on KitKat. It's not looking good for the considerably more expensive Samsung.
Naturally there are areas where the S4 Mini excels and its 8MP camera is a significantly better performer than the 5MP offering on the Moto G.
It also brings 4G connectivity to the table, while you'll only get 3G on the Moto G, but considering the low cost of the Motorola you won't be disappointed.
Hands on gallery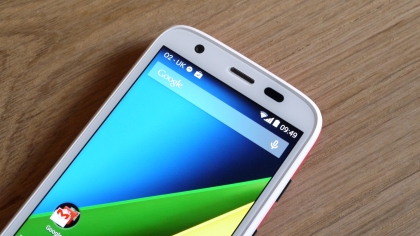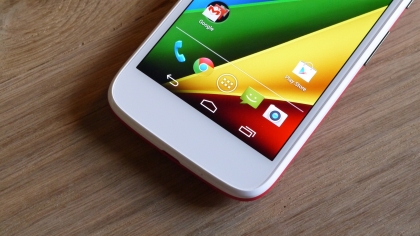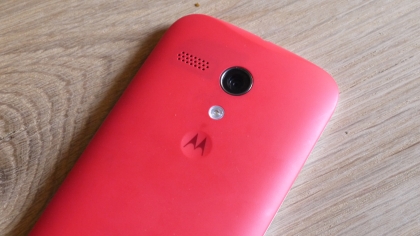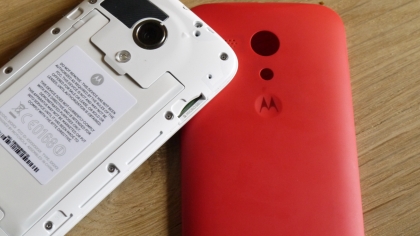 Verdict
On paper both the Moto G and Moto G 4G look like excellent handsets for the price, and in practice they live up to the billing.
As the Nexus 4 did with the mid-range market, the Moto G has turned the budget end on its head with features found on handsets double its cost.
We liked
The whole package. Look at what the Moto G offers, look at its price, and then look at the other handsets which cost the same amount.
It exceeds its rivals in several key areas, from the well defined 4.5-inch display to its 1.2GHz quad-core processor and in some cases Android 5.0 Lollipop operating system. There's a lot to love about the Moto G for its price.
You could easily be fooled into thinking that the Moto G costs the same as the Galaxy S4 Mini and the One Mini – even web browsing is impressive on the handset.
We disliked
It's simple. Motorola must have cut some corners to get the price of the Moto G so low, and the camera is one area which has seen the compromise.
The 5MP lens is simply not up to the job and my photos either came out blurry, grainy or both, while the camera app itself will be far too basic for some.
The lack of expandable memory will be a real bug bear for those who don't want to pay extra for the Moto G 4G, especially if you end up with the 8GB model and it's missing the more recent tech advances in the form of NFC.
Verdict
Motorola is back folks, it's official. It may not be the return I would have predicted – there's no flagship phone stuffed full of the latest tech – but arguably what the now Google-owned firm has done is even better.
The Moto G is a top notch, low cost smartphone and I wholeheartedly recommend this as one of the best budget mobiles currently on the market.
I was genuinely impressed with the feature set on the Moto G, so if you're looking for a low cost phone you can stop searching – just go out and grab a Moto G right now.
The only difficult decision you have to make is whether or not to spend a little extra cash and plump for the 4G version with its microSD slot – if you like your apps, HD games and video on the go then it's a must – or keep up with the trends and get the larger, 5-inch Moto G (2014).
If you're on a tight budget than the original Moto G or G 4G will still suffice, especially now that they're getting upgraded to Android Lollipop.
The Moto G 2014 is a step up in price and size while sporting the same screen resolution and a similar design, although it's likely to be a little more future proof and completes the package more with enhanced cameras and additional features.
First reviewed: November 2013