Introduction, design and comfort
"Razer made a wearable?" is usually the first question I get when I tell people what the latest gadget on my wrist is.
The answer is: yes, Razer, the popular gaming hardware company known for taking big risks in tech has made a fitness tracker called the Nabu X. In fact, it's the second wearable, with the first being simply the Nabu.
The newer one is more of an entry-level wearable, priced nicely at $50 (£45, about AU$61.79) which is practically a steal if you've been itching to try out a tracker.
Aimed at gamers, the band promises to be a discrete wearable that won't distract from your game time.
There's just one problem: the Nabu X still needs some work if it wants to be worthy of gamers' wrists. That said, it sits squarely in a position to be a gadget that's "good enough," especially with its low price point.
Design
The original Nabu went through several changes before settling on a Fitbit Charge-esque design, whereas the new Nabu X looks like your average, unassuming fitness tracker.
I'm not particularly fond of the Jawbone UP24's rigid bracelet form, and I absolutely hate the Fitbit clasp. Razer seems to have circumvented these irksome design qualities and instead opted for something in the middle – something much more comfortable and simple to use.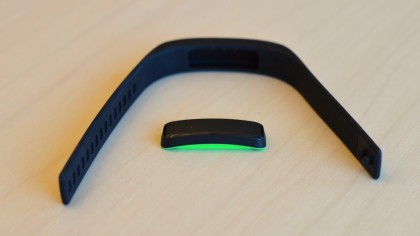 The Nabu X's sensor module is interchangeable between the three strap colors: black, green and white. The material remains the same soft, hypoallergenic silicone rubber finish as the original Nabu, and looks like it could be a distant cousin of the Fitbit Flex.
The clasp is easy to use and snaps in place without too much hassle, which is fantastic. However, people with smaller wrists will have a bit of extra strap that will stick out and occasionally get caught on things. This happened to me often, and I had to constantly tuck the strap underneath the band again.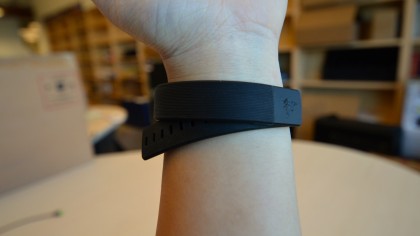 The material of the Nabu X also gets covered in lint insanely fast, which is extremely annoying. A damp washcloth gets rid of it well enough, but it was pretty much useless, because the band would immediately attract dust like a magnet.
Comfort
If there's one thing Razer got right with the Nabu X, it's comfort. The tracker feels practically weightless and unobtrusive on the wrist.
It's small and thin enough that I never noticed I was wearing it. Plus, aside from the extra bit of band poking out, it doesn't make putting on jackets a five minute affair – a problem I've had with larger wearables in the past.
The one-size-fits all strap also fits comfortably around my tiny wrist without making it feel as if it were confined into a wrist-sized straight jacket. The material also helps the Nabu X remain comfy, since it's soft and flexible compared to other harder, plasticky straps.
Specs, compatibility and features
The Nabu X is compatible with the iPhone 5, 5S, 5C, 6 and devices running Android 4.3 or later.
The band is also rated IP67, meaning you can submerge it in water up to one meter. There's an accelerometer and pedometer packed inside the aforementioned detachable sensor module, too.
Notifications
When I first used the Nabu X back in January during CES 2015, I was told there wasn't a huge change in specs between Razer's two wearables.
The main difference between the entry-level band and its pricier predecessor is that the former lacks an OLED screen.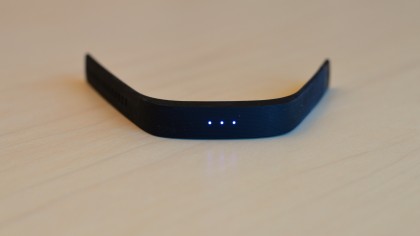 Instead of a text message you read on your wrist, the Nabu X houses three customizable LEDs to inform you of various alerts, which you can check on your phone. The light colors can be switched around to represent what type of notification is being received, while vibrations complement the X's notification system.
This all sounds great, but it's all an oversimplified design. Incoming calls, alarms and notifications get their own set of LED lights, but every single tweet, Facebook message, text or whatever notifications you have set, will show up as one color. This makes it pretty difficult to differentiate between the types of messages you're getting, which doesn't make the system feel very useful.
Whenever my wrist buzzed, I knew something was happening on my phone. I didn't even bother checking the colors to see what the alert might be about, since it could have been any kind of message. This however, seems to be the type of experience Razer is aiming the Nabu X toward – the gaming wearable where you only have to glance at your wrist to see if you're getting a phone call or some kind of message instead of getting distracted and reading a screen, causing you to miss a headshot.
Exchanging info
Another talking point Razer has touted about the Nabu X is that it's a "social wearable." This just means there's a feature – proprietary tech Razer calls "Pulse" – that allows people wearing the X to exchange information through handshakes. It works similarly to NFC but uses Bluetooth LE (Low Energy) instead.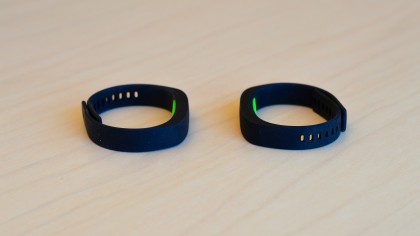 Once enabled and allowed through the Nabu X app, the gesture causes the bands to communicate and send info through Twitter, Facebook and WeChat. It also gives out info if you're nearby another person wearing the Nabu X.
It was a feature I was pretty excited to try out, because my earlier demo left me curious about what type of info the bands could exchange.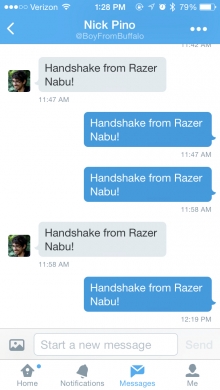 After shaking hands with my colleague, our Nabu X's sent out DMs through Twitter saying, well, we shook hands. Specifically, "Handshake from Razer Nabu!" along with a timestamp could be read from our phones while the Nabu X app also let us know we shook hands. I received nothing through Facebook.
After the novelty wore off, I realized it wasn't going to say much else and left it at that. But throughout the day, our Nabu X's took every opportunity to notify both of us that we had shook hands when we were simply walking next to each other or sitting at our desks.
I even have a handy log of the whole exchange from 10 in the morning until six at night. Admittedly, it was hilarious at first, but quickly became bothersome having my wrist buzzing incessantly for something that wasn't even a notification.
Aside from the fact that there seems to be in a glitch in the Pulse system over-notifying you, I also don't need to know I received a handshake from someone I just shook hands with. Perhaps Razer will change the message in the future or let users customize their own messages. That way, the trackers won't incessantly state the obvious (and hopefully won't be incessant at all).
Sleep tracking
Tracking sleep can happen in two ways: "Automatic" requires you to set a time frame, so the Nabu X will know when to start monitoring you. Then there's the "Manual" method, which starts tracking as soon as it's turned on through the Utility app – meaning you'll have to switch it off when you wake up as well.
I'm not sure if it was my band specifically or an issue with the app, but sleep tracking didn't seem to work properly. I set the band to start tracking at 11:00pm and end at 8:00am yet the app showed nothing. I re-synced the system and it finally showed up after re-authorizing the app (again). However it said I slept for 22 hours with the graph noting that tracking started at 10:30am and ended at 9pm the next day.
Though a little perplexing, this is likely another buggy app feature that can be fixed with a patch.
Apps, fitness and battery life
Oddly, instead of using one app for all the Nabu X's needs, the band requires you to download two: Nabu X Utility and Nabu Fitness.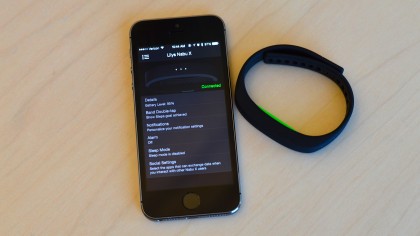 The Utility app lets you customize the band's lights and notification system, set alarms, turn on social settings, enable sleep mode and check the battery level.
Nabu Fitness allows you to track steps, distance walked or ran, calories burnt and sleep. You can then separate the metrics into various time intervals to check in on your year, month, three months, week or day's worth of activity. Specific days can also be checked.
Goals can be set to whatever parameters you choose through a sliding scale or by manually entering them in.
You can tap the top of the Nabu to see the progress of one goal, which you can set from the Utility app. One light signifies you're less than 33%, two lights means less than 67% and three means you've reached 100%. A blue, green and red light combo means you've surpassed your goal.
The sensitivity of the tracker was wonky at times and didn't always show up on the first tap.
Little line graphs are revealed when you select the different metrics, but they don't reveal much beyond laying out a generalized time when the activity took place, and the percentage of the goal completed.
The Nabu X's fitness tracking abilities seem to work well. While wearing my Apple Watch, I was able to compare the numbers of steps taken during a full day. With the exception of about 20 steps, the numbers of the X and Apple Watch matched up well: 3,941 and 3,922, respectively. Since it's difficult to discern which pedometer is spewing out the most accurate data, the close numbers tell me that they're both within a reasonable range.
There are no options to enter food intake, so the caloric information is extrapolated solely from the pedometer metrics. Since the app is pretty basic, I can see future software updates adding more fitness tracking capabilities.
Battery life
Most fitness trackers have great battery longevity, since there's usually no screen. The Nabu X happens to be one of these, boasting a lithium-polymer battery with five to seven days of battery life, depending on usage.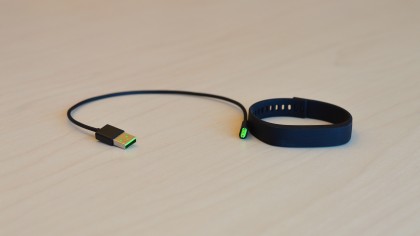 With almost every social media notification, the handshake ability and sleep tracking turned on, my Nabu X is only down to 83% after three days. At this point, I expect it will last right up to seven days, or get pretty close.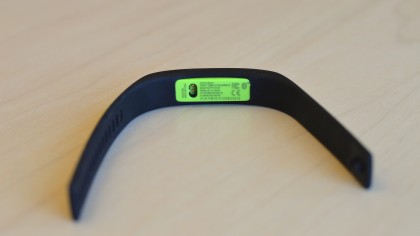 A proprietary charger is used with the X. This isn't surprising considering almost every wearable on the market has its own special type of charger.
Verdict
There are a lot of good fitness trackers out there and a lot of awful ones. The Nabu X falls a bit closer to the latter simply because it doesn't particularly stand out. Still, it remains a decent contender for your wrist.
We liked
The lightweight, clean design of the Razer wearable is definitely appealing, if you want wrist-ware that isn't gaudy. The battery life is also great, and won't leave you charging up another gadget every night.
The Nabu X's affordable price is also on point and really helps make purchasing the fitness tracker an easy choice. That's especially if you've been eyeing trackers, but don't want to cough up a hundred bucks.
We disliked
The band lacks solid features. Like other simple fitness trackers, there's no clear way to distinguish between notifications.
The special "social" facets of the Nabu X also don't work that well. There's potential in the idea of exchanging information between wearables. But right now, it's far too buggy and, frankly, impractical. The fitness app could also be more detailed.
Final verdict
Fitness trackers, especially the entry level ones, don't offer much in the features department, so I can't say that Razer didn't try. The issues I have with the Nabu X seem as if they can be fixed over time with software updates.
But as is, this wearable isn't a piece of tech to get excited about. The whole gaming tie-in is also puzzling, considering that something blinking and buzzing on my wrist is going to distract me no matter what.
Still, there's not much I can find to outright hate about the Nabu X. But it doesn't make me want to jump up and down, telling people to get rid of their current fitness trackers. Instead, it just leaves me feeling indifferent.
For 50 bucks, though, I can say it won't dent your wallet if you want to give it a go. Just don't expect anything special.