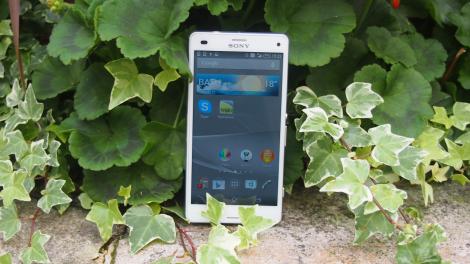 Introduction and design
The Sony Xperia Z3 Compact is the latest entrant in Sony's rapidly expanding line of Xperia Z handsets. Though the original Xperia Z was only launched in March 2013, there have since been three main entries into Sony's flagship line (the Xperia Z1, Xperia Z2 and the new Xperia Z3) along with tablets and the occasional compact variant.
The Sony Xperia Z3 Compact is the smaller version of Sony's latest flagship smartphone, the Xperia Z3. As has become customary with Sony's compact variants, the Xperia Z3 Compact shares quite a bit of technology with its bigger brother, but is it more than just a shrunk down version?
With a 4.6-inch screen (compared to the Xperia Z3's 5.2-inch) and an asking price of £429 (around US$703, AU$792) , the Xperia Z3 Compact is one of the more expensive mini variants of flagship smartphones that we've seen.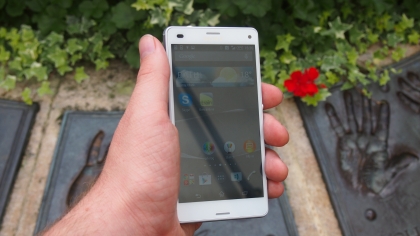 The LG G2 Mini, for example, comes in at around £180 ($295, AU$332), whilst the HTC One Mini 2's asking price is around the £300 ($492, AU$554) mark, both quite a bit under the Xperia Z3 Compact's price tag.
The Z3's price tag puts it more in line with smartphones such as the Samsung Galaxy Alpha, the Samsung Galaxy S5 and the HTC One M8.
Positioning the Xperia Z3 Compact against other companies' flagship handsets, rather than the pared down mini variants, might seem like a risky move on Sony's part. However while smaller versions of flagship phones have often sacrificed a number of features of their larger brethren, the Xperia Z3 Compact does a very good job of keeping up with the full size Xperia Z3.
That doesn't mean that compromises haven't been made, however, and thankfully it seems that Sony has managed to keep these to a minimum.
Design
The Sony Xperia Z3 Compact takes design cues from the bigger Xperia Z3, along with the Xperia Z devices that have come before, namely in the OmniBalance design.
The idea behind Sony's OmniBalance design is that the Xperia Z3 Compact should be comfortable to hold no matter what you're using the smartphone for, be it taking videos, making calls, playing games and more.
Another tenet of the OmniBalance ethos is that the phone should look great from any angle. From my time with the Xperia Z3 Compact I can certainly vouch for the comfort aspect of the OmniBalance design of the handset.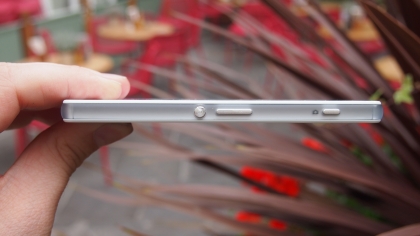 Throughout using it the Xperia Z3 Compact felt comfortable, no matter what task I was performing with it. Though it has a rather stark look to it, the rounded corners certainly help make it feel nice to hold.
This is helped by the dimensions of the Xperia Z3 Compact. Though there's nothing particularly compact about its 4.6-inch display, the thin bezels around the screen don't just make the body look good, but it keeps the dimensions down to 127 x 64.9 x 8.6mm.
The smaller size of the screen and body of the Xperia Z3 Compact is one of the areas that the Compact may have an advantage over its bigger sibling, depending on your preferences for the size of your smartphone.
While 5-inch and above smartphones are certainly growing in popularity, with Apple being particularly pleased with the reception its 5.5-inch iPhone 6 Plus has received, not everyone will be comfortable with the Xperia Z3's 5.2-inch screen and 146 x 72 x 7.3mm dimensions.
By offering a very similar experience but with a smaller form factor, the Xperia Z3 Compact could find a receptive audience with those who haven't been swayed with the phablet craze.
I certainly didn't have any trouble reaching each corner of the screen with the thumb of the hand I was holding the Xperia Z3 Compact in. Helping with the comfort, the Xperia Z3 compact weighs just 129g with a thickness of 8.6mm.
While the comfort of the Xperia Z3 Compact is pretty evident, aesthetics are far more subjective. To my eye, however, the Xperia Z3 Compact again impresses. It manages to be minimal without looking plain, with Gorrila Glass covering the front and back, giving it an attractive and premium look.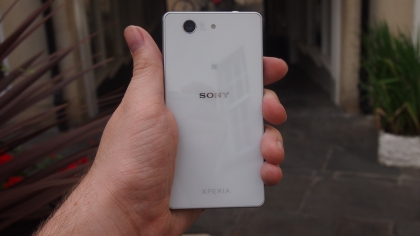 Around the edge of the Xperia Z3 Compact is a translucent plastic surround. While it helps cushion impacts if you drop the Z3 Compact, it also gives the phone a premium frosted look that works very well.
As with previous entrants in the Xperia Z line, the Z3 compact is dust and waterproof, with IP65 and IP68 ratings, which among other things means it can be submerged in up to 1.5m of fresh water for 30 minutes.
This means that most ports are hidden under plastic covers. While it might prove to be a mild annoyance to have to remove the plastic cover every time you want to charge the Xperia Z3 compact, you'll probably be glad of it if you ever drop the phone in the bath. The covers also help give the body a much tidier look.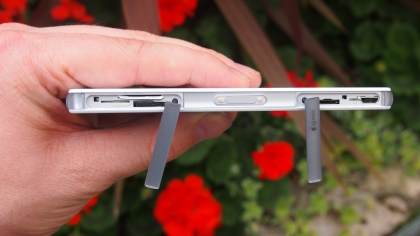 One port that doesn't need to be covered to be waterproof is the headphone jack, which is convenient while not compromising the waterproof nature of the Xperia Z3 Compact. However, we're starting to see opened charging ports for water resistant phones, which would have been great here.
Button placement on the Xperia Z3 Compact is the same as on the full size Xperia Z3. While the power button's location in the middle of the right-hand side is a welcome relief for users of the larger Xperia Z3 who don't have to stretch to the top side of the phone's body, with the smaller Z3 Compact the placement doesn't feel quite so essential.
However, the power button, along with the volume controls and the camera button below it, are all comfortable to reach. Though they don't protrude much from the phone's body, they still feel responsive with a satisfying click when pressed.
The Xperia Z3 Compact comes in four different colours: white, black, orange and green. I had a chance to use both the green and white versions, and both looked very good. The orange and green versions share the same black front as the black version, while the white variant is white all over.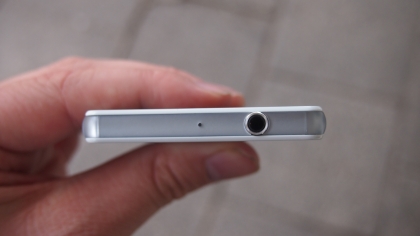 The design of the Xperia Z3 Compact isn't perfect, however, with the screen being a veritable magnet for fingerprints. I was often wiping the screen to rid it of paw marks, and though it's not a major issue in the grand scheme of things, it's never nice to have a touchscreen that makes you feel guilty about laying a finger on it.
Also while Sony's ability to cram a lot of power into a relatively small device should be applauded, the Xperia Z3 Compact has a habit of getting very hot during medium to heavy use. An hour's worth of browsing the internet over Wi-Fi made the body quite warm to touch.
A few minutes of using the camera along with some of its more intensive video modes again heats the Xperia Z3 Compact up and can cause the camera app to shut down unexpectedly.
Here's all the info we have on the Sony Xperia Z4
Key features
Perhaps the biggest selling point of the Sony Xperia Z3 Compact is how well Sony has managed to fit most of the features, specs and overall experience of the Sony Xperia Z3 into a smaller and cheaper handset.
Often a smaller variant of a flagship smartphone comes with a number of compromises that keeps it from reaching the lofty heights of its larger brethren.
For example, the HTC One Mini 2 has a 1.2GHz Snapdragon 400 processor and 1GB of RAM,compared to the full size HTC One M8's 2.3GHz Snapdragon 801 and 2GB of RAM.
Feature parity
It's to Sony's credit, then, that the Sony Xperia Z3 Compact doesn't suffer from such large discrepancies compared to its bigger sibling.
Both feature a 2.5GHz quad-core Snapdragon 801 processor along with an Adreno 330 GPU. Both feature the same camera as well, with a 20.7MP Exmor RS sensor with a 25mm G Lens and ISO 12800 settings.
That doesn't mean they're both identical in specs, and there have been compromises. While the Xperia Z3 comes with 3GB or RAM, the Z3 Compact has to make do with 2GB, still more than enough for most uses, and as we recently found out it's still double the RAM you'll find in Apple's more expensive iPhone 6.
Regardless of that compromise, I feel that Sony has done a great job at making sure you don't feel penalised for going with the smaller phone. If you'd rather go for the smaller form factor of the Xperia Z3 Compact, you won't feel like you're missing out.
Brighter screen
Another key feature of the Sony Xperia Z3 Compact is the screen. Sony is a huge company with a lot of fingers in a lot of pies. While this hasn't always worked in Sony's favour, it has its upsides, with technology from its TV and camera divisions winding up in the Xperia Z3 Compact.
These features include proprietary Sony technology found in its Bravia TVs such as Triluminos and Live Colour LED, which are used to make the colours as vibrant as possible on the Z3 Compact. Cutting through the marketing speak, what this leaves us with is a very impressive looking display that does deliver on vivid colours.
Viewing angles of the IPS screen are also good, though best results are still when viewing the display head on. Brightness levels of the display have also been boosted, with the Z3 Compact's screen able to reach 600nits, compared to the 460nits of the Xperia Z2.
Taking the Sony Xperia Z3 Compact outside, even in bright direct sunlight, I was still able to view the screen without any problem. This is a really brilliant upgrade that has excellent real world benefit.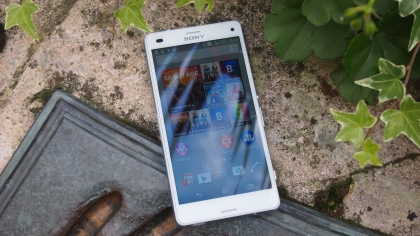 However, with the screen another compromise has been made with the shrunken down handset. While the Xperia Z3's 5.2-inch display can handle full HD 1920 x 1080 resolution, the Z3 Compact's 4.6-inch display only reaches 729 x 1280.
I say 'only' but that resolution on the Z3 Compact's 4.6-inch screen results in a pixel density of 319ppi (pixels per inch). This is a fairly decent level of pixel density (the iPhone 6's 4.7-inch 750×1334 screen equates to 326ppi for comparison), and image quality was sharp and clear.
However I can't help but be a bit disappointed that Sony didn't go for 1080p on the Z3 Compact as well, to make the screen truly stunning.
Sony apps
The Sony Xperia Z3 Compact's final key feature's appeal will vary depending on how much of a Sony fan you are. Sony's handset is closely integrated with a number of Sony services, most obviously the Sony Entertainment Network. This comprises of the video streaming and rental service Video Unlimited, Sony's Spotify competitor Music Unlimited and the PlayStation Network.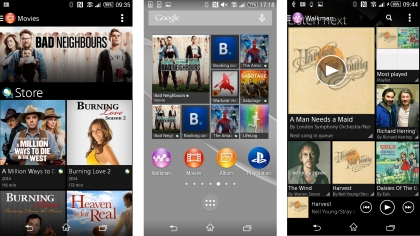 If you're heavily invested in the Sony ecosystem, then you'll probably be quite pleased. However, if you already have a Netflix account for movies and a Spotify one for music, then Sony's own offerings won't be of much interest, and there's little to encourage you from ditching your subscriptions and going with Sony.
Of course you can get Netflix, Spotify and other apps on the Xperia Z3 Compact, but it then leaves you with a number of Sony's own apps that will sit there not being used.
Remote Play
As with its bigger sibling, the Sony Xperia Z3 Compact features Remote play, which lets PlayStation 4 owners stream games from the console to the Z3 Compact.
Being able to stream console quality games to the Z3 Compact almost sounds too good to be true, and when the Xperia Z3 Compact initially launched without the Remote Play feature, I was slightly concerned that it might come in a potted-down version… or worse, not at all.
However it didn't take Sony that long to implement the feature, which is just as well as Remote Play proves to be an excellent addition to the Xperia Z3 Compact, making Sony's latest handset even more desirable.
Setting up Remote Play is relatively simple. All I needed to do to enable the feature was to download the Remote Play app from the Google Play store. Once downloaded, I turned on the PlayStation 4 and enabled Remote Play. This gave me a code that I could then type in to the Xperia Z3 Compact to securely log in to the PS4.
I also needed to pair the DualShock 4 controller to the Z3 Compact via Bluetooth. Sony's earlier attempts at using PlayStation controllers with its mobile phones had to be done using a cable, so going wireless is a big improvement – especially as Sony didn't sell the aforementioned lead and didn't explain where to get it.
It can make things a little complicated in other ways, however, as you need to unpair the controller with the PS4 before you pair it with the Z3 Compact. If you don't, and the PS4 is still in range, then the PS4 logs out and the Remote Play session is cancelled.
After using the DualShock 4 with the Z3 Compact you then need to re-pair it with the PS4 if you want to play your console directly. It's relatively straightforward but the process could be simplified and better explained – unless you just buy another controller, which kind of defeats the point.
However I had no complaints at all about the quality of Remote Play with the range of games I tried, which included GTA V and Assassin's Creed: Unity. Even when using Remote Play on another floor of the house Remote Play worked smoothly.
It wasn't flawless, as when other people were using the Wi-Fi network there could be occasional stutters and graphical artefacts, but with a strong Wi-Fi signal I was very impressed.
There was very little input lag whilst playing, which means hardly any delay when using the controller. This is essential for fast-paced action games where every button press is important.
The fact that each game worked well impressed me a great deal. Sound is also streamed through the Z3 Compact's speakers which offer good quality, though audio quality is improved with headphones.
The Z3 Compact's 720p screen means the games aren't quite as impressive looking as on the Z3's 1080p display. However, because of the smaller screen size of the Z3 Compact games still look vibrant and sharp, partly thanks to the additional display technology Sony has shoved in there to offset the lower HD resolution.
At 4.6 -inches the Z3 Compact's screen isn't exactly tiny, but although it does a fine job displaying Remote Play games, if you're thinking of buying a Z3 Compact or Z3 mainly for Remote Play, then you might want to consider going for the larger Z3.
You can also use the touchscreen to control games. This displays a transparent overlay of the DualShock 4 controls on the screen, and it works OK.
However, the Z3 Compact's screen is a bit too small for the feature, so you'd be better off using a physical controller.
Overall I was very impressed with the Remote Play feature on the Xperia Z3 Compact, which is easy to set and up works really well. Being able to stream your PlayStation 4 games to the phone while the TV is being used for something else is a fantastic feature.
It works just as well as on the more expensive Xperia Z3, although the larger screen size and higher resolution of the Z3 gives it a slight edge. However if you've got a PlayStation 4 and fancy playing your games remotely (but not too remotely – Remote Play for the Z3 Compact at the moment only works with Wi-Fi), then the Xperia Z3 Compact easily fits the bill.
Interface and Performance
The Xperia Z3 Compact runs Android 4.4.4 (KitKat), and as is customary with Sony handsets, it comes with Sony's own modified overlay. While in many ways similar to the stock Android experience, there are a few tweaks to the interface.
Design wise the interface takes visual cues from the PlayStation 3 and PlayStation 4's Cross Media Bar UI, with a relaxing background swirl and changing colours. As a long time PlayStation 3 user, I was quite happy with the look, being used to it, but I can appreciate that it won't be for everyone.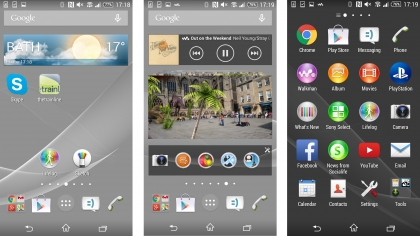 If you're not too keen on that look, it's pretty easy to change the wallpaper and theme, either from your own photographs or from a selection of preinstalled pictures and designs.
One nice feature of Sony's own wallpapers is that many of them are panoramic. What this means is that as you swipe between screens, the wallpaper scrolls. It's a nice feature that livens up the background without being distracting.
Elsewhere the experience is similar to stock Android, so if you're already accustomed to Google's mobile operating system, you'll feel at home here.
As I mentioned earlier, Sony has seen fit to include a number of its own apps that link in with its various services, and your reaction to their presence on the Xperia Z3 Compact will range from 'oh that's handy, I've got a subscription for that' to 'why is this app taking up precious space on my phone?'.
I fell somewhere between the two. As a PlayStation owner, I liked the PlayStation app, which let me send and receive messages to my friends on PSN. However, if I had an Xbox rather than a PlayStation, the app would be useless.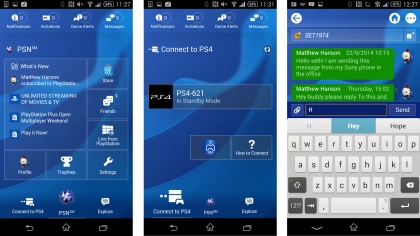 Using the app wasn't quite a seamless experience, either. When first setting up the Xperia Z3 Compact I was asked if I had an SEN (Sony Entertainment Network) or PSN account.
As I did, I was able to sign in with it. Ideally that would have been the last time I needed to sign in to that account, with the Xperia Z3 Compact taking care of the rest. However, on using the PlayStation app I was asked to sign in a number of times.
The Walkman app handles music playing duties and was a cute reminder of the days when Sony ruled the portable music player market. The app itself is fine, though it is again tightly integrated with Sony's Music Unlimited service.
Not only does it play your own music, but you can stream and buy new music through Music Unlimited. As I, and I'm sure other people, have no interest in this, this feature isn't much use. Still, at least it doesn't go for too hard a sell to get you buying your music through Music Unlimited, and if you've already got a subscription then you may love this app.
The Walkman app can also find and play music through your home network via DLNA, which is a nice touch.
The Movies app works in a similar way, with the videos you've imported from your PC nestled alongside videos you've taken with the Xperia Z3 Compact's camera as well as video rentals from Sony's Video Unlimited service.
The Album app handles photos and ties in to Sony's PlayMemories Online, which is an online storage service for your photos that offers unlimited storage for free. The app can also find photos on any DLNA devices connected to your network.
The layouts of the apps are attractive, and I was pleased to see that although Sony obviously wants you to use its services, they're not forced upon you, with your own content given prominence. The presence of Sony's services might not appeal to everyone, but I thought Sony wasn't too obnoixious about it.
There are a number of other apps preinstalled, such as AVG AntiVirus and Garmin Navigation Xperia Edition. This is a sat nav device that you can use while driving, which uses the Xperia Z3 Compact's built-in GPS features. The app is free to use for a month, afterwhich you need to pay a subscription to keep using it. The app itself is fine, if a little rough around the edges, with a few extra features over Google Maps that might make you decide to go with a subscription, such as lane and traffic information.
A small LED on the top left-hand side of the body of the Xperia Z3 Compact lights up to give you information without having to turn on the screen and use the main interface. This includes a white light to indicate new messages, a blue light for Facebook updates and more.
It's a handy reminder when you have the phone on a table or desk near you, but it's of little help if the Xperia Z3 Compact is tucked away in your pocket.
Performance
Performance-wise the Xperia Z3 Compact is pretty impressive. As I said earlier, Sony has done a good job with fitting a lot of the Xperia Z3's premium hardware into the smaller body of the Z3 Compact.
The 2.5GHz quad-core Snapdragon 801 processor means that on paper the Z3 Compact can go toe-to-toe with some of the most powerful smartphones on the market today.
The GeekBench 3 benchmarks I ran to test the handset's prowess came back with scores of 975 for single core performance, and 2798 for multi-core. While single core performance bested the Samsung Galaxy Alpha's 933 score, the Samsung did better with multi-core processing with a score of 3082.
Meanwhile the Z3 Compact was just shy of the HTC One M8's score of 2,899. The last Xperia Compact variant Sony released was the Sony Xperia Z1 Compact (the Xperia Z2 was never granted a little brother), which averaged scores of 2884, interestingly slightly higher than the Z3 Compact's score.
Benchmarks may give us a good idea of how well a device performs, but they don't give the whole story. What really matters is how well the device behaves when you're using it for day to day tasks, and in this respect the Xperia Z3 Compact again does very well.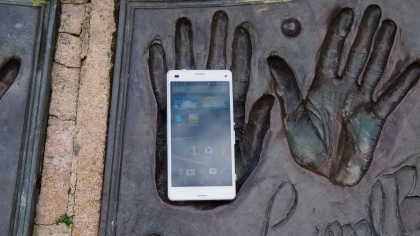 The quad-core processor along with 2GB of RAM keeps Android 4.4.4 with Sony's custom overlay feeling snappy and responsive. Throughout my time with the Xperia Z3 Compact I never noticed the phone feel laggy or slow.
The extra RAM meant that the Z3 Compact didn't have to reload apps or webpages every time I opened up something different, which meant I could switch back and forth between apps quickly.
The only time that the Z3 Compact's performance faltered was when using some of the more intensive camera modes. I'll go into each mode in more detail later, but there are a number of augmented reality modes that can be applied to your photos and videos.
These modes place animated effects, such as fires and even dinosaurs, that can be interacted with by the subject of your photos. These effects require a lot of processing power, and using them for too long (which appeared to be more than five minutes), the phone would heat up and the camera app would sometimes shut down, returning me to the home screen.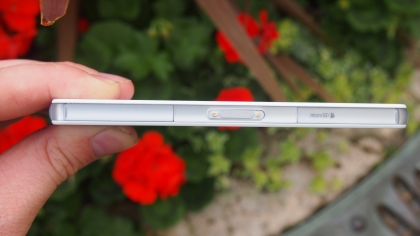 These effects, by their very nature, aren't supposed to be used often or for long periods of time, so it's not a major concern, however it is a shame to see such poor performance alongside the Xperia Z3 Compact's generally excellent user experience.
Graphics are driven by an Adreno 330 GPU, which is the same that's found in the Xperia Z3. Game performance was very good, with the Z3 Compact handling a number of graphically intensive games such as EA's Real Racing 3, with aplomb.
Along with the vibrant screen, all the games I tried looked and performed excellently. Due to the fact that the Z3 Compact has the same GPU as the Z3, but with a lower resolution, it could be argued that the Z3 Compact will actually give a better experience, at least framerate wise, compared to its bigger brother.
However, if you want to play games on a bigger screen at full 1080p resolution, you may be happy to take the odd hit to framerate and go with the Z3.
Here's all the info we have on the Sony Xperia Z4
Battery and the essentials
The Sony Xperia Z3 Compact comes with a decent 2600 mAh battery, which according to Sony results in a talk time of 14 hours and a standby time of 920. In reality, I found that the battery lasted a decent two days with medium to slightly heavy use. This involved browsing the internet on both Wi-Fi and 4G, listening to music and playing games.
On lighter use I was pleased to see the Xperia Z3 Compact manage 2 days and 5 hours without the need to charge. This is the sort of usage you'll most likely use regularly.
When the battery reaches a certain level, the Xperia Z3 Compact suggests you switch to stamina mode. When the stamina mode is enabled the Z3 Compact will disable Wi-Fi and mobile data connections while the screen is off, as well as lowering the performance of the phone's hardware to preserve power. This could also be of use if you find the handset is getting too warm when in use.
The stamina mode can be customised to some degree, such as selecting apps that you want to keep active even with stamina mode on, and a mode that helps save power if you use the Z3 Compact regularly to check the time.
With Stamina mode activated, I was able to prolong the battery life for around an additional day, though this was with very light use. When using the Xperia Z3 Compact more intensively Stamina mode failed to provide such an impressive improvement.
Instead, battery life was extended by only a few hours. Because Stamina mode concentrates on turning off app connectivity when the phone is asleep, if the phone is kept awake with near contant use, Stamina mode doesn't get a chance to fully kick in.
Whilst the Z3 Compact was in Stamina mode I didn't notice any performance decreases from the handset whilst in use.
So whilst Stamina mode can eke out more battery life when the phone is left alone, when used constantly it doesn't help that much, which means there's not too much improvement over the Z3 Compact's standard battery life, which thankfully is impressive enough on its own.
There is an ultra stamina mode as well, which severely restricts the Z3 Compact's features to prolong battery life. Essential features such as calls, texts, calendar and even camera are supported, with Sony's estimates showing that enabling the mode will give the Z3 Compact a battery life of over a week.
I was a little disappointed to see that the battery is non-replaceable, however. While this might not be the top of everyone's must have list, I do like the security of knowing that I can replace the battery in the future.
Though I was impressed with how the Z3 Compact kept its battery from depleting too quickly, I was less impressed with how long it took to recharge the phone. Even with the supplied charging block the battery took a while charge compared to other phones, especially the iPhone 6.
In our battery test, where we have a high definition video playing full brightness, the Xperia Z3 Compact's battery was 77% after 90 minutes.
This was much higher than the full size Xperia Z3, which using the same test was left with just 31% of its battery. The Galaxy S5 Mini's battery depleted to 84% during the test, whilst the iPhone 6 held on to 74%.
The essentials
The performance of the Xperia Z3 Compact as a phone is overall very good. Call quality both indoors and outside was very good, and I was impressed with the quality of the speakers when making calls.
There are also a few features included to make calls clearer and easier to understand. Background noise suppression does a good job of making my voice clear when making calls in loud environments. You can also turn on speaker voice enhancement which helps boost the voice of the person you're talking to, as well as slow down the speech of the caller.
These features won't be to everyone's tastes or needs but its nice to have the option.
Messaging
The default messaging app is pretty much the same found in stock Android and does a perfectly serviceable job of displaying your messages. The keyboard is large and easy to use, and you can either type out your messages, or use swipe gestures to type, as you would with the Swype keyboard, which works really well.
Sony has included tools for the keyboard to monitor how you write using your phone and in apps such as Twitter and Facebook, in an effort to better predict and understand your typing.
Though the screen is a bit too small for two handed typing, the onscreen keyboard was fast and responsive to type with one hand.
Internet
The default browser that comes installed on the Xperia Z3 Compact is Chrome, and it generally works as expected.
Thanks in part to the 2GB of RAM and high specs of the Z3 Compact, browsing the internet is a fast and smooth experience, with pages loading quickly, especially on Wi-Fi and 4G networks. Even with a number of tabs open displaying different websites, the Z3 Compact continues to give an impressive browsing experience.
However, during long periods of web browsing the handset does warm up, perhaps a sign of the resources the X3 Compact devotes to providing such a slick experience.
Media
Considering Sony's involvement in various media sectors, it's little surprise to see the media playing credentials of the Xperia Z3 Compact being given heavy emphasis.
Music playing duties are by default handled by Sony's Walkman app, which is easy to use, with album artwork and other information displayed within the app. It also has a widget that can be placed on the home screen for quick access.
Music playback through headphones and over the built-in speakers is very good, with Sony's background in audio technology being put to good use.
The Sony Xperia Z3 Compact is able to play a number of varied audio formats, including high resolution audio files, it can also upscale your standard audio files as well, in a bid to make your music sound amazing when played through the Walkman app, no matter what the source is.
Turning on the various sound enhancement effects and features of the Xperia Z3 Compact is needlessly complicated, which is a shame considering Sony's efforts in making its user interface simple to use in other areas of the phone.
To turn on the sound quality upscaler (known as DCEE HX) I had to launch the Walkman app, open the menu and select settings and then click 'Sound effects'.
That's not all, though, as DCEE HX is hidden away under yet another menu titled 'Sound effects', which, rather frustratingly, is greyed out. To be able to access this menu I had to first disable the 'ClearAudio+' option, which wasn't made clear and can be easily missed.
Once DCEE HX is enabled it became pretty clear that it wasn't really worth the effort. Though the music certainly sounded a bit louder, and a touch clearer, there wasn't much difference.
Is Sony perhaps not that confident with the feature? It would explain why such a headline mode is hidden away under layers of menus and turned off by default.
Like the Z3, the Z3 Compact also comes with built-in noise cancellation. When used with Sony's dedicated earbuds (which aren't included), the Z3 Compact will process the sound and cut out any background ambient noise, making phone calls sound clear even in noisy environments.
Video playback on the Xperia Z3 Compact is also extremely good thanks to the handset's excellent screen, though you have to make do with 720p resolution, rather than the 1080p of the Xperia Z3.
The display really is the star of the show here, with the increased brightness, coupled with an excellent contrast ratio making videos vibrant and crystal clear.
Again, Sony includes access to its Video Unlimited streaming service, which is fine if you're a subscriber. If not you're able to disable Video Unlimited content from the Video app through the 'Settings' menu.
You can also do this with the Music Unlimited content in the Walkman app, and I appreciated Sony giving me the option to hide away its services. Even when they are enabled they are not too in your face, and if you're in the market for a video or music streaming service, you may be tempted to sign up thanks to the integration with the handset.
Overall, the Xperia Z3 Compact is an excellent device for media, with plenty of formats supported. You also get plenty of playback options as well, with the integrated Music and Movie Unlimited streaming services, along with DLNA support for in home streaming.
Camera
One of the most important bullet points on the Sony Xperia Z3 Compact's spec sheet is its camera. It comes with a 20.7MP camera, the same as the one found in the Xperia Z3.
A high megapixel count doesn't guarantee a good camera, however, and Sony has seen fit to back it up with a range of technology that it's used in its digital compact cameras.
This includes the Exmor RS sensor and an ISO rating of 12800, designed to drastically improve image quality in low light conditions. The lens is Sony's own wide-angle G Lens, aimed at giving a wider frame for taking photos.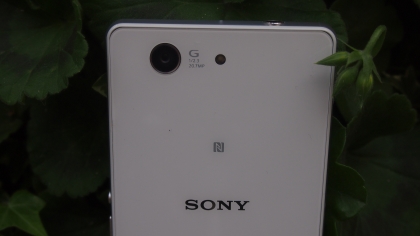 Sony's camera app comes with a host of tools and modes including a superior auto mode that optimises the settings based on what sort of shot you're taking.
During my tests I was pretty pleased with the superior auto mode, and its ability to detect what type of shot I was going for. For instance, if I was attempting a close up shot, it accurately detected this and switched to macro mode.
There's a manual mode if you want more control over your shots, and it gives plenty of settings to tweak.
I was reasonably pleased with the quality of the photos taken, especially outdoors, which captured colour particularly well.
Detail wasn't brilliant, however, with certain elements missed due to a slight blur. While this means the photos on the whole were free from noise, the lack of detail will mean many will rather go for a standalone compact camera, rather than depend on the Z3 Compact's.
Indoor shots and photos taken in low light conditions were also good, yet fell short of what I expected. Other smartphones such as the iPhone 6 might have less impressive sounding camera specifications on paper, they manage to take better photos.
Sony has made a big deal of the Xperia Z3 Compact's high ISO rating of 12800, the highest in any current smartphone (bar the full size Xperia Z3, which comes with the same camera).
Though this high ISO rating is supposed to help with taking photos in low light levels, and I did achieve some good shots, they still fell short of the iPhone 6's photographs, with a low level of detail and off white balance keeping the images from looking truly stunning.
The camera app comes with a number of diverting modes such as AR effects and face in mode. The face in mode takes photos both with the rear facing camera and the front facing camera at the same time, the idea being to capture your expression as you take a photo.
It works fine, but there's not much to it. AR Effects places animated objects into your photos for moderately amusing results. For example, you can conjure up a T-Rex to stomp around your friends as you take photos.
It's fun for a while, but the effects aren't quite good enough to be anything more than a mildly diverting time waster. You can download more effects from the app store, and these range from the ok to the downright terrible. At least they're free.
The video camera of the Xperia Z3 Compact does a decent job of filming, and as with still photos, there are a number of effects you can add. Perhpas the best one is timelapse, which takes a sped up version of a film, which you can slow parts down to 120fps for ultra slow motion.
It's not really timelapse per se, but it works surprisingly well, and is quick and easy to use. The Xperia Z3 Compact is also capable of filming in 4K. When launching the 4K mode, a warning comes up saying that the Xperia's temperature may rise, causing the app to close.
This did happen a few times, along with a couple of times when using the AR effects. Here's a tip for Sony: if a feature causes your smartphone to over heat and crash, it might be best to drop that feature.
Still if you don't mind filming in short bursts and having a slightly toasty smartphone, then the 4K video mode does the trick.
If you're worried that all these high resolution photos and 4K video will take a toll on the internal memory of the Xperia Compact Z3, don't worry as you can expand the memory with a microSD card up to 128GB.
Camera samples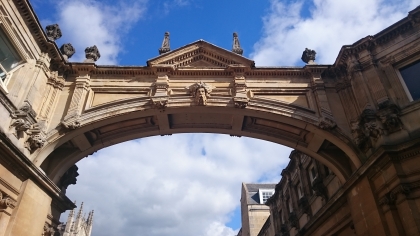 Click here to see the full resolution image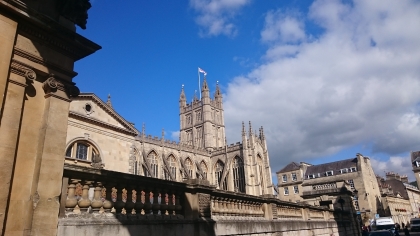 Click here to see the full resolution image
Click here to see the full resolution image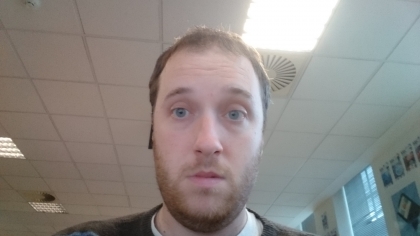 Click here to see the full resolution image
Click here to see the full resolution image
Click here to see the full resolution image
Comparison
Samsung Galaxy S5 Mini
One of the most obvious handsets to compare to the Sony Xperia Z3 Compact is the Samsung Galaxy S5 Mini, another example of a smaller version of a flagship handset. With prices around £320 ($522, AU$593), the Samsung Galaxy S5 Mini is a bit cheaper than the Z3 Compact.
Size wise, both live up to their names, with the Z3 Compacts dimensions measuring 127 x 64.9 x 8.6mm compared to the S5 Mini's 131.1 x 64.8 x 9.1mm.
Z3 is slightly smaller than the S5 Mini but Samsung's handset is actually a touch lighter at 120g versus 129g.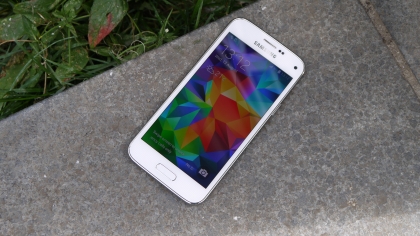 The weight discrepancy is in part due to the Z3 Compact is made from more premium materials including Gorilla Glass, while the S5 Mini has a whole plastic body. The Z3 Compact's build quality, along with slightly heavier weight, again gives it a more premium feel over the S5 Mini.
Both smartphones have a 1280 x 720 resolution screen, though due to the S5 Mini's slightly smaller screen size (4.5-inches compared to the Z3 Compact's 4.6-inch), the S5 Mini manages to have a slightly sharper image.
Performance wise, however, the Xperia Z3 Compact is the clear winner between the two, with 2GB of RAM and a quad-core 2.5GHz Qualcomm Snapdragon 801 processor.
The full size Samsung Galaxy S5 has the same processor but the Galaxy S5 Mini instead comes with Samsung's own quad-core 1.4GHz Exynos 3 Quad 3470 processor and 1.5GB of RAM, which just can't keep up with Sony's offering.
HTC One Mini 2
The HTC One Mini 2 is another small variant of a popular flagship device, and again is a bit cheaper than the Xperia Z3 Compact.
The HTC One Mini 2 is both larger than the Xperia Z3 Compact (with dimensions of 137 x 65 x 10.6mm), band more heavy at 137g.
Unlike with the Samsung Galaxy S5 Mini, however, the HTC One Mini 2 shares a similar premium design with it's bigger brother.
It comes with the same 1280 x 720 resolution as the Xepria Z3 Compact, but again with a 4.5-inch screen that results in a 326 ppi pixel density, compared the Z3 Compact's 319ppi.
HTC downgraded a number of components in the HTC One Mini 2 compared to the HTC One M8, with a 1.2GHz quad-core Snapdragon 400 processor, which makes Sony's decision to keep the same quad-core 2.5GHz Qualcomm Snapdragon 801 processor that's found in the bigger Xperia Z3 all the more laudable.
Both miniaturised handsets do get a cut in RAM, however, though the cut from 2GB to 1GB for the HTC One Mini 2 feels a bit more savage than the Xperia Z3 Compact's cut from 3GB to 2GB.
Sony Xperia Z3
If you like the Xperia Z3 Compact design but want everything to be just that little bit bigger check out its twin brother, the Xperia Z3.
Unlike other miniature handsets the Xperia Z3 Compact hasn't been downgraded in the specs meaning you're looking at a similar set up here but you're getting a bigger display.
The design is pretty similar all over but there's a 5.2-inch 1080p display to enjoy whilst under the hood is a Qualcomm Snapdragon 801 processor clocked at 2.5GHz, 3GB of RAM and storage of 16GB or 32GB.
The same 20.7MP camera set up is on the back and there's a bigger cell than the Xperia Z3 Compact with a 3100mAh battery.
You're able to pick up the Xperia Z3 for £350 (about $538, AUS690) making it pretty cheap for a top of the range flagship handset and not far off from the pricing of the Xperia Z3 Compact.
iPhone 6
As I mentioned earlier, the pricing of the Xperia Z3 Compact puts it in a difficult position. It's more expensive than other small versions of flagship phones, and ends up costing around the same as the full-size variants.
Perhaps the biggest competitor when it launches, however, will be the iPhone 6. This might not seem entirely fair, as the iPhone 6 costs a good £100 more than the Xperia Z3 Compact, however comparisons may be inevitable due to the fact that both are launching around the same time.
Both have similar size screens, with the iPhone 6 just edging it with a 4.7-inch display. With a resolution of 750 x 1334 that results in a pixel density of 326ppi, higher than Sony's 319ppi, you get a clearer and sharper image on the iPhone 6.
On paper the specs between the two phones should give the Xperia Z3 Compact the edge, with the iPhone 6 being powered by 1GB of RAM and an 1.4GHz ARM-based CPU. However comparisons aren't that clear cut, as through a number of hardware and software enhancements, the iPhone 6's performance easily rivals the Xperia Z3 Compact's.
The same can be said for the camerra. On paper the iPhone 6's 8MP camera should be no match for Z3 Compact's 20.7MP, however the tech behind the iPhone 6's camera has put it ahead, with camera experts DxO labs recently declaring the iPhone 6's camera to be the best ever on a smartphone, scoring higher on its benchmarks than the Z3 Compact.
One area where the Xperia Z3 Compact handily beats the iPhone 6 in my opinion is with storage. Whilst the Z3 Compact comes with 16GB internal storage, which is the lowest storage option of the iPhone 6, it at least can be expanded up to 128GB via microSD.
For storing videos, music and photos, this is much more cost effective than going for a larger capacity iPhone 6, though of course you can't install apps on to the microSD, so you're stuck with 16GB.
Verdict
Compared to other small variants of flagship smartphones, Sony has done an excellent job by making the Sony Xperia Z3 Compact a desirable smartphone in its own right.
By keeping compromises to a minimum, and keeping some of the best tech intact from the larger and more expensive Xperia Z3, the Z3 Compact holds its own, and you wouldn't feel like you were missing out on much if you'd rather go with the smaller handset.
We liked
The design of the Z3 Compact is excellent. It looks great and feels comfortable to hold. If you like the look of the Z3 but not sure about the dimensions of the larger phone, then you'll be very pleased with the Z3 Compact.
Performance is also excellent with some impressive specifications in a phone of this size. Though the screen resolution has been reduced from 1080p of the Z3 to 720p, it still looks premium.
The overall experience of the phone is great and it really feels like a premium product despite its size and price.
Battery life is also very good considering what you'll be using this phone for. I was impressed that I could often go two days before having to plug the Xperia Z3 Compact in.
PlayStation 4 Remote Play is also an excellent feature that works very well and could be a real selling point of the Xperia Z3 Compact – as long as you own a PS4, of course.
We disliked
The camera wasn't quite as good as I was expecting. It's a fine camera by smartphone standards, but with all the bluster and big numbers that Sony throws around in regards to the camera, I was expecting to be blown away. I wasn't.
The handset also has a worrying habit of getting warm when used for long periods of time, or when using certain camera modes. It never feels dangerous but occasionally it would make the camera app crash, which can be annoying.
Sony is obviously aware of the issue, as it includes a warning message when using certain camera modes, but acknowledging a problem with a brief pop up message hardly excuses it.
Sadly, that takes away some of the premium experience of the rest of the smartphone.
Final verdict
There's a lot to really like about the Xperia Z3 Compact. Though Sony seems to be putting out new Xperia Z models every six months, you get the feeling that with each iteration it is steadily improving the formula.
Sony has also avoided offering a severely cut down version of its flagship device. Where other manufacturers will cut the specifications of the mini variants, the Xperia Z3 Compact keeps a lot of the features of the bigger Z3, making the compact an excellent choice if you fancy the Z3, but are not too sure about the large size of the handset.
The integration of Sony's services and their appeal will depend on how invested you are in the Sony ecosystem. The PlayStation 4 remote play feature probably has the biggest mainstream appeal, and I'm looking forward to testing the feature when it goes live. However, with other Android devices being able to use this feature (though after being rooted), this may dull the impact of this 'exclusive' feature.
Heat issues are my biggest disappointment with the Xperia Z3. I don't mind a handset getting warm when being used from time to time, but when it starts to affect the performance of certain apps and features it spoils what usually is a very impressive experience.
However, if you are looking for a feature-packed phone that looks fantastic and performs brilliantly, then you'll be very pleased with the Xperia Z3 Compact. Just don't expect to shoot epic 4K movies with it.