Overview
Before Nokia was dissolved into Microsoft it launched some great low cost smartphones, such as the Nokia Lumia 520 and Nokia Lumia 620- both of which were of a quality usually reserved for higher-end handsets.
With the Nokia Lumia 625, the company seemed to be trying to push the limits of what's possible on a low-end handset even further by giving it a big 4.7 inch screen and including 4G support. It was an ambitious goal, so has Nokia pulled it off or has too much been compromised?
With a price tag of around £125/$150 (roughly AU$195) it seemingly ticks the value box, though it's slightly more expensive than the older Nokia Lumia 620 and the budget Nokia Lumia 520. In fact if anything it's more in line with the prices of the Nokia Lumia 720 and Nokia Lumia 820, both of which can be had for around £180/$200 (roughly AU$260).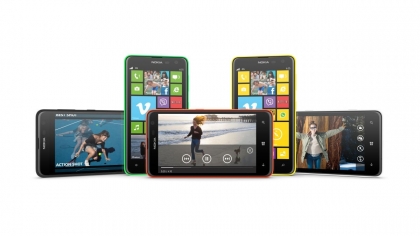 It's also now been superseded by a bunch of newer Lumia handsets, such as the Nokia Lumia 630, the Nokia Lumia 635, the Microsoft Lumia 640 and the Microsoft Lumia 535 and these are all pretty affordable too. The Lumia 635 can be seen as its successor and starts at around £100/$120/AU$155, while even the more powerful Lumia 640 can be had from roughly £130/$250/AU$320.
As smartphones go it's still priced pretty low, but whether it offers enough to justify the premium is another matter entirely, particularly since phones like the Moto G (2014) (a handset which beats the Lumia 625 for power, screen size and resolution) can be bought for a similar price.
Granted, that's Android, which won't help if you're after a Windows Phone 8.1 handset specifically, but Windows Phone doesn't exist in a vacuum and with deals like that to compete with the Nokia Lumia 625 has its work cut out.
The 1.2GHz dual-core Snapdragon S4 processor in the Nokia Lumia 625 is faster than the processors in either the Lumia 620 or Lumia 720, both of which have 1GHz dual-core chips.
However it falls some way short of the 1.5GHz dual core processor found in the Lumia 820, while its 512MB of RAM is a match for both the 620 and the 720. Those specs might not sound like much but they're normally plenty enough for a low end Windows Phone 8 handset.
That said we're starting to see RAM creep upwards with newer budget Windows Phone devices, such as the Microsoft Lumia 640 and Nokia Lumia 635, both of which have 1GB to play with, not to mention quad-core processors.
With regards to the Lumia 625's looks it, well, looks like a Lumia – albeit a chunkier one than we're used to. The dimensions of 133.2 x 72.2 x 9.2mm make it the longer and wider than you might expect, though it's actually quite thin.
At 159g it's a heavy beast, outweighing even the Nokia Lumia 1020. Even for its size that's a lot of weight, as for example both the HTC One M9 and Samsung Galaxy S6 are lighter, despite touting larger screens.
The Lumia 625 isn't exactly going to weigh you down but it is noticeably heavy for its size and that can be a little off-putting.
However, weight aside it feels reasonable to hold, with comfortable, slightly rounded edges. Though the screen is large enough that those with particularly small hands may need to stretch a bit to operate it one-handed.
Available in black, white, yellow, red or green, the Nokia Lumia 625 is just as colourful as we've come to expect from the Lumia range.
It's also just as plastic, with a removable polycarbonate shell. A premium body would be nice, but at this price it's not expected and most users will likely hide the phone in a case anyway.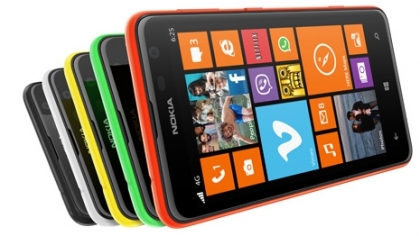 The front of the Lumia 625 primarily contains the 4.7-inch 480 x 800 IPS LCD display, with a pixel density of 201 pixels per inch. That's not a whole lot of pixels, as while the size has been bumped up dramatically from the 3.8-inch Lumia 620 the resolution has stayed the same.
That was presumably one of the cost-cutting measures required to actually make this handset possible at a low price, but the result is a screen that really is a little bit worse than we'd like and which has since been beaten by the likes of the similarly cheap Nokia Lumia 640.
Other than the screen the front of the Nokia Lumia 625 has black bars along the top and bottom which hold various buttons and sensors. The bottom bar has the three soft touch buttons you'll find on every Windows Phone 8 handset – back, start and search – while the top bar holds the earpiece, the 0.3MP front-facing camera lens and Nokia's logo.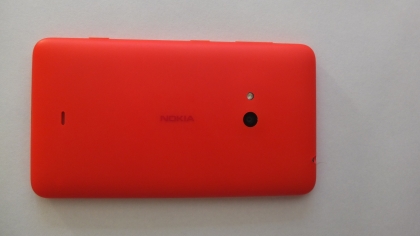 The back of the phone is incredibly plain as it's dominated by the almost featureless polycarbonate cover. However the flat expanse of colour is broken up by a few things.
There's another small Nokia logo across the middle, while near the bottom there's a speaker and towards the top there's the main 5MP camera lens and LED flash.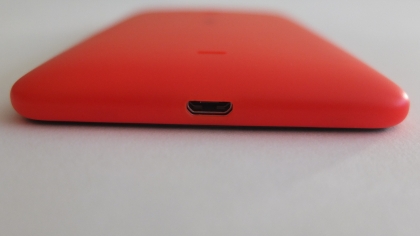 The bottom of the handset just has a micro USB port for plugging in a charger or connecting it to a computer.
The right hand edge has a camera button near the bottom, a power button in the middle and a volume rocker near the top, which like most things on this handset is standard Lumia design. The left edge has no buttons, ports or other features, and the top of the Lumia 625 merely has a 3.5mm headphone port.
In other words it's a fairly plain handset through and through but that's not necessarily a bad thing, as at least it avoids looking ugly, and if you've ever used a Lumia handset before you'll be right at home here.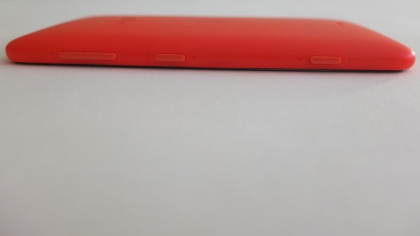 The back cover can easily be peeled off and underneath it you'll find the micro SIM card slot and a micro SD card slot which supports cards of up to 64GB, allowing you to boost the storage way beyond the 8GB that's built in.
You'll also find the 2000 mAh battery hidden back here, which is substantially bigger than the 1300 mAh battery that the Lumia 620 ships with, however while the one in the 620 is removable this one isn't. Plus with such a big jump in screen size the Lumia 625 will need all the battery it can get.
Ultimately then the Nokia Lumia 625 is aimed at those who want 4G and/or a big screen without breaking the bank. But with a disappointing resolution it might have its work cut out in attracting customers.
That isn't helped by its slightly confusing position in the Lumia range. The name suggests a handset that's slightly better than the Lumia 620, which it is in many ways, but at the £200 it launched at it was competing more with the Nokia Lumia 720 and 820 and despite seeing price drops since then it still finds itself up against newer and higher end phones, like the Microsoft Lumia 640.
It has a big screen going for it, but again the resolution lets it down somewhat. It seems to be aimed at a fairly narrow cross section of people, and doesn't fit neatly into the existing range.
Interface
Just like every other recent Lumia handset the Nokia Lumia 625 runs Windows Phone 8, now upgradeable to Windows Phone 8.1. We've covered it plenty of times before in other reviews and even reviewed it in its own right, so we won't get too bogged down in detail, but at its heart it's a solid, slick operating system.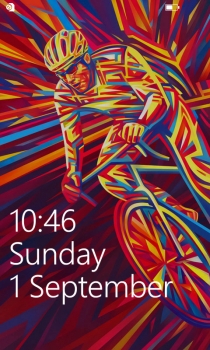 The first screen you'll come to is the lock screen, which displays the time and date, along with notifications and a background wallpaper. Swipe that away and you'll reach the start screen.
The tile-based interface here makes Windows Phone 8 visually attractive and distinct from Apple and Android handsets. You can easily resize, move or remove tiles with a long press, and many of them are 'live tiles' which display additional information or images.
For example a weather tile might display the temperature in your current location while an email tile would tell you how many unread messages you have.
It's an attractive and simple way to easily keep on top of things right from your start screen without having to launch multiple apps.
Aside from tapping and swiping, the other thing you'll be doing regularly is interacting with the three soft touch buttons below the screen.
The back button is to the left and that just cycles back to whichever screen you were on last. The start button in the middle will take you back to the start screen, and the search button to the right will launch Bing search.
Two of those buttons, however, also have a secondary use. If you long-press the back button it will bring up a list of all your open apps and recently viewed screens, letting you tap one to quickly return to it.
While a long press of the start button will launch a voice-based personal assistant, which can be used to call or text a contact, for example, open the calendar or perform an internet search, and it works pretty well too.
A swipe to the right shows you every app installed on the phone, whether it has a start screen tile or not, and from there you can just tap to launch something or long press it to pin it to the start screen.
From here you can also access the settings screen which has all the standard Windows Phone 8 options such as ringtones and sounds, screen brightness and connectivity options.
There are also a few useful tools buried here, such as 'data sense', which helps you manage your data use and can be toggled to restrict background data once you near your data limit.
Then there's Kid's Corner, which lets you set up a child-friendly mode on the phone, limiting the things that they have access to.
You can also change the Nokia Lumia 625's colour scheme and lock screen wallpaper from the settings screen.
It's all very intuitive and well laid out, with separate tabs for system settings and application settings. Our one real issue with it, which is the same on all Windows Phone 8 handsets, is that some things are a little more buried than we'd like.
For example, we tend to regularly turn things like 3G and Bluetooth on and off, so it would be nice to be able to toggle them from the main screen much as you can from the notifications shade on Android.
But with Windows Phone 8 you have to dive into the main settings screen. Similarly if you want to know how much battery you have left there is an indicator that you can view by tapping the top of the start screen, but it's just a little bar and isn't very precise, to get an actual percentage you once again have to head to the settings screen.
Thankfully this issue is solved with the Windows Phone 8.1 update, which adds Action Center to the mix. Just pull down from the top of the screen and you'll be able to see notifications and access quick settings toggles, just like on Android.
The other big update in Windows Phone 8.1 is Cortana, a personal assistant to rival Google Now and Siri. It lets you carry out searches and tasks with voice commands and for the most part it works pretty well, though as with all such things a thick accent or noisy environment can throw it off a bit.
Windows Phone 8.1 also brings other small updates, such as folders and custom volume settings. They're relatively minor features but appreciated none the less.
Despite being a fairly low-end phone the Nokia Lumia 625 can handle general operation with ease, as is normally the case with Windows Phone 8 handsets. You can glide around the screens with no slowdown and the screen itself is very responsive to the touch.
We wish the screen was higher resolution, but for the main screens of the phone it's not such a problem, as it really only becomes an issue when watching videos or reading a lot of text.
The screen does seem perhaps a little washed out, though that can be remedied a little by adjusting the colour profile in the settings screen, and it has good viewing angles so you don't need to be square on to use it.
Contacts and calling
All Windows Phone 8.1 handsets handle contacts in much the same way, but they do it well. Contacts are accessed from the 'People' tile on the start screen and are listed alphabetically by first name or last.
You can also add email accounts, Facebook, Twitter and more, so you're not limited to just the contacts on your SIM card.
There are a few icons at the bottom of the screen, one for adding new contacts, one to type in a search for a specific contact and another that takes you to a settings screen where you can add accounts and filter your contact list.
Tap on a contact and you can see their profile complete with phone number, email address and potentially a whole lot more depending on how many details you've added.
Obviously you can call or text them from here, but if the contact is linked to a social network you can also message them or post to their wall straight from the profile screen, while swiping to the right will show you any recent tweets, photos or status updates from them as well as recent conversations or calls between the two of you.
There are also several icons at the bottom of the profile screen allowing you to easily combine contacts, edit them, delete them or pin them to the start screen.
Back on the main contacts screen a swipe to the left or right will bring up several other screens. One shows recent social network updates, another shows recent interactions with contacts and another brings you to your Groups and Rooms.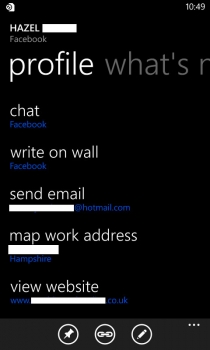 Groups are the same here as on most phones- letting you create specific contact groups, for example friends or family. Rooms are a similar idea, but allow you to have group chats and share photos and notes with everyone in a given room.
Contacts and social networking integration are among the things that Windows Phone 8 handsets do best. It's incredibly quick and easy to find and call contacts from the people screen.
Adding a new contact is also easy, and there are enough fields that you can add all the information you're ever likely to want for each one.
Plus, if you link up your social networks, the People screen becomes a social hub from where you can see all of your contacts' activity in one place and message them through whatever channels you'd like.
On the other hand, you're never forced to add social networks, so if you'd rather keep things simple then you can do that too. The Nokia Lumia 625 is no better at all this than any other Windows Phone 8 handset – but it's no worse either.
Calling
While contacts are handled brilliantly on the Nokia Lumia 625, calling isn't quite such a positive experience. And that's mostly down to the dial pad.
The issue is simply that it doesn't support smart dialling, so you can't type out a contact's name on it, and if you start tapping out a number it won't bring up suggestions from your contacts list either. All of which really make it redundant for calling anyone that's already in your contacts list.
As well as the dial pad, the phone menu has a few other screens, including your call history, a shortcut to your voicemail and a link to your contacts list.
There are also a few settings that you can tweak, such as activating call forwarding, but really, given the failings of the dial pad, it's not an area of the phone that you're likely to spend much time in.
Though as with many things this is a problem present in all Windows Phone 8 handsets, so it would be unfair to single out the Nokia Lumia 625 specifically.
Thankfully, the experience improves once actually on a call. Call quality seemed fairly good even when the phone only had one bar of signal, we didn't have any dropped calls and there are a few options when on a call, such as being able to put the person on hold, mute the call or activate speaker phone.
That speaker phone is the one other area that's not brilliant, as it never seemed terribly loud and like most speaker phones it was a bit distorted.
Still, that's likely to be a minor issue for most people, and on the whole calls are handled reasonably well while contacts are handled brilliantly.
Messaging
Given how well contacts and social network integration are handled on Windows Phone 8 (and by extension the Nokia Lumia 625) it should be no surprise that messaging is also handled well.
Tapping on the messaging tile will bring you to a list of threads, while tapping on a thread will take you to all the messages held within, allowing you to send a new message to that contact.
Messages appear as text bubbles and you can easily add an attachment at the touch of a button or speak your message rather than typing it if you tap on the microphone symbol.
Long-pressing a thread will give you the option to delete it, and there are icons at the bottom of the screen for starting a new thread, as well as changing your Facebook chat status if you've linked your phone to Facebook.
There are also a bunch of settings that can be altered, such as setting up delivery confirmations or backing up your messages.
Back on the main threads screen a swipe left or right will bring up Facebook chat (if you've got it activated) allowing you to talk to any online Facebook contacts over 3G or Wi-Fi.
As well as text messaging and Facebook chat there's also an email app on the Nokia Lumia 625. This is fairly basic but works quite well.
If you use a Microsoft account then your email should already be up and running, as you'll be prompted to link the phone to a Microsoft account during setup.
However you can easily add additional accounts from the app itself and you aren't limited to just Microsoft ones.
Once you've got at least one account set up the main screen will show a list of messages from your inbox.
By swiping left and right through different screens you can view all of your emails, just unread ones, just flagged ones or just urgent ones.
Tapping an email will open it, while long-pressing it allows you to delete it, mark it as read, flag it or move it to another folder.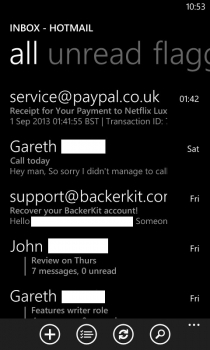 Icons at the bottom of the screen allow you to compose a new email, delete or move messages in bulk, refresh your inbox, search for a specific email, view a different folder, add a new account or change a few settings- such as how many days to download emails from.
When reading an email you can easily zoom in and out with a double tap or pinch, though the app does a pretty good job of fitting messages to the screen anyway.
There are also icons at the bottom of the screen allowing you to quickly cycle through emails, delete the one you're reading or reply to it.
Sending emails is handled well too, as there are just three clearly labelled boxes, one to enter the recipient's address, one to add a subject and one to type out the message. As with texts, you can also add an attachment by tapping a paperclip symbol at the bottom of the screen.
Both emails and texts work really well and by integrating so well with Facebook (and to a lesser extent other social networks), you potentially won't have to keep launching different apps to do different things.
The keyboard works pretty well too. The extra space afforded by the 4.7-inch screen is a boon here, allowing the keys to be large enough to easily and accurately type messages in both portrait and landscape, while not obscuring too much of the screen.
The keyboard will also suggest words as you type and automatically correct typos, potentially speeding things up further. It's also been updated with Windows Phone 8.1 to allow you to swipe across letters rather than tapping them.
There's no haptic feedback, but that's about our only complaint.
The Nokia Lumia 625 supports Wi-Fi 802.11 b/g/n and 3G, as you'd expect from a smartphone. But it goes one better than most low- to mid-range handsets by also supporting 4G.
Internet
The Lumia 625 has two browsers on it: Internet Explorer and Nokia Xpress. That's a rarity for Windows Phone 8 devices as most only have Internet Explorer – a browser that probably won't be to everyone's taste – but the mobile version isn't too bad.
When using Internet Explorer, a permanent address bar at the bottom of the screen lets you easily tap out a web address or search, and while it does take up a bit of space, the screen is big enough that it doesn't really matter.
You can also access a pop-up menu by tapping the three dots next to the address bar. This menu has options to refresh the page, change tab (or open a new one), view or add a page to your favourites, share the page or pin it to the start screen.
You can also get to the browser settings screen from here, which lets you pick between mobile and desktop versions of sites, change your default search provider and more.
Both the tabs and favourites screens are easy to use. Tabs appear as thumbnails while favourites are shown as a text list, but from either screen you can just tap on a page to go to it.
Actually viewing websites is intuitive too. You can double tap or pinch to zoom and swipe to scroll around the page.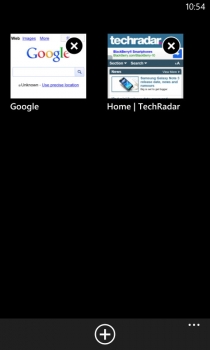 The Nokia Lumia 625 is plenty responsive here, with no slowdown. Sites load quite quickly when you use mobile pages.
The front page of TechRadar, for example, takes three to four seconds to load over Wi-Fi and only six or seven over 3G. Desktop sites can take up to 10 seconds longer though.
Nokia's Xpress browser isn't hugely different. In fact the layout is pretty similar, but it has a few extra features such as the ability to tap on a word to look it up.
The screen on the Lumia 625 is both a blessing and a curse for web browsing, as while the large size means that you can usually read a web page quite comfortably without too much zooming or scrolling, the low resolution means that things are never entirely sharp and generally don't look all that good. It's also not helped by the fact that the screen seems to pick up a lot of smears and smudges.
That's unfortunate, and along with the lack of many browser options it makes the internet experience a little underwhelming. It's perfectly usable but fails to impress, and we actually prefer browsing the net on the smaller-but-sharper Nokia Lumia 620 screen.
Camera and video
Camera
If you're looking for a phone with a good camera then look elsewhere. That's not to say that the 5MP snapper on the Nokia Lumia 625 is bad, but it's certainly not great.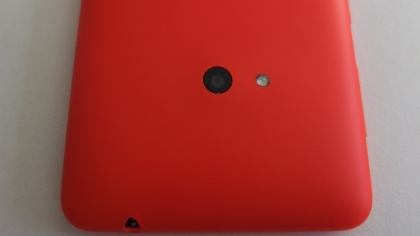 All Windows Phone 8 handsets have a dedicated camera button – something that works in its favour, particularly as it's well positioned, making it easy to use whether holding the phone in landscape or portrait.
Though having said that, it's meant to be possible to hold the shutter button halfway down to focus before taking a picture, but in practice that can be quite hard to do as the sweet spot between it doing nothing and actually taking the picture seems very small, still you can always just tap the screen to focus instead.
Being a Windows Phone 8 handset, the Nokia Lumia 625 also has 'Bing Vision', which is basically a glorified barcode and QR code scanner, but as just about everything seems to have a QR code slapped on it these days it's worth having.
All Lumia phones also have a few extra photography tools at their disposal, such as 'Cinemagraph' which lets you create an animated photo a little like a GIF, and 'Nokia Smart Cam' which takes a series of shots over the space of a few seconds.
It then allows you to pick the best one to save, remove unwanted moving objects, add a blur to emphasise motion, choose the best faces for a group shot or make an 'action shot' by combining the action in multiple images to create a strobe effect.
Most of this works quite well, the problem really is that the quality of the photos isn't that special to begin with. The 0.3MP front facing camera isn't up to much either, delivering predictably blurry images.
There also aren't a vast number of options on the main camera. You can change the ISO, white balance, exposure value and aspect ratio, but there aren't any effects (beyond those in Nokia Smart Cam) and there are only a few different scene modes, such as night and close-up.
These settings are all at least easy to change, appearing as a pop-up menu with clearly labelled options, but they fill the screen so you can't instantly see how the changes are going to affect the picture, as you have to back out of the menu first.
Ultimately the camera isn't terrible, but it's no better than the one on the much cheaper Nokia Lumia 620 and quite a lot worse than the 8MP snapper on the Moto G (2014)- which can be had for a similar price.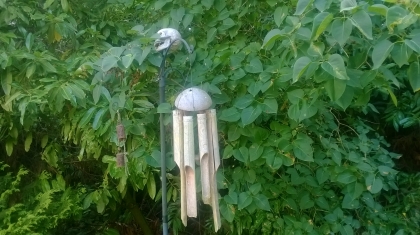 Click here to see the full resolution image
Click here to see the full resolution image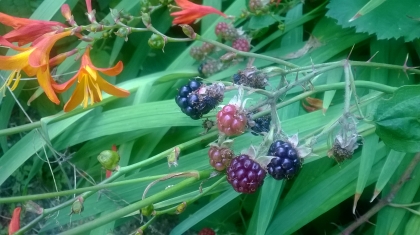 Click here to see the full resolution image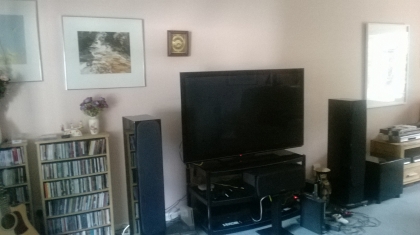 Click here to see the full resolution image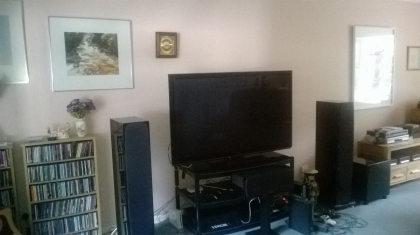 Click here to see the full resolution image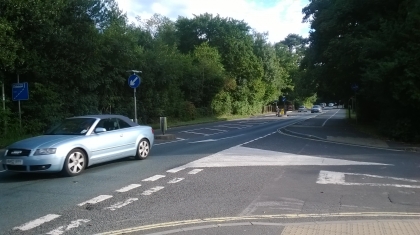 Click here to see the full resolution image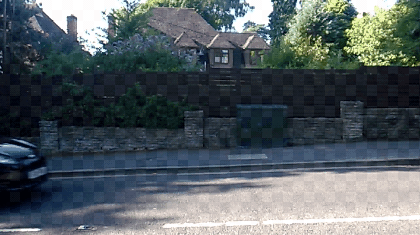 Click here to see the full resolution, moving image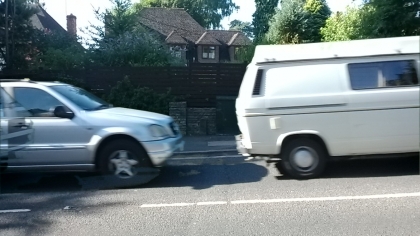 Click here to see the full resolution image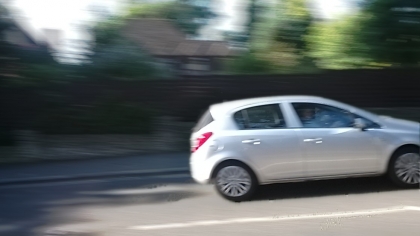 Click here to see the full resolution image
Click here to see the full resolution image
Video
The Nokia Lumia 625 can shoot 1080p video at 30fps, which is about what we'd expect from a £125 phone and is a slight upgrade from the 720p camera on the Nokia Lumia 620.
You don't get many options when shooting videos though- you can change the white balance, turn the video lamp on or off, turn continuous focus on or off and switch the quality between 720p and 1080p but that's all. Still, the quality of the videos is fairly decent and that's the most important thing.
Close ups come out pretty well. The camera does a good job of focusing as long as you don't move around too much. Fast moving objects are handled reasonably well too. The camera is able to focus on them and capture a moderate amount of detail.
Night time videos fare even worse than photos. It wasn't even particularly dark when this was shot but the video makes out almost nothing.
YouTube : http://www.youtube.com/watch?v=utEeKpaIFX4
Media
The Nokia Lumia 625 has the same selection of media apps as other Lumia handsets. It's a reasonable selection, and combined with the big screen and microSD slot the phone has a fair amount of media potential, though the low resolution of the screen and the low amount of built in storage (8GB) threatens to undermine that.
Music
The most impressive music app on the Nokia Lumia 625 is undoubtedly Nokia Music.
Not only does it let you create playlists and sort your music by genre, artist, album or song as you'd expect any good player to, it also has extra features like free 'mix radio' playlists which you can listen to over 3G/4G/Wi-Fi or even make available for offline listening.
Plus you can view a list of nearby gigs that are happening soon and shop for more music from Nokia's store.
It's an attractive player too, as it's full of album artwork, and by plugging headphones in you'll get access to equaliser settings allowing you to tailor the sound to your liking. It also has lock screen controls, but unfortunately not start screen ones.
As well as Nokia Music, the Nokia Lumia 625 also comes with Music + Videos, which is the standard music (and video) player that all Windows Phone 8 handsets come with.
This one isn't quite so interesting and it's also kind of similar, leaving it a bit redundant. It's got the same playlist support and sorting options as Nokia Music.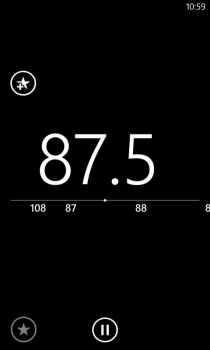 It also has a built in music store and the equaliser settings work here too, but weirdly you don't seem to be able to access them directly from the player, instead having to delve into the main settings menu. However it doesn't have the free mixes that Nokia's player has.
One thing the Music + Videos player does have in its favour is an FM radio, though it's about as basic as possible, letting you search for stations and save favourites but not a whole lot else.
Still, with a choice of one good and one reasonable player, plus others available to download from the store and support for WAV, MP3, eAAC+ and WMA audio files the Nokia Lumia 625 makes quite a good music player.
Only having 8GB of storage means that you'll quickly need to invest in a microSD card if you want to store a lot of songs on it, but that's a minor inconvenience and at least it has the option.
The speakers are pretty loud too, though music sounds kind of flat and lifeless through them so headphones are always preferred.
Video
There's only one video app on the Nokia Lumia 625, specifically Music + Videos, or in other words the same video app every other Windows Phone 8 handset has. It's very basic too.
You can see all of your videos as thumbnails then tap one to play it, after which you can jump ahead or resize it to fit the screen but that's about it. The handset supports MP4, H.264, H.263 and WMV files.
As with most things that particularly make use of the screen, the display on the Nokia Lumia 625 is a double-edged sword when it comes to watching videos.
It's big, especially for the money, which is always a plus when watching something. But it's also quite low resolution, so while you'll get a big picture it won't look that great. It's not terrible, but if you're watching anything more substantial than YouTube videos it is a bit annoying.
Speaking of YouTube, there's no built in app, though there are a few available from the store. Still, while the screen and player might not be up to much at least the Nokia Lumia 625 is fairly comfortable to hold while watching things.
As with music, the lack of built in storage can also be an annoyance here, as you won't fit all that many videos on the Lumia 625 without putting a microSD card in it first.
Photos
There are a couple of different photo apps on the Nokia Lumia 625. The main one is simply called Photos and it's a gallery containing all of the photos on your phone.
It will also pull albums from OneDrive and Facebook and you can add photos to favourites and sort them by date or the people tagged in them.
The Photos app even has a bit of extra social network integration going on, as swiping left or right a couple of times from the main screen lets you view a feed of photos that people have recently uploaded to social networks.
When you're actually looking at a photo there's a button at the bottom that brings up a menu allowing you to set the photo as your lock screen wallpaper, save it to SkyDrive, delete it, share it or edit it. The latter of which gives you a few basic tools such as being able to rotate, crop or fix the photo.
As gallery apps go it's pretty good. It's well laid out, has quite a few options and integrates well with social networks.
The screen on the Lumia 625 perhaps isn't the best place to view your photos, but that needn't be a problem either as the other photo app, PhotoBeamer, lets you send the photos to a computer screen.
You do this by navigating to the PhotoBeamer website then using your Lumia to scan the QR code it displays.
It will then link up to your gallery and let you see your photos on a bigger, better screen, which could definitely come in handy.
Battery life and connectivity
Battery life
The Nokia Lumia 625 has a 2000 mAh battery. That's a lot bigger than the 1300 mAh battery in the Nokia Lumia 620 and is even bigger than the juice pack in the newer Nokia Lumia 635. In fact it actually matches the battery size of the Nokia Lumia 1020.
However it's not removable and given the screen size it's justified in having a bigger battery than the 620.
Thankfully, the Lumia 625 seems to have far better battery life than the 620, despite that sizeable screen sapping it. In general mixed use we never felt in danger of running dry before the day was up, and for light to moderate use it could probably keep going for a couple of days.
Nokia claims that the battery can manage up to 6.5 hours of video or 90 hours of music playback, which sounds more or less fair based on the performance we experienced.
As always, we put the phone through a battery test where we turned on Wi-Fi and push notifications, set the screen to full brightness and played a 90-minute video starting from a fully charged battery.
By the end the Lumia 625 had dropped to 79% – which is pretty close to the performance of the Nokia Lumia 925 and a lot better than the Lumia 620, which had dropped to 64%.
The Nokia Lumia 625 still doesn't have amazing battery life, but it should be enough for most users and is easily comparable to or better than most other smartphones. In fact the increased battery life is one of the few real reasons to opt for it over the Lumia 620.
As with other Lumia handsets there's also a battery saver mode which stops things running in the background, to help you eke extra life out of it.
Connectivity
The Nokia Lumia 625 has a variety of connectivity options, including Wi-Fi 802.11 b/g/n, HSDPA at 42.2 Mbps, HSUPA at 5.76 Mbps, Wi-Fi hotspot support, Bluetooth 4.0 and GPS.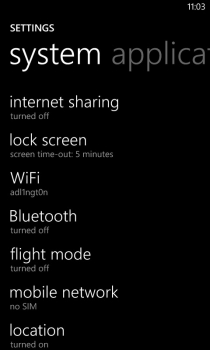 However the headline feature is 4G, as this is still one of the cheapest phones available that can actually get a 4G signal.
For anyone who wants 4G on a tight budget that's quite a big selling point, but there are a growing number of similarly priced 4G handsets.
All of the connectivity toggles can be found in the main settings screen and some of them can be accessed from Action Center once you update the handset to Windows Phone 8.1.
Getting content to and from the Nokia Lumia 625 is done by plugging it into a computer. You don't need any special software; you can just dive straight into the folders, so it's easy enough to do.
Maps and apps
Maps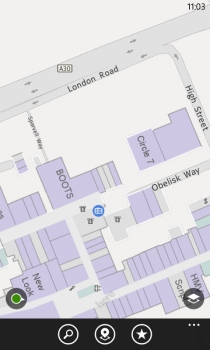 The Nokia Lumia 625 comes with HERE Maps and HERE Drive. The former is mapping software while the latter is a sat-nav and both are pretty good at their respective jobs and free to use.
HERE Maps very quickly locked on to our location every time we used it, and can get directions and highlight local businesses and points of interest.
You can also view a satellite image of an area, see public transport lines and even view traffic information from the map itself.
It's fairly plain, and we're not huge fans of the washed-out colour scheme, but it works well.
HERE Drive works quite well too. You can download maps for use later so that you won't need a data connection when out on the road, you can set up specific commutes allowing the app to warn you of traffic and suggest alternate routes, and it's all round easy to use, giving you a clear display that's simple to follow when driving.
Apps
The app selection on the Nokia Lumia 625 is standard Lumia fare. There's an alarm clock, calculator and calendar, all of which work much as you'd expect and in the case of the calendar allows you to import data from linked accounts.
There are also a couple of fairly pointless inclusions in the form of Angry Birds Roost, which basically just gives you access to Angry Birds wallpapers, ringtones and the like and 'World of Red Bull' which has a variety of Red Bull sponsored extreme sports videos and news stories.
The two most interesting apps are OneNote and Office, which are mobile versions of these Microsoft applications.
They're stripped down a little from the desktop versions, but they both work pretty well and could come in handy if you plan to use your phone for work and already use either of them on your computer.
One app that wasn't pre-installed on our review handset but which may come with release versions, given that it's advertised on the Nokia Lumia 625 website, is JobLens.
It's a tool for finding jobs, as you might have guessed from the name. You can link your Facebook and LinkedIn accounts to it to find jobs in your network, or just do a blanket search.
You can then view job locations on a map, allowing you to look for work in very specific areas. It's definitely a handy tool, but when it comes to actually applying you'll probably want to switch the phone for a computer.
There aren't a huge amount of apps pre-installed on the Nokia Lumia 625 then, but much of what's there is genuinely useful and you can always get more from the Windows Phone Store, though the selection is a little more limited than on the Android or iOS stores.
Verdict
The Nokia Lumia 625 is a bit of a mixed bag. In some ways it's a definite improvement over the Nokia Lumia 620 – thanks to better battery life and 4G support. But in other ways it's actually possibly worse. The screen for example, while bigger, is a lot less sharp and the price tag is a little higher.
We liked
The Nokia Lumia 625 has quite good battery life and 4G support. Those are probably the two biggest things going for it. It also has a good music player and handles contacts and social network integration superbly – but then so do all Windows Phone 8 handsets.
It's a fairly snappy performer despite having quite low specs and the inclusion of a microSD card slot is appreciated, but it's kind of necessary given that there's only 8GB of built in storage.
We disliked
We've been debating whether the screen size is a good or a bad thing, but given the low resolution we're inclined to say that for most people a smaller screen would be preferable. The fact that the large screen adds weight, bulk and presumably price to the phone isn't ideal either.
The camera isn't great and the dial pad could use some work, but really the screen coupled with the price tag are the main issues.
Final verdict
We're not really sure who the Nokia Lumia 625 is aimed at. For most people the negative qualities of the screen would probably outweigh the positives, which given that you could snap up a Nokia Lumia 820 or a Moto G (2014) for similar money makes it a bit of a hard sell.
If you really want a big screened Windows Phone 8 handset on a budget then it's worth considering but the resolution lets it down. Its 4G credentials could also be a selling point but the Lumia 820 supports 4G too and shouldn't set you back much more and since the Lumia 625's launch various other affordable 4G phones have arrived.
If neither of those things is a concern then you'd be better off saving your money and getting a Nokia Lumia 620, which worse battery life and lack of 4G aside is probably a better phone.
The Lumia 625 isn't bad, but it's not great either and with the Lumia range as crowded as it is there's not really a place for it.