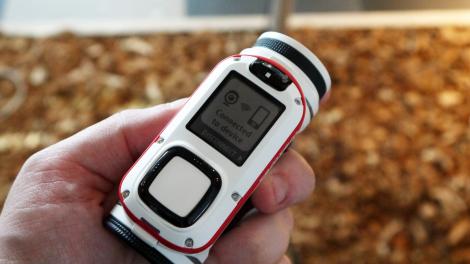 No, that isn't a Star Wars droid you're looking at, but it might be the action camera you're looking for. This is the Bandit, TomTom's new GoPro rival and bold venture into new waters.
It might sound like a strange move for one of the world's leading sat nav companies to make, but TomTom started down this road with the launch of its 2013 Runner watch and the subsequent sports wearables that have followed.
The Bandit doesn't just want to be better than the GoPro at quality high-octane video capture, it also wants to make the entire user journey of capturing, editing and publishing as streamlined as possible. But before we get onto that, what's the Bandit actually like in the flesh?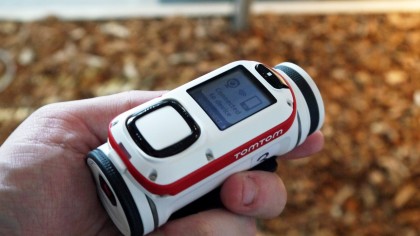 Design
The red and white pattern does have the look of something from the Star Wars universe (R4-E1, if we're really putting our finger on it). It's compact but weighty – not dissimilar in size to the Sony AS-100V or GoPro Hero4 – and feels like it could take a tumble without flinching.
It's also been designed to use the same type of one-touch button TomTom uses on its running watches. Most of your direction interaction with the Bandit happens through this four-way directional pad, the rest takes place on your smartphone. There's also a small red button on the bottom that's used for turning the device on.
Anyone who's used a TomTom sports watch will also notice that the Bandit uses a very similar interface.
Features
TomTom's baby (which costs £309/$399) can capture 1080p video at up to 60fps and 4K at 15fps, as well as 16MP photos. You've also got a range of modes like burst and time-lapse to choose from.
As I mentioned earlier, TomTom's all about streamlining the creative process. As such, the Bandit has a built-in media server which eliminates the need to download your footage before you edit it.
Meanwhile the in-camera motion sensors and GPS (of course it features GPS) help to pick out the most exciting bits of your footage, using a combination of acceleration, G-Force and your own heart rate (if you're paired with a monitor).
Those moments will then be tagged with colourful icons when you're sifting through the footage, helping to hasten the editing process. You can also tag highlights manually with a button on the camera itself.
Speaking of the editing, the smartphone app has a nifty feature that lets you shake it to make a movie. The app will find the first and last clips you took in a session and then randomly order the ones it feels are most exciting and place them in between.
Early verdict
Considering this is a brand new territory for TomTom, it's done an impressive job with its first action camera. Furthermore, its aspiration to streamline the capture-to-publish process should be commended, and we're looking forward to properly putting it through its paces down the road.
The Bandit has the potential to be a product that gives GoPro a run for its money, but it comes from a company that's yet to form a reputation in action cameras. Can it make a dent in this market? We can't wait to put it to the test and find out.
We're still collecting our thoughts on the Bandit and will update this further soon.