Introduction
These days, if you're in the market for a home-use laptop, you're more than likely to purchase a convertible laptop-tablet hybrid. However, business users have been given very few solid convertible options from which to choose. Lenovo, the pioneer of the convertible space, has sought to remedy that with its ThinkPad Yoga line.
The newest edition to the lineup, the Lenovo ThinkPad Yoga 15 (starting at $929/£598/AU$1250), offers the sturdiness and performance of a mobile workstation with the flexibility and style of devices like the Lenovo Yoga 3 Pro and the Microsoft Surface Pro 3.
However, because the ThinkPad 15 is bulkier and sturdier than its lighter and sexier counterparts, it's best compared to the HP Envy 15 x360, which features a similar convertible design, and the 15-inch MacBook Pro with Retina, which is the mack daddy of business class consumer laptops.
Design
What you'll immediately love about the ThinkPad Yoga 15 is that it is capable of shifting between Laptop, Stand, Tablet and Tent modes, while automatically switching your system settings and locking your keyboard when necessary.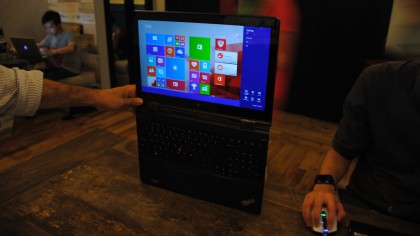 This means your screen can flip 360-degrees from closed to Tablet mode, and your hardware keyboard will deactivate in Tablet mode so that you don't accidentally disrupt your navigation or content consumption.
Unfortunately, there aren't many use cases for a 5.1-pound (2.3kg) tablet. Although the laptop is thin, at just 0.8 inches (21mm) its bulk makes it somewhat clumsy when trying to flip the screen back and over. This isn't an issue if the notebook is sitting on a desk, but if you're standing, or using the laptop on your lap, you'll wish you had a smaller 11- or 13-inch device.
By comparison, the HP Envy 15 x360 weighs 5.3 pounds (2.4kg) and is 0.94-inch thick (about 24mm), while the Apple MacBook Pro 15-inch with Retina weighs a much more manageable 4.49 pounds (2.04 kg), and is only 0.71 inches thick (1.8 cm). However, the MacBook doesn't have the convertibility of the Envy and the Yoga, so you'd be sacrificing flexibility for portability.
The two metal hinges connecting the display to the ThinkPad Yoga 15's base are incredibly sturdy. However, because the upper panel weighs so much, when you try to put the laptop in Tent or Display mode, the hinges give just a bit.
The laptop is built with a black magnesium-alloy frame and a plastic vent-heavy bottom plate. The top plate feels sturdy and is extremely resistant to scratches and dust. After more than a week of transporting the device from workspace to workspace, I didn't accumulate one speck or scratch.
The bottom of the laptop is less sturdy than the lid, but the plastic bottom does serve a purpose: after more than several hours of use, I didn't feel any heat emanating from the unit. The same could not be said about the aluminum bottom of the MacBook Pro.
The 15.6″ Full HD (FHD) 10-point multitouch display is quite vibrant. Colors are bright and detailed, and the added width and height will ensure that you don't regret going with a smaller model. Although navigating a 15.6-inch touchscreen can be burdensome at times, the DragonTrail display was super-responsive and incredibly accurate.
The spill resistant keyboard sports Lenovo's signature AccuType curved keys, of which I'm not a fan. Nor am I too fond of the three buttons at the top of the clickpad, which – as I've noted in other reviews – just get in my way. As I experienced with the Lenovo Yoga ThinkPad 12, the clickpad is the perfect size, it's incredibly smooth and I found it to be accurate right out of the box.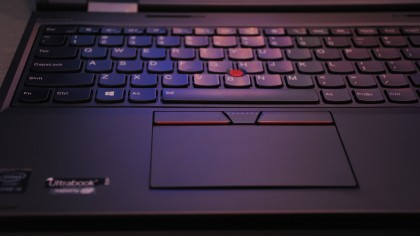 The added number pad, which can't be found on smaller ThinkPad Yoga units, is a coup for business users who are forced to input heavy amounts of data throughout the day.
Specs and performance
In terms of specifications, the ThinkPad Yoga 15 is perfectly priced at $929. The fifth-generation Intel "Broadwell" chips can be upgraded to Core i7 for about $150 extra. I found the 2.20GHz in my device to be speedy enough to get me through a few days of work, and plenty of Netflix binging. However, the machine did sputter when I ran several benchmarks.
The 8GB of RAM and 150GB of storage on the review unit isn't going to wow anyone, but the device can be compromised a bit to reduce the RAM to 4GB in order to cram in 500GB of storage.
You've got all the ports you'll likely need to get you through a workday. The absence of an Ethernet port is annoying, but we're all just going to have to get with the times and accept that adapters and docking stations are the norm these days.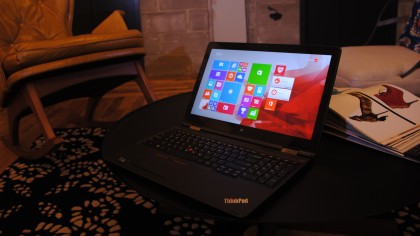 Here is the Lenovo ThinkPad Yoga 15.6 configuration given to TechRadar for review:
Spec sheet
CPU: Intel Core i5-5300U (Dual-Core, 2.20GHz, 3.0MB cache, up to 2.9GHz with Turbo Boost)
Graphics: Intel HD Graphics 5500
RAM: 8GB
Screen: 1920×1080
Storage: 150GB SSD OPAL2
Ports: 2 USB 3.0, 1 USB 2.0, HDMI, 4-in-1 card reader (MMC, SD, SDHC, SDXC)
Connectivity: Intel Dual-Band Wireless – AC WLAN + Bluetooth 4.0
Camera: HD 720p
Weight: 5.07 pounds
Size: 15.07″ x 0.82″ x 10.07″
Although the Yoga doesn't pack as much power as the MacBook's 2.2gHZ Intel Core i7 processor, it's got a much newer and better chipset than the Envy, which is still powered by Intel's previous generation Core i5 processor.
If you upgrade to the highest level ThinkPad Yoga 15 you will receive a processor that is on-par with the MacBook Pro, and you'll spend about $1,000 less than you will with Apple. However, the MacBook Pro has a much higher resolution screen that is much more suitable for graphic designers, videographers and photographers.
Benchmarks
3DMark: Cloud Gate: 5,676; Sky Diver: 37,115; Fire Strike: 1,448
Cinebench CPU: 251 points; Graphics: 51 fps
PC Mark 8 (Home Test): 2,357 points
PCMark 8 Battery Life: 5 hours and 7 minutes
In our suite of benchmarks, the ThinkPad Yoga 15 proved itself worthy of any head-to-head comparison with the Envy 360 and the MacBook Pro. The ThinkPad Yoga demolished the Envy in the 3DMark graphics test, with a Fire Strike score of 1,448, compared to the Envy's 504 points.
In the PCMark 8 test, the ThinkPad finished with an impressive speed that merited 2,357 points, which is comparable to the Envy, which scored a slightly lower 2,322.
Battery life is where the ThinkPad gets to flex its muscle against the Envy. The latter only scored 3 hours and 53 minutes in the PCMark 8 battery test, whereas the Yoga 15 made it to 5 hours and 7 minutes. In real-life testing, the Yoga 15's battery lasted for 9 hours and 35 minutes of video playback with the screen brightness and the volume set to 50%.
Compared to the MacBook Pro, which scored a whopping 310 points, the Yoga scored a slightly lower 251 points in the CineBench CPU test, which measures the processor's performance across multiple programs and tasks. Unfortunately for the Yoga, the MacBook was able to stay powered for 12 hours and 4 minutes on a similar video test, a difference of almost three hours.
Verdict
You've got to credit Lenovo for attempting to provide business users with a flexible, hybrid laptop in a large format that doesn't sacrifice performance. However, the heft and size of the ThinkPad Yoga 15 begs an important question: is a 15-inch convertible something anyone really needs?
We liked
If you like large laptops and don't mind some extra weight, there's not much to dislike about the Lenovo ThinkPad Yoga 15. It features a stellar 9.5 hours of battery life. It's got a pretty FHD screen that's housed in a gorgeous and durable magnesium alloy chassis. It packs enough ports to get you any connection you might need. And its performance is on par with similar devices in this class.
We disliked
Unfortunately, a 5-pound laptop is essentially a portable desktop. You won't want to drag this device around, and if you do, you likely won't use it in Tent or Display mode because of how clunky it is. Given that it weighs so much, its performance should be more in line with much faster, much more powerful, and much more expensive mobile workstations. So, if money is no object, and you don't mind a heavy laptop, and you don't need convertibility, then you're better off getting a mobile workstation.
Final verdict
The Lenovo ThinkPad Yoga 15 is a dynamite device that is capable of being many different things. It's a powerful laptop with a sturdy design that can be flexed into multiple different positions. It has a gorgeous screen, a solid trackpad and a healthy selection of ports. If you don't mind a few extra pounds, then this hybrid is ideal for the business user who seldom needs portability, but enjoys having the option.