Introduction
The long-time baby of HP's ProLiant server family has finally been given a Gen8 makeover, with a smart new look and all-new internals to bring it up to current standards.
Intel rather than AMD silicon becomes the order of the day here, with a choice of processor accompanied by up to 16GB of ECC-protected RAM, on-board RAID, a couple of Gigabit network ports and USB 3.0 support. It even gets an integrated HP Lights Out (iLO) management controller, further enhancing the appeal of this popular SME platform.
Update 22/5/2015: Until the end of the month, you can buy that Gen8 server for £120 after cashback (or £180 sans), less than half its suggested retail price and by far the cheapest new server in the country (although you still need a hard disk drive and an OS). Since its release almost a year ago, there has been a raft of firmware updates with the latest being in April 2015. Well worth a quick update if you own one.
More than skin deep
Previous MicroServers were basic affairs that were clearly built to a price to appeal to enthusiasts as well as small business buyers. The new Gen8 model, however, is a much more substantial product with a great deal of attention to detail and the kind of quality feel corporate buyers look for.
Some things, of course, haven't changed with the same cube format as before and a lift-off casing for ease of access secured by two thumbscrews.
The motherboard nestles in the base of the unit with the storage above, but the memory slots are easily accessible and the whole motherboard can be pulled out from the back if needed. More than that, HP has added clear labelling showing how to manage this and other hardware maintenance tasks – just as on bigger ProLiants.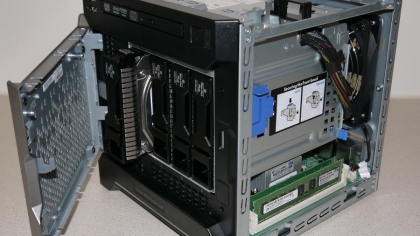 Routine access to the storage is via a hinged front door, available in red, blue, black or silver, which can be locked from within the chassis to prevent tampering, plus space for a low-profile DVD drive in the top.
A single power supply with integrated fan is built in with another larger fan at the rear to keep the processor and storage cool. Unfortunately the end result is little too noisy for an open plan office – a cupboard or separate room would be better.
Features
As with previous models the new ProLiant MicroServers have just the one processor socket with three dual-core configurations to choose from, all now based on Intel chips.
Ours was the so-called "Entry" model which meant we got a 2.3GHz Celeron G1610T (2MB cache, 35W TDP), supported by 2GB DDR3 memory. This we found selling online for around £300 (around US$510/AU$542) ex VAT while for £355 (around US$604/AU$643) you can get a "Base" model which replaces the Celeron with a Pentium G2020T (2.5GHz, 3MB cache, 35W TDP) at the same time doubling up on the RAM to 4GB.
Lastly, there's a Xeon-powered model with an E3-12202Lv2 processor (2.3GHz, 3MB, 17W TDP) plus 8GB of memory which we found advertised for £480 (around US$815, or AU$867) ex VAT.
Error correcting memory is specified across the board with just two DIMM slots available, just one of which will be populated on the standard models. The maximum you can configure is 16GB which is more than adequate for general file sharing but a little limiting if you've virtual servers in mind; something HP clearly anticipates as it provides internal USB and SD Card to enable the server to boot an embedded hypervisor from a flash memory device.
Alternatively, some buyers have ditched the slimline DVD drive and managed to fit an SSD boot disk into the space at the top of the server instead.
Storage options
Talking of storage, there are four slots to take 3.5in SATA drives cabled to an on-board HP Smart Array controller (a B120i). Disks aren't included in the price, however, and the B120i controller only supports RAID 0 striping or RAID 1/10 mirroring which means plugging another card into the single PCIe slot to get RAID 5. Easy to do, but the cost plus the lack of hot-swap support could rule it out for a lot of buyers.
As well as two front-mounted USB 2.0 ports there are two more at the back for a keyboard and mouse plus two USB 3.0 ports to either expand the storage or provide for fast backup. Two Gigabit Ethernet ports are also located just above and, for neatness, an optional fanless 8-port switch with port aggregation facilities (the HP PS1810-8G available for around £90 – around US$153, or AU$163 – ex VAT) which can be stacked underneath or on top of the new server.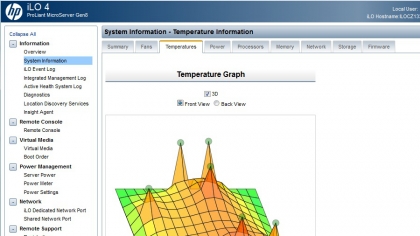 Lastly, there's HP's integrated Lights Out remote management controller (iLO4) with its own dedicated networking interface on the back panel. Previously only available via on an add-in card, this now comes as standard, enabling the MicroServer to be monitored and managed over the LAN using an intuitive browser-based interface.
It's not something you use all the time, but it's great to have there on the MicroServer, making it just like the big boys of the Gen8 ProLiant family.
Verdict
We liked
The Gen8 makeover has turned the ugly MicroServer duckling into a fully-fledged ProLiant swan with a well-designed and superbly constructed chassis that inspires confidence from the word go.
Add in the dual-core Intel processor, Gigabit networking and embedded hypervisor option and you have a competent server that can be put to all manner of uses from simple file and print sharing to email, web and even database hosting if wanted. It also makes a good platform for developers to test out their code.
We particularly like the remote management tools. Previously only available as an optional add-in, these are immediately accessible via a browser and incredibly easy to use, enabling you to both monitor server status and activity and manage the configuration. You will, however, need to upgrade the software license to get remote console and virtual media support.
We disliked
There wasn't a great deal we didn't like about the Gen8 MicroServer. The server has to be powered off to swap disks and only two of the bays are able to run at the full 6Gbps speed of the latest SATA drives, but neither is a major issue in the SME market.
If using Windows, you do need to factor in the cost of an operating system, but that doesn't necessarily apply to Linux which can be used instead, Support for more memory would be nice, too, and we would have liked a quieter fan, but that's about it as far as the gripes are concerned.
Final verdict
Virtually unrecognisable compared to previous models, the Gen8 ProLiant MicroServer is a serious and very capable small business server in a compact yet reassuringly well-engineered format.
All the hallmarks of the ProLiant Gen 8 brand are there, including support for Xeon processors, dual Gigabit networking and embedded hypervisor plus integrated Lights Out remote management as standard.
All in all, a very complete product with optional matching network switch, needing little more to finish it off.