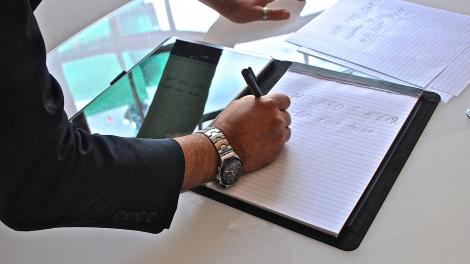 Introduction
If you're in the market for a large format, professional tablet that looks great, performs well and won't break the bank, the HP Pro Slate 12 ($529, £349, or AUS$646) is a solid option.
Competing against other business tablets, like the Dell Venue 11 Pro 7000 ($700, £437, AU$800) and the Samsung Galaxy Note Pro 12.2 ($699, £436, AU$800), the Pro Slate 12 offers better battery life and excellent note-taking capabilities.
Although it offers less stellar specs and performance than the Dell and Samsung alternatives, the Pro Slate 12 is a superb, but flawed device that illustrators, administrative assistants and anyone who takes handwritten notes will enjoy.
Design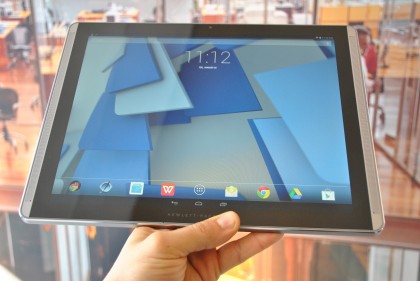 You'll love looking at this 12.3-inch device: the Pro Slate 12 is built on a gorgeous silver and black bezel with speakers that line the top and bottom edges of the slate. This impressively large tablet only weighs 1.87 pounds (840g) and is only 0.31 inches thick (7.8mm).
By comparison, the Venue 11 weighs a much more manageable 1.6 pounds (720g), but it's noticeably thicker at 0.42 inches (10.7mm). Similarly, the Note Pro weighs only 1.65 pounds (750g), but it is as slim as the Pro Slate at only 0.31 inches thick (7.8mm). So, if portability is your main concern, and you definitely want a large tablet, the Samsung device provides you with the best of what HP and Dell's devices offer.
Unfortunately, the screen features only a 1,600 x 1,200 resolution Corning Gorilla Glass display. The overall design is pretty slick, but I hate how much real estate surrounds the screen. Not only do you have about a half-inch of speaker at the top and bottom of the tablet, but there is about three-quarters of an inch of border surrounding all four sides of the active display.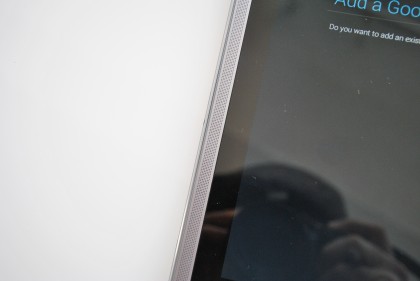 The screen is prone to severe glare, so don't expect to watch Netflix with the sun at your back. When the room is dark, the images are spectacular, but if there is any light in the background, your image will be affected.
This screen pales in comparison to the Note Pro, which packs a delightful 2,560 x 1,600 pixel display onto the same size frame. The Venue 11, which is an 11-inch device, comes with a 1,920 x 1,080 display. So, the Pro Slate isn't exactly ideal for anyone who requires image precision, like designers or photographers.
Speaking of shutterbugs, the Pro Slate 12 features an 8 megapixel (MP) front-facing camera and a 2MP rear camera. However, I doubt you'll want to take many photos on this mammoth device. You're better off using your phone for quick snaps.
Specifications and performance
Although you are probably more familiar with Windows and iOS, I suggest you give yourself a week or two with the Pro Slate's – albeit dated – Android 4.4.2 (KitKat) operating system. I prefer iOS, but the Android system is just as good for simple navigation and basic data entry.
Native Android applications, such as Photos and News & Weather, aren't as robust as Apple's, and having to register everything with Google is a bit of an annoyance, but the difference between Android, iOS and Windows won't be a hindrance for the novice or intermediate user.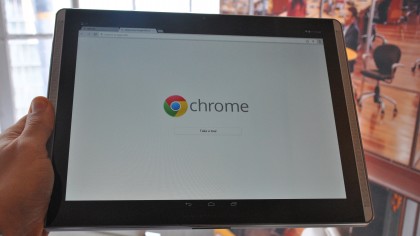 Here is the HP Pro Slate 12 configuration sent to TechRadar for review:
Spec sheet
CPU: 2.3GHz Qualcomm Snapdragon 800 (quad-core Krait 400 CPU)
Graphics: Adreno 330 GPU
RAM: 2GB LPDDR3 (800 MHz)
Screen: 12.3-inch, 1,600 x 1,200 CT-40 FIT Glass
Storage: 32GB eMMC
Ports: 1 x micro USB 2.0; 1 x 3.5mm stereo headset/headphone/microphone jack; 1 x ZIF connector with pogo pins
Connectivity: 802.11ac with antenna diversity (Miracast-enabled); Bluetooth 4.0 + LE; NFC supporting Android Beam
Camera: 8MP rear-facing; 2MP front-facing
Weight: 1.87 pounds
Size: 11.82 x 0.31 x 8.73 inches (W x D x H)
The HP Pro Slate 12 can house up to 32GB of storage and 2GB of RAM (it starts at 16GB and 2GB of RAM), so don't expect this tablet to be your primary device. If you're leaning toward using it for everyday data entry and immediate storage, you'll want to purchase extra capacity in the cloud, or an external drive.
You'll absolutely love the Pro Slate's breezy and quiet quad-core Snapdragon processor. I was able to flip between applications and tasks without any lag time whatsoever, and when I ran more energy-draining tasks, like playing Empires and Allies at full screen brightness and volume, I didn't notice any lull whatsoever.
Benchmarks
Geekbench 3 CPU – Single Core: 908; Multi-Core: 2,794
The Pro Slate's multi-core score is slightly below average. Comparable tablets, like the aforementioned Samsung Galaxy Note Pro 12.2 and the Dell Venue 11 Pro 7000, performed better, with the Note Pro 12.2 narrowly edging out the Slate with a score of 2,797.
However, the Dell tablet, which features an Intel Core M processor, wallops the Android tablets with an average score of about 5,000 on third party tests. For reference, other notable tablets on the market also trounce the Pro Slate.
The Surface 3, which also features a Core M processor, scored in the 3,300 range, and its bigger brother, the Core i5-powered Surface Pro 3 scored in the magnificent range of 5,500. Just for reference, the iPad Air 2 scores about 4,500.
So, if what you're after is a device that can multitask and run data heavy tasks, such as spreadsheeting and video editing, you're probably better off going with another tablet that benchmarks higher. However, if you're simply after intuitive data entry and long battery life, the Pro Slate 12 might be right for you.
Battery life and The Duet Pen
HP claims the Pro Slate's battery can last up to 12 hours. As is typically the case, the manufacturer's claim did not live up to our testing. However, I was able to crank out about 10 hours and 9 minutes of video playback with the screen brightness and volume set to 50%. This is solid output for a tablet, the best of which last up to 13 hours.
Compared to the Dell Venue 11 Pro 7000, which only lasted five hours, the Pro Slate is a monster. However, it performed in line with the Galaxy Note Pro 12.2, which ran for about 9 hours and 30 minutes on similar video trials. Don't forget – the Galaxy Note's screen is much sharper and more vibrant, so you should really consider this head-to-head a wash.
With the Pro Slate, you're not getting best-in-class battery life, but it will last for more than a standard day of work if you don't push it to its max – not bad for a giant tablet.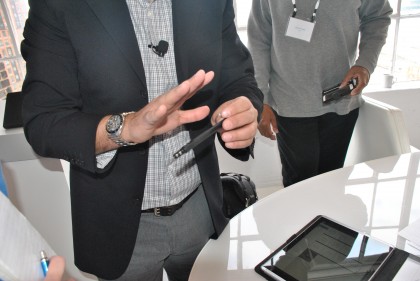 The Duet Pen
The thing you need to know about the HP Pro Slate 12 – and its little brother, the Pro Slate 8 – is that both devices can turn physical pen-to-paper drawings into digital files. The Pro Slate works along with HP's Duet Pen, which features built-in ultrasonic microphones that mimic the movements you're making when you write on a piece of paper, in order to translate images into digital files.
The Duet Pen is a rechargeable stylus that works with the HP Notes and Corel Painter Mobile apps. It also features an ink pen tip that enables you to write notes and drawings in ink on paper, which are then digitized and made accessible on the Slate.
The transition from physical to digital is simultaneous. During my testing, I witnessed no lag time and no missed spots. The written image was identical in color quality and texture to the digital copy.
What you won't love is the interference that may occur when trying to digitize notes off of slanted surfaces. Notes must be taken on a table or desk in order to be copied correctly onto the Slate. If you're taking notes standing up or on your lap, you'll likely not get an exact replica on the device.
Unfortunately, pairing the device with the appropriate app was more difficult than it should have been. The Pro Slate read the Duet Pen instantly. However, getting the application to work with the Pen was a bit more complex.
What you're expected to do is choose between "Capture" and "Notebook" modes, which is the difference between writing on a physical paper or writing a digital image directly onto the tablet. Unfortunately, the process to choose between the two requires multiple steps, none of which are spelled out in intuitive terms that speak directly to you.
For example: instead of calling them Capture and Notebook, why not prompt the user by asking them to choose between Ink and Digital? This choice is a no-brainer, whereas the terms Capture and Notebook are HP-invented, stand-in terms that you'll need to remember the first few times you open the application.
Verdict
The HP Pro Slate 12 isn't a perfect device. It doesn't have much storage or RAM, it doesn't have the sharpest screen and its processor isn't going to outperform similarly-priced devices. However, it's a beautiful tablet with a fabulous battery life that is excellent for note-taking.
We liked
The Pro Slate is a great tablet if you're looking for a bit of style and substance. Its silver and black bezel is among the nicest on the tablet market, and it's light and thin enough to fall just short of best-in-class in terms of build quality.
If you take notes all day and you need a way to keep track of your data, the Pro Slate is perfect for you. Its Duet Pen produces perfect digital replicas of your ink-written content. Although the app is a bit unintuitive, once you start writing, you'll forget about how hard it was to get started.
We disliked
I wish the Pro Slate had more going for it under the hood. With only 32GB of storage and 2GB of RAM, the Slate won't be your primary device. You'll need to purchase additional storage to fit all of those apps, photos and other data throughout the life of the device. And even if you keep the tablet free of clutter, its processor isn't fast or powerful enough to compete with similarly-priced devices.
Additionally, the low resolution display isn't ideal for viewing content, especially if your job requires you to pay specific attention to detail.
Final verdict
The HP Pro Slate 12 is a wonderful device for a niche audience. Employees who are focused on data entry, and note-taking and illustrators who need digital copies of their doodles will love the Slate and its accompanying Duet Pen.
However, if your job is a bit more labor intensive, and you need more power to help get you through the day, the HP Pro Slate 12 is not the right device for you.