Tips 1-7
Some people say the Apple Watch can't do enough yet. It is anything but a simple, feature-free gadget, though. There's about as much to its software, if not more, as there is to iOS.
There's oodles of potential. But it also means there are loads of little optimisations and features that you probably won't discover in your first week, or even month, of using the Apple Watch.
Here are TechRadar's top tips and tricks to help you get the most out of your Apple Watch.
1. Alter the app screen layout to make it less fiddly
Make the Apple Watch more entertaining to use by customising its apps screen. This is a sort of app honeycomb and apart from the clock in the dead-centre you can switch every app's position.
You can't customise this on the watch but you can in the iPhone Watch app when you click on the top entry in the My Watch tab. Its screen looks just like the Watch apps screen, letting you drag and drop the apps however you like.
2. Take screenshots just like an iPhone
Fancy grabbing a pic of the ridiculous speed you hit during a run or your high score in one of the Apple Watch's mostly dreadful games? It's a cinch, working just as it does on an iPhone. Press the power button and crown at the same time and the screen will flash, telling you the image has been saved to the Photos app.
3. The Apple Watch lets you get ahead of time
Are you one of those people who likes to set your watch 15 minutes fast so you can stay ahead of things? It's an odd little human quirk and one you can recreate on an Apple Watch. To do this, go to the Settings app and select the 'Time' menu item. Here you can set the Apple Watch's time up to 59 minutes ahead.
4. Customise your template messages
You can't type message replies on your Apple Watch and not everyone is willing to dictate to Siri what they want to say. However, you can write generic messages and send them directly from your Watch. "OMG", "LOL" and, "Sorry I'm shampoo'ing my poodle" should sort most people out.
You can define these messages in the Watch iPhone app, in the Messages section under the My Watch tab. The bit you need is called Default Replies.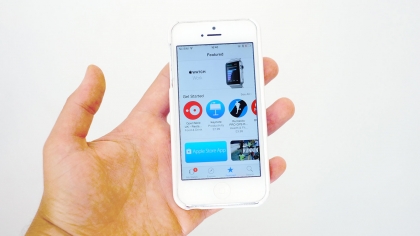 5. Customise the watch face
Altering the watch face is the best way to customise your Apple Watch without accessories. There's a handful preinstalled. Just press down on the watch face and you'll be taken to a list of available ones.
Under each face preview you'll see a customise button. This lets you tweak parts of the watch face. The customisable areas are highlighted in green and you can switch between each of the settings with a flick of the crown.
6. Measure your heart rate without using an app
Initially it seems like you can only measure your heart rate from within the exercise app, but there is — shock horror — another way. Just swipe up from the watch face then flick right-to-left a couple of times until you see the heart rate reader screen. Tap the screen and the Watch will read your heat rate. Simple.
7. Use Apple Pay to buy things in the US and UK
Did you know Apple Pay is available in the US and UK? Of course you did! Simply set up Apple Pay on your iPhone and away you go. You can pay using your Apple Watch at any contactless payment terminal.
In the UK you can even use it to replace your Oyster Card on TfL services.
Tips 8-17
8. Track your runs and rides
The Apple Watch doesn't have inbuilt GPS so if you want to use it as a GPS run/cycle tracker you'll need to have a phone connected. Simply get a GPS-using app installed, keep the phone with you during a run and you're away.
Good exercise tracking apps with Watch support include Runkeeper, Nike+ Running, Map My Run and Strava.
9. Multitask and quick-loading apps
You don't have to laboriously trawl through the apps menu every time you want to run something. Instead, quickly double-tap the crown to run the last app you used. This same gesture can be used to switch between two apps used in the same session. Who said the Apple Watch can't multitask?
10. Use power reserve mode to get better stamina
The one aspect of the Apple Watch a lot of people complain about is battery life. However, if you really need it to last a good old while and don't mind trading away features, you can use Power Reserve. It'll pop up when you hold the power button down for a couple of seconds and transform your device into an ordinary watch.
11. Customise notifications
You can pick which notifications ping on your Apple Watch in the Watch app. Just go to the My Watch tab and select Notifications. At the bottom of this screen you can flick an app's notification access on or off depending on your preference
12. Transfer music to your Watch
Did you know you can play music locally on an Apple Watch? There's 2GB you can use for music, which you can hook up to a pair of Bluetooth headphones to listen to tracks.
To transfer tunes, they'll need to be part of a playlist. Go to the Music area in the My Watch part of the Watch app where you'll see a Synced Playlist menu that lets you pick playlists to move over. Your Watch needs to be hooked up to a charger to sync so do that first.
13. Perform a hard reset
If you want to restart Apple Watch's software, hold down the power button and digital crown together for a handful of seconds. It's the simplest way to try to solve Apple Watch performance issues.
14. Use your Watch to find your iPhone
Could this be the Apple Watch's killer app? You can use it to fire off a sound from your iPhone's speaker, making it much easier to find. From the watch face, flick upwards and then press the phone icon at the bottom of the screen. It then emits a sound, but just a quick one. Not an awful, embarrassing alarm.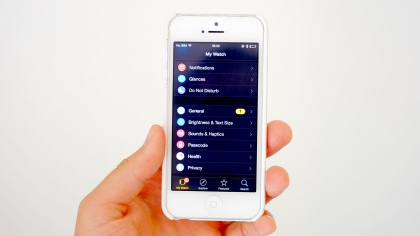 15. Buy a third-party strap to save money
Apple makes nice gear. We all know that. But it's also dead expensive. If you bought an Apple Watch Sport edition and want to class it up, it's worth checking out somewhere like Mobile Fun, which offers loads of third-party straps. Some are dirt cheap, others are very high-quality but still a fair bit cheaper than Apple's wares. A good option is the Baseus Milanese strap at £69.99.
16. Long-press the crown to wake Siri up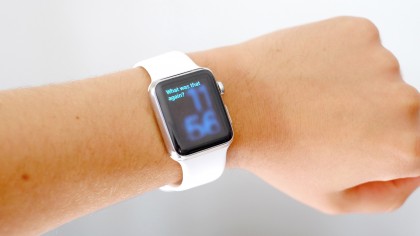 Want to talk to Siri? Just long-press the digital crown to wake her up. Things you can ask Siri include where to find the nearest restaurant, how many calories there are in a Mars bar, and when Winston Churchill was born. Useful, every-day knowledge, right?
17. Control Apple TV
The Apple Watch can't control just any TV, but it can control any Apple TV box. It's easy because you can basically use the same media controls for your iPhone. It's done using an app you may have totally ignored to date: it's called Remote and looks like a white triangle in a blue circle.