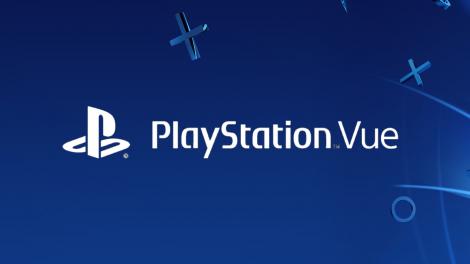 PlayStation Vue review
Update: Showtime's new standalone streaming service is coming to PlayStation Vue.
Sony's had a mixed year of PlayStation software launches. From the outlandishly-priced PlayStation Now to the much-improved PlayStation Music that replaced Music Unlimited in March, it seems like new releases are either falling flat on their face or hitting it out of the park, with only a product or two landing in between.
PlayStation Vue, the new live TV streaming service that intends to compete with Sling TV and the (assumed) upcoming Apple TV service, had all the makings of a home run. It has loads of content (over 80 channels if you shell out for the "elite" package), is able to record an unlimited amount of live TV for up to 28 days and uses something 20 million people already own, the PS4.
So what happened?
For better and worse, PlayStation Vue copied some of cable's foibles and faux-pas, and yet succeeds in some ways the big services simply cannot. Vue introduces new headaches, like dealing with download speeds; while alleviating some of the problems that plagued cable, like service fees and inescapable contracts. Vue gets content recommendation on a level that few services seem to understand, while at the same time failing to completely give you everything you want in one affordable package.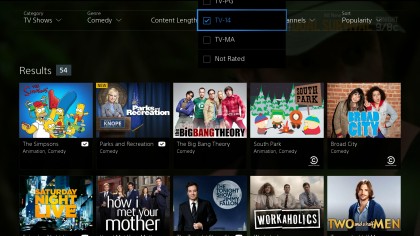 Parlez-Vue PlayStation?
Before we dig deep into the pros and cons of Sony's wannabe cable killer, let's spend a minute on what PlayStation Vue is and how it works.
PlayStation Vue is a US-only cable service that takes both traditional cable channels and over-the-air content from sources like NBC, CBS and FOX and combines them into a single app for PlayStation 4, PlayStation 3 and iPad.
So far Sony only sells three types of packages that vary in price and amount of channels, starting at $49 a month and goes up to $69 for the all-inclusive pass. It's worth noting that, because the service depends on local cable stations for content from NBC, CBS and FOX, Sony needs to individually negotiate with each station before bringing the service to a new location. So far, Sony has made deals in Philadelphia, New York and Chicago.
Here are the packages in full detail:
Access package – $49 a month – CBS, COZI TV, myTV, NBCm Telemundo, AMC, Animal Planet, BET, Bravo, Cartoon Network, CMT, CNBC, CNN, Comedy Central, Destination America, Discovery, Discovery Family, DiY, E!, Esquire, Food Network, Fox Business, Fox News, Fox Sports 1, Fox Sports 2, FX, FXX, HGTV, HLN, Investigation Discovery, MSNBC, MTV, MTV2, National Geographic, NBC Sports Network, Nick Jr., Nickelodeon, Nicktoons, OWN, Oxygen, Science, Spike, SyFy, TBS, TLC, TNT, Travel, truTV, TVLand, USA, VH1, WeTV
Core package – $59 a month – Everything from the Access package, plus BTN, BTN Alternative, Golf, IFC, Sundance, TCM and YES
Elite package – $69 a month – Everything from the Core package, plus AHC, BET Gospel, Boomerang, Centric, Chiller, Cloo, CMT Pure Country, CNBC World, Cooking, Discovery Life, Fox College Sports Atlantic, Central, Pacific, FXM, LOGO, MTV Hits, MTV Jams, MTVU, NatGeo Wild, Palladia, Sprout, Teen Nick, Universal, Velocity, VH1 Classic, VH1 Soul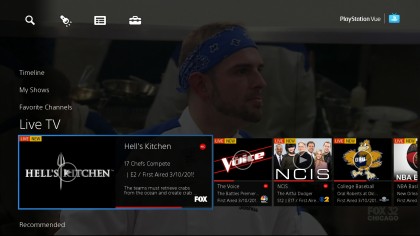 Sony has also told us that it will add a channel for PlayStation originals – like Powers – once it ramps up production in the coming year.
Like Sling TV, PlayStation Vue requires that your device be connected to the internet while watching and speeds of at least 10Mbps to get a full-resolution, uninterrupted picture.
Device support
Right now, PlayStation Vue is only on the PS3 and PS4, with an iPad version en route in the next few months. To download it, though, you need to live in one of the three markets – Philadelphia, New York or Chicago – and have a valid credit card on file with Sony.
If you own any of Sony's other devices like the PlayStation Vita or PlayStation TV, however, you're out of luck. Sony has told other outlets that while there's a chance Vue will end up on these platforms eventually, it probably won't happen anytime soon.
Interface
PlayStation Vue's interface is exactly what you'd expect from a Sony-made app. There's menus for live TV, recommended content, your favorite shows, as well as a traditional TV guide. Everything on the menu with the exception of the guide is arranged in tiles on a grid, creating a sense that Sony's placing more about the show than its source.
The interface, while not the most intuitive in the world, is serviceable. Trying to browse for shows through the guide takes a bit longer than I would've liked, as Vue only shows four or five channels' worth of content at a time, but eventually you'll get where you want to go.
Performance
PlayStation Vue, like Sling TV, Plex, Netflix and every other streaming service, can only do so much to create a seamless experience. The rest really falls upon your home network.
If you have a slow internet connection – let's say, 5Mbps or less – you can probably expect a lot of hiccups, stuttering and low-resolution video. Stepping up to around 10Mbps will net you a solid connection and will almost guarantee a solid connection, but a lower-than-average resolution.
It's not until you get to the 15-20Mbps range through a wired connection to your router that things really start to look good on PlayStation Vue. If you already have that level of internet service coming into your home, great. Just make sure your PS4 is either in range of the router or you have the ability to hardwire your system.
Final verdict
Once you've got your home network up to par, PlayStation Vue is an actually fun – if not always practical – way to watch TV. Using cloud DVR to record shows for up to 28 days means you won't have to fight with your significant other for space on the TiVo while the recommendations will continually push new and exciting content in front of your face.
But ultimately, because packages start at $49 for 45 channels you may or may not want to watch, you might end up overpaying for content. Also, keep in mind that at least four or five of those channels are available over-the-air for free with a digital tuner and antenna.
If you already own a PS4 or PS3 and a relatively fast internet package, and plan to use the iPad functionality when it becomes available, then PlayStation Vue could be one solution for you to cut down on the cable bill. If you aren't in that situation or are just trying a cable alternative for the first time, PlayStation Vue is merely a lively alternative to the better, prime time-ready options out there.