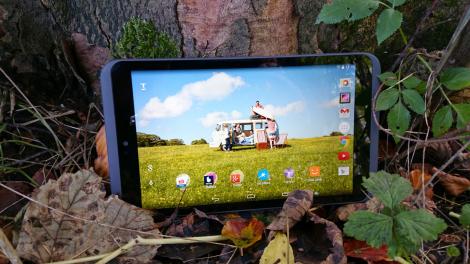 Introduction and design
It doesn't take a huge wad of cash to secure an Android tablet nowadays, but the experience at the budget end of the market can be frustratingly bad. It was only a matter time before someone aside from Google managed to produce a halfway decent, budget tablet, offering the full Android experience, but who knew it would be Tesco?
Step aside Google, out of the way Amazon, it takes a British supermarket to show you how to make a jaw-droppingly cheap tablet that's actually desirable. If you're looking for a tablet for the kids, something cheap to use around the house, or an affordable option for the tablet-virgin in your life, the Tesco Hudl 2 is going be downright impossible to ignore.
This is an accessible device with an HD display, solid build quality, and almost unadulterated Android 4.4 KitKat – although it looks highly unlikely that this tablet will be getting Android Lollipop anytime soon.
You won't be shocked to find that the Hudl 2 costs less than half the price of the iPad mini 3, but it's also much cheaper than the Nexus 7 – which also isn't getting the latest Android update, although it did get a taste of Lollipop. Every little helps indeed.
The Kindle Fire HDX, another competitor, has had a price drop down to £149, giving the Hudl 2 a fierce run for its money.
Building on the success of the original (and now discontinued) Hudl, Tesco's Hudl 2 is bigger and better in almost every way. There's a larger 8.3-inch HD screen, a quad-core processor that Tesco claims is three times faster, double the RAM at 2GB, and a slightly improved 5MP camera.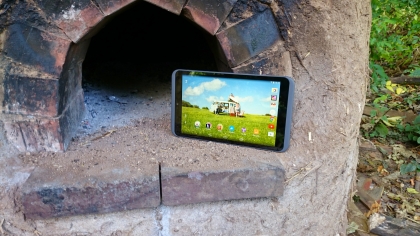 I did not expect to be charmed by the Hudl 2. It now only costs £99 (it launched at £129), it has a stupid name, and it's part of Tesco's bizarre plan to make and do everything. It was with some reluctance, reticence, and even regret that I put my Nexus 7 (2013) aside and took up my new tablet. Hudl round and allow me to explain how Tesco's tablet won me over.
Google's first Nexus 7 tablet made the smaller tablet form factor fashionable, but just as smartphone displays are growing consistently larger, so are tablets.
When Apple decided to enter the smaller tablet market it chose to make the first iPad mini's display 7.9 inches. Tesco takes the trend slightly further with an 8.3-inch display in the Hudl 2.
That display is the first thing you're going to notice taking the Hudl 2 out of the box and it makes a great first impression. The resolution has been significantly boosted to 1920 x 1200 pixels. That's a full high definition screen that matches the Nexus 7 (2013) resolution.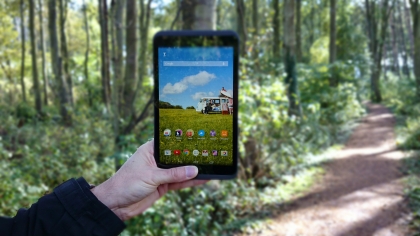 Colours are rich and vibrant, text is sharp and easy to read, and you can happily watch movies, game, or read on it for hours.
It feels like quite a big tablet if you're coming from the older Hudl or a Nexus 7. The Hudl 2 measures 224 x 128 x 9mm. If you hold it in landscape then it's much wider and slightly slimmer than its predecessor, but exactly the same height. It's also pretty heavy at around 410g, compared to 370g for the original Hudl, and just 290g for the Nexus 7 (2013).
I can hold the tablet one-handed for short periods, but if you're reading or watching a movie you'll want to prop it or your arm is going to get tired. Two hands are obviously a necessity for navigation.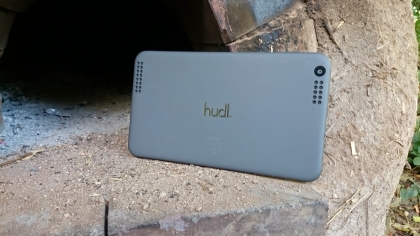 It does feel nicely balanced and it's satisfyingly slim. The soft touch coating on the back wraps around the sides adding grip and making it very comfortable to hold.
It feels most natural to hold it in landscape and the larger bezels at either end make this easy to do without obscuring the screen.
Flip around to the back and you'll find a metallic embossed Hudl logo in the centre. Two fairly large speaker grills dominate either end and the camera lens sits above the right speaker grill at the top corner.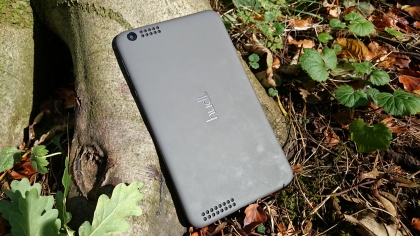 Still holding it in landscape, the left edge of the Hudl 2 plays host to a standard 3.5mm headphone port. The right has the micro USB port for file transfer and charging.
Up top there's a volume rocker with a power button just beneath it. The buttons are plastic and they have a decent amount of travel. It's not hard to find and use them in the dark.
The bottom edge includes an open microSD card slot for storage expansion with cards up to 32GB in size. It looks a little odd that the port is open and you can expect a bit of dust collection if you don't use it, but it's fairly unobtrusive.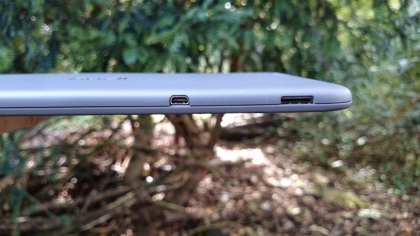 Further along towards the middle of the bottom edge there's a surprise micro-HDMI out connection so that you can plug your Hudl 2 directly into your TV. This is a rarity on tablets nowadays and it's one that some people will appreciate because it makes it very easy to play content from your tablet on the big screen.
The Hudl 2 feels surprisingly premium and it looks good too. I had the black model for review, but you can add some colour if you prefer as it's available in blue, turquoise, orange, pink, purple, red, or white.
Based on the design alone I would never have guessed that this tablet was so cheap.
Key features
There's little doubt that Tesco will shift truckloads of these over the holiday season and the key reason for that is the price.
The Hudl 2 now costs just £99. You can also use Clubcard points to get money off. In fact Tesco's Clubcard boost can turn every £5 of Clubcard vouchers you have into £10 towards the Hudl 2. For regular shoppers looking for something to spend their vouchers on, this is a seriously tempting tablet.
As an extra incentive you'll find some freebies in the box to help you explore Tesco's ecosystem. There are vouchers for £10 off movies, £10 off ebooks, and another £10 voucher for a month's free music trial, all through Blinkbox.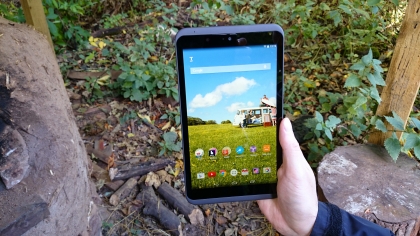 There are rumblings about the future of Blinkbox amid Tesco's financial difficulties, but they are just rumours. What I do know right now is it's a decent library of content and it's very easy to use.
You'll find a large selection of the latest movies and TV shows on offer. I think £3.49 for a rental or £9.99 to buy a movie like 300: Rise of an Empire is too expensive, and so is £1.79 per episode or £16.99 for a series of Game of Thrones. But you can rent older movies for as little as 99p and there are some discounted TV shows as well.
While they can't match Blinkbox's newer content, it's worth remembering that you can get access to unlimited streaming from Netflix or Amazon Instant Video starting at £5.99 per month.
On the music front, Blinkbox offers more than 12 million tracks, which puts it in contention with Spotify, Deezer, and the rest of the music streaming gang. There's a free ad-supported version of Blinkbox Music, but there's also a £1 a week option that gets rid of ads and allows you to create playlists (up to 100 songs). It looks very competitive for the budget conscious.
You'll also find a smattering of Tesco apps with money off Tesco Direct, the F&F clothing range, and Tesco Photo when you spend a certain amount.
Put all of this together and the Hudl 2 is a really great prospect for Tesco shoppers.
Another key feature that sets the Hudl 2 apart from the crowd is the deliberate family feel. This is a mass market device that could be used by anyone.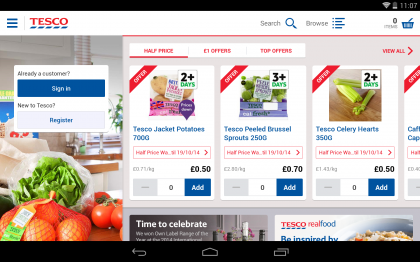 There's a Get Started app that explains how to use the tablet in terms that your Luddite grandfather will understand. There's also a Top Apps selection highlighting Tesco's suggested picks. Naturally Blinkbox is front and centre, but refreshingly they do actually suggest some other competing services that are worth a look.
Best of all there's a Child safety app that allows you to set up profiles for your youngsters and manage exactly which apps and websites they can access.
It automatically configures based on your child's age, but they can request access to certain websites and you can tweak categories or make exceptions. Whenever you install a new app it will ask you which profiles should have access to it.
It also enables you to set time limits for usage. You can choose specific times or allocate a number of minutes. There are other apps out there that handle this kind of thing, but Tesco's offering is really nicely laid out and extremely simple. It compares well.
If you're feeling a bit of Tesco overload by now, it's important to remember that none of this precludes you from using whatever you want from the wonderful world of Android.
All of Google's apps are present and correct on the Hudl 2 and you can snag whatever you like from the Play Store.
Interface and performance
The Tesco Hudl 2 runs Android 4.4.2 and it's basically stock Android, just like Google's Nexus tablets. Remember, it's very unlikely that Tesco will update this tablet to Lollipop, let alone the future version, Android M.
All Tesco has done is load its own smattering of apps and the My Tesco launcher, so perhaps you won't miss the update too much. The launcher has some Tesco widgets pointing you at Tesco content and a basic app drawer.
You can't uninstall the apps, but you can disable them. You can also download a new launcher, such as the Nova Launcher and make it the default instead of My Tesco launcher.
For many people the Hudl 2 will be their first Android tablet and it is clear that Tesco has acknowledged this with a bright and welcoming interface that greets Hudl 2 owners when it is first turned on.
The bright and cheery welcome you get promises to help take you through the process of setting up the Hudl 2, including connecting to Wi-Fi and setting up a Tesco account.
It's a nice touch for people who have never set up an Android device before, although it's a shame that some of the steps you're taken through revert back to the standard Android interface, leading to a bit of inconsistent experience.
Once set up you're brought back to the bright and cheery Hudl interface, and a short animated introduction to the features of the Hudl 2 are shown.
The main interface is essentially stock Android. You have three home screens to begin with, but you can add a couple of extras by dragging app icons or widgets to the edge for a total of five home screens.
The app drawer is bottom centre in the permanent dock where you can configure three app shortcuts either side. The app drawer is slightly different in that it's just a big list of your apps, there's no widget tab in there.
You long press on the screen to add widgets, or to change your wallpaper. Tesco includes a large selection of wallpapers featuring happy people huddling together.
Pull down from the top left of the screen and you'll get your notifications. Pull down from the top right and you can access settings. Stock Android is a breeze to use and it's very easy to get to grips with.
I found the My Tesco launcher a little bit laggy. The animation when you swipe isn't always very smooth and the widget can take a while to populate. When I switched to the Nova launcher navigation felt that little bit snappier.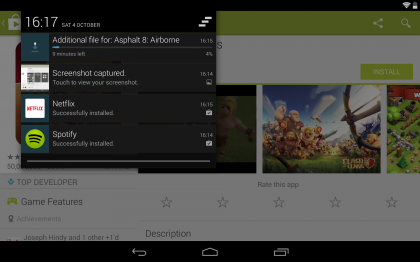 Taking a look inside the Hudl 2 you'll find an Intel Atom quad-core processor clocked at 1.83GHz. It's backed up by 2GB of RAM. That's a major boost over the original Tesco Hudl and it does feel fast and responsive. For the most part apps and games are quick to load and you can skip back to the home screen with a tap.
Geekbench 3 gave the Hudl 2 a single-core score of 792, but we're really interested in the 2147 multi-core score. I ran Geekbench 3 on my Nexus 7 (2013) and it scored 576 and 1896 respectively. When we tested the, much more expensive, Galaxy Tab Pro 10.1 earlier this summer it scored 2722.
What we can conclude from all this is that the Hudl 2 is fast and performs well. I ran some high-end games like Asphalt 8 and there was nary a stutter. It gets pretty hot around the back near the camera when you play graphically intensive games for any length of time, but so does my Xperia Z2 and my Nexus 7.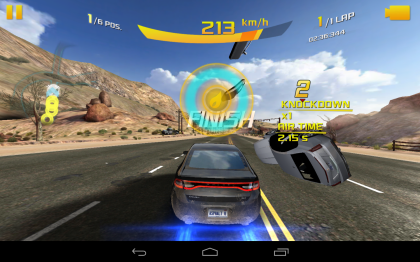 It hasn't all been rosy, there were a couple of moments when the Hudl 2 seemed to freeze coming out of an app. I suspect that the My Tesco launcher is the culprit there.
It also completely refused to turn on at one point. I was watching Netflix, using the Hudl 2 to select content and streaming it to my Chromecast. I watched a couple of episodes of Suits and when I went to stop it, the Hudl 2 simply didn't respond to the power button.
I tried holding it down for ten seconds, nothing. I tried holding down the power button and the volume down button for ten seconds, still nothing. The battery hadn't been low, but I tried plugging the Hudl 2 into the charger for a while anyway and the screen seemed to come on, but it was blank and dull.
I read the booklet, but it has no information and the current technical support on Tesco's website still refers to the original Hudl.
After half an hour of charging I unplugged it and tried again, but it still wouldn't turn on. Finally I just sat holding down the power button and the volume down button and eventually the Hudl 2 vibrated and powered completely off.
When it started up again it went through the boot cycle and worked as normal. I used the Hudl 2 with Netflix and the Chromecast again several times, but it never happened again. This happens with many phones and tablets from time to time, so it's not a huge worry – but I'd have preferred not to see it.
Battery life and the essentials
Battery life
Tesco prefers to state "up to 8 hours battery life" rather than provide us with a capacity in mAh. I suspect that the battery isn't all that big, and that's a shame, because the Hudl 2 really needs a big battery.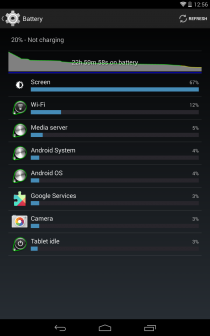 I found that the battery drained very quickly out of the box, but it's not unusual for batteries to take a while to bed in and you tend to use new devices more than you realise in the first few days. There's also an additional drain from downloading and installing all your regular apps.
After fully charging the Hudl 2, I gave it a lazy Sunday test. I surfed the web for a couple of hours, played Clash of Clans for ten minutes, watched two movies, and then the kids watched an episode of Spongebob. By the end of that it was dropping down to the 10 percent mark. Not too impressive.
In an average week day with light usage you probably aren't going to have any problems, and you might squeeze a couple of days of use out of it between charges. Medium and heavy users are going to have to get used to charging it daily at least.
Playing a relatively simple game like Duet for ten minutes drained the battery by 4%. Playing Asphalt 8 for ten minutes drained it by 6%.
Running our 90 minute battery test video at full brightness on a fully charged Hudl 2 reduced the battery to just 63%. That's a worryingly large drain of 37 percent.
The original Hudl only lost 21%, the Nexus 7 dropped 20%, and even the relatively poor LG G Pad 8.3 only dropped 30% during the same test.
The drop was so large I ran the same test again a month later. Sure enough, the battery dropped to just 64%, proving that our initial tests were no fluke; the Hudl 2 really is that bad at losing battery.
If you want a tablet to take out and about on your travels, then you had better look elsewhere. The Hudl 2's weak battery shouldn't be such a big issue when you're at home with a plug socket at hand, but I'm still disappointed at its lack of stamina.
The essentials
Since the Hudl 2 is essentially using stock Android the basic essentials are solid. The keyboard is accurate and easy to type on. The stock Android calendar, email, contacts, and camera apps are straightforward.
You'll find the same redundancy you get on many Android devices with Google's Gmail app and an email app, as well as a Gallery app and Google's Photos app. It's not an especially big deal, but it's going to confuse some people.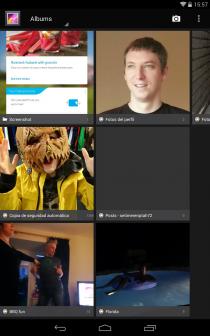 In addition to Tesco's Blinkbox content offerings you'll find apps for ordering food, banking, clothes, managing your Clubcard, and Tesco's photo store. Some of them aren't apps at all; they're just shortcuts to the website. All are useless and eminently ignorable if you don't use Tesco.
All of Google's content apps are there and you'll also find Google Maps. I tested it a couple of times and the Hudl 2 GPS was quick to get an accurate fix. You're not likely to use it for navigating, especially with the limited battery, but you could if you wanted to.
You'll find Google's Chrome browser as the default web browser on the Hudl 2, but there is a slight oddity related to the parental controls for your children's profiles.
If you set up a child's profile and limit web access then they use a special browser labelled Internet which keeps them from browsing anywhere you don't want them to. It works, but it's not as slick or fast as Chrome.
Camera
Why do they put cameras on tablets? The Tesco Hudl 2 has no answer.
Tesco has beefed up the main camera to 5MP, compared to the 3.2MP in the original Hudl, but the front-facing camera has gone the other way from 2MP down to 1.2MP. Megapixels aren't everything, but it would be challenging to argue that there's anything impressive about either camera in the Hudl 2.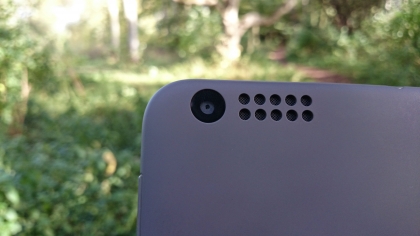 It's a little strange that the front-facing camera has been hobbled when it's probably the more likely to get used, whether for apps or for making Internet calls on apps like Hangouts and Skype.
The app is the stock Android camera app and it's very basic. You can switch on grid lines to help you line up shots, or you can swivel to the front-facing camera.
There's also a timer option. If you swipe in from the left side of the screen you'll reveal the menu where you can switch to video or try out the Lens Blur, Panorama, or Photo Sphere effects.
You can tap on screen to tell the camera to focus on a specific area or subject. It's pretty slow to actually take a shot and the quality is generally poor. Google's camera effects are a bit gimmicky and can be very frustrating to actually pull off, with repeated errors about moving too fast when you try to pan.
The photos I took with the Hudl 2 were all bad. They lack detail, contrast is bad, and the camera can't deal with low light at all. There's no flash, so this is strictly a camera for well-lit situations.
The video camera is equally terrible, struggling to adjust to changing light, blurring if you move it, and introducing loads of noise unless you're in a very well lit area.
Camera samples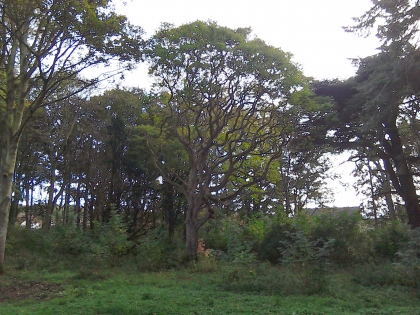 Click here for the full-res image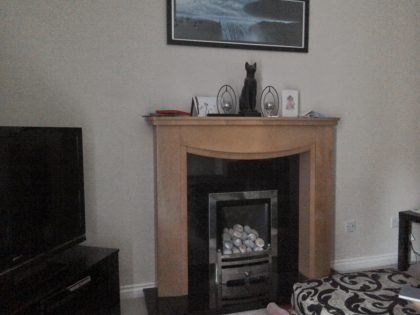 Click here for the full-res image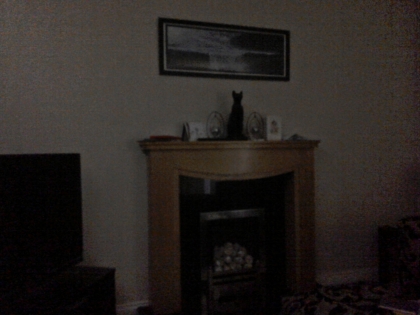 Click here for the full-res image
Click here for the full-res image
Click here for the full-res image
Media
Thankfully when it comes to the important things the Tesco Hudl 2 does the business. This is a tablet that's well-suited to watching movies and it's a pleasure to game on.
The 8.3-inch display looks good and high definition content is available in all its glory. It is quite reflective and I found it was much more pleasant to watch movies or play games when I cranked the brightness up (which no doubt contributed to the battery running out fast).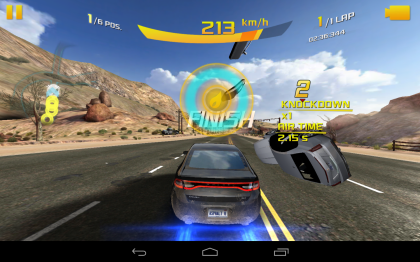 I have to mention that the Hudl 2 has an Intel processor and apparently there could be some incompatibility problems with certain Android games.
Intel is trying to break into mobile hardware and catch up with ARM and the two have been arguing about how big an issue the compatibility is in recent months. Every game I tested on the tablet worked fine, but it might be something to consider.
The Hudl 2 also has stereo speakers featuring "Dolby optimised sound". If you're sitting holding it in the landscape position, as you will for the majority of movies or games, the speakers work great and you get a real stereo effect.
The problem is that they are both on the back, so if you rest the Hudl 2 on anything then it's going to muffle the speakers. It actually works best of all if you have it in your lap and cup your hands round the speaker grills to redirect the sound towards you.
If they were front-facing that would be really ideal, but they are still better than you can reasonably expect to find in a tablet this price.
The Hudl 2 can also serve up music in a pinch. I found that the speakers distorted quite easily when I was listening to music, so headphones or an external speaker are advised for music.
If you're a big reader you'll be glad to know that the Hudl 2 can definitely double up as a device for ebooks. The Blinkbox app seems to have a very big collection.
It had everything I searched for from Bulgakov's Master and Margarita to The Psychopath Test by Jon Ronson. You can always install the Kindle app or another reader if you prefer.
As I mentioned before, the Hudl 2 is quite heavy so you'll probably want to prop it up if you're reading for a long time, but it's a comfortable tablet to hold.
Storage is definitely an issue. This is a 16GB tablet, but you only get 9.12GB free out of the box. It will fill up fast, so you'll need to invest in a microSD card. The Hudl 2 will take microSD cards up to 32GB in size, so you can boost the storage up to around 40GB, which should be enough for most people.
If you use streaming services like Netflix and Blinkbox Music then you possibly won't need a great deal of space on the tablet. However, if you like to play games you could run out of space fast. Asphalt 8 is 1.6GB on its own.
You can also boost your storage with a wide variety of cloud storage options including 15GB with Google Drive, which is installed out of the box.
Competition
Google Nexus 7 (2013)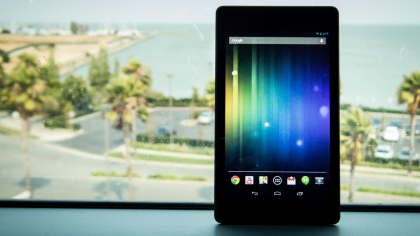 Google has had the smaller Android tablet market sewn up for a long time now, perhaps that's why we're still awaiting a new Nexus 7, or possibly a Nexus 9.
The Nexus 7 (2013) has been on the market for well over a year. Despite a tidal wave of budget competitors and a serious challenge from Amazon, ask any tech writer "what's the best small Android tablet?" and they'll still tell you to buy the Nexus 7.
Tesco's Hudl 2 is serious competition. It has a larger screen, stereo speakers, and it is significantly cheaper. Given the option between a £99 Hudl 2 right now and a Nexus 7 from Google at £199 I would definitely advise you to buy the Hudl 2. If you want something for the whole family to use around the house then the Nexus 7 is not worth the extra cash.
The two tablets have exactly the same 1920 x 1200 pixel resolution. Look at them side by side, and because the Nexus 7 is smaller, it looks a bit sharper. Its screen is also a bit more vibrant, and if you angle yourself to the side it has slightly better viewing angles, but it's not enough to make a major difference, the Hudl 2 screen still looks great.
Get rid of the My Tesco launcher and you've essentially got a stock Android tablet with newer hardware and an 8.3-inch screen at a lower price. The biggest compromise you have to make with the Hudl 2 is battery life.
Amazon Kindle Fire HDX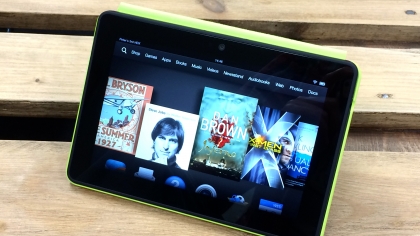 The basic Kindle Fire HDX is now £149 and it has a smaller 7-inch display with the same 1920 x 1200 resolution. The processor is clocked at 2.2GHz compared to 1.83GHz for the Hudl 2. The Kindle Fire HDX also has better battery life.
Both are aimed at the family market. The Kindle Fire HDX has a range of user-friendly features like Mayday for instant technical help and easy screen mirroring.
The big difference is that the Kindle Fire HDX locks you into Amazon's eco-system. You don't get Google's great range of apps and services. You don't get full access to the Play Store. Not only is there a smaller subset of apps available in the Amazon App Store, but some of them are older versions.
Amazon provides its own set of apps, but they aren't as good. The Hudl 2 is more attractive because Tesco doesn't lock you down at all. The Hudl 2 also had a price advantage.
iPad mini 2
At the premium end of the small tablet market we have Apple's offering. The iPad mini 2 with Retina display starts at £239. It's not really fair to compare the Hudl 2 at £99. As you would expect, the iPad mini 2 is faster, slicker, and all-round better, but at well over double the price it had better be.
It has a 7.9-inch display at 2048 x 1536 pixels. It also has 16GB of storage, a 5MP main camera and a 1.2MP front-facing camera. I'm not going to argue the merits of Android vs iOS here, but on paper Apple's diminutive tablet does not look particularly special next to the Hudl 2's specs. In reality Apple optimizes its hardware and software to run harmoniously together and gets real world results that exceed expectations for the specs.
A fairer comparison might be the original iPad mini, but you're still looking at paying £249. If you're invested in the Apple eco-system and addicted to that premium design maybe you'll see that added value, but is it £140 better than the Hudl 2?
Tesco Hudl 2 vs iPad mini (original)
With so many models on the market there's never been a better time to invest in a tablet and even budget buyers have a strong selection to choose from.
The Tesco Hudl 2 and the iPad mini are two of the best affordable options available right now and both are great choices for first-time buyers or anyone who can't justify splashing out hundreds of pounds. As you can see above, there are better iPad minis on offer, but they're a lot more expensive.
Either the Tesco or Apple option would make for a memorable Christmas present, but while they're both good and both relatively affordable we can see that not everyone would take to both equally; so to make deciding between them easier, here's how they compare!
Screen
The Tesco Hudl 2 has an 8.3-inch screen while the iPad mini is 7.9 inches. So Tesco's slate is slightly bigger but not enough to make a significant difference in use. They're both on the small side as tablets go, but that makes them more portable than larger slates and they're still big enough to comfortably web browse or get engrossed in a video.
Both screens also use IPS LCD technology, which gives them better viewing angles than a standard LCD display would be capable of and we noted rich and vibrant colours on the Tesco Hudl 2, while the iPad mini has impressive contrast.
There's a big difference in their resolutions though. The Hudl 2 comes in at 1200 x 1920 for a pixel density of 273 pixels per inch, while the iPad mini is 768 x 1024, giving it a far lower pixel density (screen sharpness) of 162 pixels per inch, despite its smaller size.
That makes text and images far less clear than on its supermarket rival and while you might not realise what you're missing if this is your first tablet, anyone who has used a high-end smartphone or slate won't be impressed.
Design and build
The Tesco Hudl 2 isn't the most stylish tablet around but nor is it ugly. It has a colourful plastic shell with a soft-touch feel, making it comfortable to hold and easy to grip, while at 224 x 128 x 9mm it's fairly slim, though it's quite heavy at 410g.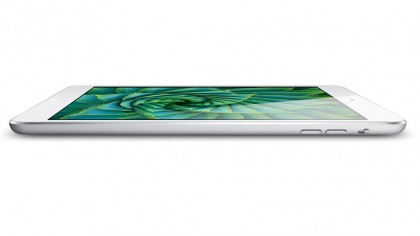 The iPad mini leaves it in the dust though, with a premium aluminium shell, a super-slim 200 x 134.7 x 7.2mm build and it's substantially lighter too at 308g. Looks aren't everything but they're a good start and the iPad mini definitely comes out on top in that area.
Processor and RAM
Neither of these tablets are packing top flight processors, but nor do they feel particularly underpowered. The Tesco Hudl 2 has a 1.83Ghz quad-core Intel Atom Z3735D processor and 2GB of RAM, while the iPad mini has a 1.0GHz dual-core Apple A5 processor and 512MB of RAM.
On paper then the Tesco Hudl 2 should be far more powerful than its fruity foe, but in practice performance is fairly snappy on both. Neither of these slates is quite as fast as a top end tablet like the iPad Air 2, but in general operation both perform well and we even found that the Tesco Hudl 2 could comfortably cope with graphically intensive games.
If there's one black mark against the Hudl 2's performance it's that the 'My Tesco' launcher which it ships with can lag a bit, but as it's an Android tablet you can easily swap it for a different bit of software to speed things up.
OS
The operating system that each of these tablets run is arguably the biggest difference between them, as while the Tesco Hudl 2 is an Android slate the iPad mini runs iOS.
More specifically the Tesco Hudl 2 runs Android 4.4 KitKat while the iPad mini runs iOS 8.1. This makes a big difference: Android is incredibly customisable with widgets and tools that can make the tablet your own, which is good because, as mentioned previously, the overlay Tesco has put on it is a bit laggy, so you may want to replace it.
However while Android is powerful it's still not quite as intuitive as iOS and while both stores have a large number of apps available there are loads more tablet-optimised apps on Apple's store and more games too.
On the other hand it's unlikely that the iPad mini will be updated to iOS 9 as it's getting on a bit, but the relatively new Tesco Hudl 2 may well receive an update to the new Android Lollipop, so is slightly more future-proofed.
It's worth giving a shout-out to the Hudl 2's parental controls as well. These allow you to set up kid's profiles, limiting which apps they can access and even setting time limits for use. The iPad mini has similar controls but doesn't allow for multiple profiles or time limits.
Storage
While the iPad mini used to be available in a range of sizes the 16GB version is the only one that's still being sold. The Tesco Hudl 2 also only comes with 16GB of storage, but there's one key difference: the Hudl 2 also supports microSD cards of up to 32GB while the iPad mini has no microSD card slot.
That means the iPad mini only gives you 16GB to play with, which can easily fill up with media and games, while the Hudl 2 can potentially provide up to 48GB if you buy a card and even more if you don't mind swapping microSD cards on the fly.
If you're not planning to store much content locally then 16GB should suffice, but it's nice to know that with the Hudl 2 there's the option to expand.
Battery
Tesco hasn't revealed the size of the Hudl 2's battery, instead just saying that it provides up to 8 hours of life, while the iPad mini has a 4490mAh juice pack, which Apple promises will keep it going for up to 10 hours.
In practice the iPad mini definitely has better battery life and should last around a day with heavy use or two to three days with more mixed use, while the Tesco Hudl 2 is unlikely to see you through a transatlantic flight, but could still feasibly stretch to a couple of days with light use.
The upshot is that either device should see you through a daily commute and as use isn't likely to be as heavy as on a phone you'll probably be able to get through more than a day with both slates, but if you do have a whole lot of time to kill and only a tablet for company the iPad mini is a better bet.
Price and verdict
While both these slates are at the more affordable end of the market there is still quite a difference in their prices. The Tesco Hudl 2 is just £99, while the iPad mini is a pricier £199, or £299 if you want mobile data, which isn't an option on the Hudl 2.
So you're paying at least £70 extra, which is quite a chunk of change when the difference between the two isn't huge in day to day use.
Whether the iPad mini is worth the extra is debatable. Sure, it has better battery life and a superior build quality, but it loses out in some ways too, with less storage potential and a lower resolution screen.
It's arguably the more desirable slate, with a high-end build and brand name appeal, but it's not necessarily better and with its colourful design and parental controls the Hudl 2 is probably a better buy for children.
Sold on Apple? We've also compared the iPad mini 3 with the mini 2.
Tesco Hudl 2 accessories
After purchasing your cut price Tesco Hudl 2 you'll probably have a bit of cash left over, so why not accessorise your new tablet with some handy additional products.
Tesco Hudl 2 soft touch case
If you're in the market for an inexpensive case to provide a little extra protection for your new investment then the £20 soft touch case fits the bill nicely.
The soft rubber finish provides useful additional grip and the screen cover means the display is protected when not in use – perfect when it comes to sliding the Hudl 2 into a bag.
This case also doubles as a stand, allowing you to enjoy hands free video sessions, especially handy when on the train or in bed.
Tesco Hudl 2 protective bumper
Planning on handing the Hudl 2 over to the kids? Then you might want to wrap it in this protective bumper – it's even got some funky stars on the back and it's available in blue and pink.
It's a touch cheaper than the soft case at £15, but you don't get the screen cover/stand combo and it's not as subtle in the design department.
It will, however, protect your Hudl 2 from various knocks and bumps and that's worth the price tag in itself.
Tesco Hudl 2 keyboard case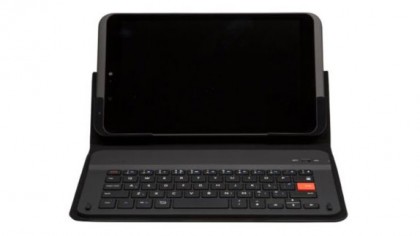 Turn your Tesco Hudl 2 into a mini laptop with the keyboard case. This case with integrated Bluetooth keyboard makes text input a doddle.
The battery inside the keyboard is good for 90 hours on a single charge, so you won't need to remember to pack a second charging cable if you go out and about.
It's only available in black and at £40 it's one of the more expensive accessory options, but well worth it if you'll be doing a lot of typing.
Hudl stylus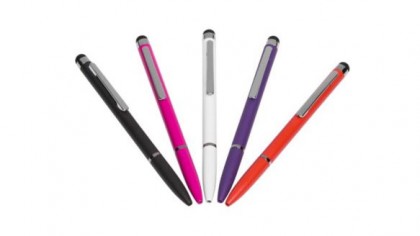 Compatible with the original Hudl as well as the Hudl 2, this simple stylus is available in five different colours and costs just £5.
It doubles as a pen too, with a ball point pen at one end and a stylus tip at the other. Plus it works on other touchscreen phones and tablets, giving you real bang for your buck.
Hudl kid's headphones
Is the noise from that game the children insist on playing at full volume on the Hudl 2 starting to really test your nerves? Get them a pair of headphones!
Tesco offers up these highly affordable, Hudl branded pair for just £12, and sound is limited to 80 decibels to protect their tiny eardrums. Bless.
Hands on gallery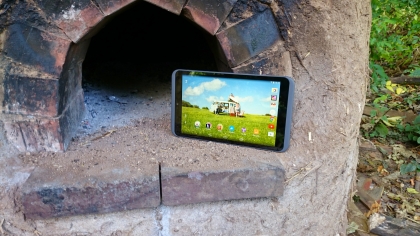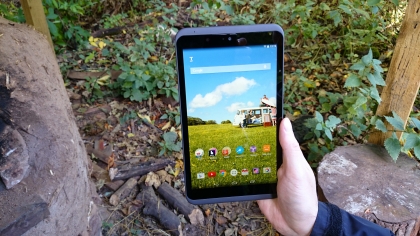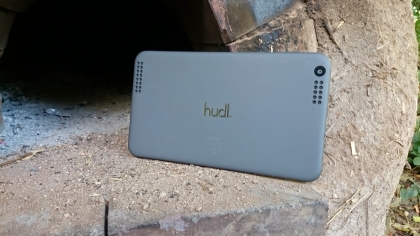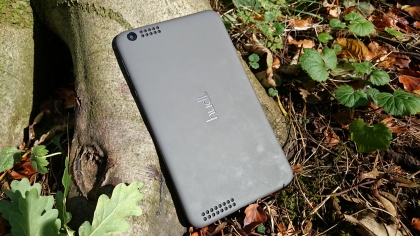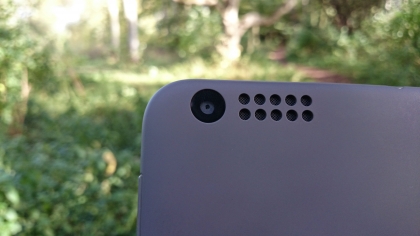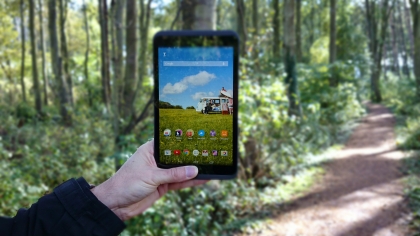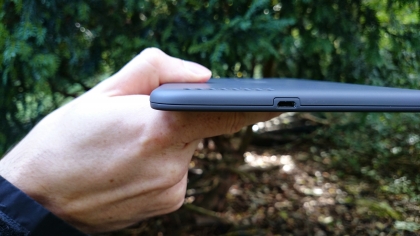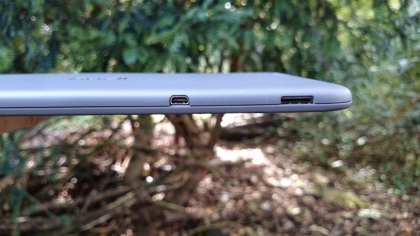 Verdict
The Tesco Hudl 2 is now getting on in age, but with an asking price of just £99 it's still a real bargain and if you have Clubcard vouchers the boost could make it irresistibly cheap. For Tesco shoppers and Blinkbox users the vouchers in the box with the Hudl 2 are another added incentive.
However, and this is something worth thinking about, the lack of update to Android Lollipop hints of a device that's not going to get lots of support in the near future.
We liked
The 8.3-inch HD display is excellent. The 1920 x 1200 pixel resolution is enough to ensure that reading is pleasurable and the Hudl 2 is a really nice size for kicking back with a movie or a blast of gaming.
It's great to see stereo speakers and they really enhance movie watching and gaming. If they were front-facing I'd be even happier, but they're still a definite plus point.
The introductory Tesco apps are good and I can see them being genuinely helpful for tablet newbies, but the parental controls are the star of the pre-installed show. They're simple, effective, and well-thought out.
The Hudl 2 is amazing value for money and Tesco's additional voucher incentives really make it a steal.
We disliked
The battery life is undoubtedly the Tesco Hudl 2's Achilles heel. Graphically intensive games and streaming HD movies drain that battery far too quickly. It's going to be a definite sore point for some people.
That slight laggy feel at times is a concern, but ditch the My Tesco launcher and you should find it's much less noticeable.
Hopefully the incident when it failed to turn on is a one-off freak occurrence. There's always an element of pot luck with electronics and bugs. It hasn't happened again, but I had to mention it, and it's the sort of thing that could really distress a tablet novice.
Storage is not adequate at just 9GB free out of the box, so you'll have to invest in a microSD card. You'll pay around £10-£15 for a 32GB card, but that will give you a decent storage limit of over 40GB.
Verdict
If you're shopping for a family tablet that you can share with the kids, this is it. If you want to gift a tablet to someone who has never tried one before, this is it. If you want a cheap tablet for casual use around the house, this is it. While the upgraded software, or lack thereof, is a worry, for many it won't be an issue – but remember this is only a 'throw around the house' tablet, not something that's your main device.
The Tesco Hudl 2 is not the best tablet on the market. It's not the fastest or the prettiest. It doesn't have cutting edge specs. What it does offer is a solid all-round experience at an unbeatable price.
Pound for pound you will not be able to find anything better, at least until Google refreshes the Nexus line. If you want the best value stock Android tablet on the market, this is it.
First reviewed: October 2014