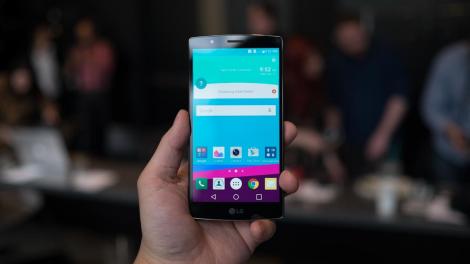 Introduction, design and display
The LG G4 proves that there's room for one more among Android flagships phone launching in the first half of this year, and it just may be worth the wait.
Its standout feature is a premium design with a durable leather back for its lead model, one that's comfortable to grip compared to slippery smartphones with a cold, metal construction.
There's a more color-accurate "quantum" display that, in side-by-side comparisons, makes other phones like the Samsung Galaxy S6 and iPhone 6 seem oversaturated.
LG G4's camera is still 16 megapixels, but it edges out Samsung's phone ever so slightly with a faster 1.8 lens. The Galaxy S6 camera stopped short with a 1.9 aperture.
Add to this list of impressive LG G4 specs a microSD card slot and removable battery, and LG may have some Galaxy defectors and earn itself a high spot in our best phones list for 2015 when we give it a full review.
Release date and price
Almost everyone waiting for LG next flagship smartphone has to wait a little bit longer. The LG G4 in the US, UK and Australia is likely happening in June.
The exception to this – which has become the rule with the LG G3 and LG G Flex 2 launches recently – is that Korea gets it first. In this case, it launches there tomorrow, April 29.
The LG G4 price hasn't been announced either, but it's said to be in the range of the LG G3. That means it's probably going to cost around $199 contract or $649 (£1, AU$1)
Design
Fashionable gadgets are the hot new trend among tech companies that are looking to shed their geeky personas and appeal to a broader audience.
LG G4 takes this handcrafted craze quite literally with a leather back that replaces the plastic design of the LG G3. Soft to the touch, it looks and feels elegant, and it's easy to grip.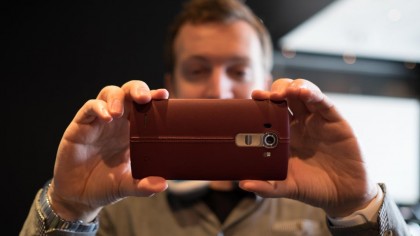 It contrasts with the cold glass back of the Samsung Galaxy S6 and Galaxy S6 Edge and the slippery aluminum body of the iPhone 6 and iPhone 6 Plus.
We've seen this design before with not-so-stunning results. Moto X features a leather back among its design customizations, and as great as it looked and felt, it bruised easily – in a day.
LG says that its new smartphone uses premium leather, on par with name brand handbags found in stores on 5th Avenue in New York City and it takes three months to process.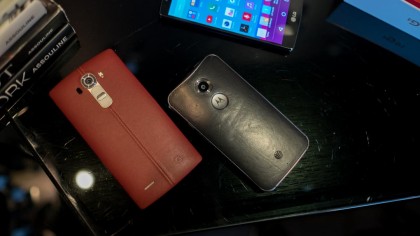 Its vegetable tanned leather treatment is different from chemical tanned leather, which can be shoddily processed in a single day. That type of leather is found on the streets of New York too, but not on 5th Avenue or indoors.
LG G4's leather back undergoes a special treatment as part of this this three-month process, one that the company said it took three to find, that resist water stains and scratches.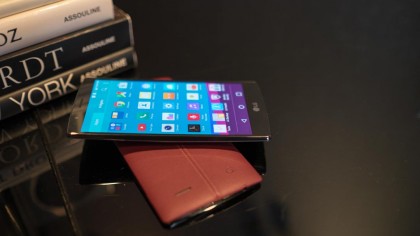 Our full review will certainly test out its durability in a stuffed pocket, which the Moto X failed at miserably. It's also heartening to know that LG lets you change out the back if it fails too.
Don't like cow-based leather? There are other less exciting LG G4 colors and materials. There's a familiar metallic-coated titan black and shiny gold with a hammered metal pattern.
Also carried over from the LG G3 is a white ceramic-painted model. All three do a good job of disguising the fact that they have a plastic base.
All models of the LG G4 sport a gentle curve that isn't a dramatic as the LG G Flex 2, but said to make it 20% stronger in durability compared to the G3, according to LG's drop tests.
The official LG G4 dimensions give it a 148.9mm height x 76.1mm width x 6.3mm to 9.8mm depth due to that sloped curve. It feels light in the hand with a weight of 155g.
Display
LG G4's display measures out to the same 5.5 inches diagonally as the G3 and it has an IPS LCD screen, but it now it's considered a "quantum" display.
This translates into much more color accurate multimedia that considers an eye's perception instead of oversaturating photos and videos.
LG is driving toward a cinema-industry standard of color perfection known as Digital Cinema Initiatives or DCI. It touts LG G4 as 98% DCI compliant, while the S6 AMOLED is 110% compliant AMOLED, giving it that infamous – for better or worse – oversaturated look.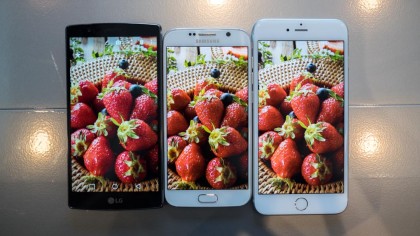 Samsung and iPhone's color inaccuracies were shown to be worse when it came to food. A picture of strawberries on the S6 and iPhone 6 proved more orange vs the red shown by the LG G4.
LG G4, on paper, is 20% richer and 20% brighter for better outdoor visibility. Its has a 50% bump in contrast, yet consumes less power thanks to negative LCD technology.
Camera, performance and early verdict
LG has lofty goals for the LG G4 camera, saying that it doesn't want to compete with other smartphone manufacturers, but replace instances in which you need a weightier digital camera.
With a 1.8 aperture, its off to a good start, surpassing the Galaxy S6 f/1.9 lens. Yes, 0.1 can make a difference in the micro-sized world of smartphones, and so can the size of a sensor.
While the camera remains 16 megapixels, photo quality sees a vast improvement over the LG G3 snapper with a 40% larger sensor. That's way more important for taking a good picture.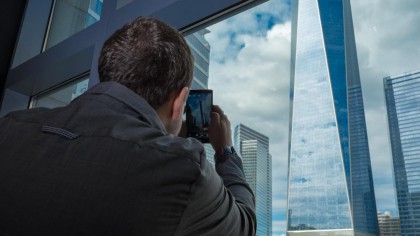 There's a new optical image stabilization module that LG claims to reduce twice the vibration from our too often shaking camera hands and faster overall camera app performance.
Manual controls for camera pros are more granular here, with far more levels of white balance and shutter speed and a real-time histogram for fine-tuning shots.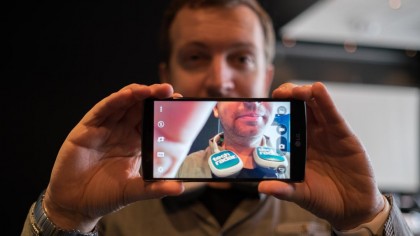 Not serious enough for you? LG G4 goes as far as shooting in JPEG and RAW, which allows for the post-process editing that professional camera consumers need.
LG's super-fast laser auto-focus returns and it says that the G4 camera can be launched in just 0.6 second, another 0.1 value ahead of the "fastest" Samsung Galaxy S6 camera app.
Aiding this is a "quick shot" mechanic for easily opening up speedy app. Double tapping the volume down button, located on the back of the phone, does the trick when the phone isn't lit.
When the LG G4 is being used, however, the volume button acts as it down normally. That's not as convenient as the Samsung's very similar double tap home button, especially if you see a Kodak moment while you're using your phone.
For speciality shots, panoramic photos are 104 megapixels, whereas the S6 stitches together smaller 60-megapixel photos and an iPhone handles 42-megapixels shots. The difference is negligible until to blow them up or zoom in for finer details.
The front camera actually ties the iPhone's rear camera with 8-megapixel photos and, being the "selfie" camera it comes packed with LG's helpful gesture shot feature.
Gesture shot is actually better than before because making a fist gesture twice instead of just once will activate the three-second timer and take four shots instead of just one.
There's one second in between these four selfie photos, so people who hate others' taking selfies can hate you four times as much – or maybe four times less if you're not doing them individually.
Specs and performance
LG G4 uses a Snapdragon 808 processor and backs away from LG G FLex 2's Snapdragon 810 chip, which may have been the source of its overheating and slower benchmarks.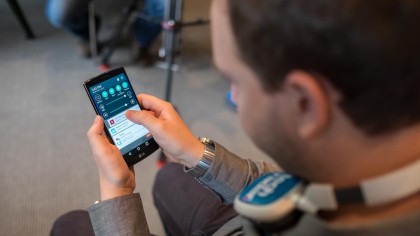 Qualcomm's 808 chip and the accompany's 3GB of RAM still promise to be plenty fast, however, with comparisons to Samsung's Exynos CPU.
LG G4 has a better start time by one fraction of a second among a few apps, according to LG. It also says it has even better performance by a few fractions of a second when actually uses those apps, from accessing folders to sorting through call history to starting up music.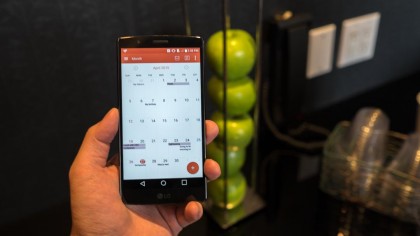 One of the apps, for galleries, promises no slowdown, even when thousands of photos are loaded in the RAW format. That's certainly different from other phone makers' galleries when collections are filtered by month and year views.
LG also says its out to solve everyone's GPS woes with a more accurate blue dot. Thanks to Qualcomm, it's supposed to be twice as accurate, even indoors and entering tunnels.
We'll have to see how the new-ish processor and GPS perform under real-world duress. The rest of the specs will also be tested in our full review, including the a 3,000 mAh battery.
Battery life
LG G4 battery life is said to be optimizes by its new negative LCD screen technology, so its 3,000 mAh battery size may go further even though it's the same as the LG G3 capacity.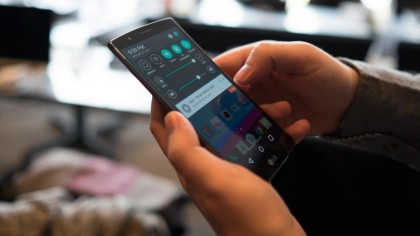 The Snapdragon processor and Android Lollipop from the get-go should also help this, and even when the battery drains all of the way, it is swappable.
That's a big deal for people who have felt burned by Samsung's lack of a removeable battery and microSD card slot. Pouncing on that opening, LG says it want to become more active in selling its batteries as accessories.
Surprisingly, LG G4 doesn't feature Qualcomm's well-marketed QuickCharge technology that charges a smartphone faster in a short amount of time, but the company says it recharges plenty fast anyway and that's why its swappable battery is even more handy.
Early verdict
LG's tagline for the LG G4 is "See the great, feel the great," and it certainly live up to that motto by making a well-designed leather-backed smartphone. It stood out, more importantly, and stayed in my hand, unlike the thin and slippery iPhone 6 for which I had to buy a leather case for anyway.
"See the great, feel the great" can also apply to just about everything else about the phone. It's color-accurate quantum display shows subjects in the right color with extreme saturation and the camera with a 1.8 lens promises to prove to take better photos in a short amount of time.
On top of all of this, LG's software doesn't get in the way, opting to use Google's finely crafted apps like Chrome for the browser, Maps for navigation and Google Wallet for payments. LG's menu skins are still here, but otherwise feels so much like a pure Android phone with premium features that LG had to say twice that it's not a Nexus phone. That's a good sign.