Introduction and features
The Canon G3 X was announced at the start of this year, although details were few and far between at the time. Its massive zoom range of 24-600mm equivalent appeared to be the stand-out feature at the time, and now that the camera has been officially unveiled the 25x zoom lens still looks to be its USP; rival cameras from Panasonic and Sony have a far more limited focal range, albeit with a faster (wider) aperture at their longer end.
The G3 X has the same one-inch 20-megapixel sensor as its smaller sibling, the G7 X, with a sensitivity range of ISO 125-12,800, and the DIGIC 6 processor found in Canon's top DSLRs. Its versatility make it an obvious candidate for a travel camera, although its relatively bulky size counts against it for those wanting something that's comfortably pocketable – although it's classed as a compact camera, it's more bridge camera in size and feel.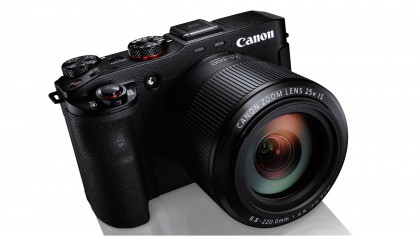 The G3 X comes with a solid, if not class-leading, set of specs. Shooting modes, including Manual, Aperture priority, Shutter priority, Program and a variety of auto, scene and special effect modes are accessed through a dial on the top plate, and there's also a Custom setting.
A second dial to the right enables you to apply exposure compensation of up to three stops in one-third of a stop increments, and in front of this are a movie button and a scroll wheel for adjusting settings. The 3.2-inch tilting touchscreen has a high 1,620,000-dot resolution.
You can shoot in both JPEG and raw formats, separately or simultaneously, and the 1-inch sensor has a maximum image resolution of 5472 x 3648 pixels in its native 3:2 format. Alternative image ratios of 1:1, 4:3 and 16:9 are also available. The G3 X can shoot full HD movies at 60 and 30fps, although it lacks the 4K functionality of some competitors.
The 24-600mm equivalent lens offers a very fast (large) f/2.8 aperture at its widest setting, and a reasonable f/5.6 at its longest setting, although you are limited to f/5.6 from 200mm. At 50mm the widest available aperture is f/4, and at 85mm it's f/5.
The minimum focusing distance of 5cm is available from 24mm to 100mm. At 600mm, the closest focussing distance is 85cm or 33.47 inches. The digital zoom offers additional reach in full auto modes, up to approximately 100x enlargement.
Sensitivity ranges from ISO 125 to 12,800 with ISO 400 and 12,800 available in auto ISO mode. You can alter the maximum ISO that the camera can select in auto mode, but not the minimum setting, nor can you choose set a minimum shutter speed; the one-inch sensor and top of the range DIGIC 6 processor ensure noise is well controlled, but it's a shame that the full sensitivity range isn't available in auto mode.
The G3 X boasts five-axis image stabilisation, with a choice of low, standard and high (video only) settings. With such a long lens and no viewfinder, you'll want to see which settings suit you best and perhaps err on the side of caution.
Multi, spot and centre-weighted average metering modes are available, along with exposure bracketing by up to two stops, in one-third of a stop increments across three frames. You can choose between Single shot, Continuous and Servo AF modes, or manual focusing (including focus peaking). The camera can capture 5.9 frames per second in Continuous drive mode (JPEG only), or 3.2fps in Continuous with AF mode.
Single-point focus (selective and central) is available as well as multi-area tracking, along with a plethora of face-detection focus options in full auto mode. In addition, you can touch-focus using the touchscreen.
Wi-Fi/NFC functionality enables you to connect the camera to your computer, smartphone or tablet using Canon's free Camera Connect app.
Build and handling
The G3 X is a fairly rugged camera, and it's functional rather than beautiful. The body, in particular, feels very solid and well engineered; it has a rubberised, textured coating that's comfortable and secure to hold, and the same level of weather- and dust-proofing as Canon's mid-range DSLRs.
The lens is unashamedly plastic but, aside from a slightly disconcerting rattle when it's in its off/closed position, it feels well constructed and smooth to operate. The large focus ring is a bonus and, despite being obviously electronic rather than mechanical, it feels more responsive and accurate than many of this type.
Weighing in at 733g (25.8 oz) including battery and measuring 123 x 77 x 105mm (4.8 x 3 x 4.1 inches), this is a relatively chunky and heavy camera; however, when you consider its versatility and all the functionality included, then both weight and size seem reasonable.
Controls
My one gripe would be with the position of the shutter button and incorporated zoom lever. I found my index finger naturally wanted to sit further in towards the centre of the camera, which would require extending the front plate, above the grip, so the shutter button sits nearer to the lens. It's not a deal-breaker but, with my relatively long hands, I found having to crook my finger so steeply a little uncomfortable. That said, the shutter button is responsive and well engineered, and the zoom lever works smoothly.
The on/off and movie buttons on the top plate are easy to access, but well recessed enough to preclude accidental pressing. The top mode and exposure dials are nicely finished, with textured metal around the edge and a red trim, reminiscent of Canon's L-series DSLR lenses). These were a little too stiff in use for my liking, but better too stiff than too sensitive.
I also found the front scroll wheel, which typically is used to adjust the aperture or shutter speed, rather jerky to operate – perhaps because, as with the shutter button, I'd find it more accessible if it was positioned a little more towards the centre of the top plate.
There's a small pop-up flash on the top plate – it seems a little underpowered with its ranges of 6.8m (wide-angle) and 3.1m (telephoto), although for close-range work or in small rooms it does a good job of filling in shadows. The extra hole on the tripod mount on the base of the camera is evidence of Canon's desire to cater for videographers, with many video quick-release plates having a pin to lock the camera into place.
The focus ring on the lens also doubles as a multi-function ring, although it feels rather loose in operation; if, for example, you assign aperture settings to the ring, there's no click or semi-hard stop to indicate each change in f/ stop. You can clearly see the chosen aperture on the rear screen though, so it's not a huge issue and probably something you'd soon get used to.
In manual focus mode you have to revert to changing the aperture using the scroll wheel on the top plate. I found the focus ring a lot more comfortable for changing aperture than the scroll wheel, even if it is a little too easy to change it inadvertently.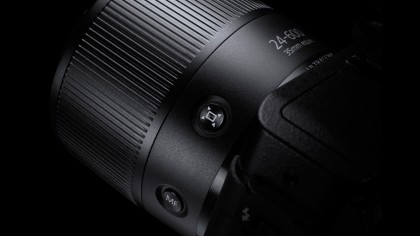 On the side of the lens there's a manual focus and a framing assist/seek button. Again, it would be advantageous if the focus ring was a little firmer in use for manual focusing, but the fact that it's large and easy to operate does compensate for this. The framing assist button is designed to help you locate subjects when using the lens at its long end. It's a nice idea, but I found it a bit jerky and unpredictable at times, although this is something else that you're likely to become accustomed to after using the camera for a while.
The rear of the G3 X is largely taken up by the generously proportioned 3.2-inch touchscreen. While it would be nice to have a vari-angle screen, rather than one that simply tilts, there can be no complaints about its user-friendly touchscreen functionality, nor its superb 1,620,000-dot display, which is bright and detailed, and easy to see in most conditions.
The only issues I encountered with the screen were in bright sunlight, when I was shooting backlit scenes – at times I found it hard to compose shots accurately, particularly when using the lens at its longer end. Boosting the screen brightness for a few seconds by pressing the display button to the right of the screen helps, although you have to trust that you've got your settings correct, as your subject will look very overexposed.
I can't help feeling that an electronic viewfinder should have been built into the camera, although one can be purchased as an optional extra and fitted to the hotshoe; I can only assume that Canon decided not to include one in order to keep the price of the camera down, as fitting one wouldn't have had a significant impact on size and weight.
Aside from the difficulty in composing on the LCD at longer focal lengths, it's quite a challenge to keep a 600mm-equivalent lens steady when the camera is held away from your face. The five-axis image stabilisation works very well, and certainly helps in this regard, but it's still quite a challenge to frame a scene accurately when you're zoomed right in.
To the right of the screen is the typical style of control wheel that doubles as a four-way keypad and six partially recessed buttons, three of which are smaller and set back a little further because they're positioned close to where your right thumb will rest. All of these are easy to use, and don't seem prone to being accidentally pressed.
The control wheel is perhaps a little on the loose side, but it's easy to use. I found it frustrating that I couldn't use it to change some of the menu settings; to change the ISO setting, for example, you have to use the front dial, which feels counterintuitive. That said, most users are likely to be making the majority of their adjustments to settings via the excellent touchscreen as it's by far the quickest method – unless, perhaps, you're in cold conditions and wearing gloves.
Menu system
There's a quick menu button in the centre of the control wheel, but this brings up a relatively limited number of menu items and seems less useful than the quick menus on some competing cameras. The menu button the rear of the camera brings up the user-friendly menu system seen in Canon's DSLRs; it's quick and easy to navigate, particularly when using the touchscreen.
The items in the menus change according to what mode you're in; in many ways this makes sense, but it does cause inconvenience at times. I found it frustrating that I couldn't access some of the JPEG menu options (extending dynamic range, for example) unless I was in JPEG-only mode – with the camera set to raw plus JPEG shooting these items simply don't appear in the menu, and in the Quick Set menu they're greyed out.
Every camera is going to have a few quirks, and there are inevitable compromises between packing in the features and keeping everything accessible and easy to use. Overall, though, the G3 X is a super camera to use: it handles well and is fast and responsive in operation, despite the huge zoom range.
The Wi-Fi functionality is easy to set up, and Canon's free Camera Connect app works smoothly. As well as enabling you to review and upload pictures, the app also enables you to control the camera remotely, with access to all the key controls and settings. I found it hard to tell if I'd really achieved focus on my iPhone 5 screen, but the resulting pictures were correctly focused – and presumably, the better your phone screen, the better the picture you'll see.
Performance
The Canon 24-600mm equivalent f/2.8-5.6 lens performs remarkably well across its zoom range, and is particularly impressive at its long end, where you might expect it to fall down. Sharpness and detail are excellent across the whole frame through most of the range; not surprisingly, there's a slight reduction in sharpness at the edges of the frame at the widest and longest settings, but centre sharpness remains very good.
On the whole the results are more than good enough for likely users of this camera, and will probably surprise those who might think a 24-600mm lens on a compact would be a compromise too far. Wildlife enthusiasts will certainly enjoy having access to a 600mm equivalent focal length, enabling them to photograph subjects that would otherwise require an DSLR and huge/expensive long lens.
Distortions are surprisingly low, with very little correction required even at 24mm. Chromatic aberrations and colour bleed are pretty well controlled, and are only evident in highlight areas towards the edges of the frame – and raw images are easily corrected in Digital Photo Professional, while the in-camera processing takes care of JPEGs.
Of particular note is the nine-blade aperture construction which gives a beautifully smooth bokeh. Couple that with a 600mm equivalent focal length and an aperture of f/5.6 and you can isolate subject very effectively – something that's not easy achieve with compact cameras.
When you consider the challenge of making a lens that covers such a large range fit into a relatively small camera, Canon should be applauded for engineering an optic that does so much so well – it far exceeded my expectations. Canon says the G3X uses a 'premium superzoom for professional quality' results and, when you take into account the versatility of this lens and the relatively small sensor being used, these claims don't seem unfounded.
Whilst the minimum focus distance of 5cm is longer than that of some competitors, the fact that this remains constant from 24mm to 100mm means you're able to obtain a pleasingly shallow depth of field at almost any focal length, so long as you are able to get close to your subject. There's also a Background Defocus filter setting (JPEG only), which can be another effective way of isolating your subject. The Miniature and Soft-focus filters are also worth a little exploration, and can produce some interesting effects with suitable subjects.
Also worth exploring is the Creative Effects setting, which automatically creates a selection of different images from the same shot, applying both different colour effects and different crops; however there's no panorama mode, which is somewhat surprising, nor is there a multiple exposure option.
The five-axis image stabilisation works superbly and, with good technique, speeds as low as 1/4 sec can be achieved with the lens at its widest setting. If you enable Auto ISO, the camera ensures that a minimum speed of between 1/60 and 1/320 sec is maintained, depending on the focal length used. Should you want to use the camera on a tripod, you can turn off stabilisation in the shooting menu.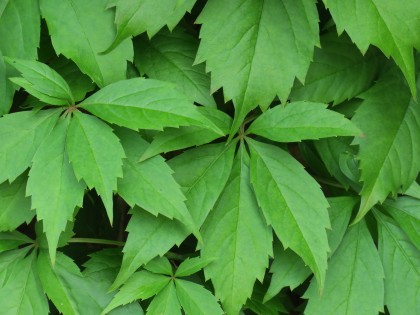 I found one shot autofocus on the G3 X to be very responsive and accurate in good light, rarely failing to lock onto the intended subject. In low light, backlit and other excessively contrasty conditions, and when shooting amongst grasses the AF did struggle, particularly at longer focal lengths, and a bit of perseverance is required in these circumstances; you can also resort to manual focusing if necessary, although if you're shooting towards the sun you may struggle to see the focus peaking indicators.
The face detection technology utilised by the G3 X is sophisticated and works very well. An extraordinary array of options are available, and it's hard to see someone working through them all, but those I tried were certainly effective.
The Servo AF mode works reasonably well on slow-moving subjects in good light, but in low light and when trying to track fast-moving subjects it struggles to follow and lock onto the target. Part of the problem is that in most operating modes the screen fails to refresh in time, meaning you lose your subject on the screen if you try and take continuous shots. In Sport mode, the screen does refresh, but rather slowly and the burst rate is also much reduced; however, it does give you a better chance of successfully tracking your subject.
Although spot and centre-weighted average metering are available, most people are likely to use the G3 X's multi-metering mode, and I found this to be very accurate in a variety of situations. The full auto shooting mode works very effectively, and if you're using some of the more advanced modes such as aperture priority, you can set the camera to auto-correct both highlights and shadows – in all but the most tricky conditions this does a good job of minimising burnt-out skies and lifting the very darkest shadows.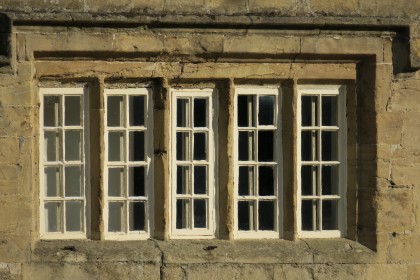 Images are very clean indeed from ISO 125 to 400, even shadow areas. JPEG files have fairly aggressive noise reduction applied at higher ISO settings, but the resulting files are smooth looking and retain a reasonable amount of detail, certainly up to ISO 1600. At ISO 3200 JPEGs start to become rather soft, but they're still usable. ISO 6400 and 12800 are best kept for emergency use, but it's good to have them if required.
Raw files still have a pretty impressive amount of detail even at ISO 3200, although at the cost of considerable noise. The excellent dynamic range of the G3 X is evident if you try boosting the shadows at lower sensitivity values in post-procsessing – up until ISO 800, you can lift the exposure and fill shadows without too much deterioration.
I found the Auto White Balance (AWB) setting mostly very accurate, certainly in bright sunny conditions where it produces accurate colours that aren't overly warm. The results are a little on the cool side in overcast or shady conditions, but not unpleasantly so. In such conditions, setting the white balance to Daylight gives you marginally warmer colours, with Cloudy being considerably warmer, but still producing images with good colour and tone; the Shade setting produces images that are rather too warm for my taste.
Lab tests: Resolution
We chose three rival cameras for the G3 X to see how it measured up in our lab tests: the Panasonic FZ1000, Sony RX10 and Canon G7 X.
We've carried out lab tests on the G3 X across its full ISO range for resolution, noise (including signal to noise ratio) and dynamic range. We test the JPEGs shot by the camera, but we also check the performance with raw files. Most enthusiasts and pros prefer to shoot raw, and the results can often be quite different.
Canon G3 X resolution charts
We test camera resolution using an industry-standard ISO test chart that allows precise visual comparisons. This gives us numerical values for resolution in line widths/picture height, and you can see how the G3 X compares with its rivals in the charts below.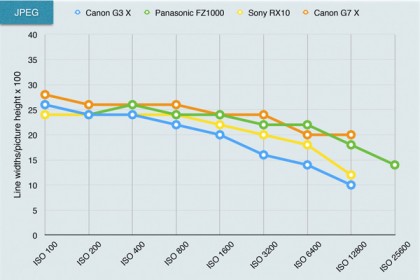 JPEG resolution analysis: At low sensitivity settings the Canon G3 X compares well with the competition, but its performance drops below the others at higher values.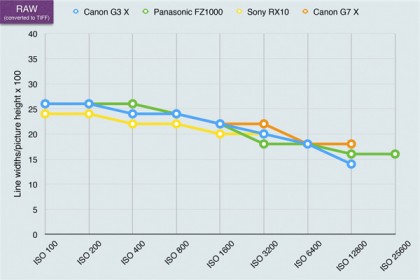 Raw (converted to TIFF) resolution analysis: There's a bit more detail in the G3 X's raw files, and it's maintained better throughout the sensitivity range.
Sample resolution charts
This is the chart we use for testing camera resolution. The key area is just to the right of centre, where a series of converging lines indicates the point at which the camera can no longer resolve them individually. We shoot this chart at all of the camera's ISO settings, and here are two samples at ISO 100 and ISO 6400.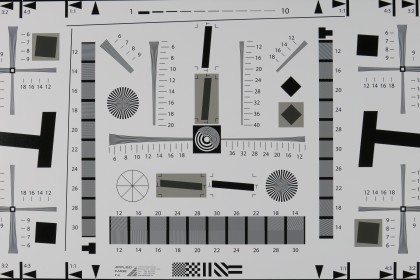 ISO 200 (JPEG): Click here for a full-size version.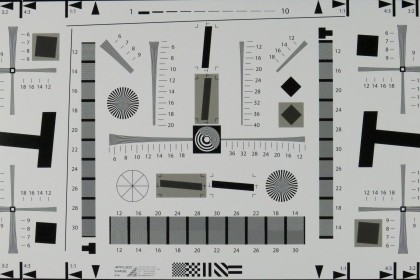 ISO 6400 (JPEG): Click here for a full-size version.
Lab tests: Dynamic range
Dynamic range is a measure of the range of tones the sensor can capture. Cameras with low dynamic range will often show 'blown' highlights or blocked-in shadows. This test is carried out in controlled conditions using DxO hardware and analysis tools.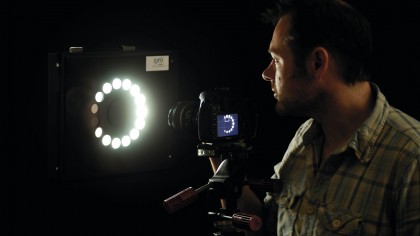 Read: Noise and dynamic range results explained
Dynamic range is measured in exposure values (EV). The higher the number the wider the range of brightness levels the camera can capture. This falls off with increasing ISO settings because the camera is having to amplify a weaker signal. Raw files capture a higher dynamic range because the image data is unprocessed.
Canon G3 X dynamic range charts
JPEG dynamic range analysis: Images from the G3 X have a good range of tones up to around ISO 6400.
Raw (converted to TIFF) dynamic range analysis: The G3 X's dynamic range is good up to around ISO 400, but there's a fairly dramatic drop at sensitivities above this value.
Lab tests: Signal to noise ratio
This is a test of the camera's noise levels. The higher the signal to noise ratio, the greater the difference in strength between the real image data and random background noise, so the 'cleaner' the image will look. The higher the signal to noise ratio, the better.
Canon G3 X signal to noise ratio charts
JPEG signal to noise ratio analysis: For most of the sensitivity range the G3 X lags behind the competition a little, indicating that images are noisier; this may be to help preserve image detail.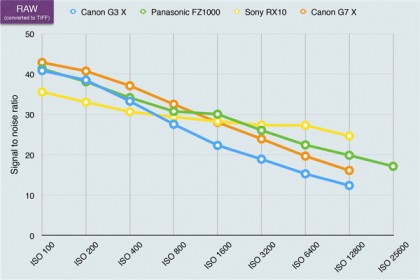 Raw (converted to TIFF) signal to noise ratio analysis: At lower sensitivity values the G3 X has a significantly better score than the Sony RX10, indicating that it has cleaner images, but the situation reverses at around ISO 800.
Sample Canon G3 X ISO test results
The signal to noise ratio charts use laboratory test equipment, but we also shoot a real-world scene to get a visual indication of the camera's noise levels across the ISO range. The right side of the scene is darkened deliberately because this makes noise more obvious.
ISO 200 (JPEG): Click here for a full-size version.
ISO 6400 (JPEG): Click here for a full-size version.
Verdict
It wasn't love at first sight with the Canon G3X and I started from a slightly skeptical stance, being concerned about the lack of a viewfinder and suspecting that the 24-600mm was going to be too much of a compromise. To some extent I found ways to compensate for the absence of a viewfinder, and I'm sure many users will adjust. However, there's no doubt about what sold the camera to me: the superzoom lens.
The level of detail captured is remarkable when you consider the size of the lens, the range it covers and the fact that the sensor is just one inch in size. Canon seems to have got the balance just right here: a larger sensor would improve image quality but the lens and whole camera would need to be considerably larger, while a smaller sensor might have made for a genuinely compact camera, but to the detriment of image quality.
The Canon G3X is an enjoyable camera to use – it may not be stylish, but it is well designed and sits comfortably in the hand. The touchscreen is an excellent inclusion and makes navigating the menus much easier. The tilting screen is great for low-down and high-level shooting, although a vari-angle version would have been even better.
The zoom lens operates smoothly and one shot focus is responsive and accurate in all but the most difficult of conditions. It's a shame it struggles with continuous shooting but the excellent video functionality should help compensate.
With so many full auto and scene modes available, those wanting to use the camera as a simple point and shoot are well catered for, as are those who like to experiment with special effects. Equally, those users who like to take control of settings themselves will find more than enough features and functionality to keep them happy.
Raw and JPEG files can be recorded simultaneously, and several image ratio crops are available. The lack of a panorama shooting mode does seem an oversight and there's also no multiple exposure option, but overall there's very little that's missing.
In terms of competition at this time, the G3 X sits between the Panasonic FZ1000 and Sony RX10 II, both in terms of cost and functionality, and it's big draw over both of those cameras is the extra zoom reach, which is considerable.
Panasonic's FZ1000 has a faster lens, fully articulating screen and 4K video, but it reaches only 400mm at the long end and is not as well built as the GX 3. The Sony RX10 II is very small yet has the same size sensor and a super-fast, constant f/2.8 aperture, but it has a even smaller zoom range of 24-200mm.
A more serious rival may be Panasonic's new FZ330, which boasts 4K video, a vari-angle screen and a constant f/2.8 aperture, and costs around £300 less, although we've yet to fully test that camera for image quality – you can see our first impressions here.
We like
A well made, reasonably rugged and extremely capable camera, with plenty of features, a high-quality tilting touchscreen and an extremely capable zoom lens. Image quality is very good indeed, particularly when you consider the generous focal range.
We dislike
The lack of an inbuilt viewfinder means the G3 X, out of the box, is not quite the complete camera that it might be, nor is it the most stylish looking. It's definitely not an action camera for tracking fast moving subjects, and the lack of a panorama function is disappointing.
Verdict
The G3 X really won me over, despite its lack of a viewfinder, largely down to its superb 24-600mm lens. Image quality is much better than I would have expected, given the huge focal range and the relatively small one-inch sensor. A good level of detail is captured across its zoom range and the nine-bladed aperture creates a smooth and beautifully rendered bokeh. Colours are punchy but natural looking, and images (both JPEG and raw) look great.
The autofocus (AF) system works very well with static subjects, as does the face detection focus tracking. However, the AF servo mode for tracking fast moving subjects is a disappointment, and I can't see this camera being used to shoot fast-moving wildlife or children running around the playground, although you can make use of the excellent video functionality to capture such subjects.
It may not be the most stylish-looking camera out there, but the G3 X handles well, and is intuitive to use. It's quite bulky for a compact, although not unreasonably so when you consider the performance and functionality it packs in. By including a one-inch sensor Canon has been able to keep the long range zoom lens to a sensible size, while still achieving remarkably good image quality.