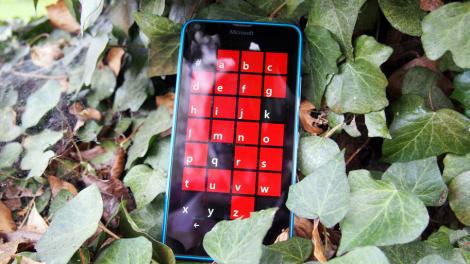 Introduction and design
The Microsoft Lumia 640 is among the first in a new breed of Windows Phones. With a larger screen, more RAM and a different design language from its predecessor, this is Microsoft stamping its logo (literally) on the Lumia range. And what a change this proves to be.
The old Nokia did things a little differently. Budget devices made by the Finnish firm were notoriously bare-bones; this could be seen in the decision to omit Gorilla Glass and limit RAM in models such as the Lumia 520 and 630, among others.
Value was added for the consumer through access to services such as MixRadio and HERE Maps. Microsoft takes something of a different tack.
Those who purchase a Microsoft Lumia 640 will receive several sweeteners, such as 30GB of free OneDrive storage and a one-year subscription to Office 365. These in themselves are nice, especially for the price. However, when paired with a phone that rivals (and exceeds) the ever-popular Moto G in many areas, even in its newer incarnation, heads will start to turn.
When it comes to specs, the Microsoft Lumia 640 does not disappoint. The device has a 5-inch, 720p screen with 294 PPI, a quad-core Snapdragon 400 processor clocked at 1.2 GHz, 1GB of RAM and 8GB of internal storage. These are exceptionally healthy specifications for the £130, $250 (around AU$320) SIM-free price point.
Though these specifications might appear exceptional, the competition is quite fierce. Devices such as the Honor Holly, Moto G (2014) and EE Kestrel all offer unique advantages at the same price point, while also being able to access the more than one million apps available on the Google Play Store.
As such, the question is, can an Office and OneDrive subscription sell the Microsoft Lumia 640? Will this be the budget hero device that Windows Phone needs?
Design
When I received the Microsoft Lumia 640, I was not especially impressed. My review device was constructed of a glossy cyan plastic, which was unpleasantly reminiscent of older Samsung devices.
I don't have the greasiest fingers in the world, however after five minutes of using the Lumia 640, it looked as if I had wiped it with a pepperoni pizza.
Luckily, the back cover of the device is removable, allowing you to switch in a number of different options, meaning (mercifully) that matte covers are available for those who might want them, along with other suitably 'Lumia' options, including black and orange.
Coming from a smaller device, as I had, it took a little while before I was confident enough to use the phone one-handed. The glossy plastic back meant the phone had a tendency to skate across tables with reckless abandon, so a case might be a wise investment for some.
Though well-balanced in the hand, the shell itself does not feel especially sturdy. Coming from a device such as the Lumia 435, which could sink a ship, the Lumia 640 LTE does not impress overly.
Looking at the side of the device, the black of the inner portion was clearly visible through the plastic, looking as though it might crack easily were it to fall.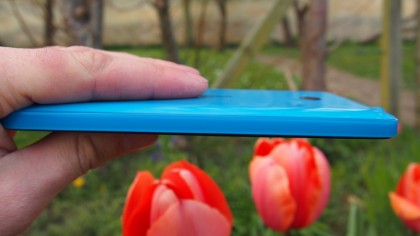 Once the back has been removed, access is given to the Micro-SIM slot, the removable 2500mAh battery and the MicroSD slot, which takes cards up to 128GB in size.
The sides of the Lumia 640 LTE are clean and uncluttered, and in the traditional Lumia fashion everything of note is thrown to the right of the phone. No sharp edges are to be found, and using this phone either one- or two-handed is a pleasant and comfortable experience.
The power button and the volume rocker have a decent travel and a nice click to them, meaning everything is easy to find.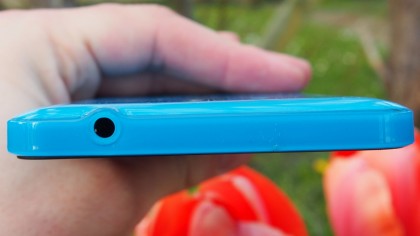 A single Micro-USB slot is tidied away on the bottom of the device, while the ever so slightly roughly hewn 3.5mm headphone jack is on the top, as might be expected.
On the back of the Lumia 640, there is a single rear-firing speaker, a neatly displayed Microsoft logo, a single LED flash and the 8MP rear-facing camera.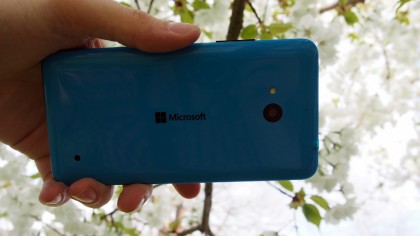 The front of the device contains the 5-inch screen, a 0.9MP selfie camera and the usual additions of a call-speaker and microphone. With Gorilla Glass covering the front panel, the oleophobic coating immediately makes itself known, feeling very pleasant to the touch.
Overall, this is a utilitarian but nice device for the price. Though Microsoft doesn't take any great gambits with the design, the phone is light, well balanced and pleasant to use both one- and two-handed.
Key features
Screen
It is interesting to see how far phone screens have progressed in the budget range. Whereas a few years ago, spending less than £200, $300 on a smartphone doomed you to excessive pixelation, now things are very different.
The Moto G (2013) wowed the world with a 720p screen at a less than flagship price several years ago, and now the Lumia 640 joins the club.
With a 5-inch panel, the Lumia 640 certainly sports a comfortable amount of real-estate on which to consume media and play games.
And at 294 PPI, though not quite 'Retina' in its quality, the screen should please everyone (pixel peepers aside). Web browsing was an enjoyable experience, as was viewing HD video.
In the best Lumia tradition, the abilities of the Microsoft Lumia 640's panel do not end there. As mentioned, the Gorilla Glass protection makes using the device a very easy experience.
The nice 'ClearBlack' polarisation filter used previously by Nokia has been applied, meaning that the device has very nice black levels for an LED screen; this makes it easy to use outdoors.
As it is an IPS panel, viewing angles are also excellent. Unusually, for a budget device, the Lumia 640 LTE sports both double-tap to wake and the ever-useful Glance mode, which is configurable to allow for a number of different notifications to appear.
Automatic brightness is also a nice addition, seeing as this was omitted on the Lumia 630; this makes daily use a little easier, while extending the battery a little.
Nokia always had a strong reputation for the quality of the panels it produced, and if this is anything to go by, Microsoft intends to continue the tradition in style. The screen on the Lumia 640 LTE is one of its main highlights, and is easily one of the best available at this price point.
Office suite
Since Satya Nadella became CEO in 2014, Microsoft has made a strong play for its cloud services. Lumia owners have long had access to Office and OneDrive; however, with the Lumia 640 Redmond has made its strongest push.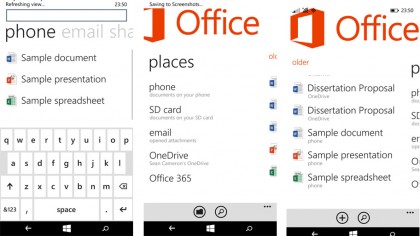 Included with the Lumia 640 LTE is a free one-year subscription to Office365 and 30GB of free OneDrive storage. On paper, this is an enormous saving, and it definitely adds value to the device.
OneDrive is certainly a pleasure to use. I found that pictures I took uploaded to the cloud with a minimum of fuss, easily beating Dropbox for speed.
The same was true when accessing files online; the service was consistent and functional, if not remarkable in any regard.
It has long been a necessity for Windows Phone owners to deal with OneDrive in one form or another if they wished to make use of cloud storage, and with 30GB free it is likely that many more will make the jump.
As for the Office 365 subscription, this is where things become a little more difficult. If you are a business owner, the ability to easily sync Word, Excel and Powerpoint files, along with editing them on the go, will no doubt be attractive.
For the average user, however, productivity is as sexy as ever, but Excel will most likely struggle to sell phones. Despite this, it is a nice addition. The Office app for Windows Phone is laid out sensibly and has a number of basic editing options, which remain a little more advanced than their Android and iOS counterparts.
Though typing a 3,000-word essay on a 5-inch screen is as attractive a proposition as ever, for basic tasks on the go, it is more than sufficient. As Microsoft clearly wishes to demonstrate, this is a phone for business as well as pleasure. However, the divide can sometimes be a little too stark.
Windows Phone 8.1 Update 2
The Microsoft Lumia 640 and the Lumia 640 XL are the first devices to arrive toting the latest update for Windows Phone – the drably titled Windows Phone 8.1 Update 2.
Typically, when Windows Phone has been updated, exciting names have been dreamt up, and with the new software came a number of new features. Yet, with Windows 10 on its way later in the year, all focus has been diverted to the task at hand, and this latest update has suffered as a result.
Windows Phone 8.1 Update 2 brings with it a number of bug fixes and stability improvements, and one feature that has been missing from Windows Phone from the start: the ability to pin setting options to the Home screen.
In the past, users had to be content either arranging and using the notification tray or swiping through to the settings menu if they wished to access options such as Wi-Fi or mobile data. Aside from a few third-party app options that could solve the problem partially, this could mean on occasion that using Windows Phone was a pain.
As such, I immediately pinned brightness, Wi-Fi and mobile data to the Home screen, which made general use far easier. Windows Phone 8.1 Update 2 also comes with a rearranged setting menu.
Windows Phone no longer has an endless list of random settings, and different options are grouped according to their functions.
I am something of a Windows Phone veteran, and I found these changes all much to my liking. And though newcomers to the mobile OS may find these changes to be simple common sense, they will most likely be welcome nonetheless, making this a quiet triumph.
Cortana
What is there to say about Cortana that has not already been said?
Microsoft's virtual assistant has been available for Windows Phone owners in the UK since the rollout of the Lumia Denim update in late 2014/early 2015, and it is safe to say that she has been met with a mostly positive reception.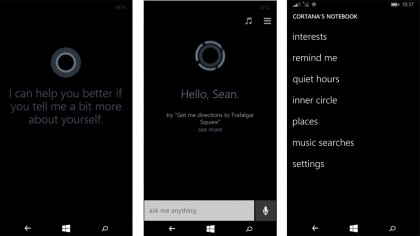 Combining some of the personality of Siri with some of the pre-cognisance of Google Now, along with a little Microsoft secret sauce, Cortana is generally a pleasure to use.
Cortana can perform web searches, compose messages, create reminders – everything that has become the bread and butter of voice assistants everywhere.
In addition to this, she can also interact with select third-party apps, although this function must be baked in by developers, and as such support is somewhat limited at present.
Everything Cortana knows about you is bundled into her 'notebook', which also contains a list of all of her permissions. Here, in a nice departure from the relatively opaque confines of Google Now and Siri, it is easy to control the information that Cortana can access about you.
Though it isn't possible with the Lumia 640 LTE to turn on 'always listening' voice activation, as it is with the likes of the Nokia Lumia 930 and the Lumia 1520, by pinning a tile to the Home screen, I found Cortana to be useful.
Though she is limited to searching through Bing, Cortana is fast becoming the big-value add-on that Microsoft so clearly wishes the service to be.
Performance and battery life
With the Lumia 640, Microsoft has held true to one of the proudest traditions of the 600 range: a healthy processor. Purring away under the hood of the polycarbonate slab is a quad-core Qualcomm Snapdragon 400 processor, clocked at 1.2 GHz. This is the very same processor found in the Moto G (2013), and as such is a tried and true performer.
I found that swiping around the OS was a pleasant experience. The usability of Windows Phone at the lower end of the price spectrum has often been touted as excellent. Approximately 50% of this general impression is based in reality – in my experience the operating system masks app loading times with myriad animations.
As such, it is a pleasure to say that, on the Microsoft Lumia 640, I did not find this to be the case. The best test of OS responsiveness is a measure of the 'app rehydration', or app refresh times when multi-tasking.
When loading apps such as Spotify from sleep, there was functionally no delay, whereas on a device such as the Nokia Lumia 540, this could easily be upwards of five seconds. The Lumia 640 is a scorcher, at least when swiping around.
Happily, this general level of performance continued into gaming performance. Whatever I threw at it, the device mostly took it in its stride. Games such as Subway Surfers, Sparkle 2 and Timberman ran without a hitch.
Though Windows Phone has often lagged behind in the processor department when compared to supercharged Android phones such as the Samsung Galaxy S6 and the HTC One M9, at least in the budget range Microsoft appears keen to catch up.
Battery life
To put it simply, the battery life of the Microsoft Lumia 640 is excellent.
With a relatively low-resolution display, a power-sipping processor and the efficient Windows Phone OS, the ingredients were all there for the success of the Lumia 640.
When matched with a large 2500mAh unit, all of these factors virtually guarantee that the device will last comfortably through a long day of work and play.
Unplugging the device at around 7:30am, listening to a few hours of Spotify, catching up with a few shows on BBC iPlayer Radio, browsing the internet for around an hour on HSDPA+ and whiling away dull moments with a little gaming saw the battery drop to around 45% by 6pm.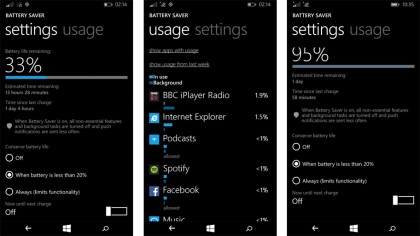 Leaving the device unplugged throughout the night, I saw a further 2% drop, leaving ample charge for the next day.
In all, regardless of your use case, this device has great battery life. And, as a bonus for those who travel frequently, and power users, it is removable, allowing for 'hot-swapping' a new unit in to top things up.
To help last through the day, Windows Phone comes bundled with a battery saver app, which comes with a powerful power-saving option. When activated, this allows background tasks to be shut down completely, except for whatever app is being used directly, limiting connectivity significantly, but proving useful in a pinch.
For me, activating this option dependably added around two to three hours to battery time. Typically, this gave an estimated 28 hours of power, and with power saver it increased to 31. Though it doesn't include any fancy greyscale power-saving options, as found on the Samsung Galaxy S6, this is a dependable and practical alternative.
Overall, I was very pleased with the battery life of the Microsoft Lumia 640 LTE. I came to the device with high expectations, given its screen, processor and the size of its battery unit, and yet was pleasantly surprised.
The essentials and camera
The essentials
One thing, among many others, that Nokia phones were always known for was the (relatively) crystal clarity of voice calls its devices were capable of.
Throughout the Lumia line, this has been something of an understated, but crowning feature, and happily the Microsoft Lumia 640 continues in this tradition.
Calls made from the device were pleasantly loud and rounded, and callers remarked on the quality at the other end. Though not quite up to par with the likes of 'HD' voice calls offered by some network providers, the Lumia 640 is a pleasant call-making device indeed.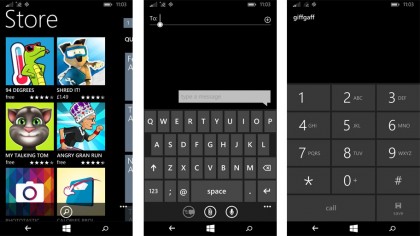 Radio performance also proved to be something of a high point, with clear HSDPA+ performance across the Bath, Bristol, Swindon and Cardiff areas. This proved to be true even in areas where I have often found it difficult to gain reception.
Pages loaded quickly on the baked-in Internet Explorer browser, though the app has some issues with 'pop-in'. Microsoft has tinkered with the code behind this to mimic Safari, and as such performance is similar on many sites to Apple's native browser.
With a configurable reading mode, desktop mode and many other settings, the browser is moderately customisable, which will no doubt please tinkerers. And with a bottom-mounted address bar, one-handed use is a very practical option.
Aided by the generously spaced keys of the on-screen keyboard, along with the fluid and reliable gesture mode and predictive text functions, the Windows Phone typing experience remains a joy. This remains true even in the face of increasingly serious competition in the Android space from the likes of Swiftkey and Swype.
The rear-facing speakers on the device produced a satisfying level of volume, with noticeable distortion not making itself known until the highest levels.
Finding apps on Windows Phone remains something of a problem. If they are available at all, apps are often a little more limited or buggy than their counterparts on other mobile operating systems, very rarely receiving updates.
Lastly, but not least, GPS performance on the device was acceptable. No matter where I found myself, getting a lock and navigating elsewhere was always a quick experience, with little in the way of jitters or lag.
Camera
With higher-resolution sensors quickly becoming the norm, even at the lower-end of the mobile market, on paper the 8MP sensor of the Lumia 640 fails to impress.
Yet, in most real-life situations, the camera unit in the Lumia 640 is a strong contender for the best snapper in the budget space.
In good lighting, the sensor produced strong levels of detail, along with colours that had a pleasing 'pop' without excessive saturation.
Coming with Windows Phone 8.1 Update 2, the Microsoft Lumia 640 is also privy to another exciting feature that first made its debut on higher-end phones in the Lumia line: 'Rich Capture'.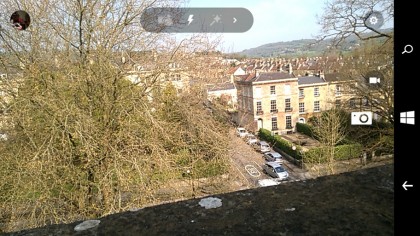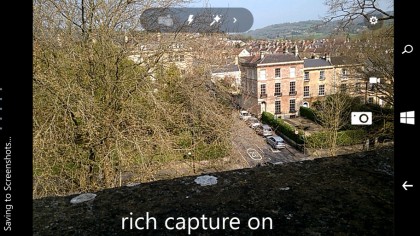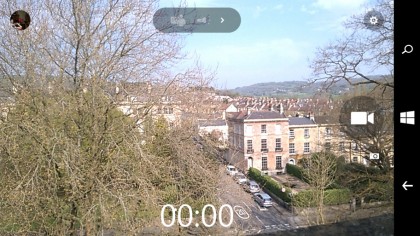 For the uninitiated, this is simply HDR (high dynamic range) but rebranded. When activated, this allows the camera to compensate for high levels of contrast; for example, pulling more detail out of dark shadows on brightly lit days.
With Microsoft's example of the service, however, this also allows you to select 'how much' flash you would like in your low-light shots, improving performance somewhat. The sensor captures two images, one without flash and one with, and combines the two afterwards to achieve the most pleasing result.
Despite this neat trick, low-light photography is not a highlight of the device. Although there is a decent level of brightness in most shots, noise constantly rears its ugly head in almost every scene.
There's a single 0.9 MP selfie camera on the front of the device, and this – as might be expected – is perfectly acceptable for the odd Skype call, but not for much else. It is certainly not on a par with the likes of the 5MP wide-angle effort on the Lumia 535 and the Lumia 735.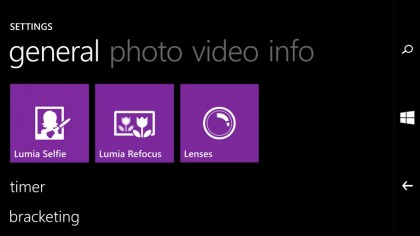 Video is also of decent quality, with the camera handling differences in contrast well and with decent sound levels. Footage can be recorded in 1080p and 720p at 24, 25 and 30 FPS.
At such a low price, and with such competitive specifications in so many other areas, Microsoft might have been content to produce something merely average. However, the Lumia 640 is a good all-round smartphone snapper.
Camera samples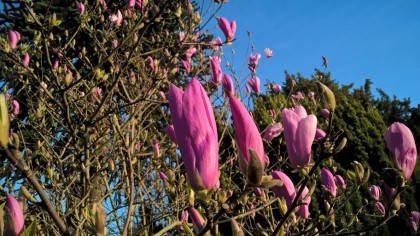 Click here to see the full res image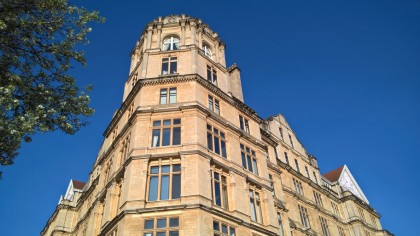 Click here to see the full res image
Click here to see the full res image
Click here to see the full res image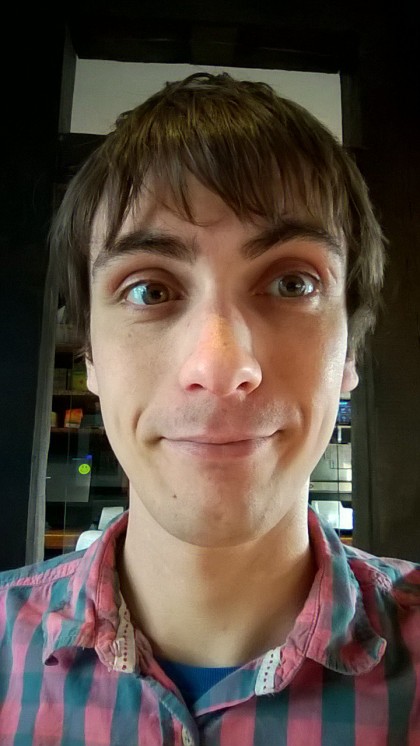 Click here to see the full res image
Verdict
Using the Microsoft Lumia 640 LTE was an experience that I did not expect to enjoy quite so much. Coming from a Nokia Lumia 930 as my daily driver, I was surprised at how much of the overall quality of the Windows Phone experience could be found at the lower end of the market.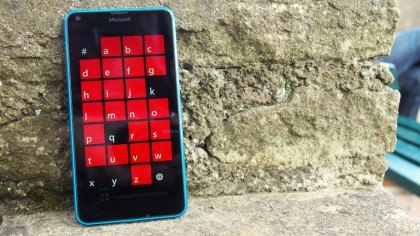 We liked
With a 720p screen that boasts wide-viewing angles and a pixel density of 294 PPI, the Microsoft Lumia 640 is excellent for reading text on the web, gaming and watching movies on the go. Colour accuracy is strong, given that it is an LCD screen, and Glance mode is supported, along with double-tap, which are nice add-ons for the price.
Boasting 2500mAh, the battery life of the Lumia 640 is consistently excellent. It is easy to make it through a full day of work with enough juice to spare for a gaming session on the commute, along with some reading along the way.
The 8MP rear-facing camera is excellent. In most situations, colours are accurately represented and detail is even throughout, with good sharpness levels present consistently. This is supplemented by the clever Rich Capture mode, which makes shooting in low light easier.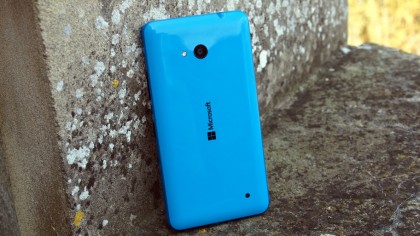 We disliked
Though the Microsoft Lumia 640 is an attractive device, the signature build quality of the Lumia line seems to have been found somewhat lacking, The plastic shell running around the device betrays its budget origins and doesn't feel as though it could take a knock as easily as its predecessors were able to.
While the Snapdragon 400 is a strong performer, as Qualcomm releases newer chips not only in the 400 line, but others in its budget range, it is a shame to see Windows Phone stuck in the past once again. With the likes of the Moto E (2015) receiving the Snapdragon 410, along with all of its improvements, Windows Phone is once again in danger of looking as though it is stuck in the past.
And, as ever, the app situation on Windows Phone still lags behind. Apps are updated infrequently, if they are present at all, with the store lacking most of the vibrancy that has become a hallmark of the Android and iOS app stores.
Final verdict
Despite its somewhat cheap design and the occasional quirk, the Microsoft Lumia 640 is a remarkably well-rounded device. With an excellent screen, a nice camera, strong battery life and good general performance, this is a phone that should easily suit the lifestyles of most.
This is Microsoft's challenge to the Moto G, and with sales of the latest device in the line failing to hit the heights set by its predecessor, the time is right to strike.
With 30GB of free OneDrive storage and a year's subscription to Office 365 for those who purchase the device, the Lumia is an easy sell for most people.
Despite this, two major question marks hang over the device, the first being Windows 10. Set to debut later this year, Microsoft's major update to its operating ecosystem will bring major changes, and whether these will wash away the tentative footsteps made by Windows Phone into the mobile market is yet to be seen.
The second is simply that of future proofing. As other devices are becoming cheaper and more powerful, especially the likes of the Honor Holly, for how long will besting the Moto G be a true measure of success?
For the price, unlocked and with access to 4G, along with all the other bells and whistles, this is a remarkably complete package from Microsoft, which bodes well for later in the year. This is a smartphone for anyone, and as such is well worth your hard-earned currency.
First reviewed: April 2015