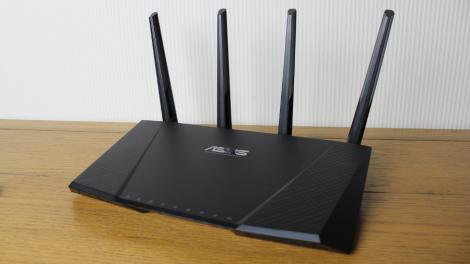 Introduction and design
With the first generation of 802.11ac wireless routers, the Asus RT-AC68U stands apart from many of its competitors, with both great wireless performance and superb built-in software that offers plenty of functions and an intuitive, well-designed interface.
Even today, it still costs a bit more than other routers, but arguably it's worth paying a bit extra for the benefits of great performance and useful and functional software.
The competition is catching up now though. For example, TP Links' superb Archer D9 can just about match the AC68U for wireless performance, and its software is pretty good too.
So to maintain its advantage, Asus is under considerable pressure to deliver the goods once again with an updated flagship model, the RT-AC87U.
It's still relatively expensive with a UK price of £179 ($240 in the US, which translates to AU$315).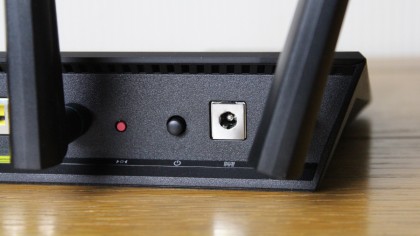 The big headline feature is a fourth antenna, making it capable of 4×4 802.11ac wireless speeds. The theoretical wireless throughput it can manage is now 1733 Mbit/sec, dubbed AC1750. In practice, it should correspond with roughly 25% better performance. Combined with up to 600Mbps 802.11n wireless speeds, Asus is calling it AC2400-compliant.
But the big caveat here is that right now, barely any devices have a built-in wireless adaptor that can handle quad-stream 802.11ac. It's still quite rare to even find one with 3×3 wireless, Apple's laptops being the exception, rather than the rule.
However, Asus has also released a new quad-stream wireless bridge to compliment the RT-AC87U. Dubbed the EA-AC87, it's just about the only way to get those 4×4 speeds from the new router, aside from investing in a second 4×4 router set to bridge mode.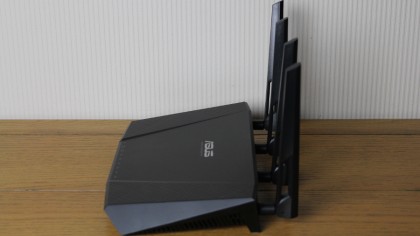 Design
The RT-AC87U has a flat angular design, similar to Netgear's Nighthawk X4 but with all four of its quite massive antennas positioned at the rear, making it look less like a giant robot insect than some routers (as many people have casually commented).
It retains some elements of the AC68U's unique checkerboard pattern, something I rather like, with the left and right sides of the chassis decorated in this way. At the front of the device are two chunky buttons on the left, to enable the LEDs and wireless access, and on the right a USB 3.0 port is hidden behind a removable cover.
Inside, it uses a dual-core Quantenna 500MHz chip for 802.11ac, with a second dual-core 1GHz Broadcom chip for 2.4 GHz wireless, which also manages all the other router functions. It also has 256MB of system memory, plenty for a router.
A USB 2.0 port joins the four gigabit Ethernet ports at the rear, along with a hard power switch and device reset button. Nine blue LEDs flicker on and off at the front to show the status of various aspects of the router, such as power, internet status, 2.4GHz and 5GHz connectivity and each Ethernet port.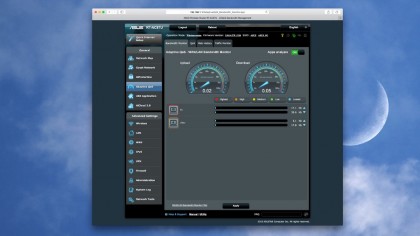 Software
Once again it uses well-designed, useful and clearly labelled built-in software. There are countless examples of where Asus has the leg up on competitors' efforts, and it's still the best software from any router manufacturer.
As before, the main page layout is divided into sections that show, at a glance, the status of various aspects of the network – how many clients are connected, which wireless networks are up, whether you have a hard disk connected to the USB ports, and so on. It's simple to navigate.
One example is the notifications system. Anyone with knowledge of networking and computer security will say one of the first things you should do is change your default router login password. Most people forget, never bother, or don't know how to. The RT-AC87U displays a reminder in the form of a flashing exclamation mark in the corner, with a quick link to take you to the right page.
It's a small touch, but this is an example of the extra attention Asus has lavished upon its new router's software. And you get other similar warnings and notifications too, such as when a firmware update is available.
The main menus on the left lead to the more advanced sections of the interface, and there are plenty of them. There's a full system log, VPN server, IPv6 support and dynamic DNS, all of which you would expect to find on any modern router now.
The new Adaptive QoS mode deserves a mention too. Venture into the menu and each computer on the network is listed, with a real-time update of the bandwidth they are consuming. You can drag and drop coloured labels to rearrange their priority, and it's all easy peasy. But it's also useful to diagnose whether one of your computers is hogging all your upstream bandwidth, for example.
In here there's also a handy Web History section, logging the domains each computer on your network has been accessing. Useful to see when the kids are using Facebook rather than doing their homework, for example.
The AiProtection section has both parental controls and a general overview of the router's security. You can run a security assessment which lists everything that could be a risk, from the strength of your wireless password to malicious website blocking and disabling WPS, UPnP and guest logins. With one click it sets all the relevant options to secure the RT-AC87U.
It's worth pointing out even these settings might not stop a truly determined and well-equipped hacker, but they're about as good as it gets for a consumer-class router.
The USB Application option has full support for not just hard disks, but 3G/4G wireless modems, and a range of NAS-like features such as a Samba media server, Apple Time Machine functionality, and AiDisk cloud file backup.
Performance
For wireless testing, like other routers, I used a pair of Macs running the Wi-Fi Perf software. This software measures throughput between the two machines without relying on a file transfer, so any bottlenecks due to storage are not an issue.
I tested 2.4GHz 802.11n and 5GHz 802.11ac performance at 1 metre, 5 metres and 10 metres distance, with clear line of sight to the router. Since the receiver in the 2013 MacBook Pro is a 3×3 802.11ac model, this was only testing the 3×3 performance of the RT-AC87U, reflecting a setup used on many current devices.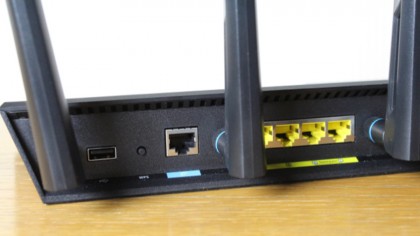 Benchmarks
Here are the results of our benchmarking:
RT-AC87U Performance Client-to-server
2.4GHz 802.11n (1 metre) 114.65 Mbps
2.4GHz 802.11n (5 metres) 105.26 Mbps
2.4GHz 802.11n (10 metres) 78.93 Mbps
RT-AC87U Performance Client-to-server
3×3 802.11ac (1 metre) 686.12 Mbps
3×3 802.11ac (5 metres) 248.89 Mbps
3×3 802.11ac (10 metres) 178.34 Mbps
RT-AC87U Performance Server-to-client
2.4GHz 802.11n (1 metre) 134.57 Mbps
2.4GHz 802.11n (5 metres) 112.52 Mbps
2.4GHz 802.11n (10 metres) 105.03 Mbps
RT-AC87U Performance Server-to-client
3×3 802.11ac (1 metre) 640.54 Mbps
3×3 802.11ac (5 metres) 377.23 Mbps
3×3 802.11ac (10 metres) 245.48 Mbps
These results are excellent, with some particularly good short range speeds, although they're fairly typical of most 3×3 routers. Notably, the 3×3 802.11ac results come out slightly short of the speeds I measured from the Netgear Nighthawk R7500 X4 router.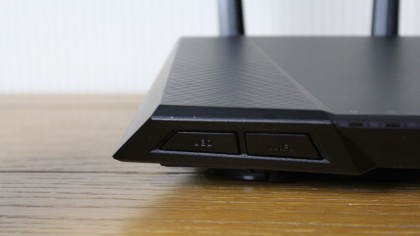 I then ran another test. With the EA-AC87 4×4 bridge connected to one of the Macs via Ethernet, I hooked the bridge up to the 4×4 network of the RT-AC87U. Think of the EA-AC87U as a giant wireless dongle, connected via Ethernet rather than USB, and with four big antennas.
With the only wireless link here between the bridge and the router, I was fully testing the 4×4 capability of the router at various distances. And the results were superb, as you can see for yourself:
RT-AC87U Performance Client-to-server
4×4 802.11ac (1 metre) 753 Mbps
4×4 802.11ac (5 metres) 750 Mbps
4×4 802.11ac (10 metres) 256 Mbps
RT-AC87U Performance Server-to-client
4×4 802.11ac (1 metre) 863 Mbps
4×4 802.11ac (5 metres) 811 Mbps
4×4 802.11ac (10 metres) 490 Mbps
Like Usain Bolt at his best, these server-to-client results break all records, with the fastest speeds I've ever recorded from a wireless router. 863 Mbps is a fantastic speed and shows the true potential of 802.11ac is still to be realised. At 10 metre range, 490 Mbps is another record, beating just about every other 802.11ac router on the market at this distance.
This time, these 4×4 802.11ac speeds are much better than those achieved by Netgear's R7500.
The 4×4 client-to-server results are a little more down to earth. The RT-AC87U still performs well, although here it's roughly 15% faster than the standard 3×3 802.11ac speeds. These are still good results, though.
I also copied a 5GB folder of large files from a hard disk connected to the USB 3.0 port, averaging 31.3 MB/sec read and 26.6 MB/sec write. A 5GB folder of smaller 1MB JPEG images copied across with 20.1 MB/sec read and 17 MB/sec write. While this is slower than a native USB 3.0 connection on a computer, and is matched by many other routers, in the old days when routers used puny processors, you'd be lucky to get 1MB/sec, making them generally useless for file storage.
Finally I measured the router's idle power consumption without any USB device connected as 12.4 Watts. That's a tad more than other routers – I measured 8.1 Watts from Netgear's Nighthawk X4 and 5.1 Watts from AVM's Fritz! Box 3490.
Verdict
We liked
The software is definitely the best thing about the RT-AC87U. With many other routers and older models, there are dozens of small annoyances that the engineers at Asus have solved, with a bit of lateral thinking (and perhaps some market research). There are many features, and in all honesty we've only scratched the surface of them in this review.
The performance at standard 3×3 802.11ac frequency is very good, although not record breaking, and is nothing to complain about at all. The 4×4 performance is outstanding though.
USB performance and 802.11n speeds are similarly adequate.
We disliked
The lack of 4×4 802.11ac hardware is a potential reason not to buy this router. Device manufacturers aren't exactly falling over themselves to adopt faster 802.11ac speeds either.
It's a bit pricey too, reflecting the higher overall cost of 802.11ac hardware.
The best configuration is with the wireless bridge, used for extending wireless coverage over distances. But this is an extra cost on top of the router.
Final verdict
The Asus RT-AC87U is undoubtedly the very best wireless router on the market, not just for its performance, but for its excellent software. Asus has clearly invested more resources into this area than other firms usually do, and the effort has really paid off, making some of the software in competing routers look like a mere afterthought. Venturing into a router to change settings used to be a chore, even for people with some know-how – but Asus has changed all this for the better.
Wireless performance isn't leaps and bounds ahead of the competition though. While its 3×3 802.11ac speeds are perfectly respectable, they're not the fastest I've ever seen.
But as a counter to that, the new 4×4 mode works brilliantly, and is incredibly fast, at both short range and distance. You will need to buy more hardware to take advantage of it though, which is why the software, rather than the 4×4 wireless speeds, is the real reason to spend extra money on the RT-AC87U over the competition.
In this respect, it may prove more popular for businesses, hotels and so on rather than individuals.