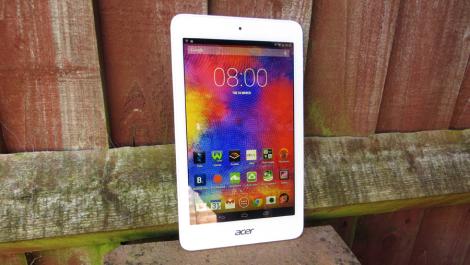 Introduction and design
Acer isn't a newbie to the low end of the Android tablet market, having slowly carved itselves a niche as one of the better-known brands among a host of budget competitors. While early attempts at tablets bearing the Iconia label were relatively uninteresting, the latest addition to the range – the Acer Iconia One 7 – looks (at least on the surface) like it might be a little more appealing.
Running Android 4.4.4 KitKat straight out of the box, and powered by an Intel Atom processor, first impressions of this 7-inch tablet are pretty good for the low price of only £99 (US$146, $192 AUD). Easy comparisons can be made to the Google Nexus 7, though the One 7 has slightly smaller dimensions and a lower resolution 16:9 screen.
Other than the price, the main headline for Acer's new budget tablet is that it packs an Intel quad-core processor – an interesting alternative to the ARM processors that you'll find in any other cheap Android tablet. This is coupled with 1GB of RAM and 16GB of storage, with room for additional expansion via microSD.
The Acer Iconia One 7 is relatively slender, with a 8.6mm chassis. However, it's not the lightest 7-inch tablet around, weighing in at 320g – a full 51g heavier than the lean Asus MeMoPad 7 ME572C. It's certainly not fat, and feels light enough to slip into a bags without adding too much heft.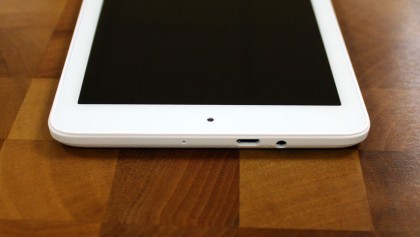 The design is relatively understated, but the dimpled rear and 7mm bezel set the One 7 apart from other budget tablets.OK , so the design isn't in the same league as the metallic Apple iPad Mini, or quite as attractive as the aluminum rear on the 3G-connected Acer Tab 7, but there are certainly worse looking budget slabs around.
Build quality is most definitely a mixed bag. The smooth glass of the front looks and feels great, but give the tablet a subtle twist and you reveal where the majority of the corners have been cut. I do this with every smartphone or tablet I review, and the Iconia One 7 dished out some of the most disappointing creaks and groans I've heard in long while.
In fact, it goes one step further than this. I was actually able to remove the entire rear panel of the One 7, by hand, with almost zero fuss. The plastic panel isn't supposed to be user-removable, but there's nothing more than a few plastic clips holding it in place.
With them out the way, all the tablet's delicate internals are laid bare. This would be acceptable if it was intended to be serviced by the user, but while it makes the tablet more repairable, it exposes circuit boards and a 3420mAh battery which you wouldn't want your child getting their hands on – not good, Acer.
Moving on from this unnerving revelation, you'll find the power button towards the top of the right-hand edge, with a single volume bar residing just below. There aren't any other physical buttons on the Iconia One 7, but near the top of the opposite edge is a handy microSD port that'll take cards up to 32GB.
Both the 3.5mm headphone and micro USB sockets are found alongside each other on the top edge of the tablet, with a microphone slightly further along.
Apart from the 0.3MP front-facing camera, the front of the One 7 is devoid of any notable features as it uses on-screen buttons rather than capacitive alternatives. Flip the tablet over and you'll find a 5MP snapper on the top left corner, and a wide speaker grill at the bottom, which conceals two speakers.
Key features and performance
You can't expect a fully-packed powerhouse for less than £100, but the Acer Iconia One 7 manages to fit in an adequate specification for the money.
The HD screen is punchy and bright, and while it may only pack a pixel density of 216ppi, the 1,280 x 800 resolution IPS LCD screen has reasonable colour reproduction. There are tablets at this end of the price spectrum that hold their own against more expensive tablets when it comes to resolution – at just £30 more, the Tesco Hudl 2 crams in a hugely impressive 1,920 x 1,200 resolution screen – but the One 7 isn't among them.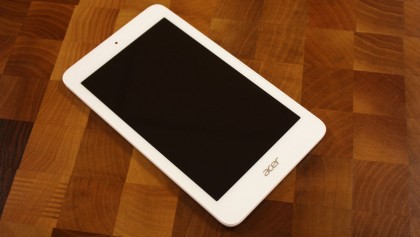 Pictures and videos look OK on screen, helped by extra processing coming from Intel's Smart Video mode that aims to reduce noise and eliminate artifacts when playing back lower-quality interlaced videos.
Where power is concerned, the Acer Iconia One 7 packs plenty of punch for such a low-priced tablet. Powered by Intel's Atom Z3735G quad-core processor, which is clocked at 1.33Ghz, it's the same series of processor found in a series of full-fat Windows 8.1 tablets such as the very well priced Linx 7 we looked at back in December.
As it is running the comparatively lean Android 4.4 KitKat, this Atom processor flies through all the tasks I threw at it without a hint of slow-down, despite having "only" 1GB of RAM.
The internal storage capacity of 16GB is the bare minimum you would hope to find in a tablet in 2015, though some other manufacturers are still trying to make do by equipping only 8GB, so kudos to Acer for not being a total cheapskate. Further storage can easily be added via microSD cards up to 32GB, affording a plenty of extra storage for media and more.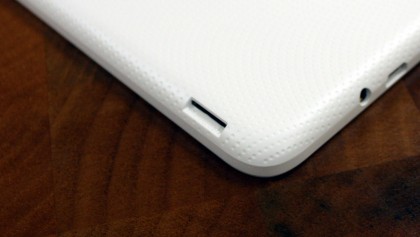 Extras include a distinctly average set of speakers that certainly don't make it up to 11, WiFi up to N standard, Bluetooth 4.0 and a GPS chip – a welcome addition often left out of budget tablets.
Android KitKat OS, while not being the most up-to-date version available, is new enough to be compatible with any app out there, including some of Google's newer features such as Android Wear support.
The operating system one the One 7 is as about as near to stock Android as you can get without it coming directly from Google and one of their Nexus devices, with only a few minor alterations. Notifications can be reached by swiping down from the top left of the screen, while an assortment of quick settings can be accessed by swiping from the top right corner.
Discounting the mountain of pre-installed apps (more on this later), Acer has included a couple of additional features in the settings menu. There's a basic on/off toggle for Intel Smart Video (as mentioned above), and a menu that enables Acer's Touch WakeApp.
Touch WakeApp is a theoretically handy feature found in recent Motorola phones, allowing you to wake the tablet from sleeping simply by double-tapping the tablet. It took a couple of attempts at enabling it before it actually started working, but when it did it worked with both light and heavy double-taps. However, it takes a moment for the screen to wake, and unfortunately this feature was so erratic, I ended up disabling.
There are five homescreens available, and seemingly no option to expand on this number. A number of widgets are pre-installed, but they're mostly from the additional apps. Other than Google's stock widgets, there is only a single Acer-branded widget, and this ties into their suggested apps app. It's small, non-resizable, and largely pointless.
Because of the lack of extra bells and whistles – otherwise known as bloatware – Android 4.4.4 runs smoothly and without hiccup, almost as Google had intended.
Benchmarks and battery life
Curiously, although Acer lists the processor in the Iconia One 7 as running at 1.33Ghz, I found that when I launched GeekBench, it was reported as 1.83Ghz – whether the processor scales depending on the task, or is set to overclock when benchmarked, I couldn't determine.
Geekbench's tests were over quickly and the results came as no huge surprise: a score of 730 in the single-core test pegged it more than 100 points lower than the Amazon Kindle Fire HDX 7, while the multi-core score of 2,051 placed it some 400 points short of the Nvidia Tegra 4-toting Advent Tegra Note 7.
Futuremark's 3DMark put the One 7 alongside the Tesco Hudl 2 with a score of 13,036 in the Ice Storm Unlimited test, an unsurprising result, considering it packs exactly the same Intel processor.
Lastly, I ran the SunSpider Javascript benchmark in Google's Chrome browser, which tests the processor's capacity to crunch through Java – a widely used programming language on both websites and apps. The score of 795.4ms makes it roughly twice as fast as the quad-core mediatek processor powering the Gigaset QV830 tablet I looked at in October last year.
Despite being outpaced by some older tablets, benchmarks are of course not the definitive indication of how the tablet will perform in day-to-day tasks. Fortunately, I am happy to report that I didn't encounter any noticeable slow-down, no matter how quickly I zipped in and out of applications.
Acer quotes a battery life of 7 hours from the 3,420mAh Lithium Polymer battery. This is a bit of a let-down, as I would have expected something large enough to comfortably handle more than a day of browsing, video playback and games.
After playing Sim City Buildit for no more than 10 minutes, the battery had lost 5%, and playing the faster-paced Real Racing 3 dropped it 7% over the same time period.
After charging the Iconia One 7 fully, I tried running TechRadar's tried-and-tested battery-bashing video on full brightness, which dropped the battery to just 64%, meaning it lost a total of 36% in the same period that the 2014 Nexus 7 dropped just 20%.
If I had to guess I'd say this is likely something to do with the Intel processor's inefficiency at decoding videos compared to counterparts from Qualcomm, and while the battery holds up well enough with less intensive tasks, if you're looking for a gaming companion or something to watch hours of videos on a long trip, it might be worth spending a little more to get an alternative with a higher capacity battery.
The essentials and camera
As Acer has not spent too much time fiddling with Android, it is close enough to Google's original to think of it as stock. Chrome is the browser of choice, the keyboard has not been unnecessarily re-skinned or replaced, and all the other key Google apps are pre-installed. Of course, like so many brands do, there are a few little hidden extras that Acer couldn't resist including, and some are… not so hidden.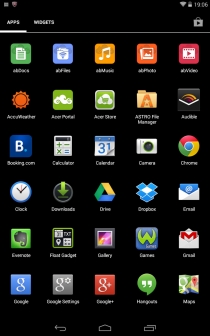 Firstly, there are an almost overwhelming amount of pre-installed apps. Some are pretty handy, like the Audible book reader and AccuWeather apps, while others I would uninstall in a heartbeat if this was my very own Iconia One 7.
A few dollars have obviously changed hands between Amazon and Acer, as the entire suite of Amazon apps are pre-installed, from the Amazon kindle app, to the Amazon App and music stores. There are apps fromm eBay, Booking.com, and Zinio clogging up the app drawer, as well as apps from WildTangent and Gamesloft ready to suggest some over-priced or under-polished games.
As well as this, Acer has a trio of their own applications. The Acer Portal is Acer's own service for cloud storage, assistance with your tablet and other 'helpful' services. Then there is the 'Acer Store', which hopes that after plumping for such a reasonably priced tablet you'll kit it out with a variety of covers, bags, keyboards and others accessories.
Lastly, Acer Suggests is yet another apps portal that desperately wants you to try out the games Acer has been slipped a few bucks to market directly into your retina. I suppose you could call it curated, but I'm cynical here; a click on any of the apps takes you directly to Google's own Play Store, leaving me to wonder why you would even bother with Acer's own store in the first place.
The single useful Acer app that is pre-installed is the only one that doesn't feel like it's trying to get you to sign up to anything, and that is the Float Gadget. As the name might suggest, this is a little floating widget that sits above other applications and offers you a calendar, memo pad, calculator and quick location finder.
It's similar to the floating widgets you'll find on LG and Sony devices, and could be genuinely handy for multi-tasking with other applications. My only gripe? The widget cannot be re-sized or customised in any way.
There are 12 other additional pre-installed apps, and none of them qualify as sufficiently essential to justify Acer forcing them on you.
Camera
The cameras on the Acer Iconia One 7 are – at best – below average. The rear-facing camera packs 5 megapixels, though you would be pushed to tell where on earth they're hiding most of them.
It took a second or two for the camera to start up, and every single photo had an unusual smudged and over-processed quality to it, no matter how much I played with the variety of settings afforded by Acer's tweaked camera app. I can only assume that the camera was set up to smooth over any digital noise, but the effect has been far too heavily implemented, and because of this pictures end up looking very artificial.
There is also a rather frustrating blue/purple tinge to every photo I took. When trying to take a close-up of some flowers in my garden, the results were incredibly unnatural, while trying to capture a good picture one of my two fast-moving Terriers was an almost impossible task. The one time I did manage to get a picture of one of them standing still, details were still soft, and their hair looked anything but authentic.
If I could give the camera any plus points, that would be for the improved number of filters, effects and shooting modes over the stock Android camera app, including panorama, HDR and quick-burst options. Unfortunately, like the camera itself, all of these features felt entirely underwhelming. Panoramas were badly stitched together, HDR mode tended to throw up washed-out photos and the quick-burst mode was… not so quick.
The front facing camera? Well, it should come as no surprise that there's literally nothing good I could find to say about it. The 0.3MP sensor is limited to 0.2MP pictures (that's 640 x 360 eye-watering pixels). If you're doing the occasional Skype call, it might be passable in good lighting conditions, but for everything else, it's atrocious.
Sample images
View the full res image
View the full res image
View the full res image
View the full res image
Verdict
The budget corner of the Android tablet market is swelling significantly, and the arrival of more well-known brands like Acer at the party should push up quality and value overall.
While better screens, faster processors and greater storage capacity are all starting to trickle their way into tablets like the Acer Iconia One 7, you should still peg back your expectations when comparing tablets such as this to pricier models like the Apple iPad Mini 3 or the surprising Dell Venue 8 7000.
The asking price of £99 ($146 USD, AU$190) makes the Iconia One 7 very tempting for occasional users or those looking for a tablet for kids, but the number of disappointments – from the build quality, to the terrible camera and huge amount of pre-installed apps – rather tainted my experience.
We liked
The Acer Iconia One 7 is a speedy little device when running day-to-day apps and flicking between windows and menus. Intel's Atom processor clearly has enough grunt to munch through all but the most demanding games.
The operating system hasn't been unjustifiably messed with, and while Acer has gone hugely over the top with pre-installed apps, at least there's plenty to get you started. Fortunately if you do start to run out of space, there's an easily accessible microSD card slot on hand.
The screen is bright, with reasonable colour reproduction, and the addition of Intel's 'Smart Video' mode makes the most of lower quality video.
We disliked
The build quality is a real let-down. The Iconia One 7 flexes and creaks, and I was shocked to see how easily I could pull the back off the tablet. All I could think of was that if left alone with a young child, putting a large lithium battery within reach presents a real hazard to curious fingers.
The camera is absolutely abysmal. I almost wish Acer hadn't bothered with the rear camera at all in favour of a HD front-facing camera that would make video-calling and the ever-popular selfie more viable. As it stands, the One 7 simply cannot be recommended on its photographic merits.
The stereo speakers are tinny and not particularly loud, and while the screen isn't awful, only 800 vertical pixels feels a bit stingy when compared to some tablets that cost only a little more.
Final verdict
If you're in the market for a budget tablet you can share with children, I'm sorry to say it, but Acer has missed the mark with the Iconia One 7. Yes, the processor is speedy, but almost everything else I can think to say about the tablet is no better than average.
The Tesco Hudl 2 may have an equally poor camera, but with a better and bigger screen, it's still the tablet of choice at this end of the market.
While Acer has a reputation for providing cheap and cheerful electronics, they usually feel like they'll last significantly longer than the One 7 seems likely to.
I can only really recommend it for those looking something cheap to tide them over until they can afford a better tablet, or for those on a very strict budget – and even then, there are still better options around.