Introduction and display
Frankly, LG's first smartwatch didn't offer much. Though, its second, the LG G Watch R, has proved to be far superior despite being a bit plasticky. It seems like the third time's a charm for LG, with the LG Watch Urbane looking the sleekest of the bunch.
However, the Urbane is essentially a dressed up G Watch R with nearly identical dimensions and innards.
With more premium materials, the watch is, of course, going to cost more. Though at $349 (£259, AU$459) – the same price of the cheapest Apple Watch – it doesn't seem like LG is asking for too much. Still, you can pick up its predecessor for $100 less and pretty much have the same smartwatch.
Pricing aside, the Urbane has a distinct look that's certainly polished, but it's clearly been tailored for a certain demographic. Despite images of women sporting a variation of the Urbane, it looks like this watch was made for businessmen. This isn't a huge problem, of course, but good luck getting women interested in wearing a chunky piece of metal and leather that won't fit right.
The Urbane has the advantage of being the first Android wearable with the latest Lollipop 5.1.1 software. But again, the other smartwatches will get updated soon, meaning there's really nothing special about the latest LG timepiece save for its style.
Display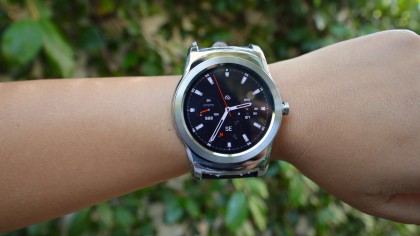 The LG Watch Urbane sports a 1.3-inch P-OLED display (320 x 320, 245ppi) which matches the LG G Watch R to a tee. The Urbane is also a bit smaller than its rounded rival, the Moto 360, which comes in at 1.56-inches.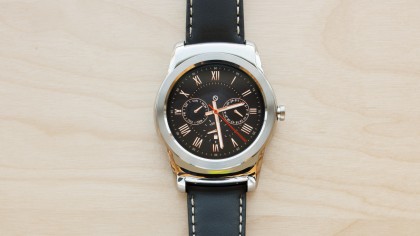 Like the G Watch R, the Urbane's screen is lovely to stare at but sometimes looks pixelated, depending on which watch face you plop on the front. I found the Classic face had the most pixelation on the dial. The moons on the Moonphase face also look a little blotchy.
Design and comfort
Where the G Watch R looks perfect for runners and outdoor enthusiasts, the Watch Urbane fits best in the world of suits and the modern day Mad Men types.
The Urbane has a clean, stainless steel body that allows you to change out its 22mm strap, should you wish to switch out the genuine stitched leather for something made of silicone, metal or even a different leather strap.
You can also choose between a rose gold or silver watch body, likely LG's attempt at drawing in a larger pool of potential female watch buyers. However, the material of the Urbane's body will do nothing to hide the fact that it's still gigantic and bound to dangle on slimmer wrists.
The Urbane's bezel has been thinned out and slightly flattened, instead of the sporty G Watch R's detailed dial that dipped slightly inward towards the face.
There are no buttons on the body of the Urbane, but a traditional watch crown has been placed on the right. It doesn't do much other than serve as a back button when pushed.
At 45.5 x 52.2 x 10.9mm, the Urbane's dimensions are nearly the same as the G Watch R's dimensions of 46.4 x 53.6 x 9.7mm. However, the Urbane is noticeably heavier at 66.5g compared the the G Watch R's 62g.
Comfort
I wouldn't say the Urbane is entirely uncomfortable for everyone. But, as someone with tiny wrists, it just doesn't fit properly.
Even at the last strap hole, the Urbane remained a sad, colossal mess unsure of where to sit on my arm. I imagine it would be comfortable on more average sized wrists with the stock leather strap. Switching out the bands may help, but I can't help but think that the 1.3-inch display on a small wrist will look ridiculous no matter what.
Interface, apps and fitness
The Android 5.1.1 software installed on the LG Watch Urbane definitely puts it above the other Android smartwatches out there – but it's only a matter of time before most of them are outfitted with the update.
An always-on screen isn't a new feature, but 5.1.1 allows you to conserve battery life by displaying a partial watch face with less colors and detailing. Holding your wrist up will switch it back to the main watch face.
My personal favorite is the addition of hands-free gestures. You can flick your wrist toward you or away from you to skip through Google Now cards or dismiss them. It doesn't work as a method of reading through emails by scrolling down, though. Aside from this downside, the process is seamless and satisfying, especially after using the Apple Watch's extremely annoying system of dismissing notifications one by one.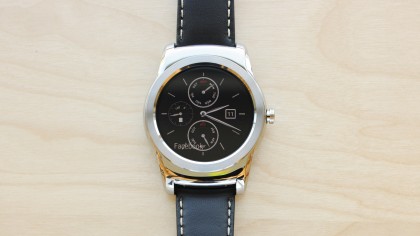 Another big new feature is Wi-Fi support, which means the smartwatches with built-in Wi-Fi can connect to a network and still receive notifications, send messages and use any apps you want, even if your phone isn't nearby. However, your phone still needs its own Wi-Fi or LTE connection in order for the watch to work. It's been super handy with the Urbane, not having to worry about having my Android phone with me at all times around the house or office.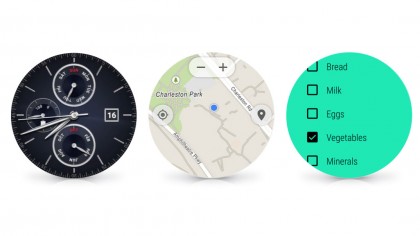 The previous Android Wear app interface was a huge, confusing mess, but thankfully it has been de-cluttered. With the new update, all you have to do is tap on the watch face screen or swipe left to see a cleaned up version of your app list. The three most recently used apps stay on top, while the rest are listed alphabetically underneath.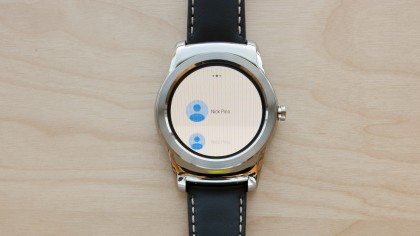 Keep swiping left to find your contacts, and another left-swipe will take you to the voice control screen where you can say "OK Google." A series of options are listed below the voice command to help give you ideas.
Lastly, you'll be able to draw out emoticons. Specifically, doodling an outline or random sketch will make the software determine what you were trying to draw, list out a bunch of options and then let you pick the correct one to send. It's not always perfect, but it works well enough. I tried drawing a bird face, and Android Wear thought I meant pizza, where a smiley face pulled up several different smiley emoticons.
I actually don't really see the point of this feature if you can't send the drawing itself, like Apple's sketchable messages. I do, however, like the variety and ability to send multiple emoticons in one message, compared to the Apple Watch's method of allowing only one emoticon message at a time.
Apps and fitness
Despite the majorly upgraded software, there's still nothing particularly ground breaking pre-installed on Android Wear. There's the standard compatibility with Google's apps: Agenda, Gmail, Play Music, Stopwatch Timer and Flashlight along with Amazon, Find My Phone, LG Pulse and checking your recent calls.
You can browse Amazon by vocally searching for an item, scroll through lists one thing at a time and then either purchase via 1-click buys or add to your wishlist.
Find My Phone calls your missing Android phone, which is pretty neat. LG Pulse keeps track of your heart rate by logging metrics and letting you tag them to differentiate between types of activities. Along with the Fit app, Pulse monitors your steps.
That's about it for stock Urbane and Google fitness apps. You can download more, but a few listed in the Android Wear store strangely don't even show up on the Urbane, so it can be a hit and miss situation.
Specs, compatibility, performance and battery life
The LG Watch Urbane is a timepiece that has all the normal specs you'd expect from an Android Wear device.
The 320 x 320p P-OLED 1.3-inch screen sits on top of a Snapdragon 400 chipset, clocked at 1.2GHz and 1GB of RAM. There's 4GB of onboard storage and the ability to install your own music on there as well for tunes without a phone.
The Urbane infuriatingly still doesn't come with GPS – LG's reasoning for this is that it will kill battery life. But given you'll get about 30 hours of use out of this watch between charges anyway, it seems like daily re-powering is the only way forward here. So, a little extra functionality couldn't hurt.
The heart rate monitor on the back, combined with the barometer and accelerometer inside, make it a good watch to use when walking out and about in the wild. Then again, there are many other devices that are equally as stylish and better suited to the task.
This watch is also only IP67 rated, meaning the Urbane is resistant to dust and water. In regards to the latter, the Urbane should remain operational even if gently submerged in a tank of still tap water at room temperature for about 30 minutes, up to a depth of 1 meter.
And, if you hadn't guessed already, the Urbane is only compatible with Android devices running Android 4.3 and later.
Performance and battery life
Interestingly, while switching between the various watch faces, the Urbane crashed and needed to reboot. I was pretty surprised that this little task could completely stop the watch, but it happened again later on when I was trying different apps.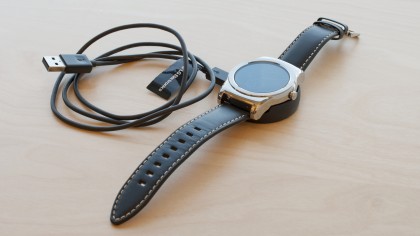 It's quite possible the software has a few kinks to iron out – which is still disconcerting. But hopefully all the bugs will be squashed before the update hits the other smartwatches. For the time being, the Urbane seems stuck with a couple of crashes here and there.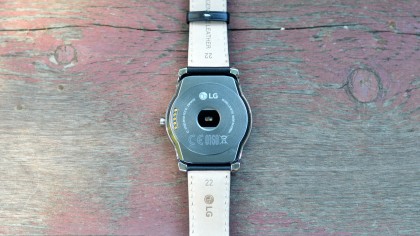 The Urbane's 410mAh battery is the exact same power pack found inside the LG G Watch R. Both can last far longer than the pitiful Moto 360, but unsurprisingly can't make it as long as the Pebble Steel.
With emails, notifications, downloading apps and the usual testing, my Urbane lasted two days on a single charge – much like the G Watch R. This is slightly longer than the day and a half that my Apple Watch offers.
You'll also find the Urbane requires a familiar magnetic charging cradle. It's basically the same one the G Watch R uses. In fact, you'd think they could be interchangeable, but of course, they're not.
Verdict
The LG Watch Urbane is a beautiful timepiece but it's twin, the LG G Watch R is pretty much identical. Knowing this, it's tough to outright recommend the Urbane for anyone other than the fashion obsessed.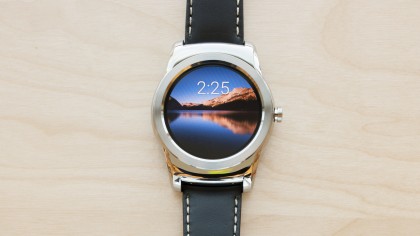 We liked
The battery life of the Urbane isn't ideal, but it's far better than most other smartwatches. The design of the wearable is also a head turner, with its classic circular face and simple timepiece feel. The on-board Android 5.1 software is also a huge perk, thanks to its improved interface and new features.
We disliked
That same elegant design is also a bit irritating on another level – it's far too large. Sure, there are plenty of massive analogue watch faces that we're all used to seeing.
But, if a smartwatch is going to be marketed to both men and women, it would be wise to offer multiple size options, or at least something closer to a middle ground. The Urbane is also the most expensive Android Wear watch to date, but it doesn't exactly stand out from the G Watch R apart from its fancier looks.
Final verdict
The LG Watch Urbane is the watch you should get if you want a premium looking LG G Watch R. You'll basically be breaking out $349 (£259, AU$459) for a smartwatch you could have for $100 less.
Again, there's no doubt that the Urbane is a lovely-looking wearable, but when the Lollipop 5.1 update rolls out to the other Android smartwatches, there won't be much incentive to pay such a hefty chunk of change. In fact, while 5.1 brings significant improvements, it still doesn't make the Urbane a must-have wearable that can stand in for my mobile device. I still need my phone nearby for proper messaging and calls, plus a lot of apps still require the phone to even work right.
That said, if you're looking for a polished equivalent to the Apple Watch, the Urbane isn't a bad Android Wear smartwatch. However, you might be better off waiting for the next LG wearable. Having made it this far, LG's next could hit the sweet spot with an appealing design, affordable price point and perhaps a killer feature to really stand it out from the wearable crowd.