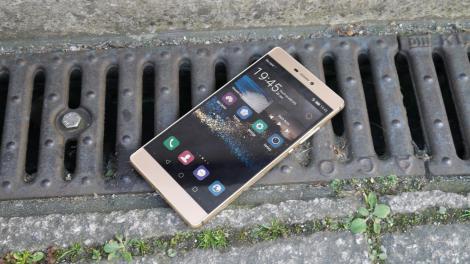 Introduction, design and display
The Huawei P8 is the Chinese firm's latest foray into the flagship market, and it's arguably its best handset to date after the comparably sedate Ascend P6 and Ascend P7 flagships of the past couple of years.
The "Ascend" name has been dropped in favour of the cleaner Huawei P8 moniker, which tidies up its previously messy naming regime.
In terms of price you're looking at €499 (around £395, $580, AU$760) for the 16GB model, or €599 (around £465, $680, AU$900) for 64GB of internal space, making the Huawei P8 a tad cheaper than the current fleet of 2015 flagships on the market.
There's a 5.2-inch full HD display up front, while the premium metal unibody design comes in at just 6.4mm thick – making the Huawei P8 thinner than the iPhone 6 and Samsung Galaxy S6.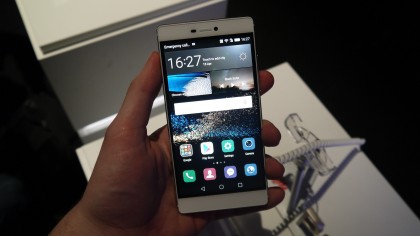 Picking up the P8 I found it to be well weighted, manageable in one hand and indeed it looks and feels premium.
The slightly curved edges of the handset provide a little extra grip in the palm, although the completely flat rear and super slim profile means it's not the most comfortable handset to hold.
Huawei made a point of saying how solid the aluminium unibody is on the P8, and while there is no obvious signs for concern in terms of bend-ability I look forward to seeing others applying more pressure to see if it goes the same way as the iPhone 6 Plus.
While the Huawei P8 does sport a premium metal body, it doesn't quite match the same style and grace of the iPhone 6 or HTC One M9.
I can't quite put my finger on why this is just yet – I'll need to spend more time with the P8 – but it does feel like there's something still missing to really push Huawei into the design stratosphere.
The metal power lock key is situated about half way down the right of the P8, in a slightly recessed dip making it easier to find when you run a finger along the edge.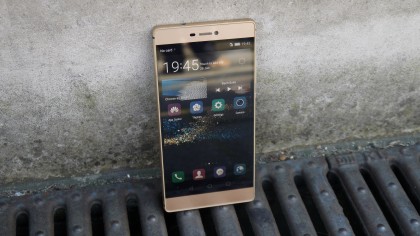 The volume rocker sits above it, while below are two trays – one for your 4G nanoSIM and one for a microSD card (up to 128GB in size) which also doubles as a second nanoSIM port.
There are both single and dual SIM variants of the Huawei P8, so the handset you get may not have the clever second SIM functionality in the microSD bay.
You'll be able to pick the Huawei P8 up in four colours; mystic champagne, carbon black, titanium grey and prestige gold – but the champagne and grey only feature on the 16GB model while black and gold are reserved for 64GB.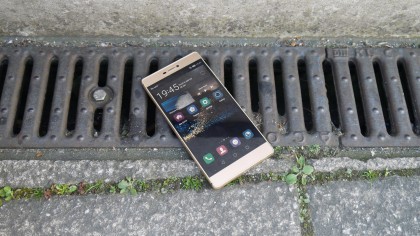 The full HD display may not match the Galaxy S6 and LG G3 in terms of resolution, but with the Sony Xperia Z3 and HTC One M9 both sporting full HD panels it's not really being left behind by the QHD crowd.
It's bright, colourful and responsive making every look clear and easy to read, and bezels have been kept to a relative minimum apart from the area of dead space betlow the screen.
You'd expect to see a physical home key or some touch navigation keys here, but Huawei doesn't deal in home buttons and it's moved navigation on screen leaving a bar of blank space.
This isn't unique to the P8 – plenty of handsets have additional space on the front – but it's surprising Huawei hasn't seen fit to even stick its logo here.
Performance, camera and early verdict
In terms of power Huawei has opted to stick its own Kirin 930 processor inside the P8, and its 64-bit architecture and eight core setup along with 3GB or RAM means it's more than ready for the demands of today's applications and games.
Moving around the Android 5.0 Lollipop interface I found the Huawei P8 to be fluid and smooth, although I didn't experience the zip I got on the Galaxy S6 Edge.
The software may not quite be a final build, so this could change, but some apps just took an extra millisecond or two to load for me.
Don't get too excited at the mention of the Lollipop operating system either, as it hasn't escaped the clutches of Huawei's Emotion UI on the P8.
It will be interesting to see how it compares to the likes of Qualcomm's Snapdragon 810 and Samsung's own chip in terms of performance and power efficiency, but you'll have to wait for the full review for the answers.
A new feature Huawei has baked into its interface Voice Wake Up – allowing you to say a pre-determined phase for your phone to recognise and then call out to tell you where it is.
It's not likely to be a feature that's used all that often, and the ringtone which actually says "I'm here" is a bit odd coming from your phone – but if it works properly it could save valuable searching time.
There's been a lot of work in the camera department of the Huawei P8, with a host of modes and features packed inside the impossibly slender device.
Round the back you'll find a 13MP camera with dual-LED flash and OIS (optical image stabilisation). Huawei went as far as to say it outperforms the snapper on the iPhone 6 Plus. Fighting talk indeed.
Low light enhancement promises clearer, brighter images in poorly lit areas thanks to the world's first four colour RGBW smartphone sensor, independent DSLR-quality ISP (image signal processor) and beefed up OIS.
A new time lapse mode allows you to take photos at specific intervals and then stitch them together to make a short video. You can even add a soundtrack if you wish. It's slightly on the gimmicky side of things, but it's fun to play with.
Fancy another camera gimmick? Well you're in luck, as the rather odd 'light painting' mode lets you 'sketch light tracks in the air to create spectacular and unique night shots' – umm… right.
Battery life is a hot topic in the smartphone world and the Huawei P8 makes some bold claims about how long it can last on a single charge.
The 2600mAh battery is locked inside the aluminium body, and Huawei reckons the P8 will go for a day and a half with normal usage.
Power users should see a full day of use from the P8 too – which would put it ahead of the Galaxy S6 and One M9.
You'll have to wait for the full review to find out if the Huawei P8 can live up to its claims.
Early verdict
The Huawei P8 is the most exciting handset to come out of the Chinese firm over the past few years, possibly ever, and it shows some very real promise.
Some big talk about a vastly improved camera, impressive battery claims and a stylish design wrap up a decent display and a heap of power – add to that an attractive price tag and there's a lot to like here.
Performance wasn't as slick as I hoped, but that could change before the P8 goes on sale, and the Emotion UI hasn't really moved on – but this is a serious flagship smartphone and one which will have Samsung, HTC, LG and Sony looking nervously over their shoulders.