Android Wear apps 1-10
At Google I/O 2015, it was revealed that there are now more than 4,000 Android Wear apps. This only makes the Android Wear cult more powerful in many respects.
The flow of devices may have slowed to a gentle trickle, but the likes of the Sony Smart Watch 3, LG Watch Urbane and Motorola's Moto 360 continue to fly the flag for Google's wearable OS.
With Android Wear's May update now out across compatible devices, its become a force to be reckoned with compared to the Apple Watch especially since the Apple wrist-ware won't see its own watchOS 2 update until later this year.
In the meantime, there are hundreds of apps available for the Android Wear OS to choose from, and some are decidedly lackluster. To help you avoid the real junk, we've picked 40 of our favorites, in no particular order …
Sleep as Android
Free
A smart alarm clock for your smartwatch, is an advanced alarm clock app that allows you to track your sleeping patterns to help you get a better night's rest. It recently integrated Android Wear into the main app and that allows you to use your Wear device to monitor your sleep along with your smartphone to give a more detailed analysis of your sleep. The app itself is very solid with graphs, charts, and alarms to help you sleep well as well as unique stuff like Philips HUE smartlight integration. Zzzz.
Toggles Wear
£0.81/$1.31
Take all the settings from your phone that you often need to flip on and off quickly, such as airplane mode, Bluetooth, Wi-Fi and silent mode to name just a few, and transfer them to your watch face in one handy group. You can also check your battery life and see how much data you're using, all on the same screen.
Wear Battery Stats
Free
Speaking of battery, battery life on Android Wear is all over the place. At times, it can last for days or you might need to charge your watch thrice a day. With Wear Battery Stats, you can see your Wear battery stats and see if there are any apps that could be causing all of that battery drain. It'll also send notifications when your battery is at a certain level so you know to get it to a charger soon.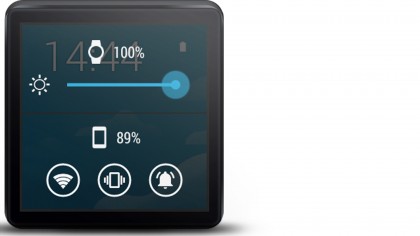 Wear Mini Launcher
Free
Opening and using an app on an Android Wear device can be fiddly; this takes the hassle away by letting you quickly launch any app without heaps of scrolling and swiping. It also helps you quickly access settings, such as brightness, Wi-Fi and ringtones for your smartphone, while granting access to loads of customisation options. Hundreds of thousands of downloads can't be wrong.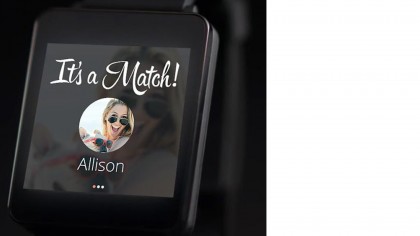 Tinder
Free
You know the deal: swipe right to like, left to pass, like a horny modern day Roman Emperor. But what you might not know is that the phenomenon that is Tinder and Android Wear is a match made in heaven. Just say "Start Tinder" to start swiping, send messages and view profiles all from the privacy of your wrist.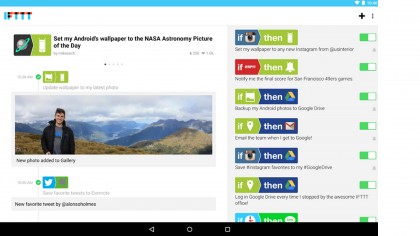 IFTTT
Free
Named as one of Google's best apps of 2014, IFTTT stands for "If This Then That" and lets you link your 'Channels' – i.e. Facebook, Instagram, Gmail etc – by creating 'Recipes'. So, for instance, you can set things up so when you like an Instagram photo it's instantly saved to your Dropbox. You can do this, get alerts and more straight from your Wear device.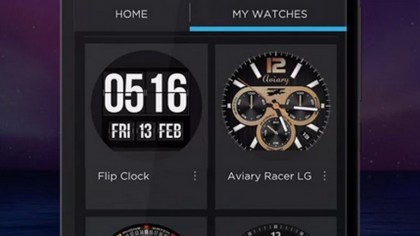 WatchMaker Premium Watch Face
£1.39/$2.99
Build up a collection of watch faces for your Wear device, complete with animations, calendars, multiple time zones, stopwatches, countdowns to special occasions… anything you can think of. There are thousands to choose from and up to eight new designs are added to the collection each week.
Wear Internet Browser
Free
It was only a matter of time before someone released an app to let you browse the web on Android Wear. As you can imagine, the experience isn't great but there are some useful features for those who web browse frequently. You can add and access bookmarks, read websites, and do other web browser things. You can also search the web using voice commands and it comes with a mini keyboard for those who are brave enough to try to type. It's not great but it's a good start.
Endomondo
Free
The hugely popular fitness platform has been updated for Android Wear, allowing you can tag your runs, cycles, hikes, climbs and about every other exercise you take part in. Also, if you're rocking a Sony SmartWatch 3 with its GPS skills, you don't even need a companion smartphone; a standalone mode stores all the metrics from your exercise sessions directly on your watch.
Flopsy Droid
Free
Billed on Google Play as "an experimental game inspired by a certain other Bird-based game", the graphical style and aim of this side-scrolling title will probably ring some bells (hint: it's Flappy Bird). Fine tuned for Android Wear devices, you must navigate a floppily limbed droid through a series of pipes to rack up the points. So long, social life, we hardly knew ye.
Android Wear apps 11-20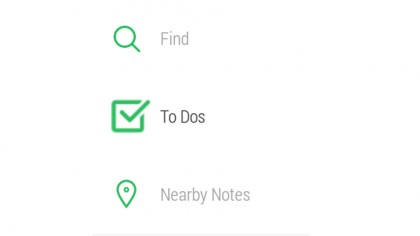 Evernote for Android Wear
Free
Loads of you will be long-time Evernote fans and won't want to use Google Keep, the default note app for Wear devices. Well, you needn't have to. Evernote for Android Wear lets you create notes through voice command, check off to-dos by tapping your watch or find notes by speaking the text that you're looking for. Simple and highly effective.
Google Keep
Free
Google Keep is the other another note taking option for Android Wear for those who never got into Evernote. Still, much like Evernote– you can view and create notes on your Wear device. It's free and it's a simple note taking app for those who don't need a lot of bells and whistles. Let's just say the pen is going out of business.
Wear Store for Wear Apps
Free
If you've just got your Wear device you'll probably go to the Google Play store to have a browse, or you can come to us, but you should also download Wear Store, a handy service that lays out all the Wear apps in easy-to-navigate categories, from time added, name, rating, function and ratings. It also has video reviews and handy tips.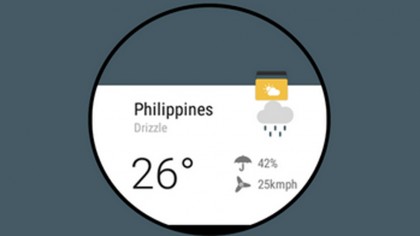 Weather Timeline
£0.99/$0.99
With a five star average over 4,000+ ratings, everyone is raving about this excellent weather app. Its main focus is to present the weather conditions in three formats: the next hour, next 48 hours and next week. Colours play an important role in giving you a quick insight into the mood of the weather gods and you can even check what the weather was like decades ago, if you wanted to.
LookBehind for Android Wear
£0.99/$0.99
LookBehind is the app you wish you thought of. It maybe an an application that most people will probably never need, but one that a lot of people are going to want. LookBehind allows you to see what your camera sees on your smartwatch. It comes with things like torch control so you can turn the LED flash on your smartphone on if it's too dark. The idea is so you can use your smartphone to see things you are having problems seeing and can be useful. For example, reading in the dark or looking into the dark corners of their computer cases or server rooms.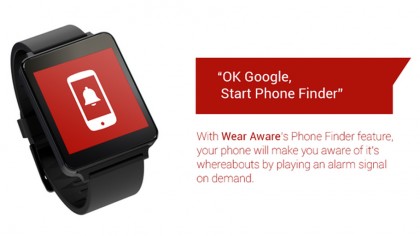 Wear Aware
Free
This app spells the end to leaving the house without your phone, as when you and your handset become unbearably far apart your watch will start buzzing in a mad panic. It also doubles as a phone locator; just say "OK Google, start Phone Finder" and your mobile will start sounding an alarm signal, even if you've got it switched to silent mode.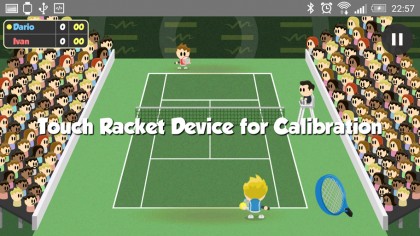 Tennis Racketeering
Free
In one hand you have your phone – displaying the virtual tennis court – and your other arm (the one with the watch on it) is where you hold your invisible racket. You can then play a game of tennis, Kinect-style, either solo or against someone else using their own phone and Wear device. Your phone and Wear will work together to sense how hard you're hitting the ball and, naturally, in what direction.
Memory Info for Wear
Free
And now without any fanfare whatsoever: Memory Info for Wear. This app has no bells and is also completely devoid of any whistles. All it does is simply provide information about internal memory for your Android Wear Device. To switch to a more detailed analysis, click on one of the icon on the main screen. Pleasingly straightforward.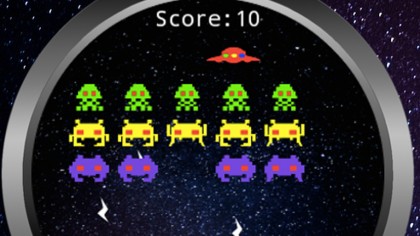 Invaders (Android Wear)
Free
An unofficial Wear version of the late-70s Japanese arcade classic, Invaders will keep you hooked for hours. All you have to do is tap to move the spaceship and fire in a bid to destroy all aliens before they reach the ground. Your spaceship can take two extra hits before being destroyed and there are hidden modes to be uncovered.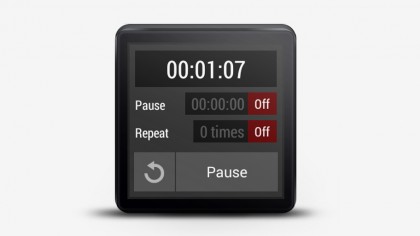 Interval Timer
Free
This fitness app helps you manage your work and rest times, whether you're cycling, running, weight lifting, stretching or boxing. It has a simply, intuitive interface, letting you set repetitions and rest times with ease. You can set hours, minutes and seconds, and pause, resume and reset with a few taps. An essential bit of gym kit.
Android Wear apps 21-30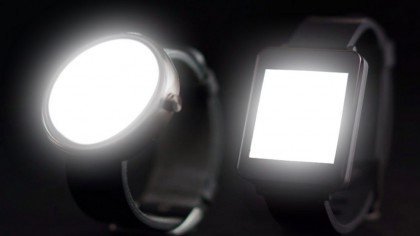 Flashlight for Android Wear
Free
"OK Google, start Flashlight". And just like that, your Wear watch will glow like the sun itself, helping you guide your key into the front door after a late night or lighting your path to the bathroom at 3am without waking your partner. As one of the 548 five-star reviews says, "Not a lot to say – this app does one thing but it does it well."
Wear Fitness Personal Trainer
Free
A PT on your wrist, this app counts your reps automatically using your watch's motion sensors – so, for example, as you do press ups it'll keep a log of how many – and creates exercise routines based on your fitness level, customised for weight loss, strength, cardio or muscle building which you can follow by watching videos of the routines as performed by a world-renowned personal trainer.
Hole 19
Free
Golf anyone? Hole 19, is a comprehensive Android golf assistant that itself is extremely helpful. Given that taking your phone out on the course is a big no-no, you'll be better off making use of the distance to the pin (using your mobile's GPS) and scoring features on your smartwatch.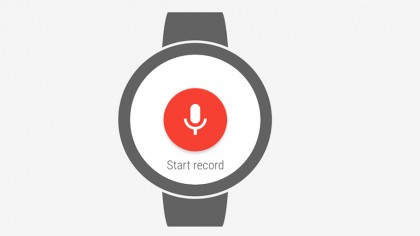 Wear Audio Recorder
Free
Handy for recording conversations, lectures and meetings, as well as any thoughts, song lyrics or poems that your mind may spring on you throughout the day. It's all very simple, just start and stop the recording as you wish and then scroll through a list to revisit previous recordings. You can share, delete and rename them as you see fit, and it also works when the screen is off, for covert missions.
Glympse
Free
Over a million Android users swear by this location-tracking app, which lets you keep in touch with friends and family, helping you safely find and notify of your exact whereabouts. The Android Wear optimisation lets you view any active Glympse simply by swiping, and you can easily send info to social media accounts and to your contacts without touching your phone.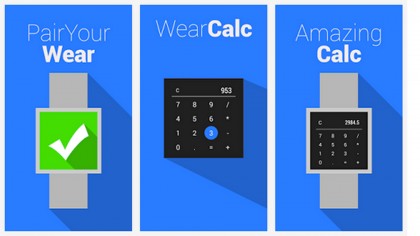 WearCalc
Free
Harking back to the mathematical Casio wristwear of yore, which what many of us would consider our first foray into the world of the 'smartwatch', WearCalc lifts the burden of complex sums and restaurant tip calculations from your phone and gifts the responsibility to your timepiece, complete with a stylish, clean design.
iHeartRadio
Free
Music on your wrist? Yes, please. iHeartRadio comes with Android Wear integration and you can do things like skip tracks and other minimal controls while you're listening to music. It's not a lot but it is more than most and iHeartRadio is totally free to use as long as you don't mind the occasional ads. It's a solid all around app and even more so if you're into using the latest Android platforms.
Duolingo
Free
Another of Google's picks for best apps of 2014, Duolingo on Android Wear lets you learn another language on the go, for free. You basically earn achievements by answering linguistic conundrums correctly in fun, bite-size lessons. The Android Wear application keeps it simple, displaying flashcards for you to have a go at when you're, say, on the bus. Take enough bus rides and one day you'll realise you're fluent in French.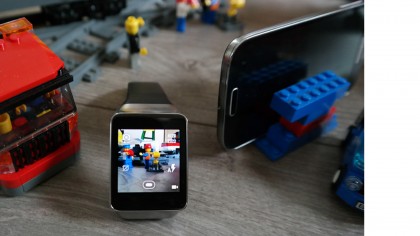 PixtoCam
£1.20/$1.99
This apps lets you view and control front and rear cameras from your watch to take snaps and videos, regardless of whether your phone is on or off. Just voice command "start viewfinder" to launch, double tap to zoom and easily set flash, light torch or activate the self-timer. It's also "Spy Ready", so no shutter sound or phone notifications when in use.
Runtastic Pro
£4.99/$4.99
A clearly laid-out, easy to read running app for joggers who don't like fiddling with their phone but who also don't like the complication that some dedicated running watches present. Features include one-tap operation, start and stop with voice commands and easily viewable time, distance and calorie stats. Over 40 million registered users are ready to be out-healthed by you.
Android Wear apps 31-40
MyRoll Gallery
Free
Trying to keep photos organized should be outlawed, and is at best a chore, luckily you can get the help of your smartwatch. MyRoll Gallery is one of the first Android Wear-compatible gallery apps, letting you view, delete and share snaps right from your wrist. An alert appears when new photos are taken, too.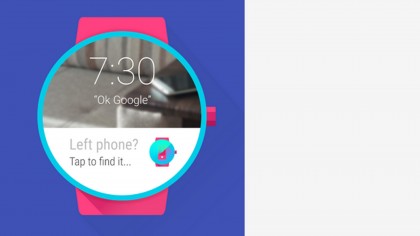 Wear Orbits
Free
Ready for some smartwatch fun? Wear Orbits tasks you with keeping your orbit in balance to avoid a celestial collision with another planet or star – it's not the most advanced game you'll ever see, but it's great for wasting five minutes. You'll need a watch with a circular face to play.
Find My Phone
Free
Just because you may not always need your phone these days, you still want it nearby at all times. Stray too far from it and, thanks to this app, your Wear watch will start buzzing. Tap "tap to find!" and, even when on silent, your phone will launch into the alarm and visual signals you've set it up with, leading you quickly back into its metallic, cold embrace.
Android Wear 2048
Free
One of the most popular Android apps of last year, the Android Wear version brings a simpler 4×4 square interface to this highly addictive puzzler. Swipe to move the tiles; when two tiles with the same number touch, they merge into one. The aim is to get higher sums and when a 2048 tile is created, the game is won. Double tap to display your current score.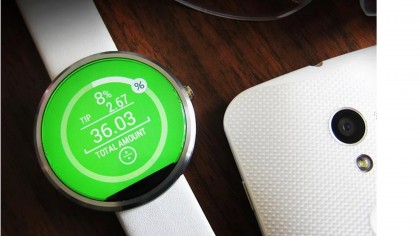 Wear Tip Calculator
Free
If you're exacting enough to want to work out the precise 12.5% of your bill, but polite enough not to want to go waving your phone around the table, the Wear Tip Calculator offers a discreet alternative. Just type in your bill, then the tip percentage, et voila, the total amount you need to pay. And everyone thought you were just checking the time.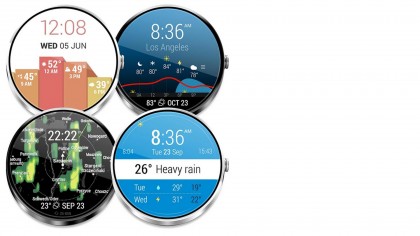 InstaWeather for Android Wear
Free
Choose from multiple attractive weather faces, satellite view (visible and infrared) and have 24-hour forecasts a wrist lift away. Receive notifications if a shower's heading your way, with distance details included. There's also the option to run in low power mode so your obsession with meteorology doesn't drain your battery.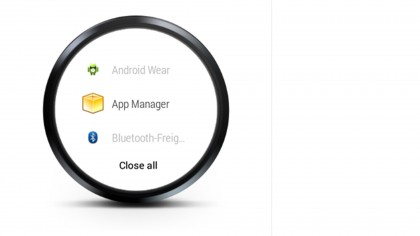 Task Manager for Android Wear
Free
It's easy to lose track of what's running on a relatively small screen. Task Manager cleanly lists all programmes and processes running on your watch, helping you stop tasks easily and quickly, saving you potentially hours of battery life. Just say "Start Task Manager"and take it from there. You can even close all opened tabs with one tap of the "Close all" button.
Aeris Wear Weather
Free
Those looking for a more serious weather app for Android Wear may want to try out Aeris. It's a little more polished because it's made specifically for Android Wear devices. You can see the current weather and forecasts. If you fork out a couple of bucks, you can get radar and customization options. It's about as complete of a weather experience as you can get on a watch face for right now.
TetroCrate
Free
An addictive falling bricks game, TetroCrate (sounds familiar…) challenges you to drag blocks around, spin them and land them to fill spaces without leaving gaps. Guess what happens when you create a gap-free line? Yep, bye bye line, hello points. A old-school concept for a cutting edge device, and – partly because it's attached to our arm – we can't put it down.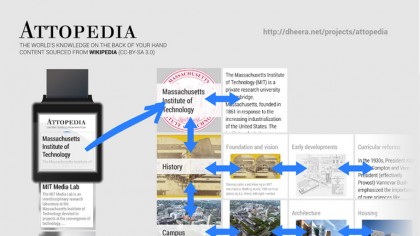 Attopedia
Free
Simple games, clever watch faces, a simple weather app… all sound like the sort of thing smartwatches are designed for, but the idea of using wristwear to browse Wikipedia seems bananas. That is until you try Attopedia, which manages to take one of the most text-heavy websites going and make it easy to navigate on a tiny screen. Great for cheating at quizzes, too.