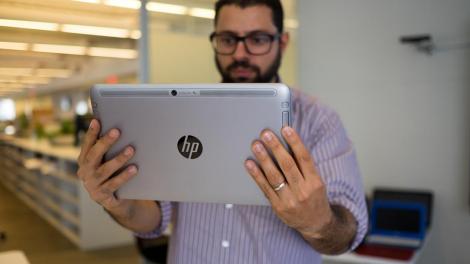 The HP Elite x2 1011 (starting at $688, US-only configuration) is a business-grade hybrid laptop that is ideally suited for those who need durability and portability more than they require power and beauty.
Running on Windows 10 out of the box, the Elite x2 is capable of more than just web browsing and content streaming, but its Intel Core M processor means you won't be able to easily perform particularly complex processes, such as video editing or graphic design, as you would with devices running on Intel chips in the Core i series.
Unlike more popular consumer hybrids, like the Microsoft Surface Pro 3 and the HP Spectre x360, both of which feature Core i processors and gorgeous displays, the Elite x2 appears to be designed to operate as a secondary computing device, rather than a multipurpose PC.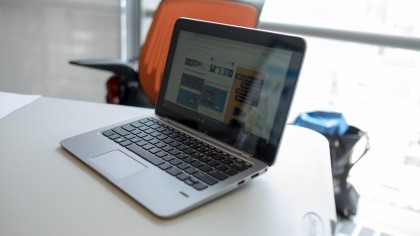 Design
Built with a bead-blasted aluminum shell that can be found on the entire HP Elite lineup, the Elite x2 is noticeably heavier and thicker than the Surface Pro 3 and the Spectre x360. Starting at 3.63 pounds (1.65kg) when attached to its accompanying power keyboard, there's no denying the Elite x2 is hefty, both as a tablet and as a laptop.
But all of that heft is specifically designed to withstand the rigors of outdoor work environments. The Elite series undergoes 115,000 hours of testing, all of which ensure that the Elite x2 can handle up to 26 drops on each corner and 18 mechanical shocks before it goes kaput.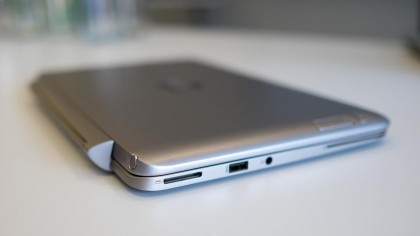 The sturdy outer shell is attached to a magnesium alloy panel that houses the (barely) HD-resolution display (1,366 x 768), which is much too dull and produces too much glare. The screen, which is 11.6 inches, occupies too little of the top panel's 11.73-inch width. As opposed to new devices like the Dell XPS 13, which features almost no screen border, the Elite x2's display is surrounded by a thick section of wasted material.
The tablet is built with a rounded base that is slightly awkward to handle, but sits nicely when mounted with the keyboard. Unfortunately, you won't be able to connect the tablet to the keyboard in the reverse display mode seen on Lenovo Yoga devices. Additionally, the Elite x2 will only bend back 130-degrees when mounted, so you'll have to detach the tablet from the keyboard if you want to do any show-and-tell.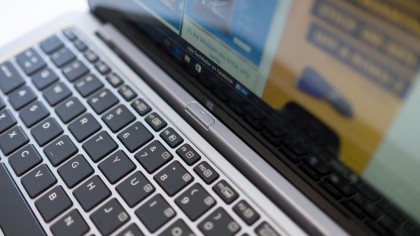 However, when the device sits on the dock, it's there to stay. The sturdy metallic connectors won't pop open unless you absolutely want them to. In order to remove the tablet from the keyboard, you'll simply press down on the center button and lift. Otherwise, the tablet itself is firmly mounted.
The mounting isn't a hindrance. Unlike flimsier hybrids, the hinges on the Elite x2 are both firm and fluid. This means you can press on the touchscreen without worrying about causing the tablet to wobble and wiggle.
Performance
Although the Elite x2 is now running on Windows 10, the Intel Core M chip does hinder some of the unique capabilities made possible by the new operating system. For example, you might be able to do a bit of multitasking on the Elite X2, but you're not going to want to burden the device with dozens of open cloud spreadsheets while streaming music and editing high-resolution images.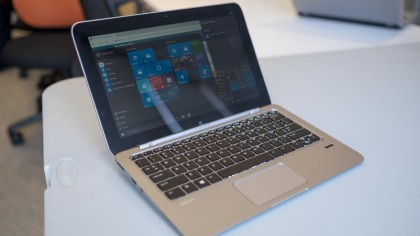 I didn't get to spend a significant amount of time with the tablet, but it didn't exactly wow me with its zippiness. There was a bit of a lag while jumping from app to app, and the tablet had a ton of issues shifting from landscape to portrait mode, which is a downer given how important Continuum is to the Windows 10 experience.
If you plan to use the device without a mounting dock, you'll be happy to know that it's got a decent variety of inputs and outputs. You can insert a microSD card and a micro SIM card into the tablet itself. The keyboard features a smart card reader, a DisplayPort 1.2 and two USB 3.0 inputs (one with charging).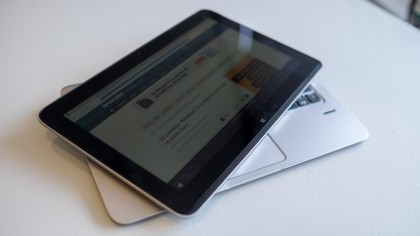 Early verdict
The Elite x2 is a rock-solid device that you'll feel comfortable using in rugged environments, but what happens under the hood isn't exactly revolutionary. The x2's Intel Core M processor is good enough to get you through one or two tasks at a time.
But if you're keen on performing heavy-duty business tasks, you'll want to look for a device with at least an Intel Core i processor. Even if you're just looking to have a bit of fun, you won't want to watch video on the x2's awful display, and the tablet's sturdy build makes it much too heavy to carry around just for the heck of it.