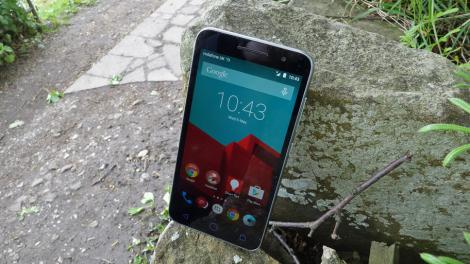 Introduction and design
We're at a time in smartphone evolution when budget phones are actually not all that bad (see also: digital cameras and laptops) – and that means you can save yourself some money without ending up with a real clunker of a handset.
Apple and Samsung may hog the limelight, but not everyone cares what a Snapdragon is, or necessarily want to spend the money to get one. Do you want your phone to run first-person shooters smoothly or just cover the basics? There are more people in the latter camp than you might think.
Into that context comes the Vodafone Smart Prime 6, one of the new breed of 'own-brand' phones that the networks are releasing (such as the EE Harrier Mini). Available in the UK, it costs £79 with a pay-as-you-go SIM included.
That's pretty much the cheapest way to get 4G today and you get yourself a 5-inch 720 x 1280 pixel display, 1.2GHz quad-core Qualcomm processor and Android 5.0 Lollipop thrown into the mix, too.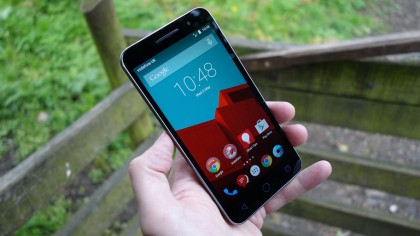 If you're really tight for cash, there's a £40 derivative called the Smart First 6: with a poor camera, slower processor, smaller screen and Android KitKat, you're definitely better off paying the extra £39.
The camera is a serviceable 8-megapixel shooter and there's a 2-megapixel model on the front. 1GB of RAM and 8GB of storage (expandable via memory card) round out the key specs. I'm not sure of the battery size, but we've asked Vodafone for clarification.
Design
Vodafone isn't going to win any international design awards with the Smart Prime 6, but it's well constructed and feels comfortable to hold. The back panel is nicely finished grey plastic and a metallic trim around the screen adds a small touch of class.
You'd struggle to find anything particularly interesting or innovative about the design of the phone. It's nicely rounded and curved at the corners and the build quality suggests you're going to get a good number of years' service from it.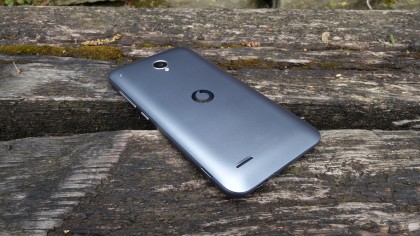 As I've said, the paltry 8GB internal storage can be expanded via microSD card up to an extra 64GB of room, so that's not so much of an issue. You're probably going to need a card if you're at all into your music or movies.
The screen is something of a disappointment – it's not really sharp or bright enough for my liking, but it's usable. You're probably going to want to have it ramped up at maximum brightness most of the time.
It's a world away from something such as the Nexus 6 display, but then you are forking out around one-fifth of the money.
Button and port positions are all standard, with a headphone socket on top and the microUSB connector underneath. The back is removable, but the battery isn't – flipping off the case lets you get at the memory card and SIM card slots.
Key features, performance and battery
Key features
£79 is a steal for a 4G smartphone, and I'd say the Vodafone Smart Prime 6 is money well spent. Display aside, it takes care of all of the basics well, and Lollipop is the best Google-flavoured OS yet by some distance.
Vodafone includes its own little suite of apps on the phone: Discover (which looks like special offers and support information), MyWeb (a Vodafone-flavoured home page for your browser) and Updates (self-explanatory).
You can install additional tools from Vodafone to monitor your account and connection speeds. They're all largely underwhelming and very much optional. There's Smart Flow, too, a collection of live wallpapers.
The only real reason you're going to pick up this phone is if you want the best value for money or you've taken a shine to a Vodafone sales assistant. Does it give you all the basics you need at a rock-bottom price? Absolutely.
Lollipop is actually the real star here – the latest Android upgrade is so polished and comprehensive that you feel you're using a much better phone. Vodafone has done something strange to make the navigation buttons neon blue, but otherwise it's largely untouched, which is good.
Performance
Vodafone's promotional blog post describes the 1.2GHz CPU as "monstrous" – come on Vodafone, you're not fooling anyone – but it gets the job done most of the time.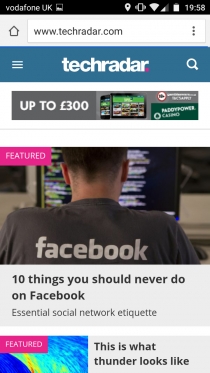 Trying to scroll down complex websites does occasionally feel like trying to scroll through treacle and there is noticeable lag every now and again when using the phone.
I wouldn't exactly describe it as "snappy", but most apps move along at a respectable pace. That said, it feels like the bare minimum for what you'd want to run Lollipop on (probably why the aforementioned Smart First 6 goes back to KitKat).
I didn't dare install any game with serious clout for fear of breaking the review handset (not that there was enough room to install most major games on the internal storage anyway). Endless runner Subway Surfers ran fine – there was no stuttering or crashing there.
Geekbench 3 came back with a multi-core score of 1414 – compare that with the top-of-the-pile Samsung Galaxy S6 at 4846 and that says just about all you need to know performance-wise.
Battery life
I used the Smart Prime 6 in the same way I'd use my normal phone for a couple of days – that is to say, not very much – and usually ended up with around 70-75% battery left at the end of the day.
That's a bit of texting, a bit of web browsing, a couple of YouTube clips (it was lunchtime after all) and a call or two. Even if you're on your phone all the time, you should comfortably make it through a full day – if you're not, it'll last you well into the early hours and the next morning.
It would seem dim, low-resolution screens do have an advantage after all in terms of battery savings, but don't get the wrong impression – this isn't a workhorse that will last you for days.
Our regular battery test – a 90-minute HD video on full brightness – took the phone down from 100% to 90%, which is way up at the top of the charts (the Galaxy S6 went down to 84%, the Moto G dropped all the way to 74%).
With a low-powered CPU and a so-so screen, you'd expect battery life to be decent, but nevertheless it's good to know that the Vodafone Smart Prime 6 can stay juiced for a very respectable length of time.
The essentials and camera
The essentials
As a phone that sticks to the basics, the Vodafone Smart Prime 6 actually does them rather well – calls, texts and web browsing are all neatly taken care of. Of course, all of these operations look better on a QHD screen but you get what you pay for.
The stock apps for these essential functions remain largely unchanged from stock Android, though the Messenger app for SMS has been given a red coat of paint in honour of the Vodafone network.
The keyboard is very much stock Lollipop, too. As always, you can install something a little bit different if you don't like it, but it worked well for me. For some reason, Flipboard is to the left of the main home screen rather than Google Now.
In the launcher settings, you can switch between the standard home screen and a simplified version that uses larger icons and fewer options. Presumably, it's for those who are older or less tech-savvy (or both), but it's not something most people will play around with.
If all you're going to use the Smart Prime 6 for is basic phone functions, with a little bit of web surfing and social networking thrown in, then you won't come across any problems.
As well as the standard speaker for calls, there's a single one around the back too, but audio is only OK and nothing more. You can, of course, watch Netflix on this handset but it's not an audio and visual experience you'll be raving about for days afterwards.
Camera
Tie your colours to the Vodafone Smart Prime 6 mast and you know in advance you're not going to be winning any photography competitions with this handset.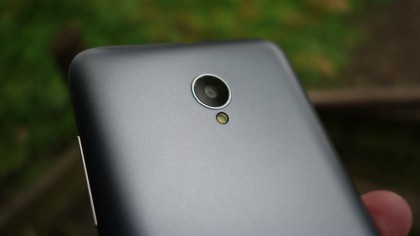 An 8-megapixel snapper on an own-brand handset doesn't exactly inspire confidence, and the photos taken by the phone were by and large pretty underwhelming, with details getting blurred and noisy.
The phone struggles particularly with low light, surprise surprise, and though there is an HDR mode to try to lighten up shadows and darken highlights it's not particularly refined – you'd be better off using a desktop application to do the same job.
All that said, what are we really taking mobile photos for anyway? The Smart Prime 6 is fine for quick and dirty social media posts and can even snap a decent picture if the lighting is right.
Shutter speed is fast, the interface is clean and uncluttered (it's actually better than Google's Camera app in that respect) and it's not going to let you down very often. As with every component of this phone, you have to remember the price level we're talking about.
The full HD video clips are fine, too. As with budget phones as a whole, we've now reached a stage where any mobile is going to be at least passable in the camera department, and that's exactly what this is.
Camera samples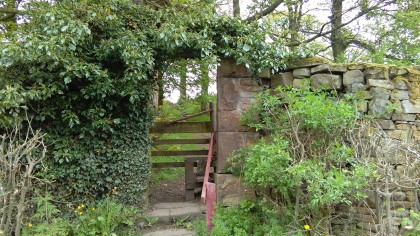 Click here to see the full resolution version of this image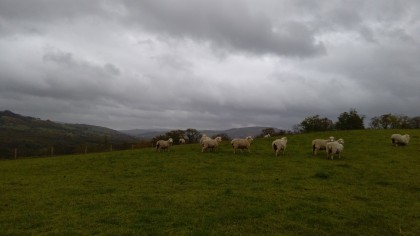 Click here to see the full resolution version of this image
Click here to see the full resolution version of this image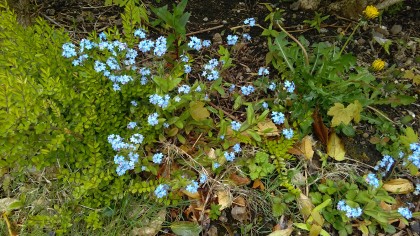 Click here to see the full resolution version of this image
Click here to see the full resolution version of this image
Verdict
The Vodafone Smart Prime 6 is an under-powered, ultra-cheap phone that still gives you 4G and Android Lollipop. Is the money you save worth the loss in performance and screen quality? For a lot of people, probably yes.
It certainly looks and feels like a more expensive phone than it is, and if you can put up with response times that are a little under par, then it's a great-value option that gives you a close-to-stock Android experience.
We liked
With the EE Harrier priced at £99 this is lowest price you can find for 4G and Lollipop right now, so in terms of value for money it's right at the top end of the market.
The design isn't spectacular but the build quality is good and it's a nicely finished phone – you won't feel embarrassed to take it out of your pocket.
Then there's the excellent battery life, helped by the average screen and internal specs. It's not a phone that will have you sweating about trying to find a recharging point.
Lollipop is excellent, too, and Vodafone hasn't messed around with it too much. Being right up-to-date with Android counts for a lot.
We disliked
The screen is a bit of a let-down, though it's good enough for the money you're paying. Some extra brightness and resolution would certainly be welcome.
Then there's the performance issues – even on simple tasks you're going to notice a few pauses, and that gets worse the more apps you run. A powerhorse this is not.
Finally the camera, which despite a decent interface and fast operation produces pictures that are very average. If you want great shots you'll need to carry a separate camera with you.
There are other various niggles, but there's nothing to strongly dislike about the Smart Prime 6.
Final verdict
As a tech journalist, I've played around with some of the best phones on the planet and even I'd be tempted by the Smart Prime 6 at this price. For me, the performance is just a little too sluggish to make this a must-buy, but it certainly makes you see those top-end expensive flagships in a different light, and Vodafone deserves credit for that.
It can't hold a candle to the iPhones and S6s of this world, but if you go in thinking this is the cheapest 4G phone on the market you're going to come out pleasantly surprised. The fact that Lollipop is here is a big factor, as Google has done wonders with its newest OS.
It's difficult to give the Smart Prime 6 a high score, because it's slow and the screen's uninspiring, but for those shopping around at the bottom end of the market it's well worth shortlisting.
First reviewed: April 2015