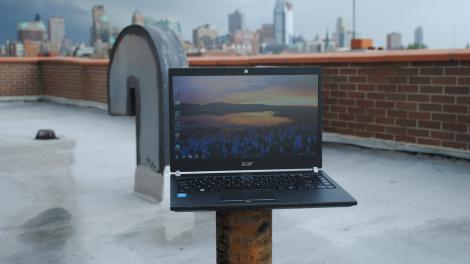 Introduction and design
The updated Acer TravelMate P645 ($949, £645, AU$1,250) is designed specifically for the business user with ants in his or her pants. Stripped of the bells, whistles and heft of traditional mobile workstations, the P645 is a somewhat lightweight laptop with loads of ports, tremendous battery life and not much else.
It's ideal for anyone who needs to grab their laptop and go, regardless of where they're headed or the type of work they're going to do. If Don Draper/Dick Whitman had a laptop, it would be the Acer TravelMate P645.
There are very few adequate comparisons for the P645 – which was recently upgraded with a fifth-generation Intel Core i5 or Core i7 processor – because it is designed for the same user who might be interested in something ideally suited for business use, like the HP ZBook 17 ($4,630, £2,950, AU$5,500), or something portable and capable, like the Dell XPS 13 (starting at $799, £520, AU$980) ultrabook. Think of the P645 as a compromise between high-end consumer notebooks and low-end enterprise workstations.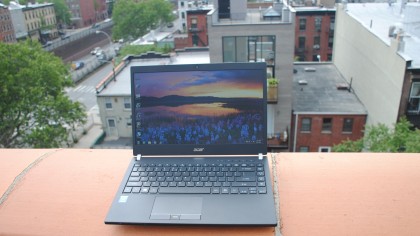 However, unlike other laptops on the market, the P645 doesn't try to lure you in with a fancy touchscreen, a super lightweight frame, loads of storage capacity, or the versatility of a hybrid. In fact, it does little more than compute things for a long time on one charge.
If what you're after is a sexy device that can perform 3D modeling or play Call of Duty in stunning detail, check out something else in our Best Laptop roundup. If what you need is something easy to use that can be plugged in almost anywhere and won't die before the workday ends, you're in the right place.
Design
Built almost exactly like last year's P645, the 2015 model comes with a black, carbon-fiber chassis with silver-trimmed ports. Both the chassis and the silver hinges connecting the laptop's upper and lower panel are incredibly sturdy (although you won't want to perform any drop tests). The palm rest and bottom cover are reinforced by magnesium alloy, which should allow you to put a good amount of pressure on the device, but not enough to label this notebook rugged.
The chiclet, spill-resistant keyboard features a left offset trackpad with a fingerprint sensor dividing the two-inch-wide left- and right-click buttons.
The P645, which prides itself on portability, weighs 3.31 pounds (1.5kg), which is superlight for a mobile workstation, but quite heavy when compared to consumer ultrabooks and Chromebooks, most of which probably weigh about 70% of what the P645 weighs. At just 0.8 inches slim (2 cm) and 12.9 inches (32 cm) wide, the P645 slides nicely into any backpack or desk space.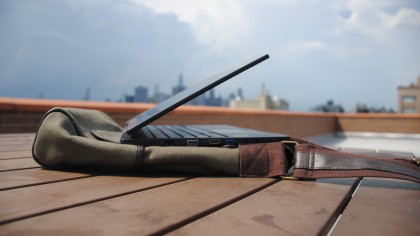 Unfortunately, what you're getting beneath the slim panels isn't very sexy. Packing a totally mediocre HD (1,366 X 768) resolution screen that features no touchscreen functionality, the P645 is not meant for viewing content. Seriously, you'd be better off watching Netflix on your smartphone than on this strictly utilitarian screen.
Not only is the screen image uncomplex given its low pixel count, it's also very grainy and dull. Pretend you're looking at the squishy plastic screen of an old 1990's desktop monitor: that's what looking at the P645 feels like. Yes, you can upgrade to a full HD (1,920 X 1,080) screen, but why should you even have to at this point?
Specifications and value
What Acer didn't provide in terms of sexiness, it certainly made up for in terms of connectivity. The P645 is one of the most port-heavy devices you'll find at this price point. And at just 3.31 pounds, that's a pretty impressive feat. Unfortunately, in an era when companies like Apple and Google are figuring out ways to do away with multiple ports, the P645 feels like a relic from a long forgotten time.
What it doesn't have is the storage capacity to rival the mobile workstations with which it's trying to compete. I suppose the increase in cloud adoption has made it acceptable to provide only 256GB of storage for an enterprise device, but it'll behoove anyone who deals with high resolution images to look for a device in the 1-2TB range.
Here is the Acer P645 configuration sent to TechRadar for review:
Spec sheet
CPU: 2.2GHz Intel Core i5-5200U (dual-core)
Graphics: Intel HD 5500
RAM: 8GB (DDR3L SDRAM)
Screen: 12.9-inch, 1,366 x 768 resolution
Storage: 256GB Serial ATA/600 SSD
Ports: 3 x USB 3.0 ports, VGA, RJ-45 ethernet, HDMI, Headphone jack, Microphone jack
Connectivity: IEEE 802.11a/b/g/n/ac Gigabit Ethernet
Camera: Built-in 720P Video Camera
Weight: 3.1 pounds
Size: 12.9 x 9.3 x 0.8 inches (W x D x H) (32 x 24 x 2 cm)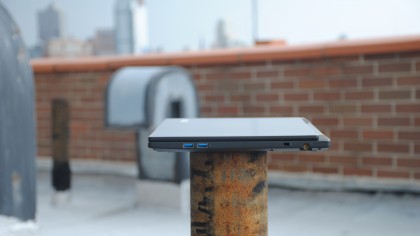 Features
The keyboard, trackpad and display are the holy trinity of laptop features (in this humble journalist's opinion). When you sit down at your laptop to work or play, you interact with those features more than any others. Unfortunately, the P645 fails in each of these three categories.
I've already discussed the putrid screen so I won't hammer that nail into the ground. The trackpad, which is equally abysmal, feels as if you're scrolling on ice. No, this isn't a symptom of high sensitivity calibration. No matter how much I toggle the tracking I feel like the pad isn't reading exactly what my fingers are trying to communicate.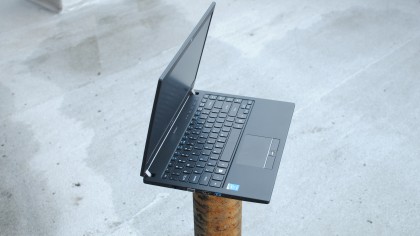 Additionally, the left- and right-click buttons are utterly useless in this day and age. Anyone reading this has likely interacted with pads that let you left and right click on the pad itself, rather than requiring buttons to guide you on your journey. The buttons, which are thankfully the same height as the pad itself, are elegant enough to not provide too much of a physical distraction, but they are dreadfully ugly to look at.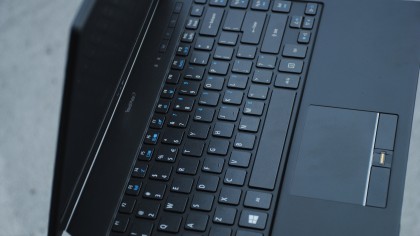 The same goes for the fingerprint reader, which Acer has unthinkably placed at the center of the click buttons. Most manufacturers have wisely begun placing the reader at the right-hand-side of the keyboard, where it is out of your way once you're done scanning in. Acer has placed a feature you use only a few times a day at the very origin of your interactions with the P645.
Performance and final verdict
Benchmarks
Here's how the Acer TravelMate P645 performed in our suite of benchmark tests:
3DMark: Cloud Gate: 5,197; Sky Diver: 49,661; Fire Strike: 702
Cinebench CPU: 239 points; Graphics: 29 fps,
PCMark 8 (Home Test): 2,579 points
PCMark 8 Battery Life: 5 hours and 9 minutes
The P645 performed comparably to the year's best Ultrabooks in its benchmark tests. It ran much faster than the Asus Zenbook UX305 and the Dell XPS 13, scoring a 2,579 on the PCMark 8 Home test, compared with the Zenbook's 2,107 and the Dell's 2,104. As a comparison, top-of-the-line mobile workstations, such as the HP ZBook 17, generally score above 3,000 points. The ZBook, for example, scored a 4048.
The P645 scored a 702 on the 3DMark Fire Strike test, which measures graphics rendering. The XPS 13 scored a 739 and the ZenBook scored a 594. The ZBook blasted all of these devices out of the park with a score of 4,385.
For gamers and designers, the Cinebench graphics test proved that the P645 was capable of producing 29 frames per second, which is slightly better than consumer hybrids like the Surface Pro 3 (25 fps) and the Chi (25 fps), but nowhere near as powerful as the HP ZBook 17, which was able to crank out an insane 118 FPS.
Battery life
Here's where the P645 shines. Not only did this notebook score a 5 hour and 9 minute rating on the PCMark 8 battery test, which is one of the top 10 scores we've ever recorded, it also played video for a whopping 12 hours and four minutes with the volume and screen brightness set at 50%. Other than the Toshiba Kirabook, which scored an 11 hour and 15 minute rating on PCMark 8, the P645 can hang around almost as long as any device on the market.
Bundled software
The Acer TravelMate P645 is loaded with security software and hardware, which will entice IT decision-makers to purchase this device. However, these tools are likely to turn off the business user who shops for him or herself.
For example: Acer ProShield Manager is a suite of security and management tools that encrypt data. If your device is lost you can set this software up so that no one can access your information without a passcode or without swiping the fingerprint reader. I don't know about you all, but for my typical day-to-day computing needs, a start-up menu password is secure enough. With that being said, I'm sure Future US, the parent company of TechRadar, wouldn't mind if my data had a second level of protection.
We liked
For a laptop with so many ports and such an impressive battery, the P645 is relatively lightweight and slim. Although its screen isn't much to look at, the laptop itself, built with carbon fiber and magnesium alloy is pretty and inoffensive.
Battery life on this device is stellar. I've never achieved anything quite like the 12 hours of video streaming that I got on the P645. If all you need is something that can power through a workday, then this should be among your top considerations.
We disliked
The screen, keyboard and touchpad are just not up to snuff with other laptops in this realm. When you combine a jumpy touchpad with a low-quality non-touch HD screen, you're basically ruining any possibility for an enjoyable laptop experience. Sure, this won't serve as a bad backup laptop that you take on the road in a pinch, but it isn't enjoyable enough to use to make it your number one device.
Final verdict
If your main concern is battery life, then you should totally spend almost $1,000 on this laptop. However, I highly doubt anyone really needs an extra hour or two of juice that badly. The P645 performs adequately, it looks okay and it's sturdy enough to withstand the bumps and thuds of constant travel. It's got so many ports that you'll be able to park yourself almost anywhere and get to work immediately. Unfortunately, what you do on this device won't be so pleasant. A wack HD screen and an inaccurate touchpad make for a clumsy and frustrating experience.