The OnePlus One was a surprise hit when it was first announced thanks to its powerful specs and affordable price point. It lived up to our expectations as an excellent device, leaving its successor with big shoes to fill.
So far, the OnePlus 2 has been doing just that. Its lovely screen coupled with its new Oxygen OS and familiar old features have made it an impressive device.
The low prices are back again as well. The 64GB OnePlus 2 will be available with an invite in the US and Europe starting August 11 for $389 (£289, about AU$535). The 16GB OnePlus 2 with 3GB of LPDDR4 RAM will be available later for $329 (£239, about AU$452).
Eager fans can visit one of nine pop up experience centers located around the world on July 31 to sign up for an invite and be one of the first to see the OnePlus 2. You can also tune in to OnePlus' social media channels starting August 1 for a chance to get an invite.
Specs and performance
The OnePlus 2 will be shipping with OnePlus' own operating system, OxygenOS.
The OnePlus 2 is lightning quick thanks to a 64-bit Qualcomm Snapdragon 810 chip. With up to 64GB of storage and eMMC 5.0 flash memory paired with 4GB of LPDDR4 RAM, the handset was able to show off just how snappy its interface was.
Apps switched quickly and loaded fast while games ran smoothly during my usage. During a racing game of Real Racing 3 from EA, the phone ran a little warmer than I'd liked but it was kind of expected since the Snapdragon 810 has been accused of overheating in other devices like the LG G Flex 2.
I'm particularly interested in this element, as OnePlus has promised that it's worked with Qualcomm to stop the issue being a big problem – it'll be interesting to see how the phone performs under a stress test.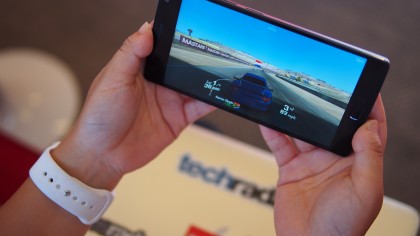 OxygenOS, based on Android 5.1, is essentially the same as the Android experience. There are subtle customizations like dark mode, the ability to switch between hardware and capacitive buttons and toggle quick settings baked in throughout the OS.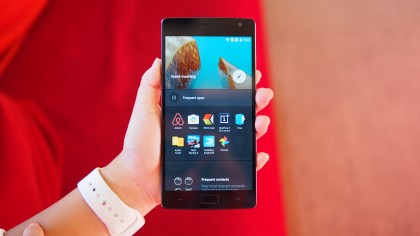 On screen gestures are back again enabling you to toggle the flashlight by drawing a "V" with your finger (even when the device is asleep), an "O" for the camera and two swipes down to play music.
Changes like dark mode have been used in other handsets but the OnePlus 2 allows you to change accent colors and even customize LED notifications.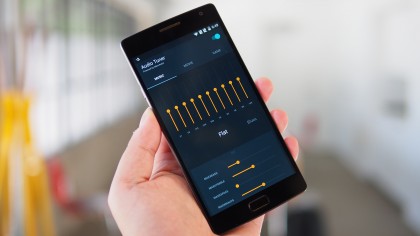 I particularly liked the OnePlus 2's ability to change sounds depending on whether you're using the phone for music, movies or games. By integrating MaxxAudio tech, the Audio Tuner enables you to tweak the 10 band EQ settings for the three options to create custom sound profiles. You'll be able to use the tuner for every app as well.
Design
In addition to OnePlus' signature Sandstone Black which will be the initial back that's shipped out, there will be a range of covers including actual wood built Bamboo, Black Apricot, Rosewood and Kevlar. The additional styles can be bought from the OnePlus website for $26.99 (about £17, AU$37).
The OnePlus 2's aluminum-magnesium alloy frame and polished stainless steel accents encase an HD 5.5-inch IPS LCD In-Cell display.
The Sandstone Black cover reminded me a bit of the weird soft ground elementary schools use to cushion falls but the other covers helped give the OnePlus a more sleek feel. The handset in general was immediately eye-catching and while it doesn't have the smooth metallic frame of other phones out, it doesn't suffer as a result.
The OnePlus 2's beautiful display can perform in direct sunlight with 178 degrees of crystal clear viewing angles. The screen also sits at a high 600 nits which is 41 nits more than the iPhone 6, 63 nits higher than the iPhone 6 Plus, 231 higher than the LG G4, 128 nits higher than the HTC One M9 and 79 nits higher than the Samsung Galaxy S6. These numbers have been culled from internal OnePlus testing which initially makes it suspect. However, after taking it outside, the display is definitely visible in the sun.
Noticeably more solid and durable, at just 175 grams, the OnePlus 2 has a nice weight to it but is noticeably heavier than the OnePlus One. It's also visibly thicker than its predecessor.
A 3300mAh lithium polymer battery powers the device throughout the day, and as a dual-SIM device the OnePlus 2 simultaneously supports two Nano SIM cards with 4G LTE capability.
Equipped with a USB Type-C charging port, made popular by the new MacBook, the OnePlus is one of the few smartphones out that's paving the way for the adoption of USB Type-C. According to the company, the OnePlus charging cable uses patented technology making the Type-A side reversible as well.
Similar to the Samsung Galaxy S6 and iPhone 6, the OnePlus 2 is equipped with a fingerprint scanner, which is another feature the OnePlus One didn't have. Users can now wake and unlock the device with one of five stored fingerprints supposedly in less than half a second, though I didn't notice it loading up particularly quickly.
The home button is a capacitative button that also didn't feel like it registered when touched. At times, there would be a lag to return back home but because it didn't work immediately, I'd press again, unintentionally bringing up the Google Now cards screen. This annoyingly happened several times.
Additionally, the OnePlus 2 features an alert slider on the left side of the device. It allows quick access to custom notification settings. Unprecedented on an Android device, the alert slider can silence the device with a simple click. There are also two other settings that show priority notifications, which can be customized, or show all notifications.
Camera
The OnePlus 2 has a 13MP rear facing camera that boasts six physical lenses, a dual LED flash, and f/2.0 aperture. Perhaps most impressive is the sensor, which contains large 1.3 micrometre light-collecting pixels to deliver low-light shots.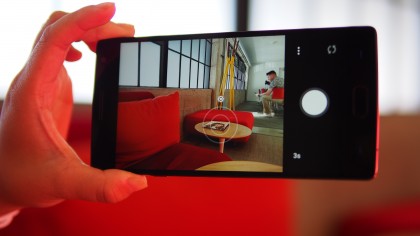 The OnePlus 2 camera has been engineered for improved clarity and stability, accomplished with the addition of an advanced Optical Image Stabilization system. Rear mounted laser technology sharpens and focuses the camera in just .33 milliseconds and the wide-angle 5MP front-facing camera ensures every angle is covered.
There are three different modes you can shoot in: Clear Shot, HDR and Beauty. Pressing the menu button pulls up the choices on the right hand side of the frame. Swiping to the right pulls up options for video, panorama, time lapse and slow motion video capture. Swiping to the right lets you view the images you just took.
At the moment, zooming in on pictures doesn't consistently work right, but a OnePlus developer told me that the first over-the-air update will address the issue. He assured me that would be the largest primary fix with a few unspecified smaller bugs thrown in with the update.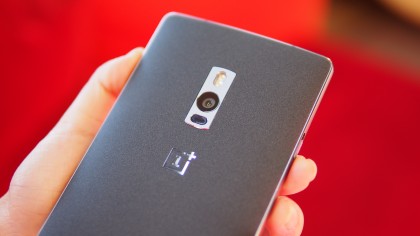 Additionally, the OnePlus 2 also supports 4K video and RAW images – where both will be available through an update shortly after launch.
Aside from that zooming problem, the camera took crisp, clear photos with a definite distinction between its three shooting modes while being a quick snapper as well.
Early verdict
OnePlus has done something utterly remarkable here: created a fingerprint sensor to rival Samsung and Apple, a screen to take on Sony, a laser autofocus that steps up to LG and a build quality that elevates it above most of its other rivals, and yet does it for half the price.
However, it one-ups its lesser-known brethren because of the hype surrounding it – and rightly so. At the moment, I'm most impressed with its sharp display and fantastic camera.
The 5.5-inch LCD screen and 600-nits makes battery life questionable at this point but further testing in the review should reveal its capabilities.
Right now, the OnePlus 2 is a solid handset and asking $389 (£289, about AU$535) for the 64GB version is, well, simply fantastic… as long as it stands up to scrutiny in our full review.