Introduction and design
With the release of the latest MacBook, Apple proved unwilling to dip its toes into touchscreen laptop territory just yet – leaving the market open for Asus and Lenovo to do a few backflips into the pool and make some big waves. This, the latest from Asus' (slightly confusingly named) Transformer Book Flip line features the new i7-5500U Broadwell Intel processor, beating its nearest rival the Lenovo Ideapad Yoga 3 which still currently has an i5-5200U.
The Core i7 version of the Transformer Book Flip (model DW176H) we reviewed costs £600 (around $940, AU$1,180), so it's currently cheaper than its competitor. The advantage of the Yogas is that they have hybrid hard drives or SSDs, while this model does not, and I'll get onto that a little later.
The Microsoft Surface Pro 3 is arguably a better stab at the laptop/touchscreen hybrid, as it keeps all the processing power and screen in one unit. The Asus TP300LA is a more traditional laptop setup with all the gubbins in the keyboard section and an attached screen on a hinge that allows it to flip all the way around.
With that in mind, this is a model for people who actually want a laptop, haven't already got a tablet and would like a touchscreen. Don't expect this to replace a Nexus – but considering that this is the price of a high-end iPad Air 2, and it's a working computer with all the bells and whistles that brings, it's a very good deal.
Asus appears to be aiming this at people who travel or are on a medium budget but don't want to compromise on style or functionality. It's also aimed at users who want more power than what's currently on offer from the lower-end of HP's Touchsmart laptop range. This machine is better built – it's less plasticky and more powerful.
Design
Looks-wise, Asus is aiming high, tickling the underbelly of Apple's MacBook Pro. The body around the smart black keyboard is brushed metal and feels incredibly sturdy. The screen is backed with matt black aluminium, it's pleasing and doesn't allow for much screen bend, despite the prodding it gets from being a touchscreen. The underside is made from black plastic, but this is well hidden and isn't a design issue.
The clever design of this laptop means the screen can be flipped all the way round to make it into an admittedly bulky tablet. And just like Lenovo's Yoga line, this can also be used in tent and stand modes.
Upon folding the screen into stand mode, Asus' FlipLock software kicks in with a reassuringly soft doorbell sound which indicates that the keyboard has been locked and input can now only be done via the on-screen keypad that pops up. This means that nothing will be accidently set off when it's rested on a table or lap. The on-screen keyboard can be accessed anytime by pressing the small keyboard icon near the Systray in the bottom right.
The physical keyboard can feel a little vulnerable when in tablet mode. The machine is also way too bulky to hold as a tablet for any length of time, so tent and stand mode come into play more often than not. I often forgot it was a flipping notebook (so to speak) when using it and had to remind myself several times as I'm more used to traditional laptops.
However, after forcing myself to use it, the touchscreen and flipping it around became intuitive and useful. Unfortunately though, mid-way through the testing session the FlipLock software refused to work making it impractical to use as anything other than a standard laptop. So by the end of the review I was just testing a standard laptop with a touchscreen. A reinstall and reboot did not solve the problem.
Travelling
Travelling is where the flipping ability comes into play. On long journeys flipping the laptop makes watching movies and TV shows easier with the keyboard resting flat on your lap. Tent mode can be used on small tables, although the plastic and metal edges means it can slip around if the going gets bumpy. The Flip's sturdy construction also means it's great for people who move around a lot, but weight is also a consideration which I'll come back to later.
There's an HD Webcam in the top centre of the screen meaning it can be used in both modes. We had a few chats on Skype and Google Hangouts and it took everything in its stride. It doesn't work that well in low light, but its function is just for chatting rather than taking photographic masterpieces.
Specifications and performance
Here is the Asus Transformer Book Flip TP300LA (model DW176H) spec sheet as provided to TechRadar:
CPU: 2.4GHz Intel Core i7-5500U (dual-core, 4MB Cache, up to 3GHz with Turbo Boost)
Graphics: Intel HD Graphics 5500
RAM: 8GB DDR3
Screen: 13.3-inches, 1366 x 768, Multitouch
Storage: 1TB HDD 5400RPM
Optical drive: No
Ports: Combo audio jack, 2 x USB 3.0 ports, 1 x USB 2.0 port, HDMI, SD card reader
Connectivity: Intel Dual-Band Wireless – AC 7260 + Bluetooth 4.0
Camera: HD Webcam
Weight: 3.96 pounds (1.8kg)
Size: 0.86 x 12.9 x 8.86-inches, 22 x 329 x 225mm (H x W x D)
On the left side there's a power switch (which this particular reviewer missed for a while), Windows button (which comes into its own in tablet mode), USB 2.0 port, SD card slot and a Kensington lock, should you need it. The buttons themselves are shallow set and don't detract from the sleek design, although it's easy to get the Windows key and power button mixed up.
Also the volume rocker is upside down when in laptop mode, as it's designed to be used primarily in touchscreen mode – when the screen is flipped around it's the correct way up. It would be great if the FlipLock software switched the volume rocker depending on which mode the machine is in.
On the right side there's a headphone/microphone combo socket, two USB 3.0 ports, an HDMI port and the power inlet. They're set comfortably apart and housed in brushed aluminium. Across the front there's the standard on light, charging indicator and HD LED.
There really isn't much difference between the touch, feel and look of the black keyboard compared to a standard MacBook. The keys are responsive, spring back well and aren't too noisy. However there's no keyboard backlight, and this may be a slight annoyance to people who want to use the laptop in low light.
The touchpad is responsive and sleek with a shiny bezel, plus the left and right clickers work well. It's slightly sticky, but no more than any standard PC touchpad. However you do get the added bonus of being able to use the touchscreen at any time.
Hard drive
One of the most instantly noticeable things about this machine is the ticking hard drive. Unlike other non-solid state drives this one is incredibly noisy. It kept me awake while I was downloading Shadow of Mordor overnight, so much so I had to switch it off. Also the first model I was sent had a defective hard drive and had to be returned, though the second unit ran without any hard drive errors.
The lack of solid state means that on one hand this machine has a huge 1TB of space to load with movies, music and games, but on the other, booting isn't as fast as it could be and design work and gaming are bottlenecked by the chugging spinning disk. Of course in the age of cloud storage and streaming it could be argued that large hard drives are becoming surplus to requirements.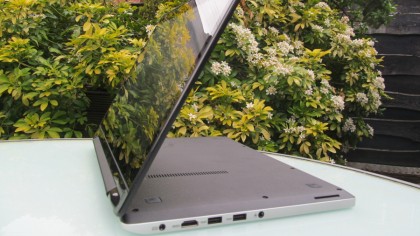 Weight, size and battery
At 3.96lb or 1.8kg it's heavier than a 14-inch Yoga 3 (3.75lbs) despite only being a 13.3-inch laptop. This is essentially a laptop with a touchscreen, and is probably too cumbersome to be a realistic tablet substitute.
Size-wise it's 0.86 x 12.9 x 8.86-inches, and while the rotating hinge isn't bulky, incorporating it has left the machine both heavier and slightly larger than a standard non-flipping laptop. Compared to the Yoga 3 which is 0.72 x 13.18 x 9.03-inches, the Asus is slightly thicker but its footprint is a little smaller. The extra thickness and weight does make it more difficult to hold than the Yoga when being used as a tablet.
The machine lasted just as long as a conventional laptop. The battery life didn't wow me but it also didn't disappoint. Playing games noticeably drained it faster, and it also meant the fan occasionally kicked into action, but this was never quite as loud as the hard drive.
Benchmarks
3DMark: Cloud Gate: 5715; Sky Diver: 2795; Fire Strike: 769
Cinebench: CPU: 300 points; Graphics: 31.86 fps
PCMark 8 Home Test: 2521 points
PCMark 8 Battery Life: 4 hours 40 minutes
Middle Earth: Shadow of Mordor (2730 x 1536, V-Sync): 10-12 fps; (910 x 512, No V-Sync): 30-36 fps
Metro: Last Light (1366 x 768, Very High, SSAA on, Texture Filtering AF16X, Motion Blur normal, SSAA 4X, Texture Filtering AF 16x, Motion Blur Normal, Tessellation High): 4-5 fps; (800 x 600, Low, SSAA off, Texture Filtering AF 4x, Motion Blur Low, Tessellation Off ): 11-13 fps
Screen, gaming and sound
The screen is a little dim and isn't viewable from all angles. Using it outside in bright sunshine isn't really possible. The touchscreen is very responsive, and doesn't feel like it's an add-on or poorly installed.
Both the rattling hard drive and graphics are a bottleneck to gamers, although Shadow of Mordor ran at a respectable 30 fps in the lowest resolution. It was pleasantly playable, but the slightly older Metro: Last Light ran at a sluggish 11-13 fps on the lowest setting. Some gaming is possible on this machine but it's probably best to test with demos to see what it can do. If you do want a gaming laptop, for around £150 more Asus has the N550JK gaming laptop which was released in late 2014.
It's the graphics processor – the Intel HD Graphics 5500 – which is more suited to watching films and browsing the web that drags the i7 processor down. But of course to get anything more powerful, you'll need to be paying more.
Audio isn't as crisp as it could be, but it's never distorted even at high volume. The stereo separation isn't very wide. You won't hear much difference in sound whether it's in tablet or laptop mode as the speakers are buried somewhere inside the hinge. It's loud enough to watch a film with a friend, just don't expect any earth-shattering bass or volume.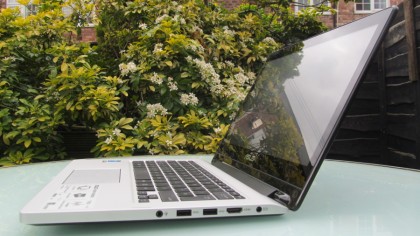 Bundled software
Asus bundles a variety of software on the machine varying from extremely useful to a bit pointless. Our favourites are the Smart Gesture and FlipLock – both make the everyday operation of the machine a lot easier, when they work.
Here's a quick rundown of what you get…
Asus Web Storage: 5GB of free web storage is always useful.
USB Charger +: This allows you to charge an MP3 player or phone while the computer is in sleep mode.
Asus Smart Gesture: A genuinely useful program that enables multi-touch gestures on the touchpad akin to those found in OS X. Windows doesn't really have a built-in equivalent.
Asus FlipLock: Great in theory, this disables the keyboard when in stand, tent or tablet mode – except it stopped working after a while and reinstalling it didn't solve the problem.
Verdict
We really wanted to like this laptop more, and certainly construction-wise it's an impressive piece of work. The price is pitched just right for people who want something above a budget line laptop. It also boasts a powerful new processor, but this particular model has its flaws with unreliable flipping software – and you might want to spend extra cash to get an SSD.
We liked
It's a sleek and sexy machine that you'll feel proud to whip out on a crowded train. The hinge isn't bulky and the flipping ability (when the software detects it) is a fantastic feature – just remind yourself that you've got it. The large 1TB drive is perfect for travelling abroad where there isn't any Wi-Fi to stream movies and music, just store everything on board. £600 (around $940, AU$1,180) for an i7-5500U Broadwell machine is a great deal and we never found it wanting when reopening Chrome with twenty or so tabs.
We disliked
It's quite a heavy thing which means it has little use when in tablet mode, it's just too weighty. The screen is murky and doesn't go bright enough to use on a sunny day. Furthermore, the hard drive on this particular model was incredibly noisy, even louder than when the fan kicked in when the processor was being used to the max. We'd recommend upgrading to a hybrid or SSD. The hard drive also slowed boot times and program opening.
Final verdict
Build-wise this is a beautiful machine – it has a brushed aluminium body, sturdy hinge and simple, sleek lines. And processing-wise, this is a powerhouse for the price.
The Transformer Book Flip is currently more powerful and cheaper than the equivalent Yoga 3 14-inch model but the lack of SSD should definitely be borne in mind. The screen is quite dark and it doesn't always lighten when plugged into the mains. The on-board speakers aren't brilliant but they're not terrible either.
The FlipLock software isn't reliable – it stopped working on both machines we tested (the first was returned due to a hard drive fault). Without the software the machine loses its unique flipping ability. If Asus can make the FlipLock software more reliable, then it would make the TP300LA far more enticing.
This robust and great looking machine is best for students, frequent travellers who want to store and watch movies and TV shows, and people who don't have a tablet but want touchscreen input. Just hurry up and update FlipLock, Asus.