Introduction
The 2014 version of the Moto G has an imposing task ahead of it. To live up to expectations it needs to better one of the most popular smartphones ever made, not to mention the best-selling phone Motorola has ever produced. I am, of course, talking about the 2013 Moto G.
This new version offers a larger 5-inch screen and an improved camera, aiming to clean up some of the few criticisms many had about that budget supremo.
Sure enough, the 2014 Moto G's camera is a whole lot better, and having a 5-inch screen instead of a 4.5-inch visage is great in many situations. It is not a flat-out better phone in every respect though. Its larger frame isn't as palm-friendly, it's not quite as good-looking and battery stamina is worse than the old model.
However, it's not enough to make the new Moto G anything less than one of the top bargains of the year.
The new Moto G is available SIM-free for around £140 (US$180, about AU$267), which is similar to or slightly more than the 16GB and 4G versions of the smaller, older version, which usually go for around £120 (US$140, about AU$232).
While the Moto G (2014) originally only launched in a 3G flavour, a 4G model has since landed in the UK and that's only slightly more expensive, at around £150.
Design
The new Moto G design is very similar to the older model, but also borrows a few new design traits from the original Moto E. You can't miss the primary change of little metal bars above and below the screen.
They're not there for the look and, let's be honest, they don't really look all that great. But they do mark where the front stereo speakers live. The last Moto G used a single mono speaker on the back.
I do find this a real downgrade in looks, as much of the immediate design purity has been lost by sticking these not-exactly-subtle metal bits on the front. Otherwise, the looks of the new and old Moto Gs are pretty familiar.
The back is a curved piece of matte-finish plastic, which meets a glossy screen surround. Its contours are nice and smooth, and there's a little indent on the back where the Motorola logo lives.
It's not just looks that have taken a hit in the new model, though. The 2014 Moto G is also not quite as easy to handle, because of its sheer size.
In a 4.5-inch screen phone you really don't have to pay too much attention to how slim a phone is – there's plenty of leeway to play with before size becomes an issue. However, now that it's bigger the fairly chunky Moto G is a bit more of a handful than, for example, the much slimmer Samsung Galaxy S6.
For a closer look, the 2014 Moto G is 70.7mm wide and 11mm thick. The thickness in particular is quite hefty for a phone of this size.
Yes, that's 0.6mm thinner than the old model, but as it's also just under 5mm wider, using it will feel a bit clumsier for most hands. It shouldn't be a deal-breaker, but means you need to think about whether to go for the larger-screen version or not while the older version is still on shelves.
Motorola has finessed the design in parts this year, though. For example, the plastic screen surround stuck out a bit more in the 2013 version, and as such attracts obvious dings and scratches after a few months' use.
In the 2014 version the plastic edges stick out far less, for a smoother finish that's actually a bit more like the old, refined Moto X.
The 2014 Moto G comes in white and black shades, with additional backs available should you want a jazzier look. Having seen both, I recommend avoiding the white one. It looks cheaper, more toy-like, than the black one.
Also it makes the front camera and ambient light sensor (which are black, therefore more-or-less invisible in the black model) far too apparent.
Both models feel well-made, though. While largely plastic, there's no obvious flex because the battery cover sits right on the actual frame underneath, and the entire top layer of the screen and surrounding area is covered with Gorilla Glass 3.
In the last year or two we've seen this slip down from being something to brag about to something used in absolutely masses of phones of all prices. But that doesn't mean it's not still great.
It means that unless you get your phone near sand or hard grit, scratches and wear are more likely to appear on the back of the phone than on the screen, where they really matter. It's also good to see that the little bits on the Moto G that look like metal are indeed metal, rather than metal-effect plastic.
The speaker bars, the volume/power buttons on the side and the little ring surrounding the headphone jack are all made of the harder element. I'm hoping this means we can expect this to be a hard-wearing phone in the long-term. Although only the next six months or so of use will tell.
Like the 2013 Moto G, the new model also has a sealed-in battery. By keeping the power contacts away, the battery is much less likely to get fried should the phone get a little wet.
It is not waterproof, though. Given the limitations of waterproof phones – they still can't really be used underwater – and that at this price you'd almost certainly have to deal with a load of rubber flaps, I'm glad Motorola didn't try to rope it in.
You will find a new feature under the hood, though. The UK version of the new Moto G has dual SIM slots, both microSIM-size. We don't often get dual-SIM phones in the UK, but it is a handy feature if you want a mobile to double as a work phone, or if you live a secret second life on the weekends.
(Pro tip: if the latter is the case, you might want to think about a second phone.)
The Motorola Moto G also has a microSD memory card slot, which will be very welcome to those sad about the lower internal capacity.
The very first Moto G didn't have one, although the newer 4G edition does. This lets Motorola get away with packing-in just 8GB of internal storage, however while this small amount may be enough for people who only use a few apps and don't use their phone to store music, others may find constant snapping and an accidental download of a larger app will see the internal storage sucked up in no time.
As such, the expandable memory slot is a must to make this a decent phone.
Screen
As well as having some negative effects on the size of the phone, upping the screen size in the Motorola Moto G also has some negative effects on image quality.
To explain: both the 4.5-inch and 5-inch versions of the Moto G have 720p resolution screens, meaning you get far fewer pixels per inch in the larger model. The original Moto G offers 326ppi, the 5-inch version 294ppi. Do you notice the difference of those 32ppi? Unfortunately you do.
I find the new model to have a slightly softer screen, and when you get your eyeball close to the screen, you can see the individual pixels much more clearly. When the Moto G first came out, I was gobsmacked at the display quality you got for the price. It was a case of "where's the compromise?" when budget phones universally had a clear issue of low quality in their displays.
The new Motorola Moto G screen doesn't seem quite as flawless, but once you get over the fact you can see the pixels, the extra size outweighs the sacrifice in a lot of different applications.
For watching videos or playing games the extra 0.5 inches of screen space makes a big difference. Games in particular feel a lot more immersive. The screen is still fairly sharp, just not perfectly clear.
Aside from the sharpness issue, display quality is pretty similar between the two generations of phone and that's fantastic for the price.
The Moto G uses an IPS-type display, a variant of LCD designed to offer much better off-angle viewing than traditional LCD screens. There's a bit of brightness loss at an angle, but it's several light years ahead of the screen experience you get from something like the Nokia Lumia 630, which has a TN-type screen panel.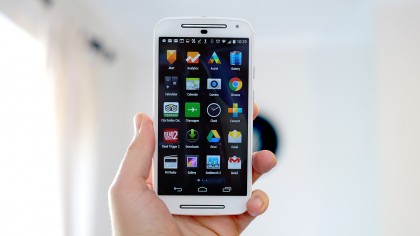 For a closer look at whether the screen quality has changed in other areas, I put the new phone next to an original Moto G. There were a few little differences. Colour saturation was slightly lower in the new model, and the white balance was a fair bit cooler – with whites looking slightly bluer than the original G's slightly warm/orange-tinged ones. The older phone looks marginally nicer.
However, things like this can differ between batches, especially as popular phones often use panels from more than one manufacturer.
In a darkened room, you can tell that the Moto G has only a mid-range display (although still IPS, a better screen tech than bog-standard LCD) rather than a high-end one.
Black levels are not close to something like the Sony Xperia Z3, and when examined in these conditions blacks do take on a slightly blue tinge (the original Moto G's were more grey than blue). However, the only quality limitation most people are going to notice in normal use is the resolution.
Outdoors visibility in the new Moto G is reasonably good, especially for an entry-level phone. However, I did notice that the old models seem to use a more advanced/effective anti-reflective coating than the new one.
This may be one of the ways Motorola has managed to pack a better camera and much larger screen into the new version without really adding much to the price.
Key features, interface and performance
The Motorola Moto G is not a phone that's all about packing in extra features. If you want loads of extra little bits of tech hanging off the sides of your phone, this isn't the place to be.
What this phone excels at, just like the first Moto G, is getting the basics right. The extras you do get here are things designed to enrich your everyday experience.
For example, there's an LED notification light on the front and an ambient light sensor. A few budget phones, like the Nokia 530, leave things like these out, and as a result they're a bit more of a pain in the backside to live with.
The Moto G has both, if you hadn't already guessed. Dual SIM support is more of a surprise addition, but it opens the phone up to loads more uses, not to mention making it much more attractive to markets other than the UK.
The one feature I did miss in the new Moto G was 4G. Initially it was limited to just 3G, with the mobile internet connectivity topping-out at 21Mbps HSPA. But, no, you won't even see those kinds of speeds – more like the 2-3Mbps that seems to be about the standard for 3G mobile internet.
However Motorola has since rolled out a 4G version in various countries, including the UK, and that delivers far more acceptable speeds while only costing a little more.
What else are we missing out on?
Other than 4G (which depending on where you live is now available), the most obvious hardware omissions are an IR transmitter and NFC, both things you'd expect if you spent perhaps twice the price.
An IR blaster is neat, letting your phone double as a universal remote control. I'd love to see one of these on a Moto G, but only in a fantasy-land reality where it'd cause no increase to the price, or any cuts elsewhere. After all, only a fraction of people with a phone equipped with an IR transmitter actually use the feature.
NFC is a bit more of a complicated issue. It's used for wireless payments, and to sync up with all sorts of wireless audio products. We've been waiting for the wireless mobile payments revolution to happen for years. Now that the iPhone 6 and iPhone 6 Plus offer NFC, it might be about to happen.
But not being part of that possible future is just something you'll have to accept as one of the knock-on effects of the savings you make when you buy a Moto G. Oh well.
Interface and Performance
Part of the attraction of the Moto G range is that these phones offer a very-near-standard version of Google Android, which tends to mean you'll get quicker updates and better performance than a phone with a chunky custom UI. Especially a Samsung one.
This has panned out already, as the Moto G (2014) has been updated to Android 5.0 Lollipop since launch.
However, the hardware you get for your cash is also pretty hard to fault. Just like the original Moto G, the 2014 edition uses a quad-core 1.2GHz Snapdragon 400 CPU with 1GB RAM. And its Geekbench 3 score is right on what I'd expect from this spec: 1142 points.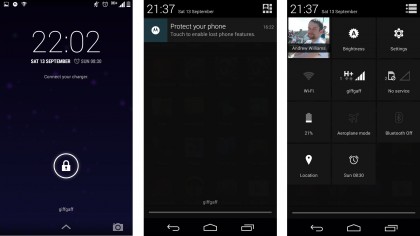 This spec is about as low as you can go to get really very good performance from the latest version of Android. I'd always recommend a 1GB RAM phone or better if you can afford one – but similar internals are used in some much pricier phones. The Sony Xperia T3 offers the same CPU and the same amount of RAM, for twice the price.
Just like the original model, performance is great. I noticed the odd shudder at times when flicking back to the home screen as widgets load, but then you'll see this in some much more expensive phones with higher-grade specs.
In short, the Motorola Moto G is a joy to use.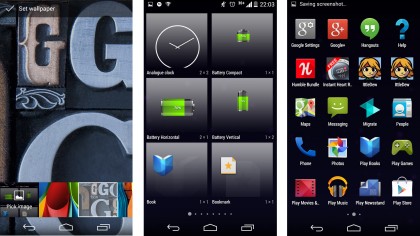 It also launches with a significantly different interface to what the first Moto G had. The new model uses the Google Now launcher, which has been made available for all and sundry to download and use. It's the interface we saw first in the Nexus 5.
It's clean and clear, with a simplified, slightly more cartoony look than the older style used in Android 4.4.2. It's pretty much identical to what you get in the Nexus 5 or Nexus 6, barring the few little tweaks Motorola has applied.
As good as it is, there are some missing bits you might actually want. For example, there's no brightness slider in the notifications bar, as there is in many custom UI's. You do get a drop-down settings toggle page, though. It lets you flick things like Bluetooth on and off, and lets you get to the brightness setting without having to trawl through the settings menu.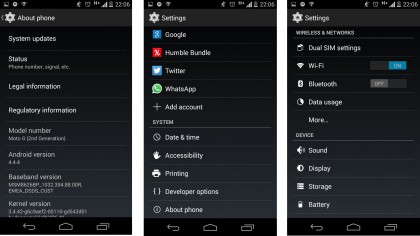 It's worth noting that with the update to Android 5.0 there are a few changes and tweaks to the interface. The look is a little more colourful and more full of animations. Other changes include the fact that notifications will now appear on the lock screen, are intelligently ranked and can be opened or cleared with a double tap or a swipe.
You can also customise the priority of notifications and the multi-task screen has been redesigned, with a new look and the ability to see both applications and activities. For example individual Chrome tabs will be displayed in it.
While Android on the Moto G is a lot like stock Lollipop there are some differences. So what has Motorola changed? Perhaps the most significant is the custom camera app, which I'll cover later in the camera section. There are also a few custom Motorola apps.
However, unlike Sony or Samsung, Motorola once again focuses on the basics rather than trying to do flashier things with digital services or social nonsense. There are four extra apps: Connect, Assist, Alert and Migrate.
Motorola Connect is the newest of the team, and is designed to help you hook up with other Motorola devices, mostly the Moto 360 Android Wear watch. This is one of the highest-profile Android Wear smartwatches.
While I imagine many Moto G buyers will be too frugal (or sensible, if you prefer) to buy a first-wave Android Wear watch that costs more than their phone, the two would make a neat pair. This is probably the least useful of the extra apps, though.
Motorola Assist will be the most useful extra for the majority of people. It lets you switch off notifications for when you're asleep or in a meeting (by cross-referencing with your calendar) or set the Moto G to read out text messages when you're at home or driving.
Some other phones hide similar notification-customising functionality in their settings menus, but the Moto G really brings it to the fore. I only really use it to stop the phone from piping up at midnight, but that alone justifies the app's position.
Motorola Alert is a rather more serious app that lets you setup some ICE (in case of emergency) contacts, who'll be contacted when you select "emergency" from within the app. It's the SOS of the app world. It also lets selected people see where you are, and lets you contact them when when you leave/arrive at specified locations.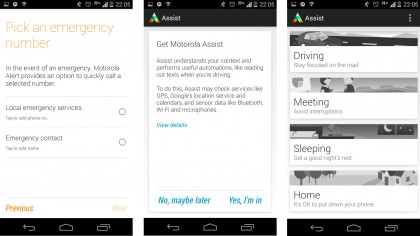 I can imagine Motorola Alert being of use for kids, older folk or those who have special care needs, which makes sense given this is a phone that some can afford to buy as an additional handset for someone else.
Motorola Migrate is a simple app that lets you transfer data from your old handset to your new Moto G. You just install it on both phones, select what sort of data you want to transfer and the app does the rest.
Motorola has been gradually adding to this app catalogue since its Moto G/X renaissance began, but we're at the point where it should really stop. That'll do now, thanks.
Battery, media and the essentials
One of the few worrying elements of the new Motorola Moto G is that it uses the same battery capacity as the original version despite having a larger screen. Both have 2070mAh batteries.
No surprises here: battery stamina is a bit worse than the smaller-screen version. If you use the Moto G quite a bit, you will find it drains down to the dregs by bedtime.
With the smaller 2013 Moto G I found that you generally end up with a slightly greater buffer to take you a good way into the next day without worrying about your phone powering off. With the new iteration you'll need to plug the phone in fairly early.
Our standard battery test supports this observation too. It involves playing a 90-minute MP4 file at maximum screen brightness to see how much of the battery drains down. In the 2014 Moto G it gnaws away 26% compared to 23% in the old model.
I also tried the test at the more normal 60% screen brightness, and again I saw a 3% difference in battery drain. The Moto G lost 20%, the 2013 Moto G just 17%. It's not a world-changing difference, but it did cause a knock to real-world stamina that I noticed.
Given the phone is fairly large it seems Motorola could have fitted-in a couple of extra hundred milliampere hours without ruining everything – but when you're looking at this price point, it's likely every decision counts.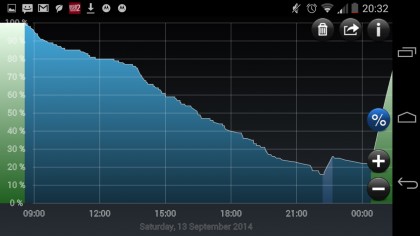 As it has a pretty-much untouched version of Android 5.0, the Moto G also lacks the sort of hardcore battery-saving modes you see in many other phones, including the rival Sony Xperia M2.
These generally restrict screen brightness, background data and in some cases CPU speed to save battery. The Moto G only has the standard Android Battery Saver mode, but this has at least been improved with the update to Lollipop, shutting down background data and reducing performance.
You have no access to the battery either, as it's sealed into the phone's frame. That means no carrying around a spare and no easy replacing of the battery two years down the line when its stamina has waned a bit.
While I'm happy to live with the sort of performance the Moto G offers, it does feel like a slight missed opportunity. Strangely enough, though, one of the phone's most obvious price-feature rivals the Asus Zenfone 5 suffers from exactly the same sort of thing.
This is an interesting one, as the Moto G has a larger battery than the one in the iPhone 6, for example, with the same resolution screen – but doesn't perform as well under heavier use, which shows where the extra dollar comes in.
The essentials
For the most part, the Motorola Moto G comes with the basic software bits that are the standard fare of Android. The funny thing is, you don't often get to actually experience them as they are so often overwritten by the software of a phone's maker.
Rather refreshingly, there's only one browser on the phone: Google Chrome. Others often come with two without any real justification. It's a good browser and the large screen makes browsing very enjoyable.
A higher pixel density would be welcome, of course, but in a £150 phone I'm more than happy with what's on offer here.
The Moto G uses the default Google keyboard. It looks pretty plain, but offers most of the features you'd see in a custom version.
There's gesture/swipe typing, and the usual sort of word prediction you'll be used to. Without any extra or superfluous buttons, it actually looks unusually simplistic. If you don't get on with it, though, it's easy enough to replace it with a third-party alternative like Swiftkey, which (like many) is delightfully free.
The Moto G also doesn't have any fancy contact book antics. Much like the keyboard, it's all kept quite simple.
Rival interfaces like HTC's Sense, seen in phones like the HTC Desire 500, try to do a bit more with the latest information from your contacts, like their Facebook posts. The Moto G doesn't offer anything like this right off the bat, and doesn't have any integrated social features either.
If you want Facebook, you install the Facebook app. If you want Twitter, you install the Twitter app. The accounts are then managed centrally through Android, but none of it is weaved into the interface.
I like this way of working. While other phone makers tend to try and tie everything together into one entity, there's nothing wrong with keeping your digital sources a bit more separate. And there are apps that can bring them together if that's really what you're after.
There's nothing too special in the Moto G's call quality either. You get a secondary noise-cancelling microphone up top, and I experienced no signal issues at all during testing.
The call speaker could offer a bit more high-end treble definition as it's a bit muted in the phone. But top volume is reasonable.
Media
The Motorola Moto G offers no extra software for music or video. All you have are the apps Google provides. That's Play Movies for video and Play Music for music.
However, these are not pure music and video player apps but also ones designed to promote Google services.
Google offers an unlimited streaming service called All Access. It works a bit like Spotify and costs £9.99 a month. Don't want to pay? You can also use it without paying anything to play locally-stored files, or sync up to 50,000 of your tracks to Google's servers to stream tracks without having to dump them on your Moto G's memory.
If you purely want to play your own tracks, you may want to install another app. After all, just playing locally stored tracks isn't really what Play Music is about. One of the most popular alternatives is Doubletwist.
It's largely the same case with video. Play Movies is really about playing videos bought/rented from Google Play. This Android store offers TV shows and movies alike.
You can also play videos stored on your device, but it's a real side note and doesn't really offer great codec support. If you have a video library you're going to want to put onto the phone, you'll want to get something like MxPlayer to actually watch it – it's a third-party app that brings much wider codec support.
All in all, if you're a media junkie that doesn't really like straying outside of a phone's box-fresh capabilities, you'll be disappointed about what's on offer with the Moto G – you'd have a good case to say this should work right from the off. Then again, it's so simple to download really decent upgrades from the Play Store that this isn't really that much of an issue.
Despite having lower screen resolution than many 5-inch phones, the Moto G actually makes a great portable video player. It can handle 1080p videos easily enough (although there's not much point playing ones greater than 720p) and the 5-inch display makes a great canvas for TV episodes and films too.
If you want the Moto G to act as a music or video player, you will need to invest in a decent-size memory card. You'll find a microSD slot under the battery cover, as I covered in design.
Then there's the stereo speakers to consider. This is one of just a few sub-£200 phones to offer front-facing stereo speakers.
Having stereo is great for games and videos. However, don't go expecting miracles from the actual sound quality.
You get stereo dispersal, but sound quality is nothing to shout too much about. There's little of the richness and depth that separates an OK phone speaker from a good one, and the sound is a little harsh at top volume.
All things considered, the Moto G speakers are better than average at the price. But from a wider perspective they're middle-weight hitters at best.
The final string to the Moto G's musical violin bow is the FM radio. This is often missing from phones more expensive than the Moto, and while FM is considered a bit past-it now, there are definitely a few people out there who still appreciate a radio tuner. As usual, it uses the headphone cable as an aerial.
Camera
One of the most conspicuous changes in the 2014 Moto G is the camera. It has been bumped-up from a 5MP model to an 8MP sensor.
It's not just the sensor that has changed, though. The camera lens is also much, much faster, moving from an f/2.4 lens to an f/2.0 one.
While it's natural to assume the biggest differences will be in the kind of detail you can get in your photos, the most important upgrades are actually elsewhere.
Where the 2013 Moto G is slow to shoot, the 2014 version is pretty fast. It's not Samsung Galaxy S6 fast, but you can take a photo around every second. It makes the new Moto G much more fun to use as a camera, and hugely increases your chances of actually being able to capture the moment when shooting a moving object.
Colour accuracy and contrast are also hugely improved, leading to photos that are much punchier and more accurate-looking than the last model. Motorola has done well in plugging the most serious hole in the first Moto G. There's more detail on show too, although looking closely at the images I think the other benefits are greater.
These improvements make the camera one of the better examples at this price.
The Moto G 2014 edition uses a custom Motorola camera app whose interface is quite different to the norm. Firstly, there's no settings or mode button visible on-screen. You have to flick from the left side of the screen to bring up the mode dial.
Here you choose whether or not to use HDR, whether to use the single-LED flash and so on.
The way you interact with the app is pretty unusual too. Rather than tapping to focus and then pressing a virtual shutter button, you drag a reticule around and any tap on-screen takes a photo.
Motorola seems pretty proud of the app, but I'm not entirely convinced by it, having used it on numerous phones. Your interaction with it feels less direct when selecting the focus point. Dragging the reticule is simply slower and more fiddly than the usual two-tap (focus, capture) approach.
Motorola also arguably needs to rethink its metering approach, as it introduces one of the few recurring image quality problems I saw in the Moto G 2014. The reticule acts as both a focus point and metering point, with just a very small area used to judge the right exposure level.
What this means is you often end up with images that have quite severely overexposed bits. And there's no way to separate the focus and metering points, as there is on some recent phones, and some custom camera apps.
The most obvious fix for Motorola to apply would be to alter the metering so that it's not based on just the one spot, as Apple's iPhones do. However, all you can do at present is to use Auto HDR mode, which will turn on HDR when there's too great a variance of light levels in a scene.
To be fair: the Moto G HDR mode is pretty good, and using it is when I got the best results out of the phone. However, HDR photos are not normal photos, and take significantly longer to capture than standard ones.
For the non photo nerds out there, HDR involves merging multiple exposures to reveal more detail in areas of high and low light intensity.
In low-light the new Moto G performs reasonably well too, up to an extent. What's impressive is how well the phone holds onto its colour right into the night. Other phones' photos tend to look undersaturated with less light to work with, the but this phone bumps up saturations to ensure they still look lively.
If anything, they can at times be a bit more vivid than they are in real life, especially with dusk skies, but the actual tones are pretty accurate.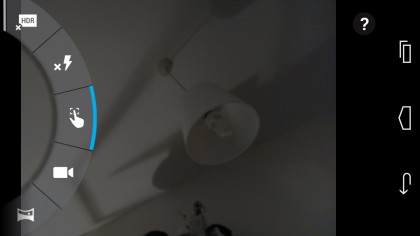 What the Moto G doesn't have is real provision to make photos clear when there's hardly any light to work with. Sony's top phones like the Xperia Z3 really ramp-up sensitivity and brightness to make objects clear without using the flash. Here, dark areas stay pretty dark-looking.
One of the 2014 Moto G's most convincing rivals, the Asus Zenfone 5, offers an extra mode that reduces resolution to increase clarity and reduce noise – a decent solution that's missing here. However, considering the price I still think low-light performance is pretty good.
The autofocus is able to work pretty well with little light, making night usability decent too.
Video capture is not as good though. You can only shoot at 720p resolution, not 1080p, and the footage looks quite sharpened and harsh, perhaps to try and make up for this.
Footage is still usable, though. The exposure compensation moves fairly smoothly when the Moto G switches between shooting bright and darker scenes, and the camera continually autofocuses when shooting.
You don't have manual control over what the Moto G re-focuses on, though, as tapping the screen takes a still photo rather than refocusing. There's a neat extra too. You can shoot video at 120fps slo-mo, again in 720p resolution. It's good fun.
The front Moto G camera uses a 2MP sensor, up from 1.3MP in the first version. It's really quite good at bumping-up the brightness to make sure your selfies are quite nice and clear, even if they are a bit noisy. For a budget phone, it's a good front camera.
Camera samples
Click here for the full res image
Click here for the full res image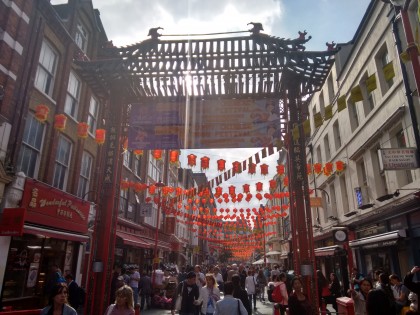 Click here for the full res image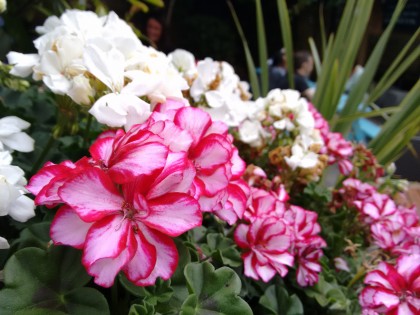 Click here for the full res image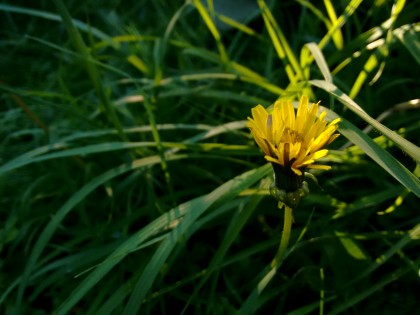 Click here for the full res image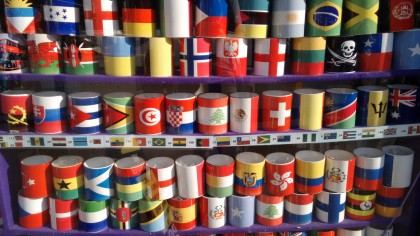 Click here for the full res image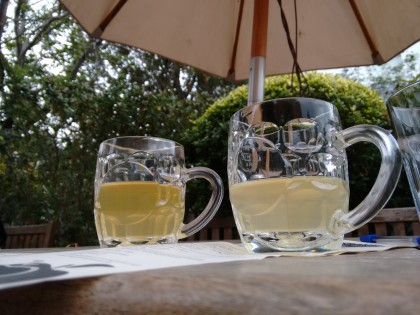 Click here for the full res image
Click here for the full res image
Click here for the full res image
Click here for the full res image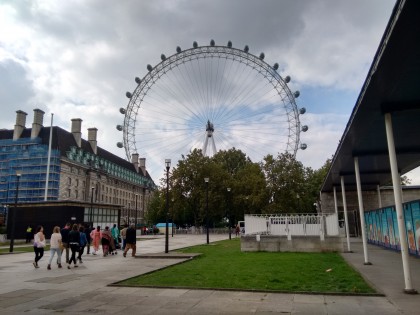 Click here for the full res image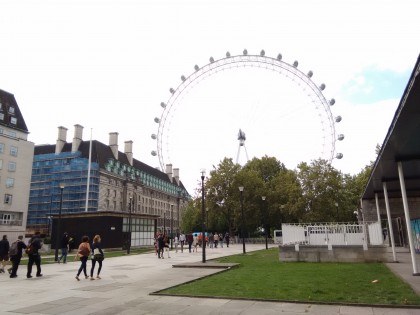 Click here for the full res image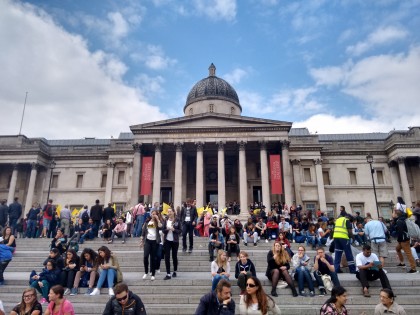 Click here for the full res image
Click here for the full res image
Click here for the full res image
Click here for the full res image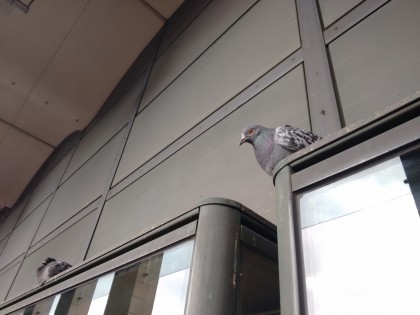 Click here for the full res image
Click here for the full res image
Click here for the full res image
Click here for the full res image
Comparison
Motorola Moto G (2013)
Same name, different year. Motorola originally released the Moto G back in 2013, but it was (and still is) quite a different phone from the one I'm reviewing here.
They look similar and have the same CPU, but the older version has a smaller 4.5-inch screen, and is a bit easier to handle for people with smaller hands. That may sound silly, but the smaller edition is still worth considering.
There's a 4G version of the 4.5-inch screen doing the rounds too. This 5-inch edition now has a 4G version too, but it's not yet launched everywhere.
They are fairly evenly matched, apart from in one respect: the 2013 Moto G has a much worse camera than the new one. It only has a 5MP sensor, and is significantly slower to shoot too.
Read our full Motorola Moto G 2013 review here
Asus Zenfone 5
Breaking out of the Motorola mould, Asus has dived into the mainstream phone market with the new Zenfone range. The Zenfone 5 is both the best in the new line-up and perhaps the most direct rival to the Moto G.
It's a bit slimmer, and comes in some swankier colours.
In almost every respect, they battle it out pretty hard. Both have decent 5-inch 720p screens, good mid-range CPUs and fairly good cameras.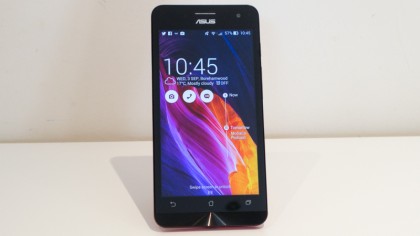 You'll find the Motorola Moto G for a bit cheaper online, it has dual SIM support and stereo speakers. They're good extras.
Sony Xperia M2
Want to stick with a big name? The Sony Xperia M2 costs around the same amount as the new Moto G now that it has been out for a little while, and it offers 4G for that price.
It also has the same CPU, and a slightly swanker-looking design with a much, much skinnier 8.6mm body.
What's the catch? The M2 has a much lower-quality screen. It's not bad, but the 960 x 540 pixel screen just isn't quite sharp enough when stretched across 4.8 inches.
The camera is also worse than the Moto G's. It simply doesn't get the real basics as right as the Moto G.
I do think the Moto G is the better phone, but the Xperia M2 isn't bad either if you're not too bothered about the superior screen quality of Motorola's phone.
Read our full Xperia M2 review here
Hands on gallery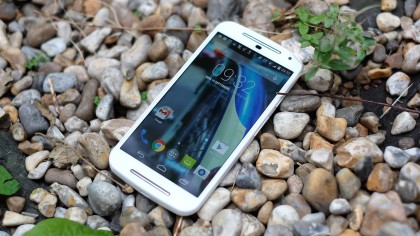 Verdict
When the original Motorola Moto G arrived in 2013, it blew us away. It made many of the budget phones of the time look like trash.
Does the 2014 edition make the same impact? Of course not. In some respects it's just a bigger version of the older phone, and one whose screen isn't quite as sharp.
However, a bigger screen does count for a lot to a lot of people, and the 2014 edition has a significantly better camera to boot.
We liked
Getting a 5-inch 720p screen and solid performance for under £150 makes the new Moto G cracking value, just like its predecessor.
The 8MP camera is fairly snappy and reliable, offering pretty good image quality among its peers.
The lean software 1GB RAM and Snapdragon 400 processor give the Moto G great general performance, with few signs this is an entry-level phone.
We disliked
While you couldn't ask for much more at the price, the screen is noticeably less sharp than the 4.5-inch Moto G as the 720p resolution is stretched over a larger area. The phone itself is a lot bigger too.
Battery life could be better. It's fine, but you don't get that nice stamina buffer to take you half-way through the second day unless you're careful about how you use the phone.
Final verdict
The 2014 edition is another cracking budget phone from Motorola. More screen space and a much better camera are worthwhile upgrades.
The design language has been maintained to a good level, and improved in some ways as well. The fact you've got the option of dual front-facing speakers is really nice, although you don't get the performance found in the HTC One M9 or the Sony Xperia Z3.
Then again, you're buying a phone that's 25% of the price. Not bad.
The microSD slot is a real boon given the lower storage spec of the handset, and with the 8GB of space not offering a lot of space for big apps and lots of photos.
It's not better in every respect as the phone is bigger, making it a bit less convenient, and the larger screen eats into stamina a bit. It's great, but it doesn't totally flatten the original Moto G.