Introduction and design
Knock it for its USB Type-C port. Bash it for its wimpy horsepower. But don't even try to deny that Apple's new MacBook is one of the most attractive, impressively-engineered laptops that the world has ever seen – there's simply nothing quite as slick out there.
Even though it combines the portability of Apple's MacBook Air with the Retina MacBook Pro's high pixel-density Retina display, the new MacBook doesn't resemble either product line – or Apple's older, polycarbonate white MacBook of the same name, for that matter.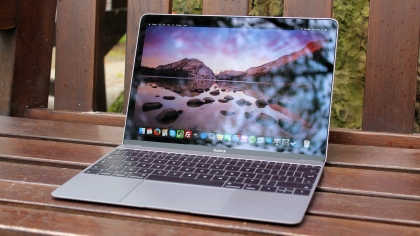 Instead, it feels like an entirely new species of otherworldly laptop that has more in common with an iPad Air than a ThinkPad. Flip open the lid, and you're transported into the best-looking OS X Yosemite playground yet – one that goes wherever you go.
But it's far from perfect: the new MacBook's sole USB Type-C port and moderately-powered Intel Core M processor mean that many of this playground's games are off-limits, and while some will find its unique keyboard more fun than a revolving roundabout, it will make others sick with frustration.
Divisive and sickly sweet, the new MacBook is the notebook equivalent of Marmite. Personally, I love the stuff (and like the new MacBook a lot), but whether it's for you depends on how much you're prepared to compromise.
On the catwalk
Two qualities stand out above all else when it comes to the new MacBook: thin and lightweight. Apple has managed to squeeze its components into an incredible aluminium body that measures just 0.35cm at its thinnest point and 1.31cm at its thickest.
Its thinness is in part due to Intel's fanless Core M CPU, which is passively cooled and runs whisper quiet. There's no fan inside, which enabled Apple's engineers to make its chassis slimmer. The new MacBook is an ideal option if you're frequently sharing a room with light sleepers – particularly compared to noisier, fan-based notebooks sporting Intel's Core-series chips.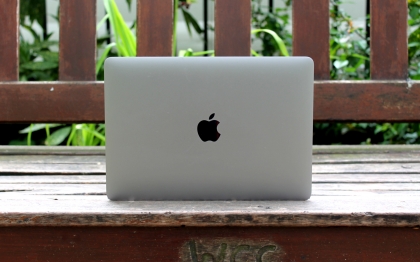 Another factor that's helped Apple achieve the new MacBook's svelte dimensions is its dramatically thinner keyboard, which uses an Apple-designed butterfly mechanism instead of a traditional scissor type underneath the keys.
And while we're on the topic of thin, the new MacBook's bezel is slimmer than ones on previous MacBooks and is complemented by a matte strip along the bottom that bears the MacBook logo. It's available in three colors: Space Grey, Silver and Gold.
Cost and competition
Everything about the new MacBook's design screams premium, which is what you're shelling out for at the end of the day – you can almost forget what's housed inside.
Of course, we've been here before. The original MacBook Air, which was more portable than other notebooks at the time but came with fewer ports, cost an arm and a leg when it first came out – and history has repeated itself with the new MacBook.
Starting at £1,049 (US$1,299 or AUS$1,799), the entry-level MacBook comes with 256GB of flash storage and is powered by a 1.1GHz (Turbo Boost to 2.4GHz) dual-core Intel Core M flash storage, 8GB of RAM and Intel HD Graphics 5300. Rising to £1,299 (US$1,599 or AUS$2,199), the top-end model comes with a slightly faster 1.2GHz chip (Turbo Boost up to 2.6GHz) and a 512GB SSD.
The nearest alternative price-wise is Apple's less portable but more capable 13-inch MacBook Pro with Retina that starts at £999 (US$1,299 or AUS$1,799). That gets you a 2.7GHz (Turbo Boost to 3.1GHz) dual-core Intel Core i5 CPU, 8GB of RAM, 128GB flash storage and Intel Iris Graphics 6100.
If you're not too bothered about a Retina display, the top-end 13-inch MacBook Air costs the same price and comes with a 1.6GHz dual-core Intel Core i5 CPU (Turbo Boost up to 2.7GHz), Intel HD Graphics 6000, 4GB of memory and 256GB flash storage.
If you're in the Windows camp, the number of Core M-powered alternatives are growing all the time. Of those, the Lenovo Yoga 3 Pro, Asus T300 Chi and Asus UX305 share the new MacBook's traits of slimness and portability. And if you wait a little longer, it's possible that there may be a new contender in the shape of the Microsoft Surface Pro 4.
Specifications and features
While the 13-inch MacBook Air (which weighs 2.96 pounds) never exactly felt unwieldy in the hand, being almost a pound lighter means that the new MacBook (2.03 pounds) is on a different level of portability.
The difference in weight between the 11-inch MacBook Air (2.38 pounds) is more subtle; while it's noticeable holding each device in a hand, you're unlikely to tell the difference between the two when they're slung into a backpack.
Taking a peek at the new MacBook's Windows 8.1-powered contenders, the Asus UX305 (2.64 pounds) and the Yoga 3 Pro (2.62 pounds) lie somewhere in-between the new MacBook and the 13-inch MacBook Air. The UX305 wins the gong for being the model with the lowest height, measuring 12.3mm, followed by the Yoga 3 Pro's 12.8mm.
Although the new MacBook is a whisker taller than the Yoga 3 Pro at 13.1mm, that's when measured from the tallest point at the back. Thanks to its tapered design, it measures just 3.5mm at the front and is easy to open with one hand thanks to a cutaway at the front.
At 280 x 197 x 13.1 mm (W x D x H), the new MacBook has the smallest footprint of the three, versus the UX305 (324 x 226 x 12.3), Yoga 3 Pro (330 x 228 x 12.8) and 13-inch MacBook Air (325 x 227 x 17mm), making it the clear winner if you're a frequent traveller requiring that inch or two of extra space on the plane or train.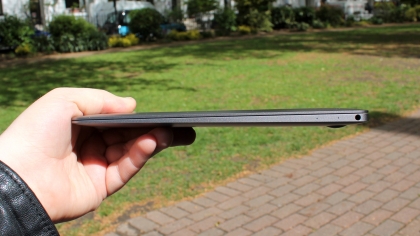 Here is the configuration of the review model supplied to TechRadar:
Spec sheet
Processor: 1.1GHz dual-core Intel Core M CPU (Turbo Boost up to 2.4GHz) with 4MB shared L3 cache

Operating System: OS X Yosemite

Memory: 8GB of 1600MHz DDR3

Display: 12-inch LED-backlit IPS display

Graphics: Intel HD Graphics 5300 (video support up to 3,840 x 2,160)

Storage: 256GB PCIe-based onboard flash storage

Camera: 480p FaceTime camera

Networking: 1/10/1000BASE-T Gigabit Ethernet
Connectivity: 802.11ac Wi-Fi; Bluetooth 4.0

Audio: Stereo speakers; Dual microphones; headphone port (support for Apple iPhone headset with remote and microphone)

Dimensions: 28.05 cm / 0.35 – 1.31 cm / 19.65 cm (H x W x D)

Weight: 0.92kg (2.03 pounds)

Battery: Built-in 39.7-watt-hour lithium-polymer battery
Wave goodbye to full-size USB 2.0 ports, and the MagSafe adapters that juiced Apple's old MacBooks, because both have been replaced with a single USB Type-C port on the new MacBook's left-hand edge.
That's right: there are no other USB ports or video outputs to be found – including Apple's own Thunderbolt port. The absence of MagSafe is also disappointing. It was nice to know that you could wrap your leg around the power chord without sending your MacBook flying into the air.
Unlike MagSafe, which came out easily (which was the whole point), the USB Type-C connector feels uncharacteristically snug. If we're scraping the barrel to look for a positive, using the MagSafe adapter with the cord at full length meant that it had a tendency to fall out, whereas once a USB-C charger is inserted, it's rock solid. Plus, like Apple's Lightning connector it works both ways around.
Oh, forget it: let's hope a USB Type-C MagSafe adapter is invented soon.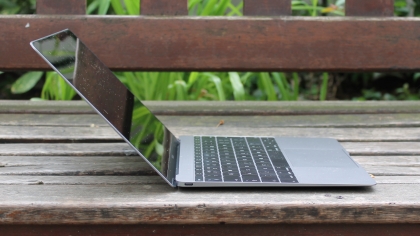 On a practical level, the change to USB Type-C is the bigger issue as it means that you'll have to connect USB peripherals and monitors using a USB Type-C adapter, which Apple and other vendors supply. You can pick up a USB-C-to-USB-A adapter or a Multi-port adapter that lets you connect another USB-C device, a USB-A device and VGA or HDMI-equipped external monitor.
For writing this review, I used a USB Type-C Multi-port adapter with a VGA connection to hook up a 1080p monitor, inserting a USB mouse into the empty USB-A slot and hooked up the USB-C power supply to complete the adapter's trio of connections.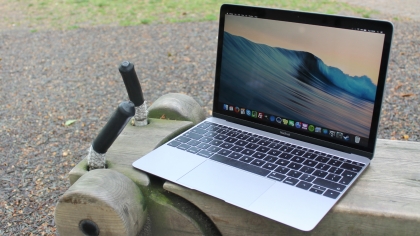 Did it annoy me? Well – not really. It felt tidy and practical and certainly wouldn't prove a dealbreaker to buying a new MacBook. Of course MagSafe would be better, as would more ports, but it wasn't quite the hair-tearing experience I was expecting. The obvious drawback is that the adapters aren't free.
If you're thinking about prying the new MacBook open and switching that pesky USB-Type C port for the old traditional one, well – you can't. Sorry. In fact, the whole device is incredibly difficult to upgrade, as the guys at iFixit found out in their teardown, rating the new MacBook a measly 1 out of 10 for upgradability.
Bundled software
One of the positives of buying any MacBook is that it comes with a slew of free Apple software, most of which is of an excellent quality and far from the bloatware your might run into on Windows machines – and Apple's apps look even better on the new MacBook thanks to its high-resolution display.
It currently ships with OS X Yosemite, undoubtedly the prettiest version of OS X yet – and future upgrades are bound to be free.
Plus, Apple's Mac App Store has come on in leaps and bounds in recent years, proving an excellent resource with frequent recommendations on apps in multiple categories – such as Games, Productivity, Writing, Navigation and more. Here's every app you'll find upon booting up a New MacBook for the first time:
iPhoto

iMovie

GarageBand

Pages

Numbers

Keynote

Maps

iBooks

Safari

Mail

Facetime

Messages

Calendar

Contacts

Time Machine

Photo Booth

Mac App Store

iTunes

Game Centre

Preview

Notes

Reminders
Performance and benchmarks
The new MacBook's Intel Core M CPU is adequate for handling daily computing tasks – such as browsing the internet, streaming audio and 1080p video and multi-tasking with several browsers open with up to 10 to 15 tabs each. It can't quite match the power of Intel's Core i3, i5 and i7 processors, but it does allow the new MacBook to run silently. Plus, it's mostly cool with the exception of a section along the right-hand side of the base that occasionally gets hot under heavy load.
You certainly won't be able to escape the odd bit of slowdown when you start to run 10 or more apps in addition to a ton of browser tabs. After that point, I would find that tasks such as clicking on Google Drive to open its preferences pane, or moving a Firefox window to a different monitor can cause apps to fill with white or black color and freeze, motionless, before springing back into life.
I actually found that, when using it from day-to-day, the new MacBook felt more responsive overall than my 2014 MacBook Air, which is likely down to it having 8GB of RAM, rather than the MacBook Air's 4GB. On the other hand, tasks that required the MacBook to do any sort of heavy lifting, such as using Gimp to scale the 60MB (or so) images that I took for this review up or down, took anything from 10 to 15 seconds longer than the Air.
Given that editing images is a vital but infrequent task that I need to carry out, the longer scaling and export times were well worth the trade off to get the new MacBook's svelte build and impressive display.
Benchmarks
Xbench: Overall: 314.66; CPU: 202.72

Cinebench R15 (CPU) Single Core: 98cb; Multi Core: 209 cb; Open GL: 19.05 fps

Unigine Heaven 4.0 Medium Quality (1,680 x 1,050): Score: 219; FPS: 8.7

Unigine Heaven 4.0 Ultra Quality (1,680 x 1,050): Score: 153; FPS: 6.1

NovaBench: Score: 500; Graphics: 29


Batman: Arkham City: Minimum 13 , maximum 25, average 19, 1440 x900

Tomb Raider: Medium quality, minimum 6fps, maximum 11.7, average 8.7

Geekbench 3 (Single Core): 2,299; (Multi Core): 4,423
Battery life (looping HD video over Wi-Fi, three-quarter brightness): 7 hours and 5 minutes
But make no bones about it: the new MacBook is no powerhouse, and that's reflected in the benchmarks. With a Geekbench 3 score of 4,423 on the Multi-Core test, its CPU came out 46% slower than the dual-core 2.7GHz Core i5 chip in the early 2015 Retina MacBook Pro.
While that may not come as a huge shock, it was also soundly beaten by the top-end 11- and 13-inch MacBook Air models from earlier this year, which attracted an average Geekbench user score of 8,947 and 6,828, respectively. If you're looking to use a MacBook for regularly editing image files or editing or converting video, those MacBook Airs both cost less than the new MacBook and would be far more suitable while remaining plenty portable.
The new MacBook's graphical grunt was nowhere to be found due to the inclusion of Intel's integrated graphics. Both Batman: Arkham City and Tomb Raider mustered low frames per second scores that would make either game unplayable.
Display
Here it is: the highlight of the new MacBook. The display is one of the best I've seen on a notebook, with incredibly rich colors and excellent 170-degree viewing angles.
Measured with our X-Rite colorimeter, it notched up a brightness level of 375.15cd/m2, which easily proved bright enough to see indoors and was just about good enough to read websites in bright sunlight too – even if videos were a little harder to follow.
Elsewhere, the MacBook produced decent black levels of 0.33 cd/m2 black levels, with color accuracy standing at 91.3% of the sRGB color gamut. While it's not quite high enough for media professionals, you probably won't notice the difference. The display's inky blacks and bold colours make text and images 'pop' on the impressive display – and once you've seen it, it's so, so hard to go back to a MacBook Air.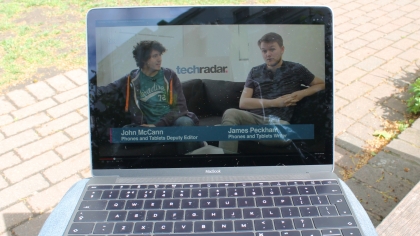 There's another advantage to that 2,304 x 1,440 pixel-resolution display: you can scale it up to get more desktop space and go far beyond Apple's default scaled resolutions.
By adding a custom resolution, I managed to soar all the way up to 1,920 x 1,080 in High-DPI mode using SwitchResX, which allowed me to see the same amount of spreadsheet rows and columns as a 27-inch monitor. Sure the text was tiny, but I could still make out the numbers and edit the spreadsheet without any trouble.
I might not be doing it all the time, but compared to my old setup, which was an 11-inch MacBook AIr connected to a portable USB DisplayLink monitor, I now have enough desktop real-estate to switch to see more on the screen at the same time. Sure, that's been possible on high-resolution Windows and Apple machines for some time, but having all that desktop space is even more impressive on a titchy 12.1-inch machine as thin as a pencil.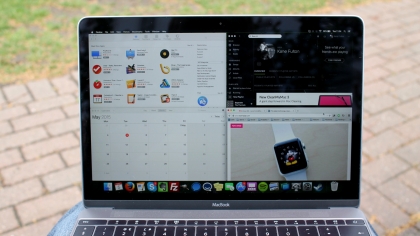 The new MacBook's stereo speakers are one the of the surprising highlights of the new MacBook. It's incredible what Apple has managed to do in that department. Located on the top of the base under the bezel, they're pleasingly punchy with good mid-range tones, even if the bass is predictably lacking. They're loud, too, for the size – and sound far better than the 11- and 13-inch MacBook Air's comparitively tinny speakers.
The new MacBook uses a new Force Touch trackpad that adds an extra click using haptic feedback. That means there's no mechanical construction under the trackpad, instead using haptic feedback to let you indicate where abouts on the trackpad the click takes place.
Initially I found that the larger trackpad size actually made me accidentally miss the right-click zone more often than I did on the 11-inch MacBook Air (which was never). However, after some practice I soon got used to the larger trackpad, which has tons of potential once developers get to grips with Yosemite's Force Touch Trackpad API (or application programming interface).
The new MacBook has good, but not excellent battery life, ekeing out 7 hours and 5 minutes from its 39.7Wr battery on our looping video test over Wi-Fi. That's not quite post-Haswell MacBook Air levels of battery life longevity, but it isn't far off Apple's older Ivy Bridge models. Still, that Retina display has to draw oodles of power from somewhere, and if you need the best battery life in a MacBook you can get, the new MacBook is not the way to go.
Keys to the heart
Apple has completely redesigned the new MacBook's keyboard, which now uses a new Butterfly hinge rather than the scissor switch under each key. The keys are still backlit, only now they have individual lighting zones that prevents light from bleeding between the keys – and you get fewer crumbs dropped between them, too.
The changes make the keyboard by far the most divisive feature of the new MacBook – and it took me a week to get fully used to it after using an 11-inch MacBook Air for five years.
Initially I couldn't quite type as fast as I could on the MacBook Air, but the reduced amount of pressure needed to make each key actuate makes the New MacBook's keyboard slightly more comfortable for typing on for hours at a time. Like me, once you get used to it, you'll find yourself flying.
Verdict
The New MacBook is the future, but it isn't for everyone just yet. The lack of USB ports and the need to buy an adapter (if you have peripherals and a monitor) will likely be the first dealbreaker, followed by its price. If you're still onboard after those potential pitfalls, the new MacBook is one of the most luxurious, compact and fun notebooks to use today.
We liked
After witnessing the Retina MacBook Pro's display, it was always likely that the new MacBook would have a stunning display – and it doesn't disappoint. Great viewing angles and bold colors make it one of the best we've seen in a laptop. It's all part of a brilliantly portable package that's the closest a laptop has come yet to offering the portability of a tablet (well, an iPad).
The new MacBook's speakers gave surprisingly full-bodied sound that won't shake the room but make for a far more pleasant listening experience than Apple's previous MacBook Air or MacBook Pro models. While many will sit on the fence when it comes to the keyboard, my experience with it only got better in time – and I ended up preferring it to the MacBook Air's after almost two weeks.
It's a similar scenario with the Force Touch Trackpad, which felt a little alien at first but became more comfortable over time.
We disliked
The new MacBook is far from a monster under the hood. However, if you can get over the fact that it's designed for anything from browsing the internet to light image editing, streaming video and music to other light computing tasks, it should perform OK for what you want it to do.
Bear in mind that you will need to pay for at least one of several USB Type-C adapters out there to use your existing peripherals and monitors. Some say that's just the price to pay for being an early adopter, but it could be hard for you to stomach considering its already high starting cost.
Final verdict
The decision of whether you should buy a new MacBook is a simple one: does it play to your strengths? Perhaps you need the lightest and most portable OS X machine out there today, one with good battery life. Maybe you appreciate an incredible, vibrant display that's equally as good at rendering your crisp documents as it is displaying the same amount of a spreadsheet as a 24-inch monitor.
Maybe, just maybe, you travel a lot and play music out of your laptop's speakers. But – and it's a big but – you need to be prepared to put up with its pitfalls. Don't expect to crunch through major mulittasking without slowing down. And you may end up merely coping with its keyboard rather than falling in love with it. You'll definitely have to put up with at least one adapter if you want to use any peripherals or an external monitor.
Like in any relationship, the one between you and your MacBook will be frought with compromises. But if it's meant to be, then you will be prepared to make them. If you're not, you can always take it back to the Apple store to save yourself a messy divorce. In other words: if possible, try before you buy.