Introduction and design
If the 2014 was the year the Lenovo X1 Carbon went through the sexy makeover, this year the 14-inch business laptop has jumped back into its old suit and tie. The third generation X1 Carbon is just as thin as and sleek as 2014 model, but Lenovo has done away with one of the laptop's most distinctive elements in replacing the row of adaptive, digital function keys with a completely traditional set.
Otherwise, Lenovo has given its latest Ultrabook a by-the-numbers refresh, with faster and more energy-efficient Broadwell processor options. The annual upgrade comes as a bit of a letdown, compared to the massive retooling the 2014 model saw.
That said, Apple is equally guilty of doing the same time and again, like with its 13-inch MacBook Pro. But with laptops like the Dell XPS 13 reshaping Ultrabooks for less scratch to boot, this Lenovo ThinkPad X1 Carbon is easily overshadowed.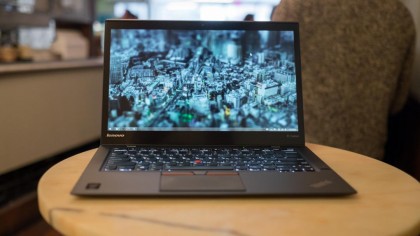 Design
If you were to sit the new Lenovo X1 Carbon next to it predecessor, they would look almost like identical twins. That's not really surprising, since the two 14-inch laptops share practically the same frame with a few subtle changes.
Firstly, Lenovo made a few weight saving measures by dropping the carbon-fiber lid for a carbon- and glass-fiber reinforced plastic panel that's still resilient against flexing. Similarly, the new laptop features a hard, semi-glossy finish in place of its predecessor's soft touch feel. As a result, the laptop is a bit plainer (falling in line with the rest of Lenovo's enterprise notebook fleet), but it's less prone to scratching and picking up fingerprints.
Overall, these changes have reduced the weight of the new unit by 0.05 pounds (0.02 kg). Nothing too astonishing, but every ounce matters, and this 3.1-pound (1.4 kg) machine is amazingly light for a 14-inch laptop. What's more, Lenovo hasn't sacrificed anything in the way of rigidity with its latest Ultrabook.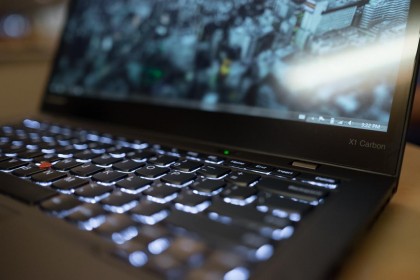 The keyboard still doesn't not exhibit the slightest bit of flex unless you're putting your entire weight on top of the machine. The laptop's base is also still made with the same magnesium-aluminum base, which offers plenty of strength, thanks to a lightweight alloy blend.
One thing Lenovo has improved upon is ratcheting tighter hinges, which prevents the screen from wobbling while you adjust it. Plus, users can still push back the display to an impressive 180-degrees, laying the laptop flat if they so wish. It won't bend back completely back, like Lenovo's Yoga series of notebooks, but the greater degree of freedom will allow for some very relaxed typing positions, if you prefer to kick back while drafting documents.
As for ports, the X1 Carbon has two USB 3.0 ports on tap along with a complement of video ports including HDMI and mini DisplayPort, plus Lenovo's proprietary OneLink connector. Curiously, an SD card reader remains to be a glaring omission. It's not a deal breaker. However, SD cards may be important to users who want to bolster on-board storage and those in creative fields that make heavy use of SD memory. (Though, it's doubtful that the creative crowd is this machine's target audience.)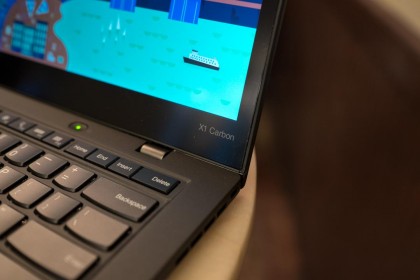 One step back
The most immediately noticeable difference from last year's model is Lenovo has replaced the row of nifty adaptive keys with a set of standard function keys. Personally, I feel this is a big step back. These function keys would transform in virtual buttons depending on the task at hand, such as navigation controls while in a web browser or Skype would call for a set of video chat-centric commands.
Instead of these transforming keys, you're stuck with a static group of shortcuts to adjust brightness and other basic laptop settings. These are important, of course, but the adaptive function row was one of the few touches that Lenovo added to set the X1 Carbon apart.
The new model is a little less special without this unique feature not found on any other laptop. That said, it's not a stretch to imagine that Lenovo's enterprise audience received the forward-thinking change poorly.
Specifications and value
The Lenovo X1 Carbon is an impressively thin and light 3.1-pound machine, considering it has a 14-inch screen. But with dimensions measuring 13.03 x 8.94 x 0.73 inches, or 330 x 227 x 18 mm (W x D x H), it has a tough time of slipping into small bags designed for 13-inch laptops. Meanwhile, going with a larger carrying case designed for a 15-inch notebook will have the laptop jostling about while you carry it on your back or against your hip.
While Lenovo managed to shave down its 14-inch Ultrabook into a small frame, Dell has, by some manner of Time Lord science, fitted a 13-inch screen into 11-inch laptop with the XPS 13. Regarded as one of the lightest Ultrabooks currently in existence, the Dell XPS 13 weighs in at 2.8 pounds (1.27 kg) and measures 11.98 x 7.88 x 0.6 inches (304 x 200 x 15 mm).
The 13-inch MacBook Pro, meanwhile, sits in a happy medium between the two competitors, with a 12.35 x 8.62 x 0.71-inch (313 x 218 x 18 mm) frame. However, thanks to a completely aluminum unibody design, it's also the heaviest rig out of this grouping at 3.48 pounds (1.58kg).
Here is the Lenovo X1 Carbon configuration sent to TechRadar for this review:
Spec Sheet
CPU: 2.6GHz Intel Core i7- 5600U (dual-core, 4MB Cache, up to 3.2GHz)
Graphics: Intel HD Graphics 5500
RAM: 8GB DDR3L (1,600MHz)
Screen: 14-inch QHD 2,560 x 1,440 IPS Multi-touch with WWAN
Storage: 512GB SSD PCIe
Ports: 2 x USB 3.0, mini DisplayPort, HDMI, Ethernet, headphone + microphone combo jack, One Link connector
Connectivity: Intel 7265 AC Dual Band Wireless + Bluetooth Version 4.0
Camera: 720p HD camera
Weight: 3.1 pounds
Size: 13.03 x 8.94 x 0.73 inches (W x D x H)
For $2,100, you can get a fully loaded configuration of the Lenovo X1 Carbon as you see above. The bumped up price comes with some serious upgrades, including a higher-resolution 2,560 x 1,440 display, top-end processor, the maximum allotment of storage with a 512GB SSD and Windows 8.1 Pro.
Those looking to pick up the a top-end Lenovo X1 Carbon in the United Kingdom and Australia will sadly be stuck looking at SSDs with a maximum storage space of 256GB and a lower-spec 2.4GHz Intel Core i7- 5500U CPU. Meanwhile, the entry-level configuration for this 14-inch Ultrabook comes with a 2.2GHz Intel Core i5-5200U processor, 4GB of RAM and only an 128GB SSD for $1,088 (£1,199, AU$1,799).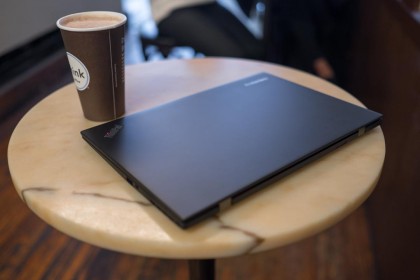 Despite the preconceived stigma of the "Apple tax," a similarly specced 13-inch MacBook Pro is actually more affordable than the priciest X1 Carbon. For $1,799 (£1,399, AU$2,499), you could get a 13-inch Retina display (2,560 x 1,600 resolution), with a 2.9 GHz Intel Core i5 processor, 512GB SSD and superior Intel Iris 6100 graphics.
A decked out Dell XPS 13 comes at an even more affordable $1,449, plus a high-resolution, 3,200 x 1,800 screen. That said, the US model is limited to only an Intel Core i5-5200U processor, which also powers the base-model Lenovo X1 Carbon. The Dell XPS 13 is available in the UK with an Intel Core i7-5500U Processor, a 512GB SSD and all the other top-end specs for £1,299. Interested buyers in Australia have the option of going with an AU$2,498 configuration that includes an Intel Core i7-5600U chip, but is again limited to only 256GB in storage.
Performance and features
If there's one thing the Lenovo X1 Carbon is good at, it's being a reliable work horse. Thanks to a capable Intel Core i7 processor with 8GB of RAM and a speedy 512GB SSD, the laptop steadily completed every task. Multi-tasking performance was similarly stellar even as I browsed the web with 15 tabs open in Chrome, double that number in Firefox alongside Skype and HipChat all while editing images in Lightroom.
Here's how the Lenovo X1 Carbon fared in our benchmark tests:
Benchmarks
3DMark: Cloud Gate: 5,568; Sky Diver: 2,816; Fire Strike: 792
Cinebench CPU: 297 points; Graphics: 32 fps
PCMark 8 (Home Test): 2,518 points
PCMark 8 Battery Life: 3 hours and 41 minutes
The Lenovo X1 Carbon does not come housing a dedicated graphics card, but it still managed to get through the 3DMark Fire Strike benchmark test with 792 points. That might not sound too impressive, especially when a modest Nvidia GTX 960M inside the Alienware 13 can score 3,462 points. But you can put the Lenovo X1 Carbon through some graphically grueling tasks including playing YouTube videos at 4K and Hearthstone at full resolution on its highest settings.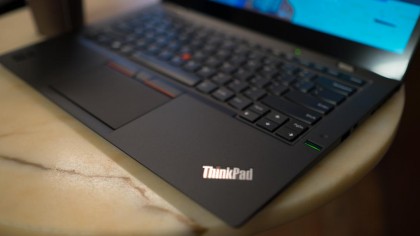 Unsurprisingly, the X1 Carbon sails past the Dell XPS 13 with a higher-end CPU and lower screen resolution. This is clearly evident as the Dell's only put up a 739 Fire Strike score, despite the fact it comes packing the same integrated GPU as the X1 Carbon. Even processor performance on the X1 Carbon skips ahead of the XPS 13, the PCMark8 benchmark results are 2,518 points and 2,104 points, respectively.
Comparing the Lenovo X1 Carbon to the 13-inch MacBook Pro proves to be a bit more problematic, as the same benchmarks are largely not available to both Windows and OS X Yosemite, with the exception of Cinebench. According to the results of the benchmark, the MacBook Pro performs better with a Cinebench score of 310 points, whereas the Lenovo completed the same test with 297 points, and the Dell with 258 points.
Cinebench measures the speed at which a processor's cores can work in tandem to render a dense 3D image. 42 to 13 points of difference is negligible, but the scores show that the X1 Carbon, on a performance-level, is nearly on par with the MacBook Pro, while the Dell XPS 13 lags behind with its slower processor.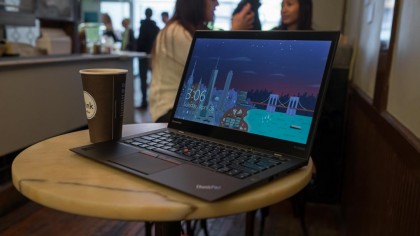 Don't leave it in the sun
In a world full of 1080p screens, the Lenovo X1 Carbon's 2,560 x 1,440 display comes as a refreshing treat. And it's only made better by the fact that it's an IPS panel (which produces accurate colors and wide viewing angles). Unlike a 4K screen, most applications actually scale fairly well to the X1 Carbon's QHD resolution, save for a bit of pixelated text in Skype and some shrunken user interfaces, such as Blizzard's Battle.net client.
While, the screen is amazingly sharp and vibrant in the office, taking it outside and glare becomes a serious issue, despite the anti-glare coating designed specifically to reduce reflections. Rather than preventing glare, the screen coating on the X1 Carbon seemingly just spreads sunlight across the entire display panel. Whether you're sitting outside on an overcast day or using the machine at the windows seat of a train, you'll have a hard time discerning what's on your screen when you take this machine outside.
Another pitfall of this laptop is that its down-firing speakers sound very tinny and easily become distorted as soon as you push up the volume past 20 in Windows 8.1. Booming, full-bodied sound isn't something you would expect out of a business laptop in the first place, but the X1 Carbon isn't a machine you would want to use to host a video conference with everyone in the office.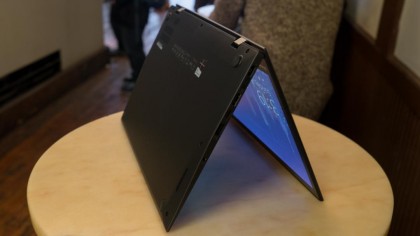 Quick charge and drain
Battery life on the Lenovo X1 Carbon expired after an all too unimpressive 4 hours and 15 minutes in my testing. And this is after running the laptop on a lightweight regiment of tasks, including writing up this review in Microsoft Word, playing music with the OutColdPlayer, chatting in Skype and HipChat as well as browsing the web with 15 open tabs at any given time.
The Lenovo X1 Carbon also didn't fare too well with the PCMark8 synthetic battery life test, lasting just 3 hours and 41 minutes, However, it's a big improvement from last year's model, which ran for just 2 hours and 55 minutes, especially considering the current review unit is running a much more demanding Intel Core i7 processor over a Core i5 chip.
Switching the laptop to Lenovo's power-optimized mode ups battery life to 6 hours maximum. Another good thing about the X1 Carbon is it charges quickly, topping off a half empty battery in just an hour.
The Dell XPS 13, by comparison, was able to stay on for a much longer 7 hours and 40 minutes while on a constant loop of video playback. The incredibly small Ultrabook also ran the PCMark8 battery test for a longer 4 hours and 21 minutes.
Longevity has always been a bonus of using Macs, and the 13-inch MacBook is one of the longest lasting laptop's we at TechRadar have ever reviewed. Streaming a non-stop playlist of 1080p video, Apple's darling notebook kept going and going for a full 12 hours and four minutes.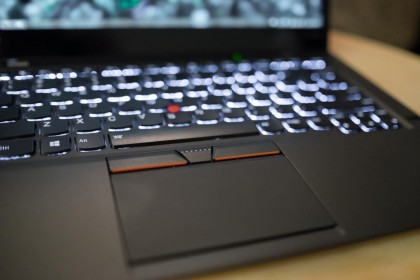 Bundled software
Although it might feel, look and smell like an Ultrabook, the X1 Carbon is as much a business laptop as the rest of Lenovo's mobile workstation fleet. As such, enterprise users will feel right at home with the suite of productivity and utility apps Lenovo has preloaded onto its system:
Lenovo System update – As the name might suggest, you'll be using this tool to keep the X1 Carbon firmware up-to-date.
Mouse Properties – Rather than your typical Synaptics system tray client, this application handles all your trackpad preferences.
Lenovo Settings – A quick, visual system tray that lets you tweak settings including Airplane mode, a mobile hotspot, the camera and more.
Lenovo QuickControl – This program allows users to remotely control their laptop with a smartphone app, a clutch feature for presentations, available on iOS and Android.
Lenovo Reach – Lenovo's internal cloud storage service, which users can access with their laptop or across all Windows, Android, and iOS devices.
Verdict
In 2014, Lenovo was carving a new identity for the X1 Carbon that differentiated it from other business laptops. With this latest model, Lenovo seems to be taking a step back, retreating to a traditional styling that enterprise users might be more comfortable with.
That said, the laptop has seen a fair share of improvements. Thanks to a new Broadwell processor, the X1 Carbon's performance is even better, while battery life has been extended by another hour.
We liked
If you're looking for a no-nonsense Ultrabook that's lighter than your everyday mobile workstation, then the Lenovo X1 Carbon is it.
It's a reliable business notebook with a best-in-the-industry keyboard and trackpad, plus the impeccable build quality of the machine earns it some big marks.
We disliked
In the same breath, I also have to say the Lenovo X1 Carbon has two major flaws, including screen glare. What's more, this machine's last in class battery life of four to six hours won't get you through a day's worth of off site work before running back to the safety of an outlet. Both drawbacks will (and probably should) discourage users from taking out this machine outside of an ideal office environment for too long.
Final verdict
There's no question that the X1 Carbon is an acceptable, reliable work machine. Lenovo got a lot of things right with its latest business Ultrabook: excellent performance, enough inputs and a great build quality.
There are a few imperfections, though, what with the reflective anti-glare coating and the comparatively short battery life. This laptop's greatest problem, however, isn't clear until you look at what the competition is serving up.
Priced at $2,100 (about £1,929, AU$2,599), the Lenovo X1 Carbon is considerably more expensive than both the 13-inch MacBook Pro and Dell XPS 13 at similar configurations. And yet both of these machines offer more in the way of screen resolution and battery life, making for a better value that's tough to refute.
The Lenovo X1 Carbon, outfitted with a top end processor, outpaces both Apple and Dell's thin laptop offerings. But the difference in benchmark scores isn't large enough to warrant paying an additional 300 to 600 bucks for this premium business Ultrabook.