Introduction, design and display
Two years ago, if you would have told me you could buy an Android phone with flagship-worthy specs for under $300 unlocked, I would have said you're crazy. And, I would have assumed you hijacked a semi trailer full à la Fast and the Furious. However, this is 2015, and Alcatel has managed to deliver exactly that with the Alcatel OneTouch Idol 3.
Available in the US for $250 (£270, about AU$328) unlocked, it rests on the same spectrum as the Asus ZenFone 2, and OnePlus One. While you've probably heard of the latter, don't let the Idol 3's innocuous name fool you. It's rolled up to the party ready to have some fun.
With a 5.5-inch, 1080p IPS display, it's got the same pixel density as the iPhone 6 Plus. A 1.5GHz Qualcomm Snapdragon 615 octa-core processor and 2GB of RAM are tucked inside, along with 16GB of internal storage. If 10GB of actually useable storage isn't enough for you, there's microSD card support for up to 128GB. On the back is a 13-megapixel (MP) camera with a single LED flash, and on the front is a crazy 8MP snapper. Theoretically, selfies should be amazing.
From NFC to LTE support, it's got all the connectivity you'd expect, including dual-band Wi-Fi, and a 2,910 mAh battery keeps the juice flowing. In the sound department, dual front-facing speakers created in partnership with JBL liven things up.
Design
The Alcatel OneTouch Idol 3 is not the Brad Pitt of smartphones. Nothing from the plastic body particularly jumps out at you, but it's not terrible to look at either. At 7.4mm thin, it's only slightly thicker than some of the latest flagships, and its rounded edges are wrapped in faux metal.
The fake metal edges are very reminiscent of the Samsung Galaxy S5, and offer a good amount of grip. On the top, you have a microphone and headphone jack, and on the bottom is another microphone and micro USB charging port.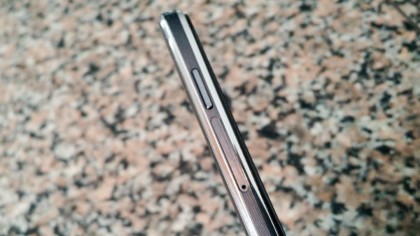 On the left-hand side, at the very top, is the power button and SIM card slot, and also at the top on the right-hand side are the volume buttons. You may be wondering, where the microSD card slot is located? There isn't one, actually. Instead, Alcatel incorporated it into the SIM card slot.
Because of the 5.5-inch display, the power and volume buttons could have been better positioned together on the right-hand side halfway down. Despite having big hands, they were sometimes difficult to get to.
The brushed plastic back has a smooth, but not slippery feel to it, and features "Idol" and "Alcatel OneTouch" branding. My review unit had some FCC stickers, but thankfully those won't be included on the production model. The 13MP rear-facing camera is completely flush with the back – unlike some of the latest flagships in their pursuit to get even thinner – and it gets the same faux metal treatment.
At just under five ounces, the Idol 3 feels solid in my hand. It's not too heavy, not too light. Personally, I'd rather have a phone that feels solid than one insanely thin and light. The Idol 3 reaffirms this. I never had a fear of dropping it, even while jogging, and coming from the 5.2-inch display on the Moto X, it took very little adjusting.
It's possible to use one-handed, and is well-balanced enough to not topple over. The body and display do offer a little bit of flex, and you can tuck away in your pocket no problem.
Sticking out just a few millimeters on the top and bottom beyond the display are the dual front-facing speakers. They actually sit below the glass panel of the display, creating a small but noticeable drop off.
If you want something other than the ordinary black or white, you'll be left hanging. At launch, the Idol 3 is only available in dark gray. Alcatel will offer a flip case starting May 30, but it too will be available in the same bland color.
Display
While LG and Samsung want you to believe you need Quad HD in your life, the reality is, 1080p is perfectly suitable for the average person. Even at 5.5-inches, there's no issue with seeing individual pixels. Being an IPS LCD panel, colors are fairly accurate, and the screen gets sufficiently bright even when the sun is glaring down on you.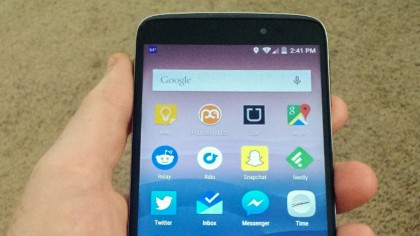 Bezels are fairly thin on the sides, and about half an inch on the top and bottom. This is to make way for the 8-megapixel front-facing camera, and dual stereo speakers which we'll get into here shortly.
Interface and performance
A lot of manufacturers like to add their own skin on top of Android. For the purists out there, it can be a major annoyance, and in quite a few cases, actually slows the phone down. In the case of the Idol 3, Alcatel kept it simple. The phone is running virtually stock Android Lollipop, and here's a list of pre-installed apps:
Facebook
Twitter
Flipboard
Evernote
Adobe Reader
WPS Office
WhatsApp
Dropbox
AVG Anti-Virus
Radio
Weather
Compass
Mix (music player)
Notes
Sound Recorder
Tags (NFC)
Wi-Fi Display
Wi-Fi Transfer
You can completely uninstall third-party apps like Facebook and AVG, but can't do so with the generic system apps. Of course, Google's usual suite of Play-branded apps are installed, along with Gmail, Chrome, Hangouts, Calendar, Email and more.
From a visual standpoint, most of what's been changed are the app icons themselves. The notifications drawer and quick settings menu has kept its Android 5.0 Lollipop roots. You can easily access quick settings by swiping down from the top with two fingers, and a gear icon takes you directly to Settings. And, because Lollipop allows multiple user accounts, you can tap the avatar to switch to another account.
On paper, the Idol 3 should scream through whatever you throw at it. After all, it has an octa-core processor and 2GB RAM. However, it's yet another reminder that optimized software is just as, if not more important, than great hardware. The "buttery smooth" first introduced in Android 4.1 Jelly Bean just isn't here. Scrolling can be a bit janky, and there's sometimes as much as a two second delay when opening or transitioning to other apps.
Navigating around the home screen and app drawer seems to be okay, though. To try and fix the lag, I enabled Developer Options, and turned off all animations. This definitely helped to speed things up, but is far from ideal.
In Geekbench, the Idol 3's multi-core score was 2066. This puts it just behind the Exynos octa-core version of the Samsung Galaxy S4, and nearly 800 points behind the Asus Zenfone 2.
The phone I tested was running Android 5.0.2, which is known to have performance issues. We reached out to Alcatel to find out if an update to Android 5.1 is planned, and will update this review once we hear back.
On the plus side, if you're one of the few who still use a phone to make phone calls, the Idol 3 offers no complaints. In fact, when talking with my dad, he said it "sounds like you're sitting right next to me."
Reversible
When the OneTouch Idol 3 was announced back at MWC 2015, it was touted as the world's first "reversible" smartphone. Basically, even if the phone is upside down, you can use it as you normally would.
The display automatically adjusts as long as you have the "Reversible" icon selected under quick settings. It's a great idea. After all, how many times have you pulled your phone out of your pocket, and had to flip it right side up? I found myself taking advantage of it on a few occasions, but muscle memory usually kicked in.
Dual stereo speakers
When HTC launched the One, front-facing speakers were one of those incredibly simple, yet brilliant ideas. Alcatel apparently agreed, and teamed up with JBL to offer a similar experience.
The audio is crisp, and as someone who enjoys listening to podcasts in the morning while getting my day going, it's fantastic. Music doesn't sound 100%, and is missing some detail, but I don't expect perfection from such tiny speakers.
However, don't let the word "tiny" fool you. These speakers pack some serious punch. I quickly learned you'll want to keep the volume for notifications around ⅓ of the way, otherwise you may jump when you're "in the zone" working. And if you're going to talk to someone on speakerphone, you best not do it in a crowded public place. While the speakers do add a bit more to the bezel, it's a welcome trade-off.
Camera, battery life and verdict
Full-size photos: https://drive.google.com/folderview?id=0B5iOZICiywWQfnljM0NESVYzaXdHZFRoNkktd0VUVnR4N1dURjF1Q09XdjZrSlJDVEtUcWs&usp=sharing
I snap photos just as much as the next guy or gal, so it's safe to say a bad experience can be a deal breaker. The 13MP camera features a Sony sensor, and it performed as I'd expected with good quality. For a $250 (£270, about AU$328) phone, it's hard to complain.
Photos take a second or two to focus, and about the same to snap. Shooting with the default camera app, it was a little confusing at first since there's no visual feedback once you've taken a photo. I've never owned a phone that shoots great in low-light, and the Idol 3 was no exception.
The real star is the 8MP front-facing camera. With the right lighting, you can capture some pretty great selfies. Of course, it might help to have a better subject than me.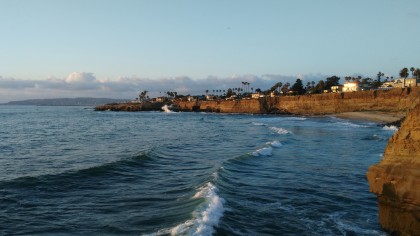 It's worth noting that, by default, the rear camera shoots 10MP photos to allow for a wide 16:9 ratio. While Alcatel advertises an "8MP Wide Angle Front Camera," you'll actually have to drop down to 5-MP to get that wide shot. Still, the results can be pretty impressive, and you can shoot 1080p video as well.
The camera app keeps the Android Lollipop feel, but with a few additions. Swiping from the left, you're met with several options:
Auto mode
HDR
Pano
Manual mode
Time-lapse
Scanner
Face Beauty
I mostly stuck with the default auto mode, though HDR and Pano – otherwise known as panorama – performed well. Unfortunately, for those who know all about ISO and want a little more control over their shots, the camera app would crash in Manual mode whenever I tried changing the shutter priority (S) or white balance (WB).
Although Manual mode didn't pan out (no pun intended), the Time-lapse feature worked great. Here's a result I uploaded to Instagram.
If you're one of the four people who scan QR codes, the Scanner function is pretty straightforward. As you probably guessed by now, Face Beauty is all about capturing that perfect selfie.
Utilizing the built-in face detection, you can smooth out any blemishes with this feature. I took three separate photos, the first in Auto mode. The other two were in Face Beauty with the slider set to halfway in one, and to the max in another.
With the slider set to halfway, it did a pretty good job. However, when set to the max, the fake glow and smoothness is blatantly obvious. Quick side note: just be yourself and let the real you shine through.
Battery life
During my testing, I kept the screen at auto brightness, and GPS at high accuracy. Under moderate use, the 2,910 mAh battery performed extremely well. I was able to consistently get about 20 hours with around 25% battery left. This was with about 3 hours of screen on time, and I could have easily squeezed out another hour with some juice to spare.
Under heavy use, you could definitely get through a work day. In our battery rundown test where we loop video at 100% brightness, from a full charge the Idol 3 lasted 4 hours, 55 minutes. Sadly, the Idol 3 does not have Quick Charge support, and comes with a standard charger. Alcatel's claim of two and a half hours is about right if the phone is nearly dead, and from around 25% battery, it took about 90 minutes to fully charge.
We liked
The Full HD display is on the same level as other 1080p panels in more expensive phones. Dual front-facing speakers should be standard on every device, and the 8MP front-facing camera is truly at the top of its class. Alcatel doesn't claim 24 hour battery life, but it's possible under the right circumstances.
We disliked
Performance issues are what's really holding the Idol 3 back from 4.5 stars. The fact it's only available in gray takes some life away, and while Quick Charge support isn't necessary, it's tough living without once you've been spoiled.
Final verdict
The Alcatel OneTouch Idol 3 has all the bells and whistles at a fraction the cost of major flagships. It's no flagship killer, but it's also not claiming to be. While good, good isn't always enough.
With the performance issues ironed out, there's no doubt the Idol 3 could be great. There's also the issue of carrier compatibility. Support for GSM and UTMS bands means you're stuck with AT&T and T-Mobile in the US.
Still, we're talking $250 (£270, about AU$328) unlocked. The fact the OneTouch Idol 3 even exists is pretty amazing. If you're willing to live with some imperfections for an excellent price, there's no reason this phone can't be good enough for you.